ATLANTA - February 25, 2022 - When Boston got slammed with 2 feet of snow in late January, it failed to bury Matt McDonald's running plans: He'd already escaped to Atlanta to visit friends and escape the blizzard.
This weekend, he will be in Atlanta again, to race the Publix Atlanta Half Marathon. Or at least he hopes so - unlike last time, the former Atlanta Track Club Elite star failed to outrun a weather disruption, and on Thursday afternoon was working to rebook a cancelled flight as another snowstorm barreled down on New England.
Assuming McDonald is successful, the 28-year-old will return Sunday to the streets of Atlanta, where he finished an impressive 10th in the 2020 U.S. Olympic Team Trials Marathon after running with the leaders until late in the race.
A Georgia Tech Ph.D. student at the time, McDonald relocated to Cambridge last year when he was named a postdoctoral associate in chemical engineering at the Massachusetts Institute of Technology, and now runs for the Boston Athletic Association. He's racing Publix as part of his preparation for the Boston Marathon on April 18.
"It will be a little bittersweet to be wearing a B.A.A. singlet instead of an Atlanta Track Club singlet," he said, as he races through his old grad-school neighborhood and the familiar, challenging terrain of Running City USA. "I know how hilly the course is. Maybe to some other people 'ignorance is bliss,' but they don't know what's coming."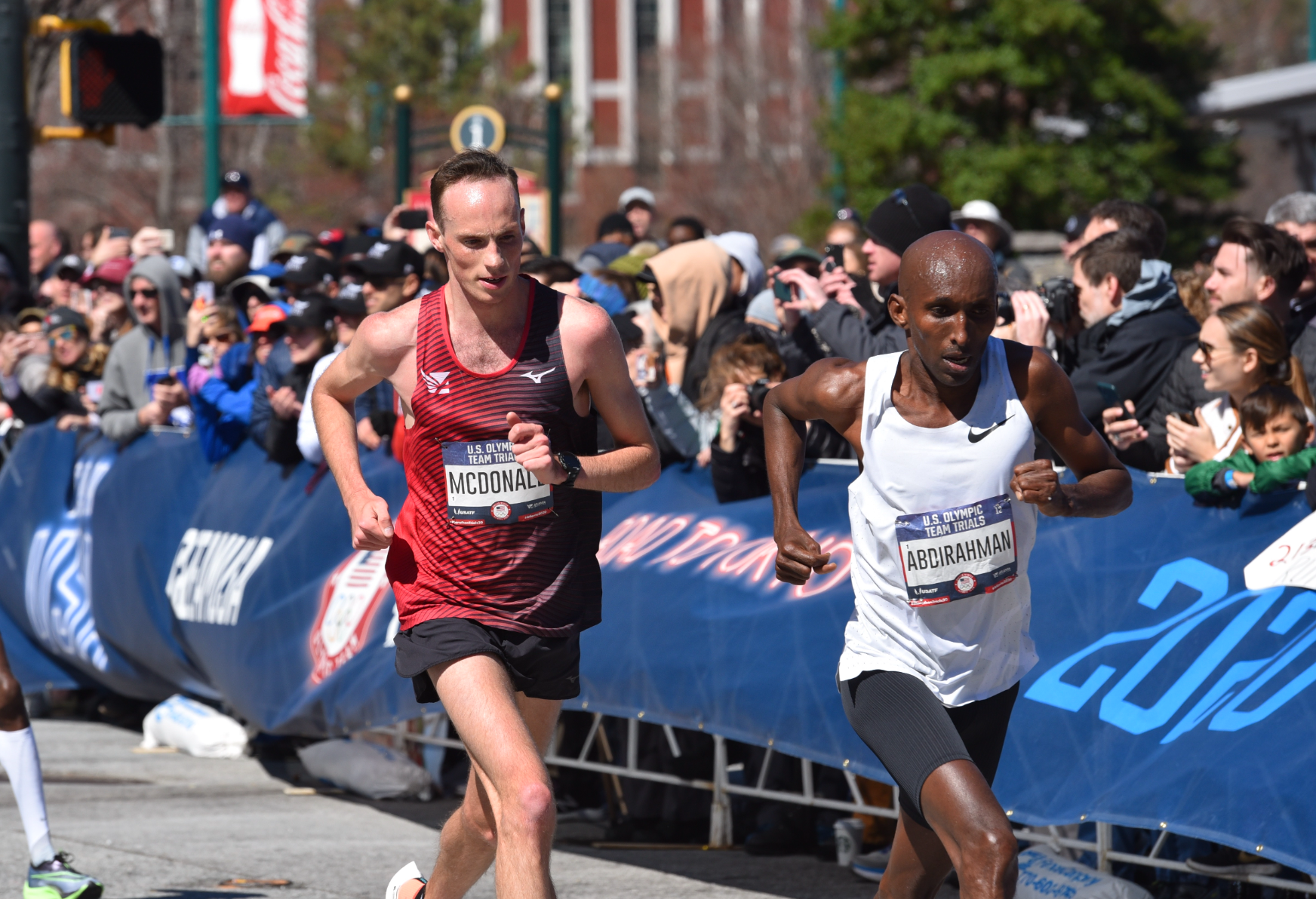 At MIT - conveniently situated along the running paths of the Charles River - McDonald is involved in a project to create a robotic platform capable of exploring chemistry by itself.
As he explains it in an email: "If you think of all the possible chemicals - both known and yet to be discovered - as points on a map, we're trying to build a self-driving machine that can explore without any help from a human driver. … For the test case we're using dyes because colors are easy to measure, but you can imagine instructing the machine to look for chemicals with prescribed pharmaceutical properties. The machine has to be able to predict where more exciting molecules are (do I move north or south on the chemical map) and plan a synthetic route to get there (much like on the actual map, we can rarely move in a straight line toward our desired destination) without the help of a chemist. It's really exciting, and we're just starting to show that the machine can move on the map and learn about where it is traveling!"
In short, there are many diseases that don't yet have a corresponding medication, and such a platform could hasten new-drug discovery. McDonald spends well over 40 hours a week in the research, with 110 miles on top of it.
"It's tough, because they are two things I'm really passionate about," he said, "and sometimes it's a struggle."
So are weather cancellations and bundling up from head to toe for every easy run, but there's a silver - ok, maybe fleece - lining: if winter lasts long enough, he'll be able to hit the ski slopes he's been avoiding while in training.
"I do love the snow," he said. "If there's still snow in Vermont after the Boston Marathon, I'll try to get up there."
By Barbara Huebner