Thanks for printing! Don't forget to come back to Atlanta Track Club for fresh articles!
Description:
Piedmont Park is Atlanta's green space in midtown with beautiful views of the classic skyline. The park has several paved paths as well as a gravel 800m track space.
Where:
Paid public parking is located next to Park Tavern:
500 10th St. NE
Atlanta, GA 30306
Paid public parking at the SAGE Parking Facility:
1345 Piedmont Ave NE
Atlanta, GA 30309
MARTA's Midtown Station and Arts Center Station are .7mi away.
Distance:
Regular: The inner road within the park is 1.1 mi. To run 3.14mi, go around the park on the 10th St., Monroe and Piedmont Ave. triangle. The Active Oval (.5mi gravel loop) is located in the center of the park and is popular for both jogging and interval training.
Extended: To get in an extra 4mi or more, continue onto the Eastside Trail on the Atlanta Beltline (See Below).
Tips:
Public transportation is strongly encouraged since parking can be limited.
All trails are paved (with the exception of the Active Oval) and are great for running rain or shine.
Click here for more information.
Description:
The Eastside Trail is one of many Beltline trails. This is a paved multi-use trail is used by runners, walkers, cyclists, and rollerbladers, and it connects Piedmont Park to Virginia Highlands and Old Fourth Ward neighborhoods.
Where:
Paid public parking available next to the Park Tavern:
500 10th St. NE
Atlanta, GA 30306
Access the trail across Monroe Dr. For more access points, visit Beltline.org.
MARTA's Midtown Station is located 1.0 miles from the suggested access point.
Distance:
Regular: 4 miles or less can be achieved by going out and back to parking. The Eastside trail is 2 miles in length.
Extended: After going out and back on the Eastside Trail, cross the street to add more distance in Piedmont Park (see above description).
Tips:
Run early in the morning to avoid crowds.
Since the trail is paved, great for running rain or shine.
Ponce City Market, Historic Fourth Ward Park and Krogg Street Market are along the trail and are great for shopping, eating, or just relaxing after a great run.
Big Creek Greenway, North Point (Alpharetta)
Description:
For a less urban route, run at Big Creek Greenway. This beautiful paved path spans 13.5 miles through the cities of Roswell and Alpharetta as well as Forsyth County. Bike and runner friendly, this path runs along Big Creek with scenic docks overlooking the water (great for a short break).
Where: There are multiple entrance points with public parking:
1600 Old Alabama Road
Roswell, GA 30076
3060 Royal Blvd. S
Alpharetta, GA 30022*
*Parking lot is adjacent to the Senior Living Facility found at this address.
Distance:
Regular: Distance is flexible since the path extends 13.5 miles. Run anything from 1 mi to a half marathon!
Extended: Dirt trails are accessible to extend your run on softer ground. Access the trails via the Royal Blvd. entrance.
Tips:
There is a bike park next to the Royal Blvd. entrance if you want to practice.
The path is only open during daylight hours.
For more parking and direction details click here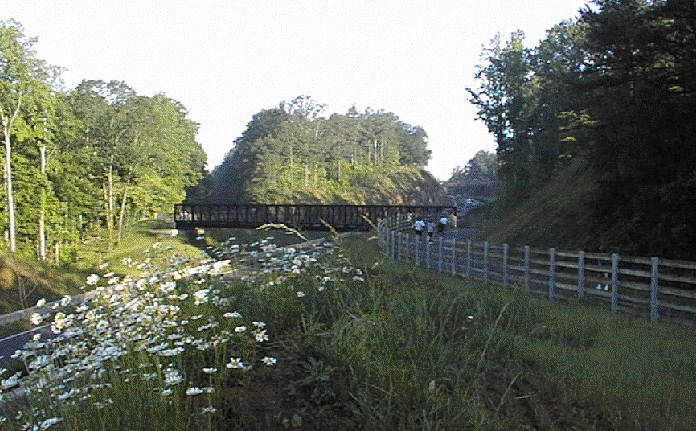 Description:
The Silver Comet Trail is a popular destination for bikers and runners looking for uninterrupted paved trails. 61.5 miles in length, the trail is perfect for running, walking, and biking. Combined with the Chief Ladiga trail, there is a total of 94.5 miles of paved trail from Smyrna, GA to Anniston, AL.
Where:
There are several access points throughout the trail. Click here for a complete interactive map on parking and amenities.
Mile 0 is located at the Highland Station Shopping Center:
4480 S. Cobb Drive SE
Smyrna, GA
Distance: The Silver Comet Trail ends at the Georgia/Alabama border, but the path connects to the Chief Ladiga trail for another 33 miles.
Tips:
Watch out for cyclists zooming by.
Not many bathrooms are available throughout the trail, so make sure to note the closest one to you.
In addition, there are single track dirt trails that run parallel to parts of the paved path. One is the Hiram Side Trail that runs through mile 14.5 to mile 23.
Description:
Stone Mountain Park boasts 3,200 acres of natural beauty right outside Atlanta. In addition to great running trails, Stone Mountain has other outdoor activities such as climbing, golf, fishing, hiking, and picnic areas.
Where:
1000 Robert E Lee Blvd.
Stone Mountain, GA 30083
Parking costs $15.
Distance:
Regular: Robert E. Lee Blvd. circles around the mountain for 5 miles. The loop is great for runners, walkers and cyclists.
Extended: For an 8 mile loop on road, run 2 miles down Robert E. Lee Blvd., turn right to follow Stonewall Jackson Dive. There's a long hill halfway through, but it's worth it to get the dramatic view of the lake. When you reach the golf course, keep left to return to Robert E. Lee Blvd. and the railroad depot.
Tips:
Try to go during morning and evening hours to avoid crowds.
For trail running, the most extensive trail is the Cherokee Trail (5mi). Click here for a trail map.
Description:
A beautiful dirt trail running along the Chattahoochee River. The trail is very wide to accommodate the bike and pedestrian traffic comfortably.
Where:
1956 Eugene Gunby Rd.
Marietta, GA 30067
(This entrance is the closest to I-285)
168 Columns Dr.
Marietta, GA 30067
Distance:
Regular: A 5k dirt loop running alongside the river.
Extended: There are more than 10 miles of connecting trails for bikers and runners. Each trail connects to the main loop.
Tips:
The trail can be busy on Saturday mornings so be sure to come early to get your parking spot!
Parking is $3 for a Daily Park Pass or you can buy a $35 Annual Park Pass
There are a couple places to get in the river if you want to cool off after a hot run!
Click here for more information.