Thanks for printing! Don't forget to come back to Atlanta Track Club for fresh articles!
Preserving Atlanta's Olympic History at the Peachtree Health and Fitness Expo
Two treadmills. 48 Hours. Team Stars and Team Stripes will face off beginning at 6 p.m. on Saturday July 1 at the Georgia World Congress Center. The goal? Run as many miles as possible and raise as much money as possible to revitalize the site of the track and field warm up facilities during the 1996 Olympic Games. The stadium has not been updated in more than 20 years and is in desperate need of a new surface. Our goal is to restore it to a state-of-the-art facility for the community to run, jump and throw and at which to host future Kilometer Kids programs.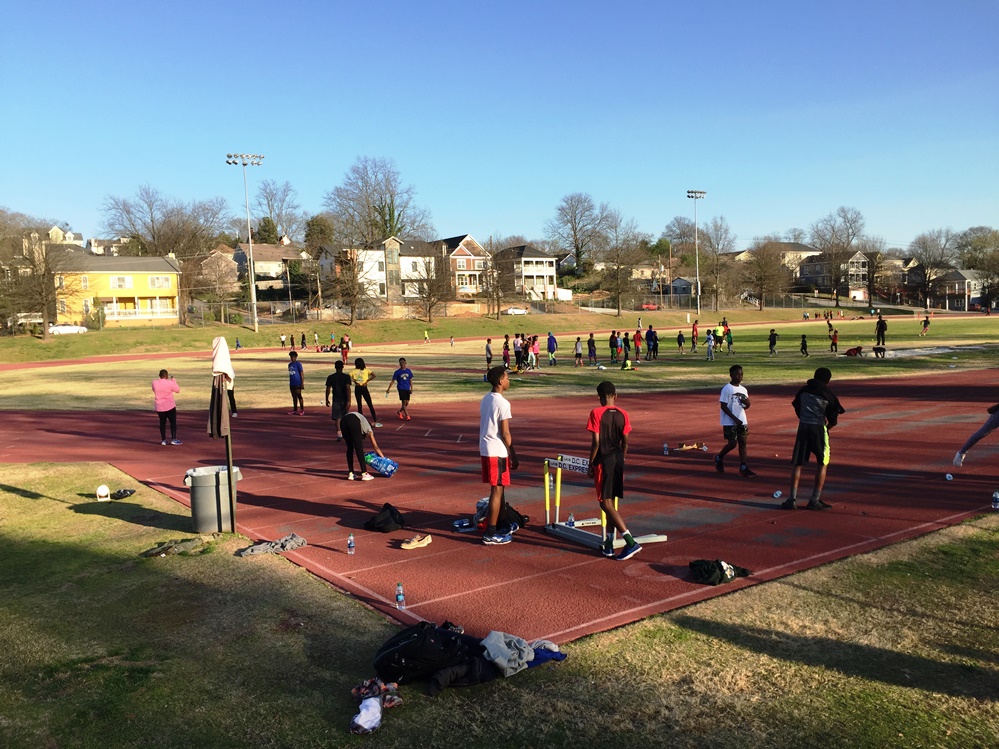 Currently, Cheney Stadium hosts Atlanta Public Schools Track & Field Meets. Your donation will help pay for a brand new facility once used by gold medalists like Dan O'Brien, Gail Devers and Michael Johnson to be used by the gold medalists of the future.
To donate, fill out the form to the right or text "KKCC" to 444-999 and follow the instructions. If you are interested in running in the challenge, let us know via this sign up form and we will try to include you.
Be Part of Kilometer Kids
Atlanta Track Club's Kilometer Kids is a free, game oriented running program designed to get kids (ages 7 to 14) in the community active! The mission of Kilometer Kids is to promote a healthy and active lifestyle to area youth through a running-based program, empowering children with the knowledge they need to make smart lifestyle choices.
The program launched in 2007 with one location serving 38 kids. Kilometer Kids has grown significantly and now impacts more than 8,000 children each year in the Atlanta region and beyond. The program is funded by Atlanta Track Club, private donations,
grants and community partners. Kilometer Kids is an official charity of the AJC Peachtree Road Race.
To learn more about the program, or how to get involved, contact us.
Fun Run & 50m Dash Fall 2017 Upcoming Events
September 13: Kilometer Kids Fun Run - Grant Park

October 11: Kilometer Kids Fun Run

October 25: Kilometer Kids Fun Run

November 8: Kilometer Kids Fun Run

November 23: Thanksgiving Day One Mile & 50m Dash
What others are saying about Kilometer Kids:
Katherine Kelbaugh – Principal, The Museum School
"Kilometer Kids was a great match for The Museum School. We are just finishing our third year. The program itself, because of those materials being in place and because of the very specific outline as far as days and running, meant our parents were aware of what was going on. The incentives were perfect because it was just enough extrinsic motivation to be paired with intrinsic motivation."
?Casey Cagle - Lieutenant Governor of Georgia
"Be Healthy Georgia has enjoyed great success thanks in large part to partnerships with programs like the Atlanta Track Club's Kilometer Kids. Kilometer Kids not only encourages kids across the state to get out and run, it shows how simple staying fit really can be. The most important thing to remember is to be healthy, be fit, and be you."
Whitney Blackmore – Teacher, Briarlake Elementary
"A co-worker and I started a program here about five years ago to support our healthy habits initiative that our PTA started. We trained our kids to do a 5K and we were pulling resources from all over the place trying to figure out what we were doing. This year when I came across Kilometer Kids and their programs, everything was in one spot. So, I said, 'we're going to try this' and signed all our kids up. They are very excited about it."
Start A Program
Whether you are a school teacher looking to start an after-school program or a parent who wants to run with your child in the neighborhood, the free, 11-week program is a great way to get started! A few of the program features include:
Free access to curriculum, including running game ideas and mileage tracking tools
Prizes for all participants who reach their mileage goals
Flexibility - parents, teachers and site coordinators can begin the program in the Fall or Spring
Opportunity to participate in free, mid-week fun runs and other youth running events organized by Atlanta Track Club
Our Goal
Kilometer Kids seeks to create lifelong runners, instilling in participants the importance of a healthy and active lifestyle. Through the program, kids learn that exercise is a fun and rewarding activity, opening the door for physical activity to become a lifelong habit.
To learn more about the program, or how to get involved:
Overview
Kilometer Kids is a great way to engage children in a healthy, fun, non-competitive lifelong activity
Atlanta Track Club provides the infrastructure necessary to help you implement a youth running program
Kilometer Kids can be implemented by parents, school administrators and teachers and can be held before or after school, on school grounds or in neighborhood parks
Kilometer Kids is a FREE 11-week incentive-based youth running program, fully supported by Atlanta Track Club
Program Format
Marathon-based running program: Children are encouraged to run 26.2 miles in small increments over time and record their progress on our Running Log cards. Our program culminates with the Peachtree Junior 3K for the spring program and the Thanksgiving Day 5K for the fall program.
Curriculum-based running program: Atlanta Track Club will provide resources for you to promote the program and a coach's kit to facilitate 11 weeks of practices.

Children meet twice per week with volunteer "coaches" who guide them through flexible pre-planned lessons
Lessons incorporate running-related games, drills and stretches
Incentives provided at 10 miles, 15, 20 and 26.2 milestones
Your school recruits volunteer coaches, (ratio 1 coach: 15 kids). No experience necessary!
School provides indoor Gym space or outdoor grass field, vacant parking lots to hold practice
Pros
Easy to administer, children track miles on their own or with coaches/parents on our Running Log cards
Goal focused, can provide incentives at end of program for mile 10, 15, 20 and to complete "marathon" distance (26.2 miles)
No cost
Support, consulting and site visits by Atlanta Track Club staff
Coaches receive T-shirts to lead Kilometer Kids program
Program Benefits
Ripple effect of healthy lifestyles for parents, schools, volunteers delivering the program
Children form a "team" mentality
Multi-age participation
Multi-skill level participation
Increase parental involvement: (volunteer coaches, participating in activity or at home virtually logging miles)
Registration platform access for data management
Opportunity to participate in 20+ youth running events throughout the year
Four application opportunities each year to earn grants and prize money for your team
Frequently Asked Questions
When does the KILOMETER KIDS program begin and end?
The Fall program begins on or about the first or second week of September and ends Thanksgiving Day in November.
The Spring session will begin on or about the last week of February or first week of March and will end at the Peachtree Jr. 3K in May.
How often should KILOMETER KIDS sessions be held?
In order for kids to achieve their mileage goals, the suggested schedule is two 60 minute sessions per week for 11 weeks.
Kids will need to "average" 1.25 miles per session.
Who can participate in the KILOMETER KIDS Program, and is there a limit on how many kids can take part in the program?
All kids ages 7-14 can participate in the KILOMETER KIDS program
It is recommended we have at least 1 coach/supervisor per 15-20 kids.
Who supervises the program?
Individual KILOMETER KIDS sites are responsible for providing volunteer program supervisors or any supervisor compensation.
Two adults are required to supervise programs with more than 15 participants. Programs with 15+ kids should plan on having one adult for every 15 kids.
High school students qualify as program supervisors if they are working with another responsible adult, over the age of 21. At least one of the program supervisors should be able to run with the kids.


What costs are associated with the KILOMETER KIDS program?
There is no cost to host sites or participants.
What type of facilities does a KILOMETER KIDS site need to have?
While an outdoor track is preferred, an enclosed area such as a soccer field will work as well. Cones or markers can measure out distance for games and activities.
Since safety is the top priority, running should be done in a safe and controlled area.
Sites will also need to make sure that water and bathroom facilities are readily available to participants.
Sites are responsible for providing transportation to the running area (if needed) and KILOMETER KIDS events.
What happens when there is inclement weather?
Individual sites are responsible for developing and communicating their own inclement weather plans. Atlanta Track Club will provide sites with ideas for indoor games and activities, which can be used if the program has to be moved indoors due to inclement weather.
Is there a Kilometer Kids host site near me?
Click here for a map showing Kilometer Kids host sites. However, because some programs only host intermittently, not all sites listed are necessarily active programs for this season. If you are interested in bringing Kilometer Kids to your school or site, let us know! (

[email protected]

).