2016 BLUE CROSS BLUE SHIELD OF GEORGIA PEACHTREE JUNIOR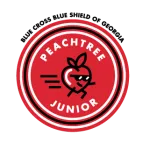 2016 Blue Cross Blue Shield of Georgia Peachtree Junior
Congratulations on part of the 2016 Blue Cross Blue Shield of Georgia Peachtree Junior
T-shirts
If you registered on the morning of the event and did not receive a T-shirt, please email tshirts@atlantatrackclub.org after May 23 as more T-shirts MAY become available. T-shirt exchanges will also be available after May 23 but we cannot guarantee sizes.
Results
Unofficial results for the 3K can be found HERE. Results are listed by age group and bib number. If you have questions after results are posted, please email results@atlantatrackclub.org.
MarathonFoto
You must search for images by BIB NUMBER ONLY. Images are not searchable via last name. Images from this year's event can be found at:
http://www.marathonfoto.com/Landing/13312016S1/blue-cross-blue-shield-of-georgia-peachtree-junior-2016
Event Information
Blue Cross Blue Shield of Georgia Peachtree Junior is an event for kids of all ages. The event, held at Piedmont Park in Atlanta, will feature a 3K fun run for kids ages 7-14, a 1/2K for ages 5-9 and 50m dash for ages 6 & under. The event is designed to offer kids the experience, excitement and prestige of the AJC Peachtree Road Race.
New this year, all registrants in the 3K (only) will have a Chronotrack single use B-tag timing device on their race number.
Kids can participate in a kid-friendly decathlon featuring our special guest, 1996 Olympic Gold Medalist Dan O'Brien. Remember Dan and Dave? It's back! But this time, Dave is a Kilometer Kids All-Star. Check out the new competition in this video.
After completing Blue Cross Blue Shield of Georgia Peachtree Junior, participants are invited to enjoy a post-race festival on the Active Oval.
EVENT IS RAIN OR SHINE.
DATE & TIME
May 14, 8:30 a.m.
LOCATION
Piedmont Park, Atlanta
DISTANCE
3K (ages 7-14)
1/2K (ages 5-9)
50m Dash (6 & under)
EVENT SWAG
Short-sleeve Mizuno
T-shirt Medal
Post-race snacks
COST
3K:
$15 through 5/11/16
$25 race number pick-up & race morning
1/2K:
$12 through 5/11/16
$20 race number pick-up & race morning
50m Dash:
$10 through 5/11/16
$20 race number pick-up & race morning
EVENT DAY SCHEDULE
7:00 a.m.
Number pick-up opens
8:00 a.m.
Deadline to register
8:30 a.m.
Peachtree Junior 3K start
9:15 a.m.
Peachtree Junior 1/2K start
9:30 a.m.
Peachtree Junior 50m Dash start
RACE DAY REGISTRATION
Providing we have not reached race capacity, we will offer registration for this event at number pick-up and on race day.
Cost: 3K/$25, 1/2K/$20, 50m Dash/$20
Deadline to register on event day: 8:00 a.m.
T-shirt sizing and availability cannot be guaranteed for those registering on race day.
TIMING & RESULTS
New this year
, all 3K (only) registrants will be timed and unofficial results will be posted by race number the afternoon of the event. No personal race registration information will be included.
Your timing device for this event is the Chronotrack single use B-tag. In order to receive an accurate time, please confirm your bib is...
Clearly visible on the front of the torso
Unaltered and unmodified (Do not fold or wrinkle)
Pinned in all four corners
Not covered (jackets, fuel belts, etc.)
If you do not wish to have your child timed, you may peel off the timing device or simply bend it several times.
Atlanta Track Club is a member organization of both the Road Runners Club of America (RRCA) & USA Track & Field (USATF) and adheres to the guidelines and rules of competition in the events Atlanta Track Club conducts & provides.
COURSE
For the safety and enjoyment of all participants, parents are not allowed on the 3K or 1/2K courses. In addition, no headphones, pets, or wheeled conveyances of any kind, including baby joggers/strollers, roller/inline skates, and bicycles, are permitted on the course.
EVENT ADDRESS

Piedmont Park Active Oval
Directions to the park and information on acccessing it via foot, car or public transportation can be found here.
PEACHTREE JUNIOR CHALLENGE

Atlanta Track Club wants to encourage fitness in children through an expanded Peachtree Junior Challenge scholarship competition. Three group scholarships will be awarded to the schools or nonprofits with the most children registered for this year's Peachtree Junior events. New this year, donations will be awarded to schools and nonprofits that have more than 50 children register for the event. Participants must pre-register online and include the name of the school or organization to be eligible for the competition.
Scholarship amounts:
1st Place - $2,000 Scholarship
2nd Place - $1,500 Scholarship
3rd Place - $1,000 Scholarship
Donation amounts (scholarship recipients not eligible for additional funds):
Groups of 50 or more: $250
Groups of 100 or more: $500
EARLY RACE NUMBER PICK-UP

Friday, May 13, 2016
8:00 a.m. - 6:00 p.m.
Atlanta Track Club Office - 201 Armour Drive NE, Atlanta, GA 30324
MARTA

Piedmont Park is accessible via both the Midtown MARTA station and the Arts Center MARTA station on the Red & Yellow lines.
For directions to the park via MARTA, click here.
PARKING

Limited parking is available in the Sage parking deck (standard rates apply) and residential neighborhoods along 12th and 14th Sts. and Park Drive. Please be courteous when parking and traveling through the neighborhoods. Parking on 10th St. is not recommended.; carpooling is encouraged.
DECATHLON

Dan O'Brien, who won the gold medal at the 1996 Olympic Games in Atlanta, will be the guest of honor at this year's Blue Cross Blue Shield of Georgia Peachtree Junior. In addition to a 3K, 1/2K and 50m dash, this year's Peachtree Junior will also feature a decathlon designed just for kids. O'Brien will be on hand to give tips and motivate children through ten different disciplines which include high jump, shot put, javelin and hurdles, to name a few. The decathlon will be open to participants ages fourteen and under. Kid-Friendly Decathlon Events at Blue Cross Blue Shield of Georgia Peachtree Junior:
3K or 1/2K
40yd Dash
High Jump
Shot Put
Long Jump
Discus
Turbo Javelin
Hurdles
Standing Broad Jump
Shuttle Relay
SAFETY
Please be sure to complete the emergency contact info on the back of your child's number, using YOUR cell phone number. Please do NOT use a home phone as a contact number.
BECOME A MEMBER
Did you know as a member of Atlanta Track Club you receive a discount on all events (except AJC Peachtree Road Race). Join today to begin receiving discounts and the many other benefits of membership!