ATLANTA JOURNAL-CONSTITUTION PEACHTREE ROAD RACE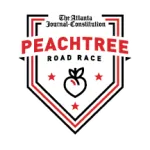 Atlanta Journal-Constitution Peachtree Road Race
Registration is now closed for the 54th Running of the Atlanta Journal-Constitution Peachtree Road Race.
You can still participate in the Peachtree for a purpose by signing up for a Kilometer Kids Charity Entry. Learn more and register here.
Remaining Registration Options
Start Wave Placement & Time Verification
For those that registered for the Peachtree and submitted a qualifying time, the time verification process of these times has begun. If you have any questions regarding this process, please email peachtree@atlantatrackclub.org.
You will be approved as long as your qualifying time was from:
A 5K or 10K race
A race that took place from January 1, 2021 to March 11, 2023
A race that is on a USATF certified course
If you were approved, you will be assigned a Start Wave based on the qualifying time you submitted not your submitted estimated finish time. Wave assignments will begin on Thursday, May 4.
Please note: If you submitted a qualifying time that otherwise would have been denied but the Atlanta Track Club team found that you participated in the 2021 or 2022 Peachtree, you will be approved and assigned a Start Wave based on the Peachtree time found.
You will be denied if your qualifying time was:
A race distance other than a 5K or 10K
A race that took place before January 1, 2021 or after March 11, 2023
A race that is not on a USATF certified course
A virtual race, a cross country race, a trail race or your run of the day
A qualifying time submitted with a name that doesn't match your registration
Image submitted does not display the race name and/or race date
Unable to be read - example your screenshot of proof was blurry
Submitted link does not work/is broken
If you were denied, you will receive an email notification with instructions on how to adjust your submitted qualifying time and the timeframe allowed to do so.
2023 Pricing Structure
| DATE | MEMBER PRICE | NON-MEMBER PRICE |
| --- | --- | --- |
| March 8 - March 14 | $42 | NA |
| March 15 - March 29 | $42 | $50 |
| March 30 - April 12 | $42 | $55 |
| April 13 - April 26 | $42 | $60 |
| April 27 - May 10 | $42 | $65 |
| May 11 - May 24 | $42 | $70 |
| May 25- June 4 | $42 | $75 |
Date & Time
Location
Distances
ADDITIONAL INFORMATION