Atlanta Track Club Foundation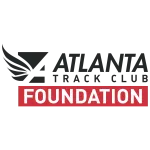 Atlanta Track Club Foundation, established in May 2021, as a Type 1 supporting organization will support the mission and vision of Atlanta Track Club to create an active and healthy Atlanta. The Foundation will focus its efforts on fundraising in support of the Club's current community programs along with making charitable contributions to like-minded mission driven organizations in the region's health and wellness space.
Ready, Set, Go! Fund
Ready, set, go! charitable contributions will support youth running/walking programs, school cross country/track & field programs and health and wellness non-profit organizations in the state of Georgia. Eligible organizations can apply for support up to $10,000.
In any given year, the Atlanta Track Club Foundation Board will review applications to determine if a series of contributions will be offered as micro-contributions to several organizations or larger contributions to fewer organizations.
Community Support Program
Throughout the year Atlanta Track Club Foundation provides opportunities for non-profit organizations to assist at it's events with event set-up/breakdown and course monitoring as well as warehouse coordination. For this assistance, the Foundation will provide financial support to help with that organization's mission. If your non-profit organization is interested in this program, please fill out the following form.