2017 ALL COMERS TRACK & FIELD MEET - WEEK 6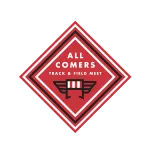 2017 All Comers Track & Field Meet - Week 6
Click here for Grand Prix Shot Put results (event day awards list, includes compiled results from May 23 and June 6)
| Week/Date | Location | Address |
| --- | --- | --- |
| Week 1 - Tuesday, May 2 | CANCELLED | CANCELLED |
| Week 2 - Tuesday, May 9 | Buck Godfrey Stadium | 2817 Clifton Springs Rd., Decatur, GA 30034 |
| Week 3 - Tuesday, May 16 | Buck Godfrey Stadium | 2817 Clifton Springs Rd., Decatur, GA 30034 |
| Week 4 - Tuesday, May 23 | Buck Godfrey Stadium | 2817 Clifton Springs Rd., Decatur, GA 30034 |
| Week 5 - Tuesday, May 30 | Buck Godfrey Stadium | 2817 Clifton Springs Rd., Decatur, GA 30034 |
| Week 6 - Tuesday, June 6 | Marist School | 3790 Ashford Dunwoody Rd, NE Atlanta, GA 30319 |
| Week 7 - Tuesday, June 13 | Marist School | 3790 Ashford Dunwoody Rd, NE Atlanta, GA 30319 |
With All Comers, the name says it all: they are open to everyone, no prior experience or team membership required. It's a great chance to learn about this branch of the sport, get some fun exercise, or work on sharpening your skills. With a range of participants from toddlers to Olympians, it's fun to watch as well.
**PLEASE NOTE you only have to register for All Comers once each season. If you are unsure if you have already registered, please click the "Confirm Registration" button below and check before registering. **
Atlanta Track Club events are held rain or shine. However, the threat of lightning or other severe weather in the vicinity of the event may result in a delay or cancellation. For full details on our event policies, including weather, refunds and cancellations, click here.
Date & Time
Location
Marist School, 3790 Ashford Dunwoody Road, NE, Atlanta, GA 30319
Distances
Cost
EVENT DAY SCHEDULE
5:15 p.m.
Field Events warm-up
7:00 p.m.
Grand Prix Shot Put begins
8:00 p.m.
Registration/check-in closes
8:30 p.m.
Grand Prix Shot put closes
8:30 p.m.
Final track event begins
REGISTRATION
Shot Put Grand Prix Registration
Atlanta Track Club members wishing to take part in shot put as part of the 2017 Grand Prix Series MUST pre-register for the shot put in order to be included in the Grand Prix results - no race day registration will be available for these events. Please note that registering for the timed Grand Prix track events is in addition to the general registration required for every 2017 All Comers participant. Registration for the Grand Prix shot put closes Sunday, June 4 at 11:59 p.m.

BECOME A MEMBER

Did you know as a member of Atlanta Track Club you receive a discount on all events (except AJC Peachtree Road Race). Join today to begin receiving discounts and the many other benefits of membership!