2018 BLUE CROSS AND BLUE SHIELD OF GEORGIA PEACHTREE JUNIOR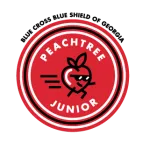 2018 Blue Cross and Blue Shield of Georgia Peachtree Junior
The Blue Cross and Blue Shield of Georgia Peachtree Junior is an event for kids of all ages. The event, held at Piedmont Park in Atlanta, will feature a 3K timed run for kids ages 7-14, a 1/2K for ages 5-9 and 50m dash for ages 6 & under. The event is designed to offer kids the experience, excitement and prestige of the AJC Peachtree Road Race.
After completing the Blue Cross and Blue Shield of Georgia Peachtree Junior, participants are invited to enjoy a post-race festival on the Active Oval including decathalon events such as hurdles, long jump, high jump and shot put.
Atlanta Track Club events are held rain or shine. However, the threat of lightning or other severe weather in the vicinity of the event may result in a delay or cancellation. For full details on our event policies, including weather, refunds and cancellations, click here.
Date & Time
Location
Distances
3K (ages 7-14)
1/2K (ages 5-9)
50m Dash (6 & under)
Event Swag
Short-sleeve Mizuno T-shirt
Medal
Post-race snacks
Cost
3K:
$15 through 4/28
$20 through 5/1
$25 race number pick-up & race morning
1/2K:
$12 through 4/28
$15 through 5/1
$20 race number pick-up & race morning
50m Dash:
$10 through 4/28
$12 through 5/1
$20 race number pick-up & race morning
EVENT DAY SCHEDULE
7:00 a.m.
Number pick-up opens
8:00 a.m.
Deadline to register
RACE DAY REGISTRATION
Cost: cash or credit card only (unless event sells out)
3K - $25
1/2K - $20
50m Dash - $20
Deadline to register and be timed: 8:00 a.m.
T-shirt sizing and availability cannot be guaranteed for those registering on race day.
TIMING & RESULTS

All 3K (only) registrants will be timed and unofficial results will be posted by race number the afternoon of the event. No personal race registration information will be included.
The timing device for this event is the Chronotrack single use B-tag. In order to receive an accurate time, please confirm your child's bib is...
Clearly visible on the front of the torso
Unaltered and unmodified (Do not fold or wrinkle)
Pinned in all four corners
Not covered (jackets, fuel belts, etc.)
If you do not wish to have your child timed, you may peel off the timing device or simply bend it several times.
Atlanta Track Club is a member organization of both the Road Runners Club of America (RRCA) & USA Track & Field (USATF) and adheres to the guidelines and rules of competition in the events Atlanta Track Club conducts & provides.
BECOME A MEMBER

Did you know as a member of Atlanta Track Club you receive a discount on all events (except AJC Peachtree Road Race). Join today to begin receiving discounts and the many other benefits of membership!