2019 PUBLIX ATLANTA KIDS MARATHON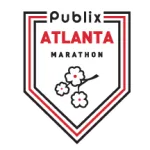 2019 Publix Atlanta Kids Marathon
The Publix Atlanta Kids Marathon will show kids what it means to be part of a big city marathon. Held at the same location where the 2020 Olympic Team Trials - Marathon will take place, this race gives kids ages 14 & under the chance to get out, get active, and get acquainted with running as they finish under Publix Atlanta Marathon finish line. Plus, stick around after for a post-race finish festival and the opportunity to meet three-time Olympic gold medalist Gail Devers.
Kids ages 7-14 can run the 2.62K, kids 8 & under can run the 262m, and kids 4 & under can run the 26.2m.
All participants will receive a T-shirt and a finisher's medal. Awards will be given to the top three boys and girls in each age group for the 2.62K and to the three teams with the fastest average time. Teams will also compete for up to $2,000 in grant money by bringing the most participants.
2019 Publix Atlanta Kids Marathon Participant Instructions
Atlanta Track Club events are held rain or shine. However, the threat of lightning or other severe weather in the vicinity of the event may result in a delay or cancellation. For full details on our event policies, including weather, refunds and cancellations, click here.
DATE & TIME
March 16, 9:00 a.m.
LOCATION
Centennial Olympic Park
DISTANCE
2.62K (ages 7-14)
262m (ages 8 & under)
26.2m (ages 4 & under)
EVENT SWAG
Finisher's medal
Post-race snacks
T-shirt
COST
2.62K:
262m:
26.2m:
EVENT DAY SCHEDULE
8:00 a.m.
Number pickup opens
RACE DAY REGISTRATION
Providing we have not reached race capacity, we will offer registration for this event on race day.
Cost:
2.62K - $20.00
262m - $15.00
26.2m - $10.00
Deadline to Register: 8:45 a.m.
T-shirt sizing and availability cannot be guaranteed for those registering on race day.
TIMING & RESULTS

All 2.62K (only) registrants will be timed and unofficial results will be posted by race number the afternoon of the event. No personal race registration information will be included.
The timing device for this event is the Chronotrack single use B-tag. In order to receive an accurate time, please confirm your child's bib is...
Clearly visible on the front of the torso
Unaltered and unmodified (Do not fold or wrinkle)
Pinned in all four corners
Not covered (jackets, fuel belts, etc.)
If you do not wish to have your child timed, you may peel off the timing device or simply bend it several times.
Atlanta Track Club is a member organization of both the Road Runners Club of America (RRCA) & USA Track & Field (USATF) and adheres to the guidelines and rules of competition in the events Atlanta Track Club conducts & provides.
Course

For the safety and enjoyment of all participants, parents are not allowed on the 2.62K or 262m courses. In addition, no headphones, pets, or wheeled conveyances of any kind, including baby joggers/strollers, roller/inline skates, and bicycles, are permitted on the course.
BECOME A MEMBER

Did you know as a member of Atlanta Track Club you receive a discount on all events (except AJC Peachtree Road Race). Join today to begin receiving discounts and the many other benefits of membership!