2020 NORTHSIDE HOSPITAL ATLANTA WOMEN'S 5K
2020 Northside Hospital Atlanta Women's 5K
The Northside Hospital Atlanta Women's 5K is going virtual!
Here's how to take part:
Run or walk 5K on your own or with an immediate family member (strollers and pets welcome!) between 5 a.m., Saturday April 11 and 5 p.m. Sunday, April 12.
Following your run or walk, post on social media using the hashtag #AW5K. We'll use the content to create a recap video to be sent to all participants on Monday, April 13.
Stay updated via the Facebook event page. Click HERE.
Paid option: Receive shirt and medal, virtual bib, communications and be a part of our community from a safe social distance.
FREE option: Receive virtual bib and join the community from a safe social distance.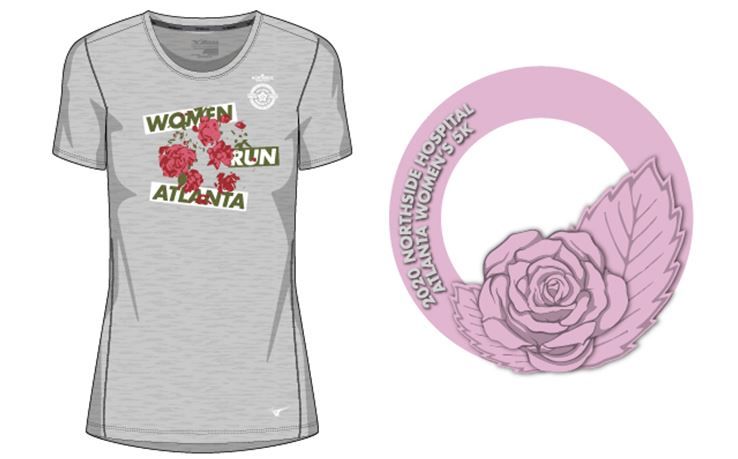 Those who registered prior to March 20 will receive shirt and medal, virtual bib, communications and be a part of our community from a safe social distance.
CLICK HERE for Welcome Email!
Download a blank virtual bib HERE!
DATE & TIME
Saturday April 11 at 5 a.m. to Sunday April 12 at 5 p.m.
LOCATION
VIRTUAL
REGISTRATION CUT-OFF DATE
Friday April 10 at 11:59 p.m.
COST
$35 for shirt, medal and virtual bib
Free for virtual bib
EVENT SWAG
Short-sleeve women's fit Mizuno performance shirt and medal (paid only)
DISTANCE
5K (ages 8 & older; Women only)
RACE DAY REGISTRATION
Cost:
$45 cash or credit card only (unless event sells out)
Deadline to register and be timed: 7:30 a.m.
T-shirt sizing and availability cannot be guaranteed for those registering on race day.
TIMING & RESULTS
Unofficial results available online the afternoon of the event. Results are made official approximately two weeks after the event, after all inquires have been processed.
Your timing device for this event is the Chronotrack single use B-tag. In order to receive an accurate time, please confirm your bib is...
Clearly visible on the front of the torso
Unaltered and unmodified (Do not fold or wrinkle)
Pinned in all four corners
Not covered (jackets, fuel belts, etc.)
Atlanta Track Club is a member organization of both the Road Runners Club of America (RRCA) & USA Track & Field (USATF) and adheres to the guidelines and rules of competition in the events Atlanta Track Club conducts & provides.
COURSE
Course time limit:
5K: 1 hour and 15 minutes (25 minute per mile pace)
Any participant still on the course after the course time limit is reached will be asked to move to the sidewalk and will not have event services available. For the safety and enjoyment of all participants, no pets, or wheeled conveyances such as baby joggers, strollers, roller/inline skates, and bicycles, are permitted on the course. Headphones are strongly discouraged.
Road and lane closures - Northside Hospital Atlanta Women's 5K
EVENT ADDRESS
Cheney Stadium
741 Connally Street SE
Atlanta, GA 30315
TEAM COMPETITION
Looking for a way to further challenge yourself on race day?
Consider signing up for our Team Competition. Team brackets are listed below. As part of a team you will still receive individual results, as well as your cumulative time for the team you sign up for. In registration you will have three options - register as an individual, join existing team, or create new team. To join/create a team you will be prompted to type in the team name.
Sister/sister team (two members, any age)
Mother/daughter team (two members, any age)
Teams that are not full on race day will not be included in the team competition results. Additionally, any changes to teams must be made by Friday, April 10 at 2:00 p.m. Please email
registration@atlantatrackclub.org with changes. Teams with the fastest cumulative times within their division will win.

ATHLETES WITH DISABILITIES
In order to serve all our athletes, Atlanta Track Club offers opportunities for Athletes with Disabilities (AWD). If you are an AWD and interested in participating in the event, please email
awd@atlantatrackclub.org
, to discuss what reasonable accommodations can be made based on your specific needs. Atlanta Track Club officials will provide reasonable accommodation to Athletes with Disabilities on an individualized and event by event basis.
RACE NUMBER PICKUP
Save time on race morning and come to early number pickup at Atlanta Track Club on the Friday before the event.
Atlanta Track Club
201 Armour Dr, Atlanta, GA 30324
Friday, April 10: 7:00 a.m. - 4:00 p.m. Ample FREE parking for early race number pickup is available at Atlanta Track Club.
For those of you unable to make it to early race number pick-up, your race number and shirt will be available on race morning.
FREE RACE PHOTOS
Get official race photos in your inbox moments after you cross the finish line. Photographers will be on the course and at the finish line capturing your race. You'll also be able to find all of your photos with your
results
.
TAKE RIDE SHARE TO THE RACE
Save time, stress and the environment by using ride share to get to the Northside Hospital Atlanta Women's 5K! Use of a ride share company is highly encouraged due to limited parking. If you take a ride share to the event, you may leave your personal belongings at volunteer check in while you run or walk.
PARKING
More information will be available closer to the event.
AWARDS
Overall awards are based on gun time and overall winners are not eligible for age group awards. Team and age group awards are based upon net time.
Overall, masters, and grandmasters champions
Top Laura Murphy Award mother/daughter team
 '
Top sister/sister team
Age Group Awards for the top three women in each age group for the 5K (10 & under, 11-14, 15-19, 5-year increments up to 90 & older). All age group award winners will receive a $20 gift card to West Stride.
Best Dressed Award
Two $20 West Stride gift cards will be awarded to the top three best dressed participants.
No entry necessary. Just come dressed in your racing best!
Winners will be all announced during the awards ceremony on the stage.
STROLLERS
For the safety and enjoyment of all participants, no pets or wheeled conveyances of any kind, including baby joggers/strollers, roller/inline skates and bicycles are permitted on the 5K course.
BECOME A MEMBER

Did you know as a member of Atlanta Track Club you receive a discount on all events (except AJC Peachtree Road Race). Join today to begin receiving discounts and the many other benefits of membership!