2021 POWERADE All-Metro Cross Country Banquet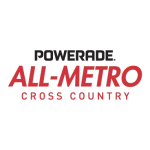 Atlanta Track Club is proud to recognize the outstanding accomplishments of student-athletes and their supporting coaches with our end-of-season POWERADE All-Metro Cross Country Banquet. Each of the All-Metro athletes will be recognized for their extraordinary seasons and select All-Metro honorees will receive a scholarship from Atlanta Track Club.
Atlanta Track Club selects 42 student-athletes, 21 boys and 21 girls, to receive All-Metro Cross Country Team honors. The 42 All-Metro athletes are selected based on criteria including performance at the state meet, major meet wins and a complete season overview. Coaches, parents and the community can utilize an online form from November 9 - 11 to rank the selected athletes among the three teams. The student-athletes who have been named Most Outstanding Cross Country Athlete will be announced at the banquet as well as the winners of the Coach's Dedication Awards. Nominations for the Coach's Dedication Awards will be accepted through the online form for athlete voting.
Athletes who have been selected should have received an online invitation and RSVP request form. If you have not received this form please contact etomas@atlantatrackclub.org
Food Trucks:
Date & Time:
Wednesday, November 17
7:30 p.m. Doors Open
8:30 p.m. Ceremony Begins
Event Location:
Stave Room
199 Armour Drive, Atlanta, GA 30324
Cost:
- Free for invited athletes and guests, limited availability
- Additional seats are unavailable for purchase
Selection Criteria
21 boys & 21 girls are selected to represent the Powerade All-Metro Cross Country Team, below are the criteria used to select them. State meet performances are weighed most heavily in the selection.
State Meet Place & Time
Large Meet Performances / Head to Head Competition
Season Average
Season Best
All-Metro Area
After 56 years, the Metro Atlanta area has expanded and so the All-Metro area has expanded to 16 counties. The All-Metro area is defined as counties that touch Fulton, Dekalb, Cobb, and Clayton counties which lie within the perimeter of Atlanta. Students who attend a school in the defined Metro area are eligible to be selected.
| | | | |
| --- | --- | --- | --- |
| Bartow | Cobb | Fayette | Henry |
| Carroll | Coweta | Forsyth | Paulding |
| Cherokee | DeKalb | Fulton | Rockdale |
| Clayton | Douglas | Gwinnett | Spaulding |
Awards & Scholarships
Atlanta Track Club is proud to honor both coaches and athletes at the All-Metro Banquet.
All-Metro first, second and third teams
State Championship Coach's awards
Coach's Dedication Awards
Click the link below to nominate a coach for their outstanding dedication to the sport Cross Country. This award may only be received once, check out the coach's who have already received it.
Become a Member
Did you know as a member of Atlanta Track Club you receive a discount on all Atlanta Track Club events? Join today to begin receiving discounts and be a part of Running City USA.