Eastside Beltline 3K - 10K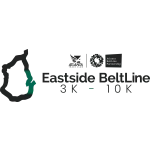 Atlanta's favorite running and walking destination and Atlanta's historic running and walking organization are teaming up to bring races back to the BeltLine. Atlanta BeltLine Partnership and Atlanta Track Club will expand their partnership in 2022 to include a series of events on the BeltLine's most popular sections. The last stop of the series takes us to the Eastside along Piedmont Park, Ponce City Market and Krog Street Market.
For Atlanta Track Club's current policies concerning COVID-19, click here.

Additional event information coming soon
DATE & TIME
LOCATION
Eastside BeltLine, near Krog Street Market
EVENT SWAG
3K COST
- $15 through 1/1
- $20 through 6/10
- $25 through 9/29
- $30 through 11/5
- $35 on event day
10K COST
- $30 through 1/1
- $40 through 6/10
- $45 through 9/29
- $50 through 11/4
- $60 on event day

Become a Member
Members of Atlanta Track Club get to participate in 7 free events throughout the year! They also receive discounts on all events and programs as well as guaranteed entry into the Atlanta Journal-Constitution Peachtree Road Race!

Event Sponsors
a logo with a red and blue triangle and a blue circle