2023 Grand Prix Shot Put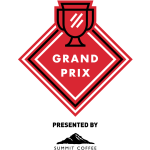 The fourth stop of the Grand Prix series takes us back to the track and into the throwing circle for the Shot Put. This unique stop will test members' throwing ability as they test out one of track & field's strength and power events. This event will be held on Tuesday May 23 & Tuesday May 30 at Atlanta Track Club's All-Comers events at Emory University. Participants will sign up for a specific timed start in registration.

Date & Time

May 23 - 5:30 - 8:30 p.m.
May 30 - 5:30 - 8:30 p.m.
Location:
Emory University (26 Eagle Row, Atlanta, Ga 30322)
Cost:
Shot Put 101
The shot put is a track and field event involving "putting" (pushing rather than throwing) a heavy spherical ball—the shot—as far as possible. Each participant will have three attempts to put the shot as far as possible. Check the video below for additional rules and demonstrations.

Event Procedures:
Participants will register for a specific start time and day
Athletes will check in 30 minutes prior to their event time
Each flight (group) will take a mandatory 10-15 minute lesson with practice throws prior to their attempts
Competition will include 3 throws per participant, all three marks will be measured and scored
Men's Weights
| | |
| --- | --- |
| Men's Age | Weight |
| 8 & under | 2 kg |
| 9 - 10 | 6 lb |
| 11 - 12 | 6 lb |
| 13 - 14 | 4 kg |
| 15 - 18 | 12 lb |
| 19 - 49 | 16 lb |
| 50 - 59 | 6 kg |
| 60 - 69 | 5 kg |
| 70 - 79 | 4 kg |
| 80 + | 3 kg |
Women's Weights
| | |
| --- | --- |
| Women's Age | Weight |
| 8 & under | 2 kg |
| 9 - 10 | 6 lb |
| 11 - 12 | 6 lb |
| 13 - 14 | 6 lb |
| 15 - 18 | 4 kg |
| 19 - 49 | 4 kg |
| 50 - 59 | 3 kg |
| 60 - 74 | 3 kg |
| 75 + | 2 kg |
Sponsors
a logo with a black background