2023 NOVEMBER MIDWEEK MILE & DASH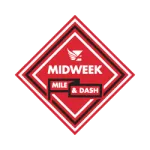 The Midweek Mile & Dash is a FREE youth event designed for kids ages 14 and under. This event will take place under the lights of the Campbell High School's McDaniel Stadium in Smyrna. Milers will be timed as they complete four laps of the track, and dashers will run their 50 meters in the infield. We will also have a fun Track & Field Zone, a podium for finisher photos, and special guests from Atlanta Track Club's elite team! Coaches, parents, volunteers and staff are invited to take place in their very own heat and will be cheered on by the youth participants.

We are offering two Mile options: "Open Youth" timeslots for kids of all ages (6 - 14) and abilities, and a "Competitive Youth" timeslot for children looking for a little more competition and who are estimated to finish their mile in less than 8:00/mile.
Atlanta Track Club events are held rain or shine. However, the threat of lightning or other severe weather in the vicinity of the event may result in a delay or cancellation. For full details on our event policies, including weather, refunds and cancellations, click here.
Date & Time
Location
Campbell High School, McDaniel Stadium, 1001 Fleming Street, Smyrna, GA
Distance
Mile (ages 6 - 14)
50 Meter Dash (ages 6 & under)
Cost
Free and open to the public
Online Registration Cut-Off Date
November 14 at 11:59 p.m.
Race day registration is available
Event Day Schedule
*Timeslots/waves are chosen by participants in the registration process
5:00 PM
Race number pickup/Track & Field Zone opens
5:15 PM
*Mile waves begin & continue every 15 minutes
5:30 PM
*Dash opens; ongoing
6:15 PM
Coaches/Parents/Volunteers/Staff Wave
6:30 PM
Youth competitive wave: 7:59 min/mile or faster
6:45 PM
Final waves begin/Start lines close
Course
The Midweek Mile & Dash will take place in McDaniel Stadium. Milers will complete four laps of the track starting from the Mile waterfall line, and dash participants will run in the infield of the stadium on the turf.

Become a Member
Did you know as a member of Atlanta Track Club you receive a discount on all Atlanta Track Club events? Join today to begin receiving discounts and be a part of Running City USA.