AY90 Peace and Reconciliation Walk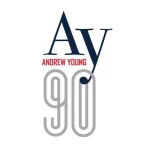 Living legend and one of the leaders of the Civil Rights Movement, Andrew Young, celebrates his 90th birthday on March 12 2022. To mark this joyous occasion and celebrate the work Ambassador Young and his Foundation have done, there's an exciting program of events. Join the celebration with this The 1.5 mile walk starting at Centennial Olympic Park and ending at the Rodney Cook Sr Peace Park with the unveiling of the Andrew Young statue. Join Ambassador Young, government officials, international guests and celebrities.
Date & Time
March 10, 2022, 10:00 a.m.
Location
Begins: Centennial Olympic Park
Ends: Rodney Cook Dr. Peace Park
Cost
Andrew Young's 90th Birthday Celebration