ATLANTA - May 22, 2019 - A sophomore shocked the field to win the Wingfoot Boys High School Mile at Emory University Tuesday night, while the hands-down favorite took home the victory in the girl's race.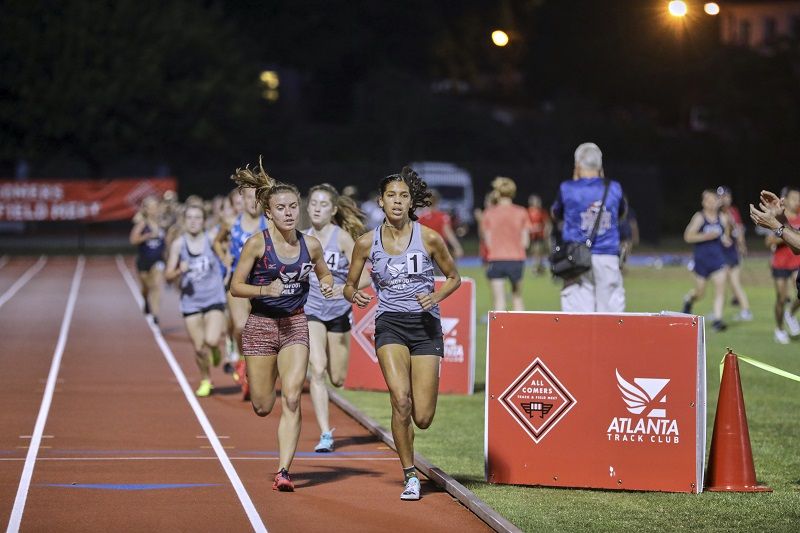 The top two seeded athletes in the girls' race, Brynne Sumner of Woodstock and Ellie Hall of Marietta, led from the gun with Atlanta International School's Reagan Mahoney and Blessed Trinity's Hannah Miniutti both flirting with the lead. Sumner had Hall on her shoulder until just under 300 meters to go. That's when she turned on the speed that saw her run the fastest 800m in Georgia high school history (2:07.7) to close in 67 seconds and take the victory in 4:55.8, more than four seconds ahead of Mahoney, who made a late charge to finish second.
Sumner, who will attend Villanova University next year, will compete at the Music City Distance Carnival in Nashville next weekend. Full results below. Video of the race here: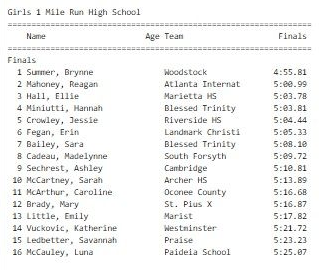 Myles Collins of Archer High School was the top-seeded runner heading into the boys' race, having run a state-leading time of 4:13.6 at last week's Meet of Champions. But following an early lead from North Hall's Devan Crow, it was Sully Shelton of Harrison leading the pack of 20 around the Emory track. In the third lap, three sophomores turned on the burners, with Noah Ward of Phillip Simmons (Charleston, SC) clocking a 62 second penultimate lap to chase down the leaders. In the final 300 meters, Ward pulled into the lead and crossed the line with a six-second personal best of 4:13.3, beating Shelton by nearly two seconds. The top four finishers in the race were all sophomores, with Zack Truitt of Landmark Christian and Justin Wachtel of Mary Persons taking third and fourth respectively.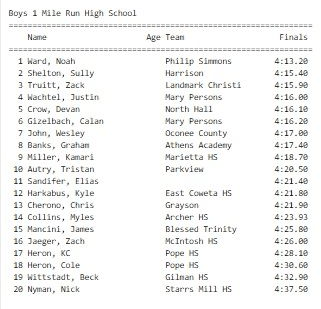 The Wingfoot Middle School Miles produced two state-leading times. Middle school state champion Jared Fortenberry of Marietta came out on top of a back and forth race with Billy Carlton of Refroe to win the race in 4:35.2. In the girls' race, Daniela Delgado of Walton Youth stunned the field setting a nearly 20-second personal best and winning by 5:23.8 narrowly defeating pre-race favorite Heidi Heppner by less than 3/10 of a second.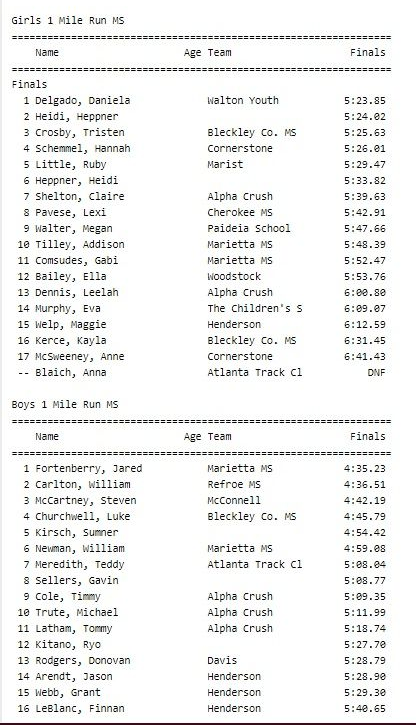 Elite Wingfoot miles and Freshman results: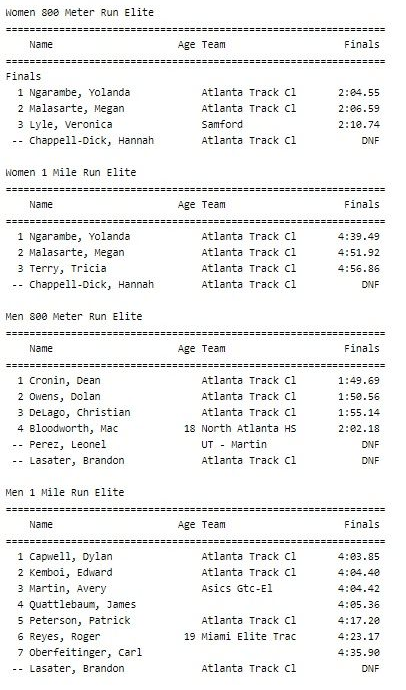 photo by Dan McCauley