ATLANTA - December 3, 2019 - Atlanta Track Club recognized the 56th edition of the Powerade All-Metro Cross Country Team on Tuesday night, honoring 42 runners from around the Atlanta metro-area with first, second and third team designations. Hannah Miniutti of Blessed Trinity Catholic School and Sully Shelton of Harrison High School were named Runners of the Year.
Miniutti, a junior at Blessed Trinity, won the 4A GHSA State Championship earlier this month, completing a season that saw her burst onto the Georgia cross country scene and dominate all fall. She also picked up wins at the Wingfoot XC Classic earlier in the season and ran a 17:54 personal best en route to receiving the Ray Buckley Award for the girls Runner of the Year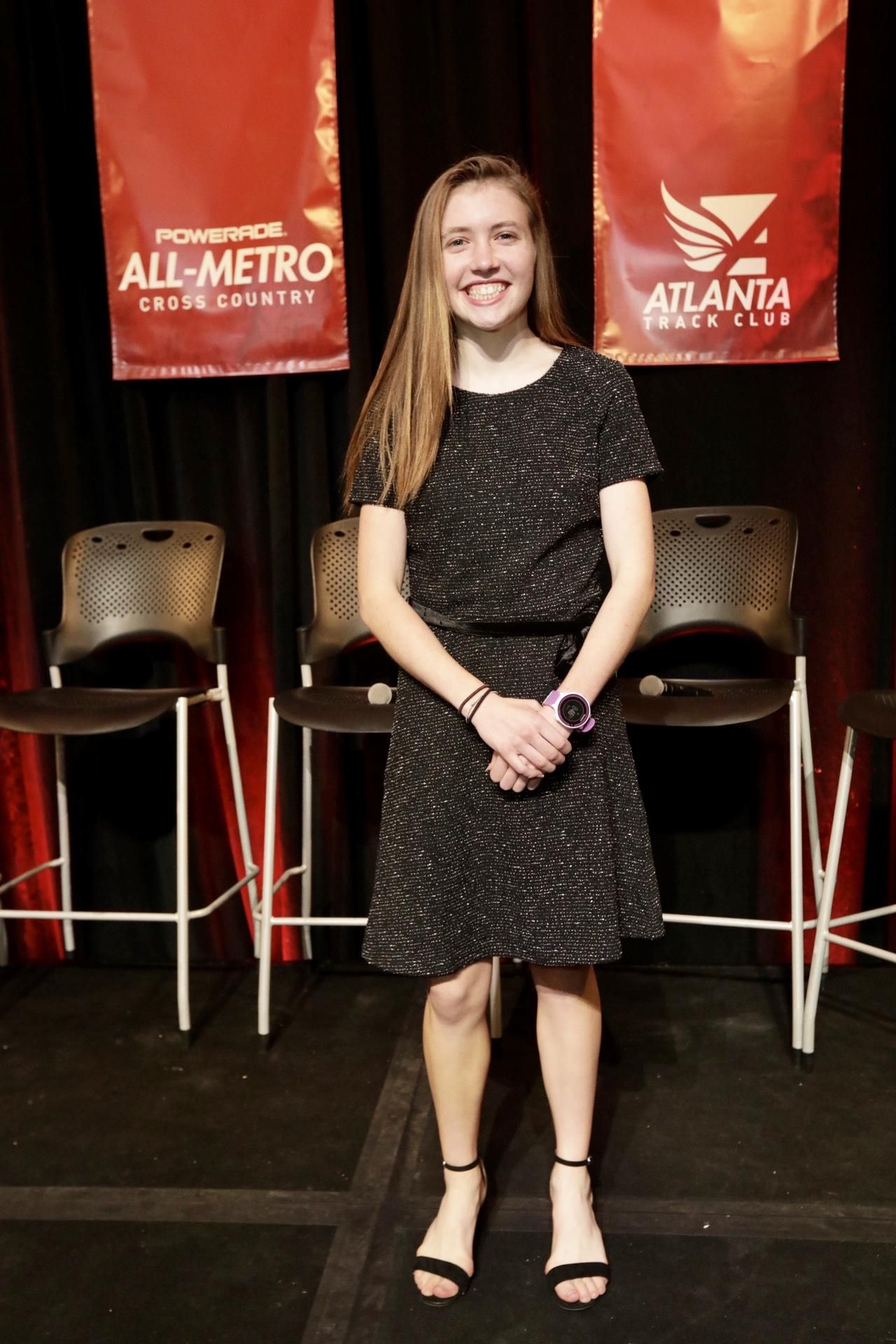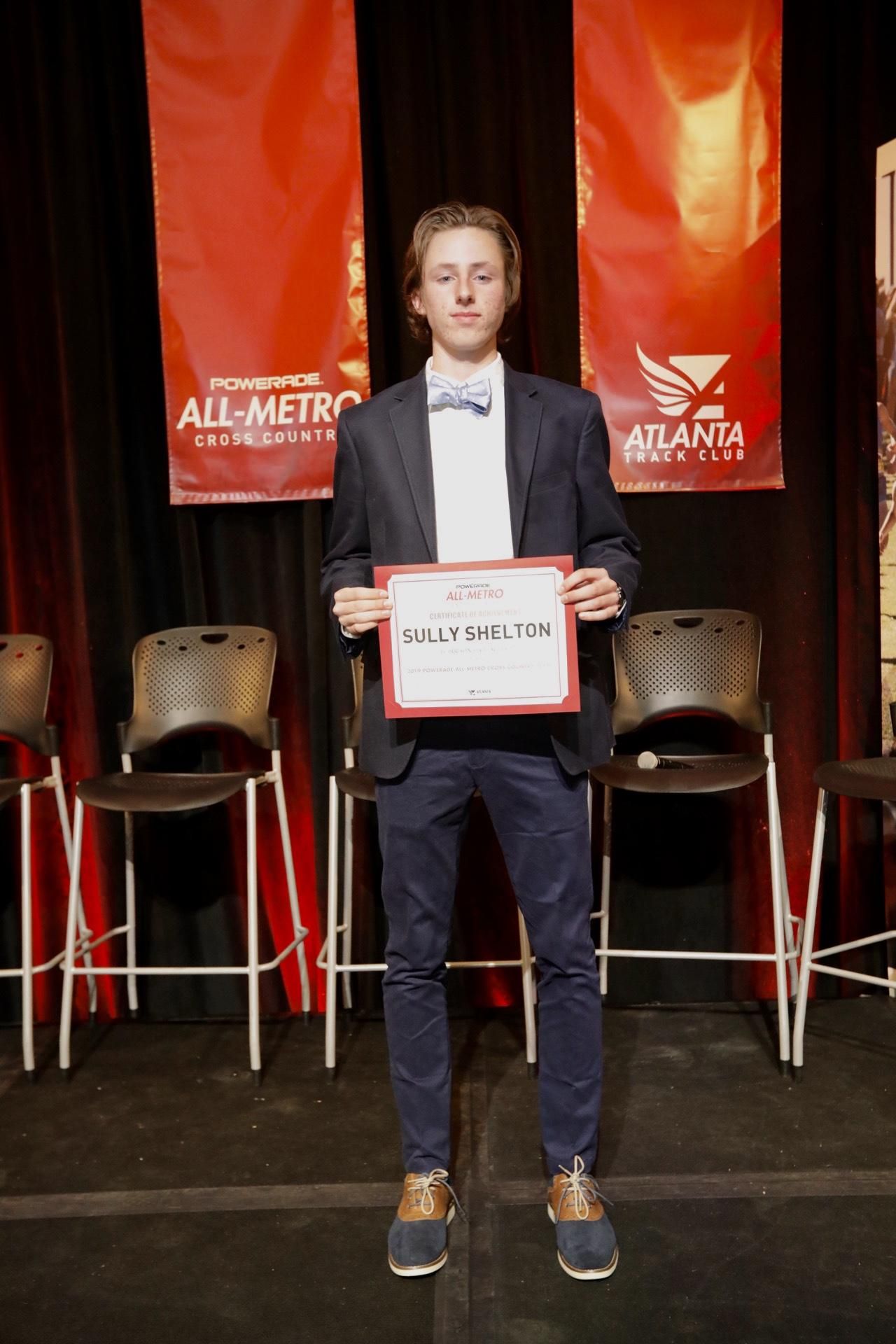 "I definitely didn't expect it," Miniutti said after receiving the award. "There are so many amazing runners here I just couldn't even imagine. I'm super happy with my season - I'd gotten injured the last two years so it's really great to make it through the season."
Shelton, also a junior, took home the Jeff Benton Award for boys Runner of the Year after a season that included a 6A State Championship and wins at the Coach Wood Invitational and Cobb County Championship. His 14:58 season's best was one of the fastest times in the state.
"I was super stoked to know I won it," Shelton said. "I loved my season as a whole and we got a big team win at state so it was a great season. I hope to come back next year and win it again."
The athletes named to the team Tuesday night represented 11counties and 28schools in the metro Atlanta area. They were part of a night that also included a celebration of the top five moments of the 2019 cross country season. The Moment of the Year, which received more than 26,000 votes via a poll on 11Alive.com, went to the boys of Walton High School, who won their first state championship since 1986.
"We're incredibly proud to honor these young runners and add them to the storied history of All-Metro Cross Country teams," said Rich Kenah, Atlanta Track Club's Executive Director. "From the time Atlanta Track Club was born, we've been inspired by the performances of Running City USA's best high school runners, and this year is no exception. I'm looking forward to seeing what these young athletes continue to achieve."
Eleven state championship-winning coaches were also honored Tuesday evening. Greg Johnson of Blessed Trinity Catholic received the Paul Koshewa Coaches Dedication Award, which goes to an outstanding girls coach, while Dan McCauley of Paideia School received the Jerry Frasier Coaches Dedication Award for outstanding boys coach.

First Team
| Name | School | Year |
| --- | --- | --- |
| Hannah Minuitti | Blessed Trinity Catholic School | Junior |
| Madelynne Cadeau | South Forsyth High School | Senior |
| Erin Fegans | Landmark Christian School | Senior |
| Morgan Vaden | St. Pius X | Senior |
| Makena Gates | Creekview High School | Junior |
| McKenna Croft | Douglas County High School | Senior |
| Kelly Ann Sutterfield | Blessed Trinity Catholic School | Sophomore |
| | | |
| --- | --- | --- |
| Sully Shelton | Harrison High School | Junior |
| Myles Collins | Archer High School | Senior |
| Noah Hayes | Hillgrove High School | Senior |
| Zack Truitt | Landmark Christian School | Junior |
| Devin Wade | Whitefield Academy | Senior |
| Cole Heron | Pope High School | Senior |
| Kamari Miller | Marietta High School | Junior |
Second Team
| Name | School | Year |
| --- | --- | --- |
| Mary Brady | St. Pius X | Junior |
| Catherine Breault | St. Pius X | Junior |
| Grace Ellsworth | Hillgrove High School | Senior |
| June Mwaniki | Marietta High School | Senior |
| Kathleen Schellman | Marist School | Senior |
| Ashley Sechrest | Cambridge High School | Senior |
| Mira Srinivasa | Westminister School | Sophomore |
| | | |
| --- | --- | --- |
| Cooper Bocko | Lambert High School | Junior |
| Brennan Bower | South Forsyth High School | Senior |
| William Brown | Pope High School | Senior |
| Christian Gonzalez | Decatur High School | Sophomore |
| Domonic Macias | Union Grove High School | Senior |
| Connor Old | Walton High School | Senior |
| Zachary Roe | Westminster School | Senior |
Third Team
| Name | School | Year |
| --- | --- | --- |
| Brooke Browning | Hebron Christian Academy | Sophomore |
| Sarah Burwell | Walton High School | Junior |
| Nyah Hernandez | Milton High School | Senior |
| Cara Joyce | Atlanta International School | Sophomore |
| Emily Little | Marist School | Senior |
| Reagan Mahoney | Atlanta International School | Senior |
| Elle Mezzio | Riverwood International Charter School | Junior |
| | | |
| --- | --- | --- |
| George Adams | Pace Academy | Senior |
| Jackson Borden | Lovett School | Senior |
| Noah Connelly | Harrison High School | Junior |
| Kyle Harkabus | East Coweta High School | Senior |
| Collin Jones | Carrollton High School | Junior |
| Mikias Mekonen | Lakeside High School | Senior |
| Zac Schaffer | Walton High School | Senior |
Photos by Paul McPherson