ATLANTA - June 6, 2019 - The four most outstanding track and field athletes in the Atlanta metro area were recognized Wednesday night as part of the 55th Annual Powerade All-Metro Track & Field Banquet. Honored in front of a room featuring the athletes' families, Olympians past and present, and legends of Georgia track and field, Tanner Duffin, Payton Phillips, Kimberly Harris and Jaylen Slade - all ranked among the top performers in the country - took home Atlanta Track Club's top awards.
The four were part of an elite group of that make up the 2019 Powerade All-Metro Team. One male and one female athlete from each discipline were recognized over the course of the banquet, which was hosted by NBC Sports Broadcaster Lewis Johnson. The Most Outstanding Athlete award winners were determined by a public and coaches voting process. Each winner was announced via a special, pre-recorded video from a U.S. Olympian, with Sandi Morris, Sanya Richards-Ross, and former All-Metro team members Adam Nelson and Christian Coleman as guest presenters.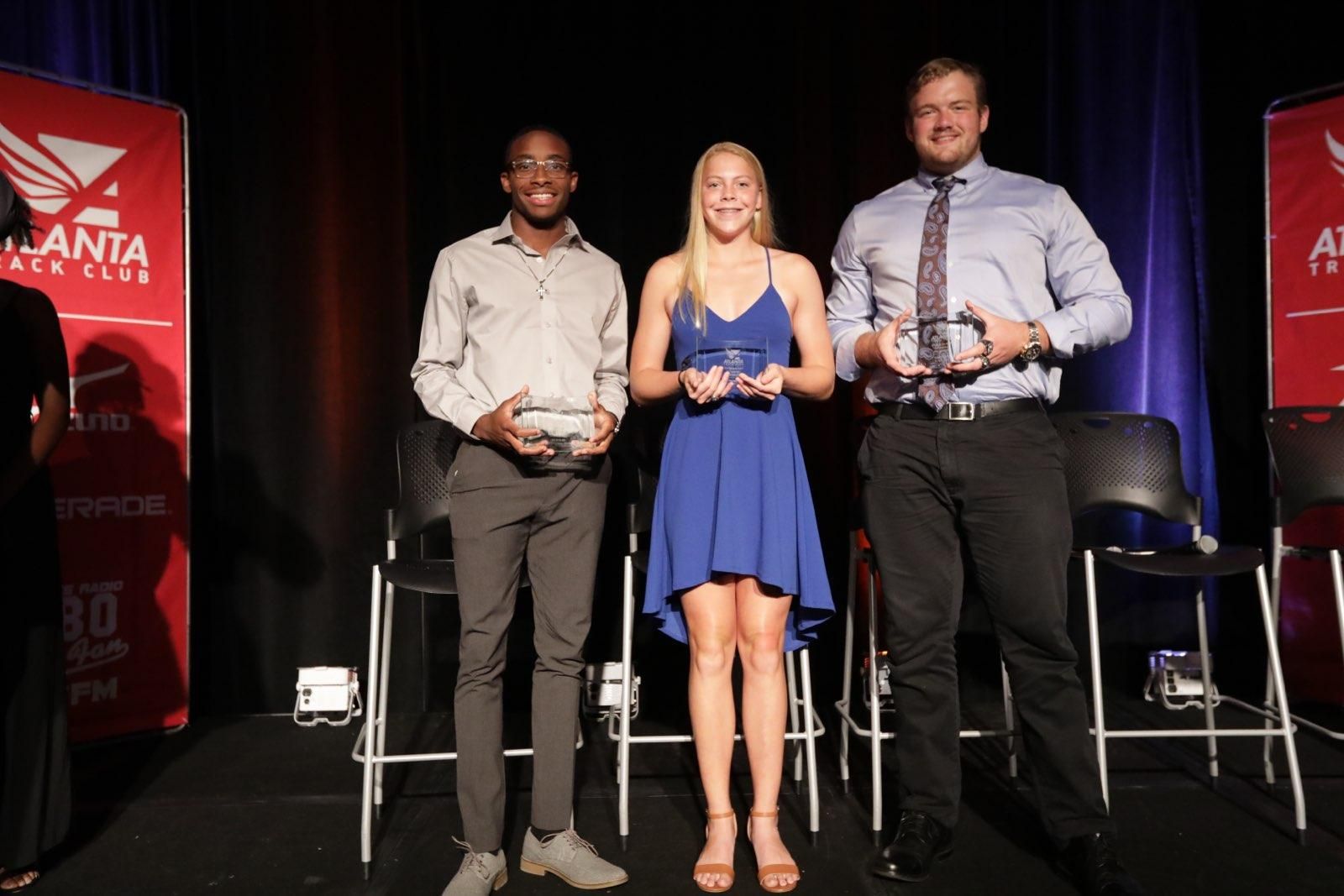 St. Pius X senior Tanner Duffin took home the Bruce Yohe Most Outstanding Field Athlete award for the second straight year after finishing with the nation's second-furthest throws in both the shot put and the discus. The future Michigan Wolverine put the shot 70'2.25" and the discus 200'10" as part of a season that saw him win the 4A GHSA State Championship in both throws.
"It feels really good," said Duffin on a second straight Most Outstanding Athlete award. "It's great to see a lot of hard work paying off. I'm just happy with my career and four years of amazing experiences."
On the girls' side, Payton Phillips, a sophomore pole vaulter at Carrolton High School, took home the Red Smith Award for Outstanding Female Field Athlete. The 5A State Champion jumped 13'7" this season, the fifth-highest mark in the country.
"I was really surprised and happy because Sandi Morris is such a great role model," said Phillips on the announcement from the Olympian. "My season started out a little slow, but I continued to improve every week and kept hitting peaks."
Kimberly Harris of Buford High School was named the Barbara Burton Most Oustanding Female Track Athlete. The junior put in a state meet performance for the ages earlier this spring, winning four 5A State Championships in the 200m, 400m, 4x100m and 4x400m. She also ran a 300m Dash this season that ranked as the third-fastest time by a high schooler in U.S. history. Harris was competing in Cuba and wasn't able to attend the banquet.
The Justin Long Most Outstanding Track Athlete award went to Jaylen Slade of Chapel Hill High School. Only a freshman, Slade ran a 10.22 in the 100m Dash en route to a 4A State Championship, while also winning the state title in the 200m Dash.
"I was surprised because there are so many great athletes out here," said Slade. "My season was really good and I'm looking forward to getting better and better."
Each of the Most Outstanding Athletes received a $1,500 scholarship from Atlanta Track Club towards their college education as part of the honor. The Club also awarded $2,500 to Ellie Hall of Marietta High School and Ty Duben of Starr's Mill High School as part of the Patty Foell Scholarship and Hawthorne Wesley Scholarship, which are awarded to two seniors for their commitment to the sports of track & field and cross country each spring.