ATLANTA - July 1, 2019 - Four of the fastest 10K runners in history lead the charge on July 4 as they chase victory and a $50,000 event-record bonus in the 50th Running of the AJC Peachtree Road Race.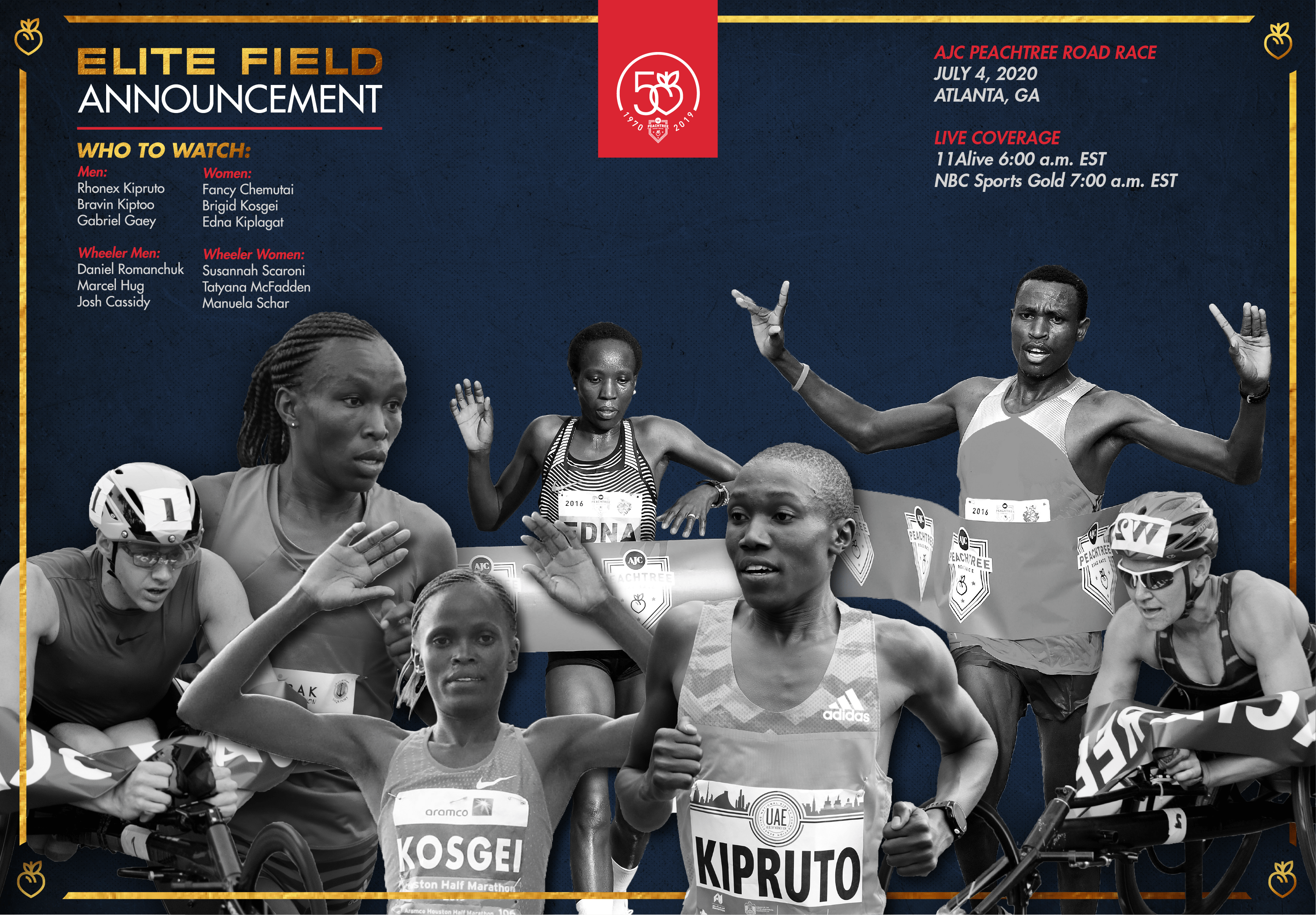 They will be preceded by the world's top wheelchair athletes as that field competes for a groundbreaking payday, thanks to an identical bonus on offer.
"All eyes will be on the largest 10K in the world as we celebrate this milestone with $200,000 in event bonuses on the line," said Rich Kenah, executive director of Atlanta Track Club. "Our event records are tough, but all four fields - men's and women's open and men's and women's wheelchair - are led by athletes who are aiming to break them and capable of doing so. So let the clock start and the racing begin."
Among those stars is Rhonex Kipruto, the 19-year-old Kenyan phenom whose personal best of 26:46 is just two seconds off the world record and is 18 seconds faster than the Peachtree mark set by Joseph Kimani in 1996 of 27:04 - the fastest 10K ever run on U.S. soil. (Kipruto's time of 27:08 in winning the UAE Healthy Kidney 10K in New York City last year is the closest anyone has come to the U.S. mark since Sammy Kipketer ran 27:11 in New Orleans in 2002).
In addition to the likely heat and humidity of Atlanta on July 4, Kipruto will be facing a late addition to the field in countryman Stephen Sambu, 30. In 2014, Sambu ran 27:25 at the B.A.A. 10K in Boston, the fastest time in the world that year. On the way, he ran what was then the fastest 8K in history.
Gabriel Geay of Tanzania, the 2016 Peachtree Champion, and Africa's Under-20 Champion Bravin Kiptoo - Kipruto's brother - are also in the mix, as are Kenya's Kennedy Kimutai and Edwin Mokua, both with personal bests of 27:38.
The top Americans are Tyler Pennel, who was third last year, runner-up in 2014 and second in the 2015 Peachtree Cup international team challenge; and four-time Olympian Abdi Abdirahman, who is running here for the eighth time and has finished as high as second.
The field in the women's footrace may be among the best ever for a 10K in this country, featuring three of the six fastest women in history as they attempt to lower the event record of 30:32, set by Lornah Kiplagat in 2002.
Leading the way is Brigid Kosgei, 25, whose 29:54 on a downhill course in Madrid on New Year's Eve ranks #2 all-time. Kosgei, winner of both the 2018 Bank of America Chicago Marathon and 2019 Virgin Money London Marathon, hasn't lost a race since last September.
She will have her work cut out for her, however, with Kenyan compatriots Fancy Chemutai and Caroline Chepkoech Kipkirui, a late addition, in the field.
Chemutai, 24, owns the fourth-fastest 10K in history (30:06) and the second-fastest half marathon (1:04:52), just one second off the world record. On June 23, she broke the course record at the B.A.A. 10K, running 30:36. Kosgei, however, won in their most recent matchup, the Aramco Houston Half Marathon in January, by 22 seconds. The 25-year-old Kipkirui, meanwhile, has a 10K personal best of 30:19, the sixth fastest in history.
Edna Kiplagat, the two-time IAAF World Champion at the marathon and 2016 Peachtree Champion, and late addition Ruti Aga of Ethiopia, the 2019 Tokyo Marathon Champion who finished third behind Kosgei and Chemutai in the Houston half, could also contend, along with Kenya's Agnes Tirop (30:50)
The top American in the field is Emily Sisson (Scottsdale, AZ), who will be racing for the first time since running 2:23:08 in London, the second-fastest American debut at the distance. Sisson, 27, is the 2016 USATF 10 km Champion and in January ran just five seconds off the American record for the half marathon.
The footrace fields will be aided by pacemakers for the first three miles down Peachtree, as the men's field will look to set out at 4:17 per mile pace and the women's field will attempt to average 4:55 per mile in an attempt to eclipse the event records.
Athletes in the Shepherd Center Wheelchair Division will also be competing for a $50,000 bonus, which would be the largest prize in wheelchair racing history. This year's elite field brings together the top wheelchair competitors from around the world, including both the men's and women's defending Peachtree champions: Americans Susannah Scaroni (Champaign, IL) and Daniel Romanchuk (Urbana, IL).
Scaroni comes to Atlanta with the hot hand: In June, the 28-year-old set two world bests, at 10K in winning the NYRR New York Mini 10K in 22:48 and at 26.2 miles in winning Grandma's Marathon in Duluth, MN, in 1:30:42 She will surely be eying the Peachtree event record set by Edith Hunkeler in 2009 of 22:09.97, but so will Manuela Schar and Tatyana McFadden, the most-decorated athlete in AJC Peachtree Road Race history with seven wins.
In the men's wheelchair race, Romanchukwill be looking to break an event record that he missed by just two seconds in his victory at Peachtree last year. To win his third consecutive AJC Peachtree Road Race and leave with an extra $50,000, he'll need to cover 10K faster than 18:38, the time clocked by Saul Mendoza of Mexico in 2004. Since winning the Peachtree last year, Romanchuk has been on a tear, winning marathons in Chicago, New York, Boston and London.
Marcel Hug of Switzerland, Ernst van Dyk of South Africa and Josh Cassidy of Canada - all past Peachtree Champions - will be among the athletes trying to stop him, as will American Aaron Pike, fresh off setting a course record at Grandma's Marathon two weeks ago.
The 50th Running of the AJC Peachtree Road Race will take place on July 4, 2019, with the Shepherd Center Wheelchair Division beginning at 6:25 a.m. It will be broadcast live locally on WXIA-TV 11Alive and nationally on NBC Sports Gold. A tape-delayed broadcast will air on NBC Sports at 7 p.m.
A complete list of athletes in the elite open fields:
MEN
| | | |
| --- | --- | --- |
| ATHLETE | NATIONALITY | 10K PERSONAL BEST |
| Rhonex Kipruto | Kenya | 26:46 |
| Stephen Sambu | Kenya | 27:25 |
| Kennedy Kimutai | Kenya | 27:38 |
| Edwin Mokua | Kenya | 27:38 |
| David Bett | Kenya | 28:08 |
| Abdi Abdirahman | USA | 28:11 |
| Bravin Kiptoo | Kenya | 28:17.06 (10,000m) |
| Tsegay Tuemay | Ethiopia | 28:13 |
| Gabriel Geay | Tanzania | 28:24 |
| Tyler Pennel | USA | 28:30 |
| James Ngandu | KEN | 28:40 |
| Elkanah Kibet | USA | 28:57 |
| Colin Bennie | USA | 29:01 |
| Brendan Gregg | USA | 29:37 |
| Matt McDonald | USA | 29:38 |
| Augustus Maiyo | USA | 29:41 |
| Alex Monroe | USA | 29:54 |
| Bernard Kibet | Kenya | 29:57 |
| Aaron Nelson | USA | 30:27 |
| Trent Lusignan | USA | 30:34 |
| Hillary Chesire | Kenya | |
| Wilkerson Given | USA | |
PACERS: Brandon Lasater, Nahom Solomon
WOMEN
| | | |
| --- | --- | --- |
| ATHLETE | NATIONALITY | 10K PERSONAL BEST |
| Brigid Kosgei | Kenya | 29:54 |
| Fancy Chemutai | Kenya | 30:06 |
| Caroline Chepkoech Kipkirui | Kenya | 30:19 |
| Agnes Tirop | Kenya | 30:50 |
| Edna Kiplagat | Kenya | 31:06 |
| Helen Tola | Ethiopia | 31:13 |
| Norah Jerutu Tanui | Kenya | 31:17 |
| Ruti Aga | Ethiopia | 31:35 |
| Emily Sisson | USA | 31:47 |
| Hiwot Ayalew | Ethiopia | 31:47 |
| Sharon Lokedi | Kenya | 32:05 |
| Jen Rhines | USA | 32:16 |
| Hannah Everson | USA | 32:28.35 (10,000m) |
| Kellyn Taylor | USA | 32:34 |
| Molly Seidel | USA | 32:55 |
| Tish Jones | Great Britain | 32:58 |
| Becky Wade | USA | 33:03 |
| Maegan Krifchin | USA | 33:22 |
| Samantha Bluske | USA | 33:26 |
| Eden Meyer | USA | 33:43.36 (10,000m) |
| Molly Watcke | USA | 33:52 |
| Lindsay Flanagan | USA | 33:55 |
| Michelle Lee | USA | 34:30.25 (10,000m) |
| Bria Wetsch | USA | 35:58 |
| Christy Peterson | USA | 37:28 |
| Renee Tolan | USA | |
PACERS: Yolanda Ngarambe, Daisy Jepkemei