SACRAMENTO, CA -- December 3, 2017 -- Four Atlanta Track Club runners qualified for the U.S. Olympic Marathon Trials Sunday morning. Matt McDonald, Bridget Lyons, Sallie Post and Lacey Krout all set personal bests on a picture perfect day at the U.S. Marathon Championships in Sacramento, part of the California International Marathon.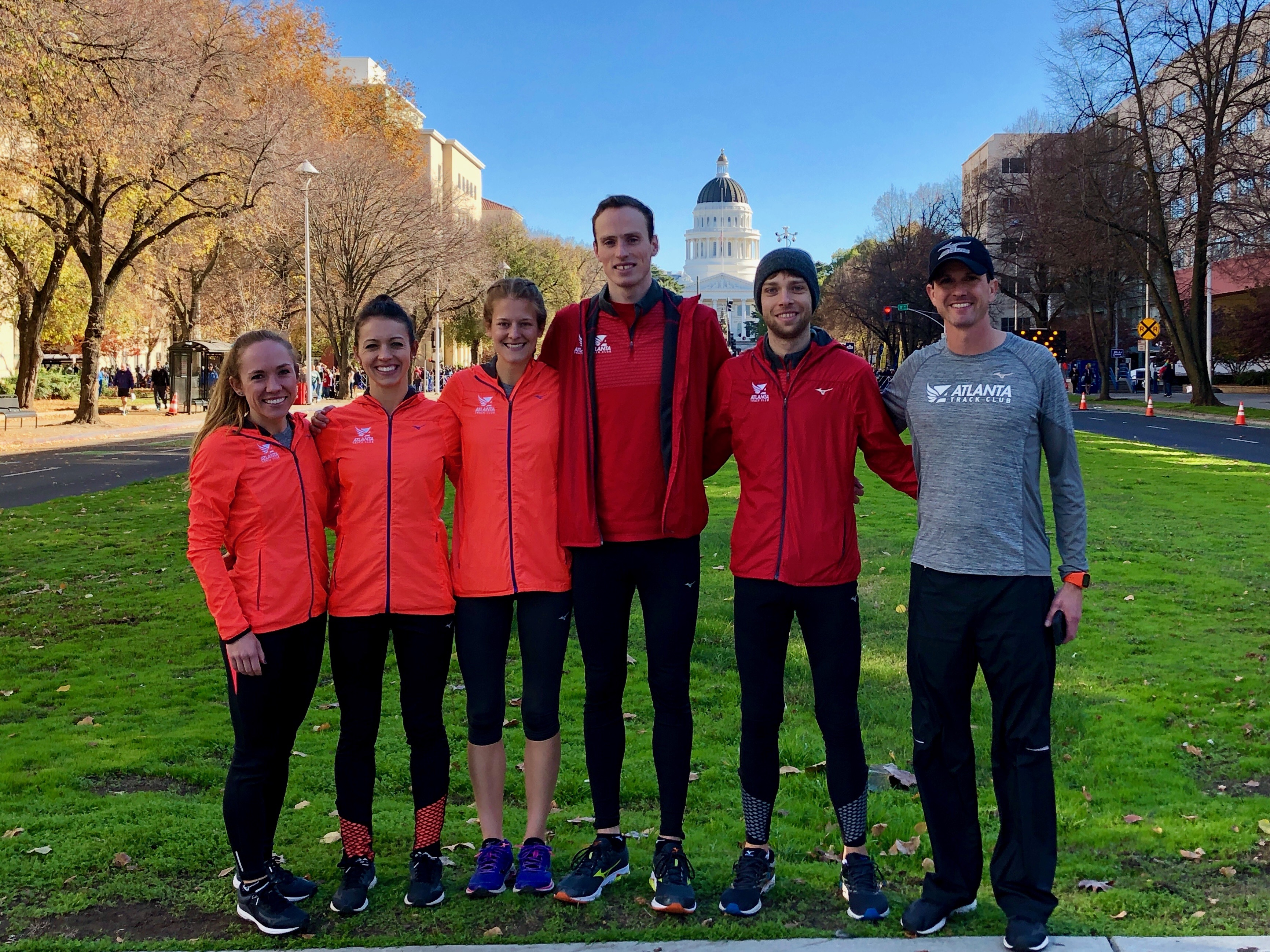 In his debut Marathon, McDonald finished in 2:18:31, 29 seconds ahead of the B standard for the trials. "At mile 20 I was feeling fantastic, so I threw in a little surge," said McDonald, a Princeton grad who trains with Atlanta Track Club while working on his PhD at Georgia Tech. "But by mile 22, I was feeling terrible. For the last 5K, I just kept repeating my mantra: 'Fit, faith and strength". 
In the women's race, Lyons will run in her second Olympic Trials Marathon after running 2:36:24 to lead a trio of Atlanta Track Club women. The former Georgia Bulldog and part-time dentist's finishing time bests the trials A standard of 2:37. It's also an eight minute personal best. She credits the most intense training cycle of her career with the day's success. "I have never done a full marathon build up like this where the whole idea is to have tired legs the entire time," said Lyons. "I have never sustained that high of mileage, done that tempos that long or intervals that long." Lyons ran a nearly perfect race splitting 1:18:07 at the halfway point.
Post's finishing time of 2:41:26 also qualifies the former William and Mary standout for her second consecutive trials. Post's personal best time comes less than 11 months after surgery on her left knee that put her on crutches for four weeks. "I was doubting a whole lot," said Post. "I just kept telling myself, I have done this before and I just need to trust in the training." 
Krout's time of 2:43:47 sends her to her first Olympic Marathon Trials. It's a ten minute personal best for the 2017 Publix Georgia Marathon Champion. Making the performance even more impressive, marathon organizers did not accept Krout into the elite field meaning she did not benefit from personal fluid and nutrition stations. "It gave me more motivation," said Krout who carried her own gels. "I was running in a pack with runners who did have the elite bottles and they were sharing with everyone in the group." Now that she has a time that will qualify her for any elite marathon field, Krout says she'll be able to run even faster.
Conditions were perfect for running in Sacramento. Temperatures ranged from the high 40s to the low 50s over the course of the race and there was virtually no wind. Showers Saturday night did leave the roads a bit wet for the 7 a.m. start of the race. The men's race was won by Timothy Ritchie in 2:11:56 while Sara Hall won the women's race in 2:28:10.
McDonald's training partner Andrew McLain missed the standard by just 19 seconds. It's still an exceptional debut for the seven-time Division II All-American and coach Andrew Begley is confident McLain will join his teammates on the line at the trials. "I am so proud of all the performances today," said Begley. "Our athletes gave it all they had and now we have at least a year to fine tune their training and develop them into contenders for a spot on the Olympic team." Atlanta Track Club's Laurie Knowles had already qualified for the trials at the TCS New York City Marathon in November.
A date and location have not been announced for the 2020 U.S. Olympic Marathon Trials. They are expected to be held sometime between January and March of 2020. 
Photo: Lyons, Krout, Post, McDonald, McLain and Begley after the U.S. Marathon Championships on Sunday, December 3, 2017.