By Jay Holder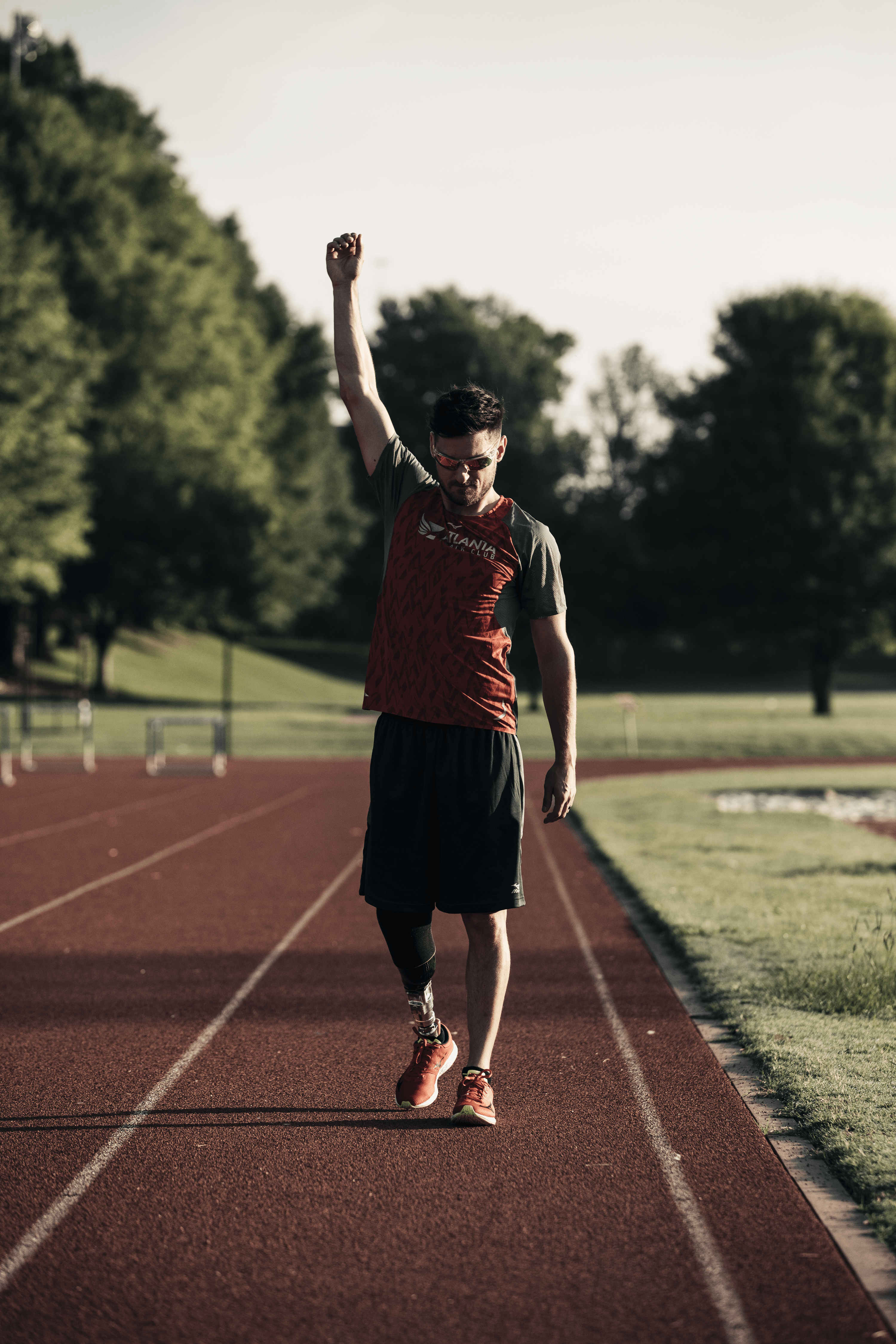 When he was 19, Jarryd Wallace told doctors to cut off his leg.
The high school track star wanted to live a normal life, he told them. He wanted to throw the football with his son one day. After years of surgeries, pain, trial, error and hopelessness, a once-drastic measure now seemed like the only move Wallace could make.
Nine years later, Wallace, a four-time world record-holder, three-time world champion, two-time Paralympian and new member of Atlanta Track Club Elite, is getting ready to go work out. He kisses his wife, Lea; pats his Vizsla, Luna, on the head; and tosses his gym bag and prosthetic running blade into the back of his Toyota Tundra. On the 20-minute drive from his home in Watkinsville to the University of Georgia campus in Athens, he waves to a police officer he passes every day and talks about building a home and family in the community in which he grew up - where his parents are legends and where he now is, too.
A Once-Promising Distance Runner
Wallace made it to the finals of the 800 meters and 3200 meters at the state championship meet his sophomore year at Oconee High School. During the next cross country season, a pain in his right leg was diagnosed as a stress reaction. By outdoor track season, the pain was gone and Wallace won state titles in the 800 and 1600.
But just as he was getting invited to major national meets, the pain came back. Again, the diagnosis was a stress reaction. Wallace and his parents Jeff, a national champion tennis coach at UGA for the past 34 years and Sabina, a former standout runner for the Bulldogs, sought a second opinion. This time, the diagnosis was compartment syndrome, a buildup of pressure inside the muscle that restricts the flow of blood and oxygen to muscle cells. It's a relatively common overuse injury in runners and one his mother had dealt with during her days as a competitive athlete.
Wallace worked with his doctors and coaches through the summer to manage the syndrome, and he won the regional cross country meet the following fall. But he struggled to a disappointing 10th at the state meet, seven spots lower than the year before. He had surgery to release the pressure 19 days later. "It was a very quick, easy surgery," Wallace recalled. He assured himself that he would start training in February and be able to train twice as hard because he would be pain-free and able to defend his state titles.
***
At an athletic facility lined with the names and photos of national, world and Olympic champions, everyone knows Jarryd Wallace. It has nothing to do with his missing leg.
"It's because he is a good dude," said Josh Rucci, a strength and conditioning coach at UGA who has trained and been friends with Wallace since before the amputation. "There is nothing beyond that."
Wallace does his nearly 45-minute pre-run routine near the entrance of the weight room. It might be a 30-minute routine if not for the conversation he has with every person who walks in the door. When he leaves to go to the rehab room some 400 meters away, he stops to talk to the UGA distance coach, Pat Cunniff. He gets an update from Keenon Laine, an All-America Bulldogs high jumper. And he checks in with a member of the janitorial staff, asking him how his pregnant wife is feeling. Finally inside, he puts on his competition blade and steps onto an anti-gravity treadmill. His Achilles tendon has been bothering him and his coach, Althea Thomas (who is also UGA's sprint/hurdles and relay coach), has prescribed a workout at 75 percent of his body weight. He removes his shirt, much to the chagrin of a staff member who reminds him of the room's policy but then doesn't enforce it. As the treadmill speeds up to 14 miles an hour, it's hard to read the tattoo on the side of his torso: 12 words or phrases and all. One for each of his surgeries.
Removing the Bandages
Four days after the surgery to remove the pressure, Wallace had his bandages taken off. Within minutes, it was clear something was wrong. His leg was black and blue. He was in tremendous pain; pain he just assumed was a normal part of the recovery process. That night, he was in emergency surgery in Atlanta. His suture had come undone and blood had seeped into his leg, destroying 60 percent of his muscle from the knee down. He was in the hospital for 17 days, just the beginning of a painful ordeal that would last nearly two years.
His soleus, gastrocnemius and anterior tibialis were dead. Wallace, who had an athletic scholarship to run cross country and track at UGA, was likely never going to run again. There were blood transfusions, skin grafts and a metal cage Wallace wore around his right leg to move his foot back into its natural position. He wore it for six months, continuing to visit the weight room and rehab facility at UGA and working with Rucci to do whatever he could to stay in shape. When the cage came off, the foot was still off-kilter. He had no sensation in it. He developed a pressure sore and, somewhere along the way, he started to give up.
"I was just tired," Wallace said. "I was tired of being strong. I was tired of being OK."
Wallace, who considers himself deeply faithful, walked away from God and turned to drugs and alcohol to mask the pain. For more than a year, he vanished from both the weight room and church. "Part of it was hiding the pain," he said. "Part of it was just trying to get drunk or high enough to have the pain go away and distract my mind from the reality of the world, because I didn't like my reality at that time."
***
Wallace moves through the intervals of his workout, adding two additional reps for good measure. It's early September and he won't compete again until November, at the World Para Athletics Championships in Dubai. He has his sights set on his fourth gold medal in the T-64 (formerly T-44) category for below the leg amputees. After graduating from UGA with a degree in communications last May, his full time job is to chase his dreams. Wallace's world records in the 100 and 200 have since been broken and he wants them back. Most importantly, he wants to be in the best shape of his life for the 2020 Paralympic Games in Tokyo. In his previous Paralympic appearances in 2012 and 2016, he placed sixth and fifth respectively. That's not good enough for him.
"I always tell people 'don't set your goal below where you want to be,'" Wallace said. "If you want to win a medal, don't say 'I want to go to the Olympics.' Say you want to win a freaking medal."
***
Take Off My Leg
The depression and despair didn't go away, but eventually Wallace did go back to his faith.
"I was doing all the things that the world says will fix your problems and coming up empty," he said. "So, I was like 'all right God. I've had my time. I've tried on my own. I'm going to give you a shot.'"
Wallace met with a doctor in Wisconsin, who first mentioned the idea of amputation. Pointing to the U.S. Olympic Team Trials - Track & Field shirt Wallace was wearing from a trip to Eugene, the doctor told Wallace that his best shot, his only shot, of being an athlete again was to do it without his right leg.
After the appointment, Wallace went on the internet in the hotel business center and watched videos of amputees waterskiing, doing flips and of course, running. He went back to his parents and told them he wanted to go through with the surgery. "It took us a little longer to wrap our heads around it," said his father.
At peace with the decision, Wallace, less than four years removed from being a state champion middle distance runner, returned to the weight room at UGA to begin the process of becoming a world-class amputee athlete even though he wasn't yet an amputee. He asked Rucci to help him get his strength back. "Dude, are you telling me you are going to cut your leg off?" Rucci recalled asking. "That's[expletive] crazy. Whatever you want to do after that, I'll help you with it, but let's make sure you have this figured out."
There wasn't a doubt in his mind. "When I was going through these surgeries and everything, I had lost that ability to dream," Wallace said. "In Wisconsin, that doctor got me dreaming again."
"As in shape as a crippled guy can be," Wallace drove with his family from Athens to Indianapolis. On June 22, 2010, six weeks after his 20th birthday, doctors removed his right leg from the knee down. The night before the surgery, a group of his friends got together, called Wallace and said prayers with him. The next day, he prayed with his parents, and then with the operating staff. He recalled being so calm that when the nurse came to collect him from the waiting room, she assumed she had the wrong person.
"It should have been the hardest day of my life," he said. "But I was so at peace, I can't even explain it."
Hours after the surgery, Wallace woke up to see his mom sitting at the end of the bed. "Mom!" He yelled. "You just sat on my leg!" With that joke, Wallace set the tone for his week of recovery in Indianapolis and drove back to Athens ready to literally hit the ground running.
***
Over a post-workout lunch and beer at The Royal Peasant, his favorite pub in Athens - where, not surprisingly, he knows the owner - Wallace lights up talking about his recent trip to Japan, his 13th since the rebirth of his athletic career. He's working with a company called XiBorg to accomplish two moonshot goals: to create the fastest running blade in the world for the fastest athletes in the world, and to use the same technology to create a blade that's accessible to any amputee who wants to run again. He points to his network of support before, during and after his amputation as his inspiration: his family, the athletic department at UGA and a Buford, Georgia-based prosthetic company called ProCare that heard about his goals and gave him his first blade at no charge.
"I have never gotten anywhere on my own," he said. "The times I've tried, I've gotten nowhere."
Often costing more than $15,000, running blades are unaffordable for most people. Wallace and XiBorg hope to create blade libraries in major cities around the world where runners can rent blades at an hourly rate. The first library of its kind is serving runners every day Tokyo. "We want to give people opportunities that they have never had before to realize they can do something they never thought they could do," he said.
A film crew is documenting the project. Wallace is working to secure funding to market and distribute the final product, "Race to Tokyo."
Immediate Success
Just three months after surgery, Wallace ran for the first time in nearly four years and started to train his new body to go fast. "When he gets into something, he's freaking in it," said Rucci. "He's in knee-deep and he's gung-ho." The UGA rehab staff worked to turn a cross country kid into a sprint champion. "You have a kid come in and they are complaining about an ankle sprain, or Achilles pain," said Mike Dew, director of rehabilitation. "And they see Jarryd over there and it's like 'yeah, my problem is not quite as big as I thought it was.'"
On June 22, 2011, on the one-year anniversary of the amputation, Wallace lined up to race for the first time at a track meet in Oklahoma. He won the 100 and the 200 and qualified for the national championships.
That fall, he won a gold medal at the ParaPan American Games and ran the fastest time in the word in 2011 for the 100 meters..
At the 2013 World Championships in Lyon, France Wallace won gold in the 200 and the 4x100. In 2017, he picked up a third World Championship gold in the 200 in London.
As his success on the track turned heads, so did his story, charisma, charm and good looks. He signed with track and field agent Hawi Keflezighi and began to do speaking gigs and promotional appearances. He picked up sponsorships from Toyota, Mizuno and Atlanta Track Club. "For the first time in my career, I can say that I don't have to worry about anything but running," he said.
"Every day I run now is a gift," said Wallace. "To lose that for three or four years and think I'm never going to be able to do that again and then to be able to do it with a prosthetic on the world stage … it's crazy."
***
There is no place Wallace would rather be than where he's always been. In Watkinsville, he can go golfing with his dad, host a weekly Bible study for UGA student-athletes and spend time in his custom-built home with Lea, a Teach for America administrator who he married in October of 2016. The couple is expecting their first child, a boy, in late October. It's the son he told doctors he wanted to throw the football with when he made the biggest decision of his life, nearly a decade ago.
Looking back, Wallace says he's grateful for the dozen surgeries and the 18 months of unknowns that preceded it. "If I would have lost the leg after the first surgery, I would have seen amputation as a negative," he said. "I got to go into this situation seeing that amputation was how God was going to do more with my life. Losing my leg was a second chance."