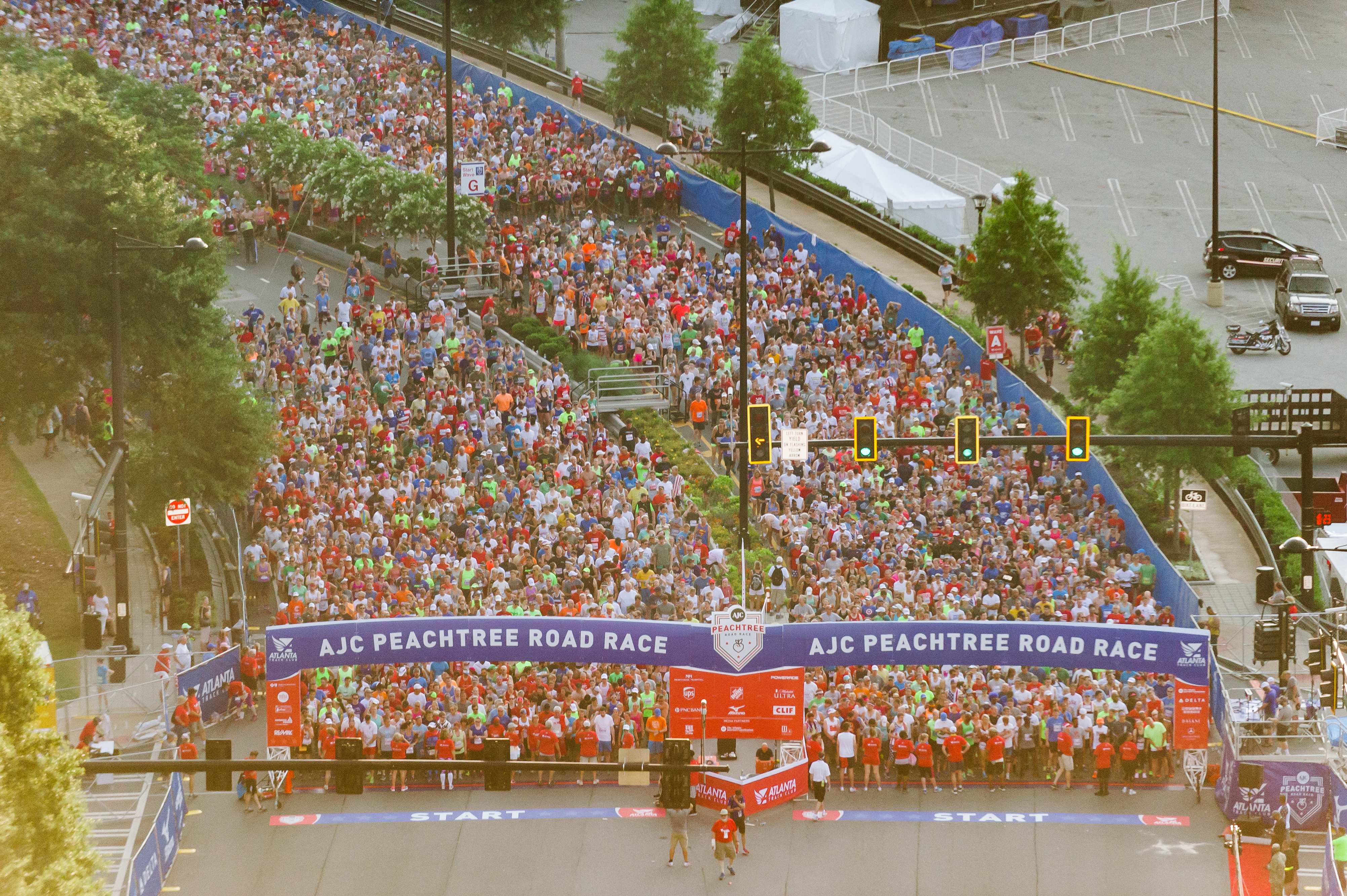 ATLANTA – March 15, 2017 – Registration for the 2017 AJC Peachtree Road Race opens Wednesday, March 15 through an online lottery at AJC.com/peachtree. Those wishing to be one of the 60,000 participants of the 48th running of the world's largest 10K can register online anytime during the eight-day period beginning March 15 until 11:59 p.m. (EDT) on March 22. All lottery entrants will receive an email by Saturday, March 25 informing them on whether or not they were selected.
Entry into the event remains $38 for the public, plus applicable online processing fees. There is no charge to enter the lottery.
For those who want to skip the lottery, a limited number of 2017 AJC Peachtree Road Race entries are available to benefit Kilometer Kids, Atlanta Track Club's youth running program. The special charity numbers are $150 each, $115 of which is tax deductible and will go directly to the Kilometer Kids program.
Additional registration information can be found at peachtreeroadrace.org.
About Atlanta Track Club
Atlanta Track Club is a nonprofit committed to creating an active and healthy Atlanta. Through running and walking, Atlanta Track Club motivates, inspires and engages the community to enjoy a healthier lifestyle. With more than 27,000 members, Atlanta Track Club is the second largest running organization in the United States. In addition to the AJC Peachtree Road Race (peachtreeroadrace.org) – the largest 10K running event in the world, the Publix Georgia Marathon, PNC Atlanta 10 Miler and Thanksgiving Day Half Marathon, Atlanta Track Club directs more than 30 events per year. Through the support of its members and volunteers, Atlanta Track Club also maintains a number of community initiatives including organizing and promoting the Kilometer Kids youth running program to metro Atlanta youth, honoring high school cross country and track and field athletes through Atlanta Track Club's All-Metro Banquets and supporting the Grady Bicycle EMT program. For more information on Atlanta Track Club, visit atlantatrackclub.org.
About the AJC Peachtree Road Race
The AJC Peachtree Road Race is a 10K event that takes place every Fourth of July in Atlanta, Georgia.  The first Peachtree was held in 1970 and featured 110 finishers. The AJC Peachtree Road Race is now the largest 10K running event in the world with 60,000 participants. The AJC Peachtree Road Race is perhaps most famous for the coveted AJC Peachtree Road Race T-shirt, which is handed out to all the event finishers. For more information on the AJC Peachtree Road Race visit peachtreeroadrace.org or AJC.com/peachtree.   
About The Atlanta Journal-Constitution
The Atlanta Journal-Constitution is the leading source – both in print and online – of news, information and advertising for metropolitan Atlanta, reaching a total print and online audience of 1.6 million people each week. Every month, nearly 6.9 million unique visitors access the newspaper's websites, including AJC.com, myAJC.com and accessAtlanta.com. Our newsroom is the largest in Georgia with more than 150 journalists. The Atlanta Journal-Constitution is part of Cox Media Group, a publishing, digital media and broadcasting subsidiary of Atlanta-based Cox Enterprises.