NOVEMBER 20, 2020 -- ATLANTA -- Kamari Miller, a senior at Marietta High School and Mary Brady, a senior at St. Pius X Catholic High School were named the Powerade All-Metro Runners of the Year at an awards banquet hosted by Atlanta Track Club on YouTube Friday night. The Club honored 42 area cross country runners and named the first, second and third Powerade All-Metro Cross Country team on the broadcast which was not held in person for the first time in its 56-year history.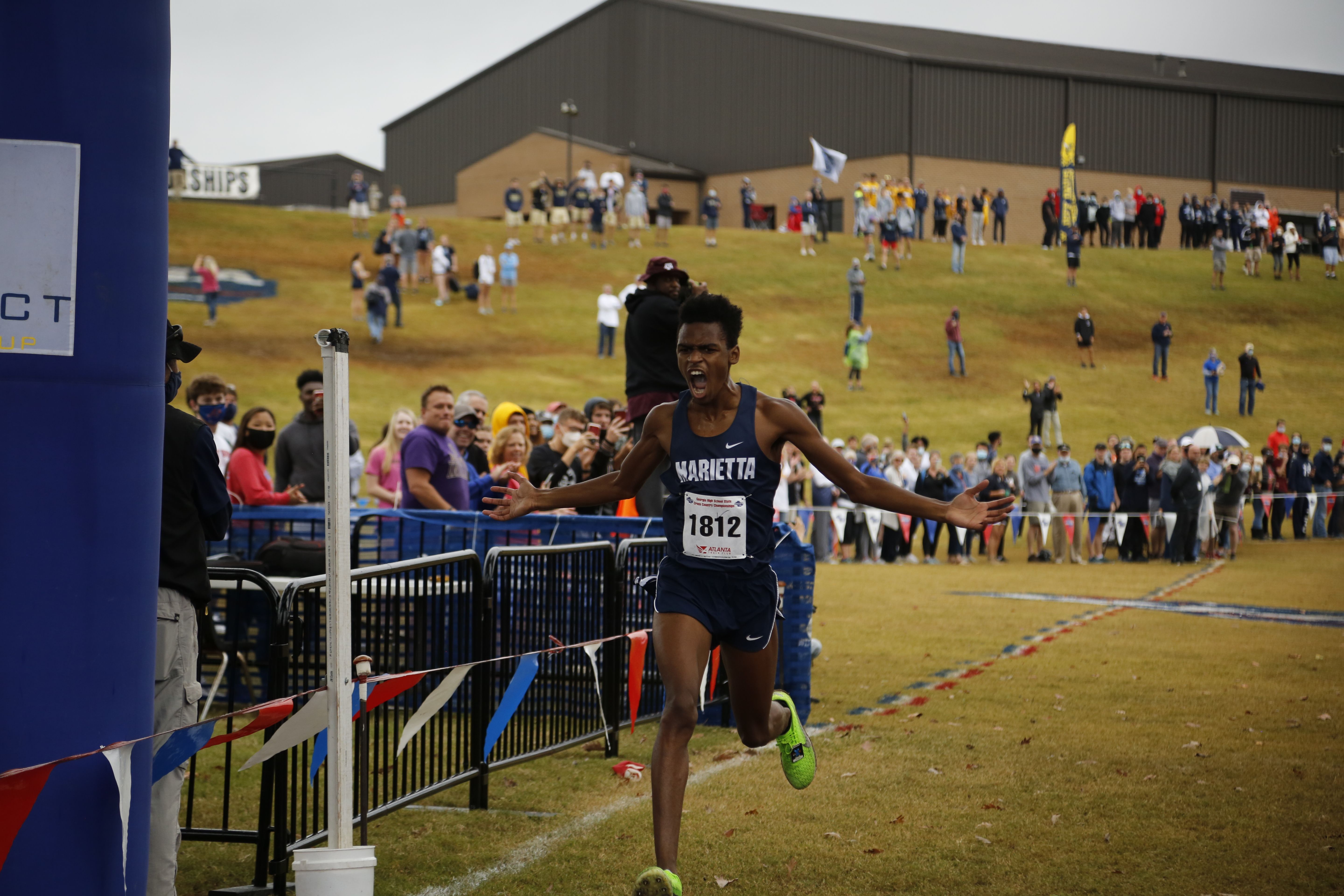 Miller won the 7A GHSA Cross Country State Championship on November 6 in Carrolton by nearly 38 seconds. His winning time of 15:29.72 shattered the course record and lead Marietta to the team title. The senior standout was undefeated in eight races during the 2020 season. "I just had a really solid training block that helped me hit some fast times this season," said Miller after the state meet. He said he's hoping to break 4:00 in the mile during the upcoming track season. Miller will compete at Syracuse University next fall. His award was presented by Justyn Knight, a Syracuse alum and the 2017 NCAA Cross Country Champion who currently runs professionally for Reebok.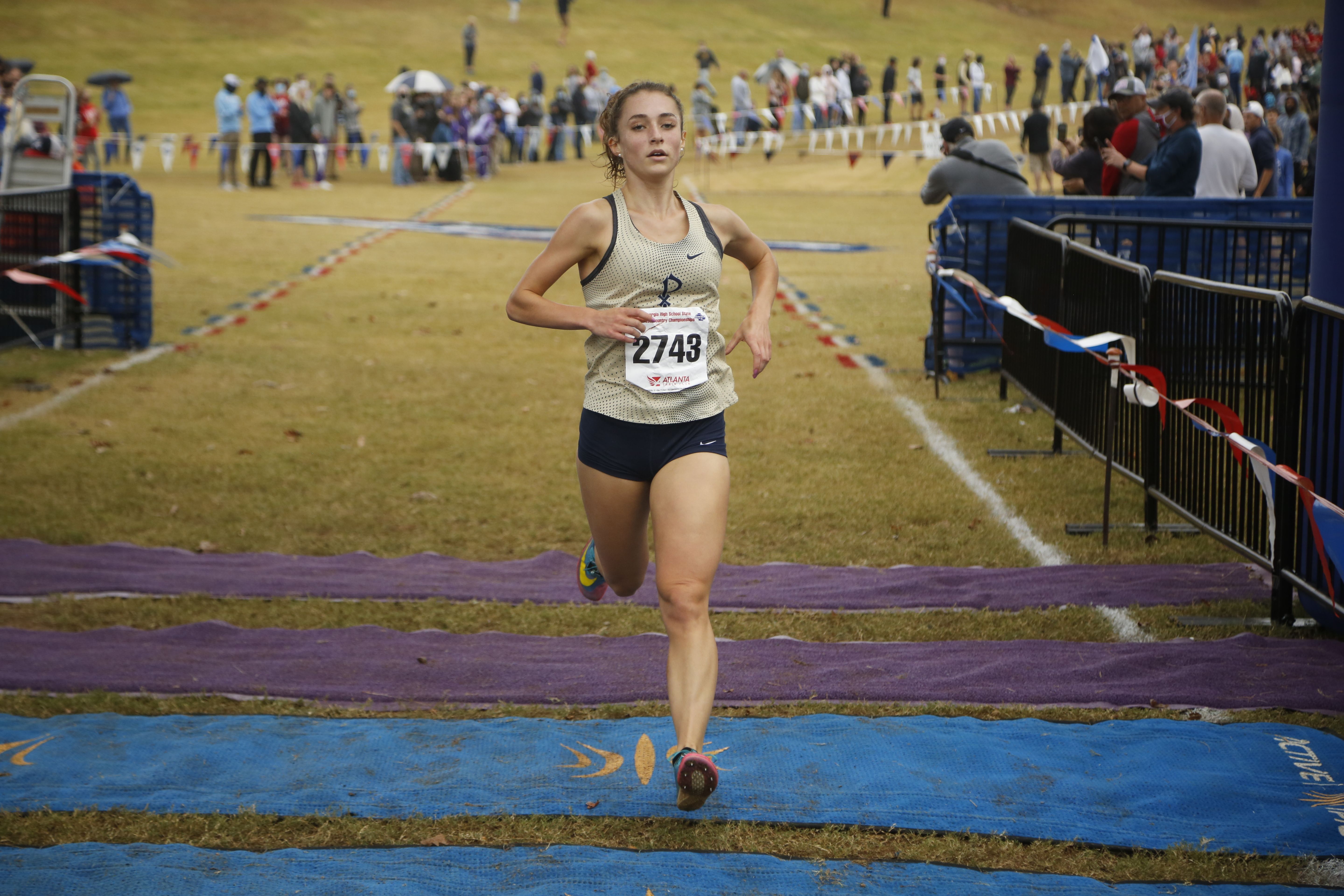 Brady was the individual champion in the 5A race at the state meet, holding off her sophomore teammate and fellow first-team honoree Hannah Schemmel by 12 seconds. The pair helped secure the team win for St. Pius. Brady was undefeated against Georgia runners in 2020 and showed remarkable improvement over her junior season where she placed 7th at the state meet. She has not committed to a school yet, but does plan to run collegiately in 2021. "I just kept pushing this season because I never really thought there would be a state race," said Brady after her win in Carrolton. "I ran every race like it was last," she said. Brady's award was announced by 2012 Runner of the Year Allie Buchalski, a Johns Creek High School and Furman University graduate who runs professionally for Brooks.
The Powerade All-Metro Boys and Girls Cross Country first teams featured seven athletes each, including Miller and Brady. Of the fourteen runners, seven were individual state champions and the remaining seven finished no lower than third at the state meet. Team placement was decided by voting from area coaches and the general public. The first team is ranked by performance. The second and third teams are listed alphabetically. Complete teams can be found below. Any cross country athlete in Fulton and Dekalb County or any county that borders those counties is eligible for the Powerade All-Metro Cross Country team. Selections are based on performances throughout the season with heavy emphasis placed on the state meet.
Two coaches were also honored for their dedication to the sport at Friday night's banquet. Eric Daughtery of Union Grove High School won the award for the girls' coach. Chad McDaniel of Wesleyan School won the award for boys' coach.
The entire banquet can be seen here.
Held annually since 1964, the Powerade All-Metro Cross Country and Track and Field Banquets are Atlanta Track Club's oldest traditions, dating back to the Club's founding as an organization that celebrated the Atlanta area's thriving high school track and field community.
Powerade All-Metro Girls Cross Country First Team
| | | |
| --- | --- | --- |
| Athlete | School | Year |
| Mary Brady | St. Pius X Catholic High School | 2021 |
| Makena Gates | Creekview High School | 2021 |
| Carmel Yonas | South Forsyth High School | 2023 |
| Hannah Schemmel | St. Pius X Catholic High School | 2023 |
| Hannah Minutti | Blessed Trinity High School | 2021 |
| Cara Joyce | Atlanta International School | 2022 |
| Ruby Little | Marist School | 2024 |
Powerade All-Metro Boys Cross Country First Team
| | | |
| --- | --- | --- |
| Athlete | School | Year |
| Kamari Miller | Marietta High School | 2021 |
| Sully Shelton | Harrison High School | 2021 |
| Zack Truitt | Landmark Christian School | 2021 |
| Hayden Marshall | Milton High School | 2021 |
| Edward Blaha | Pace Academy | 2022 |
| Joe Sapone | Holy Innocents Episcopal School | 2023 |
| Christian Gonzalez | Decatur High School | 2022 |
Powerade All-Metro Girls Cross Country Second Team
| | | |
| --- | --- | --- |
| Athlete | School | Year |
| Sarah Burwell | Walton High School | 2021 |
| Katie Hamfeldt | Blessed Trinity High School | 2022 |
| Elle Mezzio | Riverwood High School | 2021 |
| Gabby Parsons | Union Grove High School | 2022 |
| Morgan Grace Sheffield | Denmark High School | 2024 |
| Grace Von Biberstein | St. Pius X Catholic High School | 2023 |
| Allie Wardle | Brookwood High School | 2023 |
Powerade All-Metro Boys Cross Country Second Team
| | | |
| --- | --- | --- |
| Athlete | School | Year |
| Ethan Ashley | Denmark High School | 2022 |
| Will Bray | Brookwood High School | 2021 |
| Matthew Fernando | Westminster Schools | 2022 |
| Mac Howie | Wesleyan School | 2021 |
| Collin Jones | Carrollton High School | 2021 |
| James May | Marietta High School | 2022 |
| Eion McNally | Decatur High School | 2021 |
Powerade All-Metro Girls Cross Country Third Team
| | | |
| --- | --- | --- |
| Athlete | School | Year |
| Sophie Boice | Pope High School | 2021 |
| Makenna Calbert | Etowah High School | 2022 |
| Lorel Golden | Pope High School | 2022 |
| Johna Grisik | Marist School | 2022 |
| Sydney Lamberson | Lovett School | 2021 |
| Hayden Puett | Holy Innocents Episcopal School | 2021 |
| Claire Shelton | Dunwoody High School | 2024 |
Powerade All-Metro Boys Cross Country Third Team
| | | |
| --- | --- | --- |
| Athlete | School | Year |
| Ryan Boyle | St. Pius X Catholic High School | 2022 |
| Will Jennings | Carrollton High School | 2023 |
| Matthew Moore | East Coweta High School | 2021 |
| Patrick Pitts | Lovett School | 2021 |
| Andrew Todd | Parkview High School | 2021 |
| Joe Urbanowicz | Lovett School | 2021 |
| Adam Wade | Blessed Trinity High School | 2021 |