ATLANTA - July 17, 2020 - Beloved Atlanta sports mascots Freddy Falcon, Harry the Hawk and Blooper from the Atlanta Braves united for the first time in many months on Friday to present a $51,000 check to the National Center for Civil and Human Rights. The donation comes from monies raised through the One Team ATL 5K, a virtual race held last weekend and organized by the Atlanta Braves, Atlanta Dream, Atlanta Falcons, Atlanta Hawks, Atlanta United FC and Atlanta Track Club.
On Saturday, July 11 and Sunday, July 12 more than 3,100 runners from 42 states and three countries ran 3.1 miles to celebrate Atlanta's hometown sports scene and raise awareness for social justice education. The money raised will benefit the Center's Campaign for Equal Dignity.
"The One Team ATL 5K expresses the deepest values of the National Center for Civil and Human Rights — bringing diverse people together to support justice and equality," said Jill Savitt, President and CEO of the National Center for Civil and Human Rights. "We offer our thanks to the Atlanta Track Club and all of Atlanta's hometown teams for bringing our community together to support civil and human rights and the dignity of all people."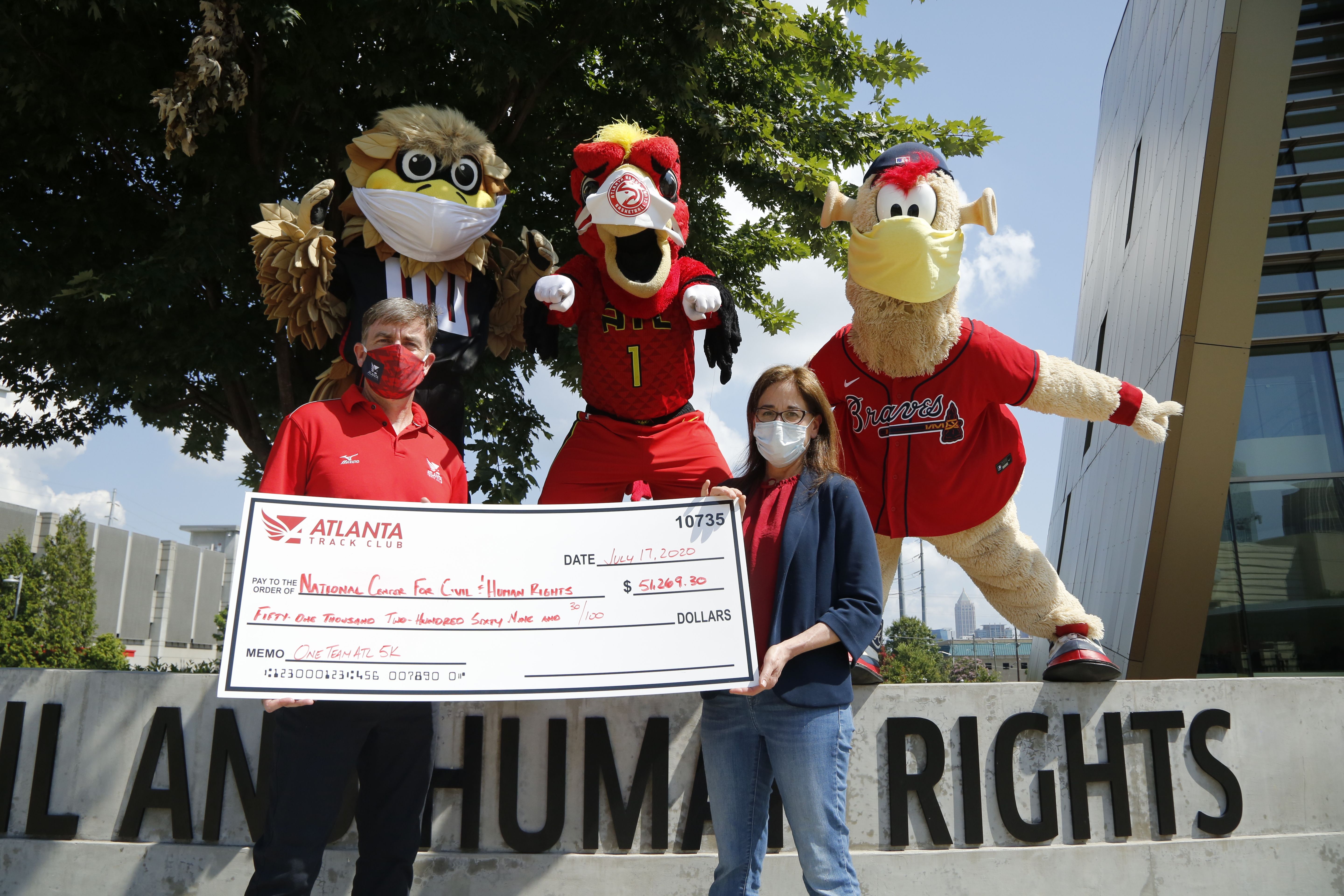 Atlanta Track Club organized and planned the event with representatives from each of the professional sports teams. Participants received their race number and T-shirt in the mail, along with a custom playlist from each participating team, a platform to upload and compare results and a congratulations video after they completed their race. Runners and walkers used #OneTeamATL5K to share race photos and memories on social media.
"It's been too long since Atlanta has come together for a race," said Rich Kenah, Atlanta Track Club. "And although we couldn't all run with each other, the One Team ATL 5K united this community around an important cause and Atlanta Track Club's vision of a healthier Atlanta through running and walking."
The National Center for Civil and Human Rights has been closed to the public since March 13 due the pandemic. However, the Campaign for Equal Dignity offers free opportunities to discuss social justice, the history of racism in the United States and provides tools for anti-racism initiatives.
Click here for photos and video from today's check presentation.