ATLANTA -- July 3, 2019 -- Runners picking up their bib numbers at the Peachtree Health & Fitness Expo this year suddenly found themselves cheering and clapping in rhythm for a world-class athletic competition, with Olympians jumping and soaring alongside the clothing racks and food samples. ""They're so fast, and their legs have so much power," said one Atlanta woman, carrying Expo bags, who will be running her sixth AJC Peachtree Road Race but had never seen a triple jump. "Look how fast they go. This is fascinating. It's so great to have it here."
Winning that triple jump on Tuesday was Keturah Orji, who finished fourth at the 2016 Olympics, while the women's pole vault champion was Sandi Morris, the 2016 Olympic silver medalist. Jacob Wooten, the 2019 NCAA Indoor Championships bronze medalist, took the honors in the men's vault. Held on a custom-built runway inside the Georgia World Congress Center, the competition was sanctioned by USATF, and the results will count as official. The results of the spontaneous handstand-walking and pull-up competitions that helped keep things rocking, however, were not recorded.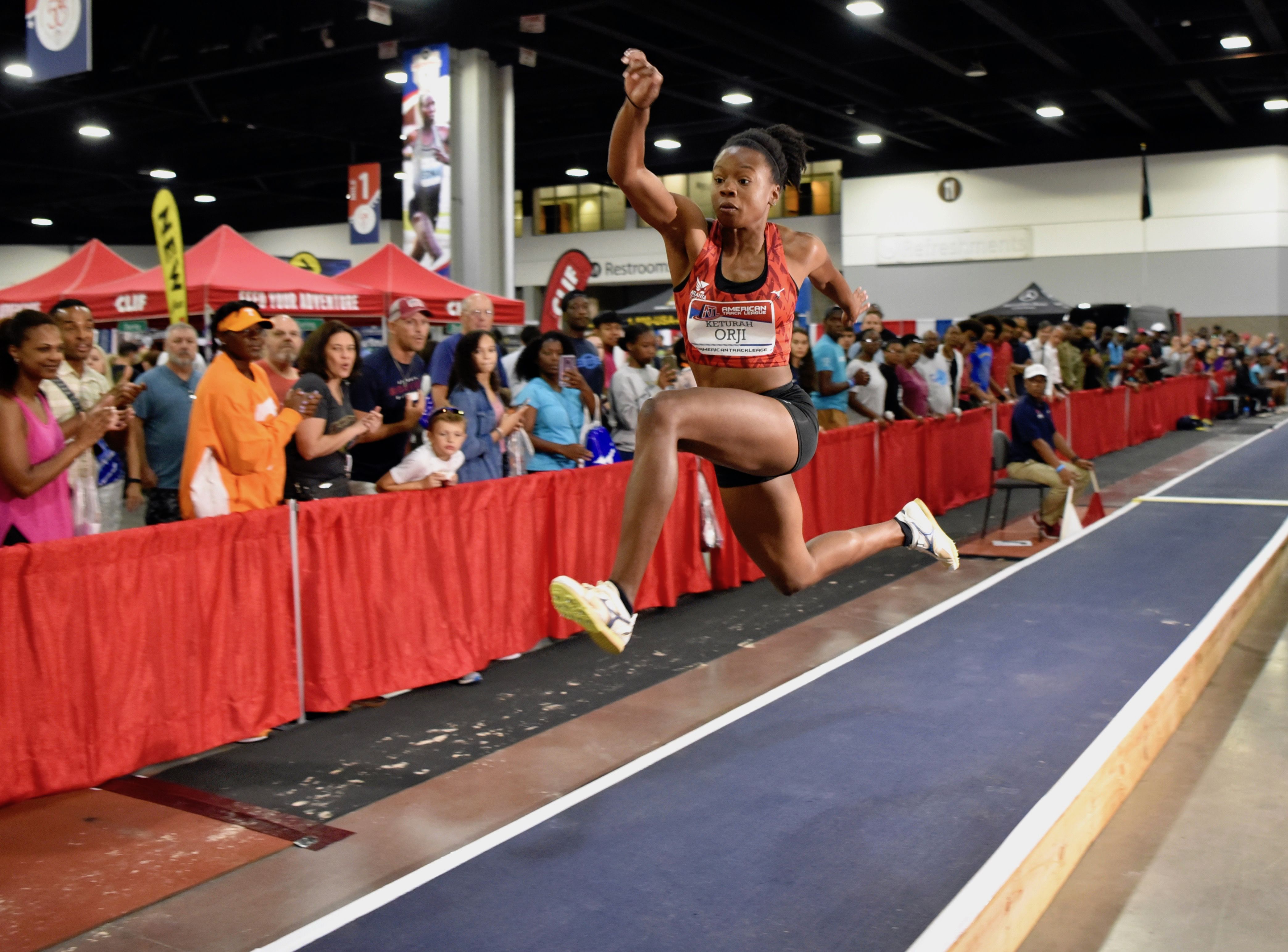 Orji, who competes for Atlanta Track Club's Elite Team, had her sights set on reclaiming her American indoor record, and she looked to be on her way with a first attempt of 14.42 meters, just five inches shy of the current mark. It would be her best of the day, good enough to easily win the competition. Finishing second and third, respectively, were Yosiry Urrutia of Colombia, with a best jump of 13.72 meters, and Ana Jose Tima of the Dominican Republic, at 13.67 meters. Both are 2016 Olympians.
"Competing here today was really exciting," said Orji, an eight-time NCAA Champion for the University of Georgia. "I know a lot of people here have probably never seen a triple jump competition, so it was just exciting to have them here and help them learn about the event. It was great to have them clapping, too, because you don't always get that kind of energy at the women's triple jump.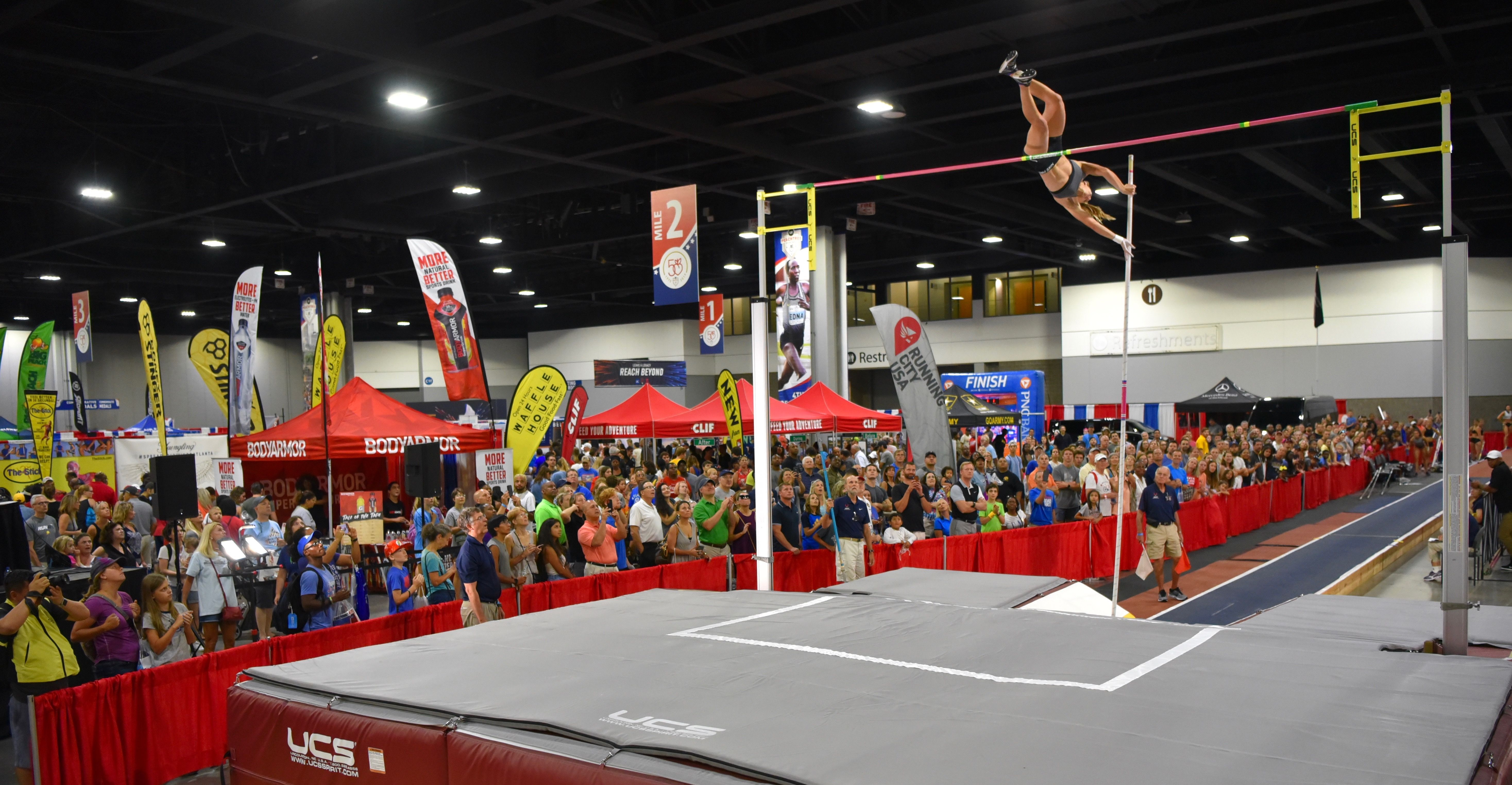 In the women's pole vault on Wednesday, Morris - the American outdoor record holder - didn't miss on a single attempt through 4.80 meters, wowing the crowd and winning handily. Canadian Olympian Anicka Newell and Emily Grove, a member of Team USA at the 2017 IAAF World Championships, tied for the runner-up spot at 4.40 meters. Anna Smith, who finished third in the 2019 GHSA 3A state championships for Westminster High School, was riveted. "It's very impressive and cool to see live," she said, standing along the vault runway. "It's very cool for people who may not know the pole vault to get to watch this."
And the event will live on: Atlanta Track Club is donating the pole vault landing pit and the more than six tons of sand from the triple jump sandpit to Atlanta Public Schools, with the pad going to Maynard-Jackson High School and the sand split between Coretta Scott King and B.E.S.T. Academy and Lakewood Stadium.

Photos by Dan McCauley