MARCH 13, 2020 - ATLANTA - Registration opens Sunday for the 51st Running of the AJC Peachtree Road Race, Atlanta Track Club announced today. The two-week registration window for members of Atlanta Track Club and those entering the lottery for the event will go on as planned despite current concerns over COVID-19. The race is scheduled for Saturday, July 4, 2020.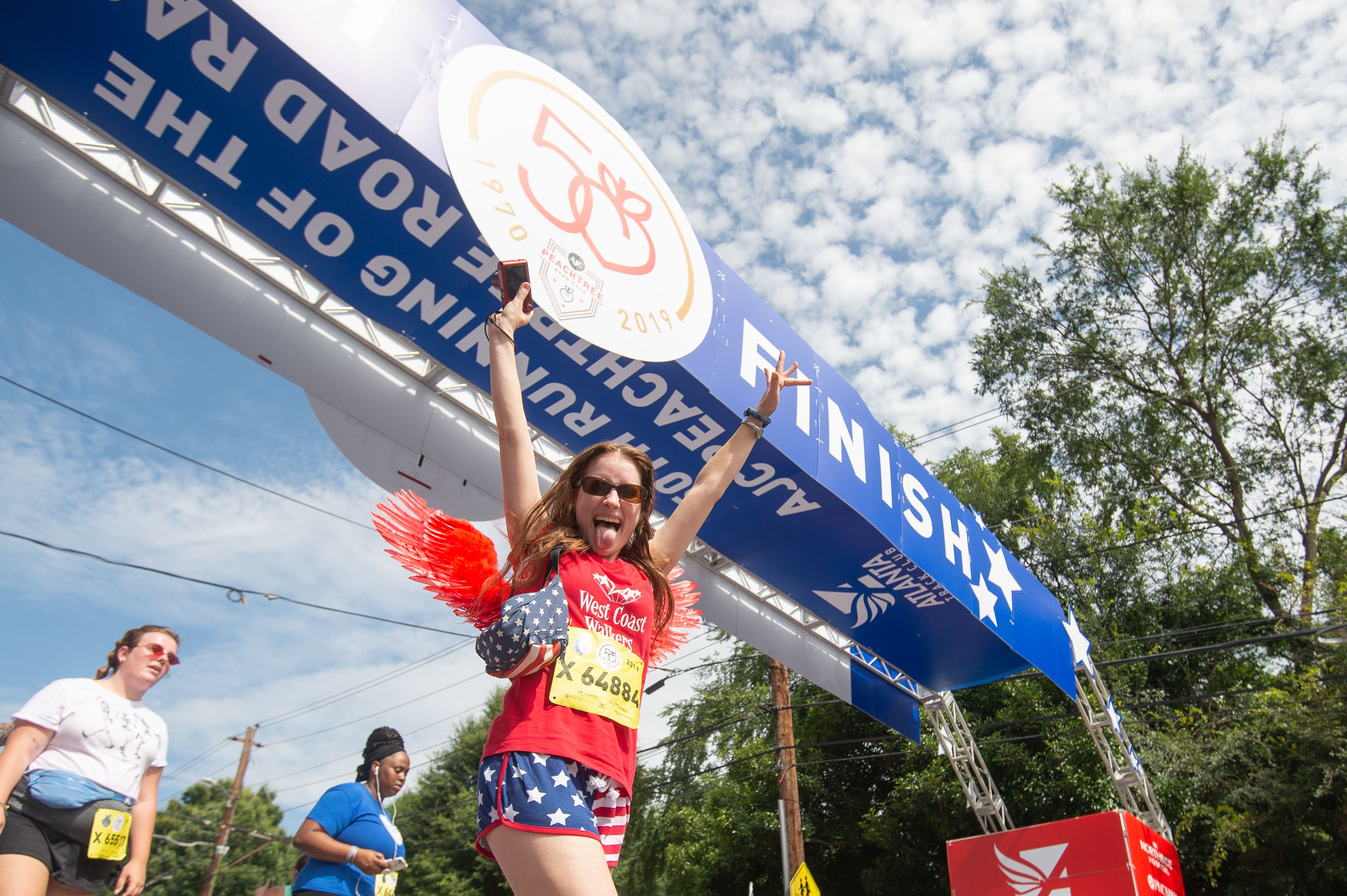 "We hope and expect to celebrate running and walking on Independence Day as Atlanta always does," said Rich Kenah executive director of Atlanta Track Club and Race Director of the AJC Peachtree Road Race. "The Club has received no information from health officials indicating that the Peachtree is at risk of not happening on the 4th of July. But as Atlanta and the rest of the country deals with Covid-19, Atlanta Track Club understands the unprecedented situation facing public events." While the Club has had a no refund policy in place for all of its events, it announced it will not retain Peachtree entry fees without offering participants consideration and options if the Peachtree is unable to be held in 2020. "Atlanta Track Club is and always has been an organization that focuses on health and wellness," said Kenah. "As we plan for the 51st running of the Peachtree that focus will not change."
60,000 entries are available for the Peachtree. Members of Atlanta Track Club who activated their membership by February 1, 2020 will receive guaranteed entry. The remaining entries will be filled through a lottery.
Besides the lottery and member registration, there will be a limited number of charity entries benefitting Kilometer Kids, Atlanta Track Club's free youth running initiative. In addition, new this year, participating charity partners will have a select number of entries available through the Club's Run For a Cause program. Participants will have to meet fundraising requirements set by each charity partner.A list of charities offering entries into the 2020 AJC Peachtree Road Race is located here.
"The AJC Peachtree Road Race is how Atlanta moves forward" said Kenah. "As we kick off the next 50 years of this iconic event, we expect to see not only those runners and walkers who have made the Peachtree an annual tradition, but also new participants who will fall in love with the Peachtree for the first time."
Regardless of the day or time of registration, all individuals who enter the lottery during the registration period will have an equal chance of being selected for the 2020 AJC Peachtree Road Race. Entrants will be randomly selected after the lottery closes at 11:59 p.m. EST on Tuesday, March 31. All lottery entrants will receive an email by Thursday, April 2 notifying them if they were selected for the 2020 event. There is no charge to enter the lottery. Registrants will only be charged once their entry is accepted.
The 51st running of the AJC Peachtree Road Race will take place on Saturday, July 4. Entry into the 10K event is $38 for Atlanta Track Club members who receive guaranteed entry and $42 for those accepted via the lottery, plus applicable online processing fees. Charity entries are $200 and include guaranteed entry into the event, a commemorative medal, a limited edition performance shirt, a MARTA Breeze card for race day, a 10K training plan and entry into the post-race party at Park Tavern.
Additional details regarding the 2020 AJC Peachtree Road Race including registration information, start wave placement details and specifics on the Peachtree Health & Fitness Expo, held July 2 and 3, are available at atlantatrackclub.org/peachtree.
Key Dates for AJC Peachtree Road Race Registration
Event Hashtags: #ajcprr #RunningCityUSA