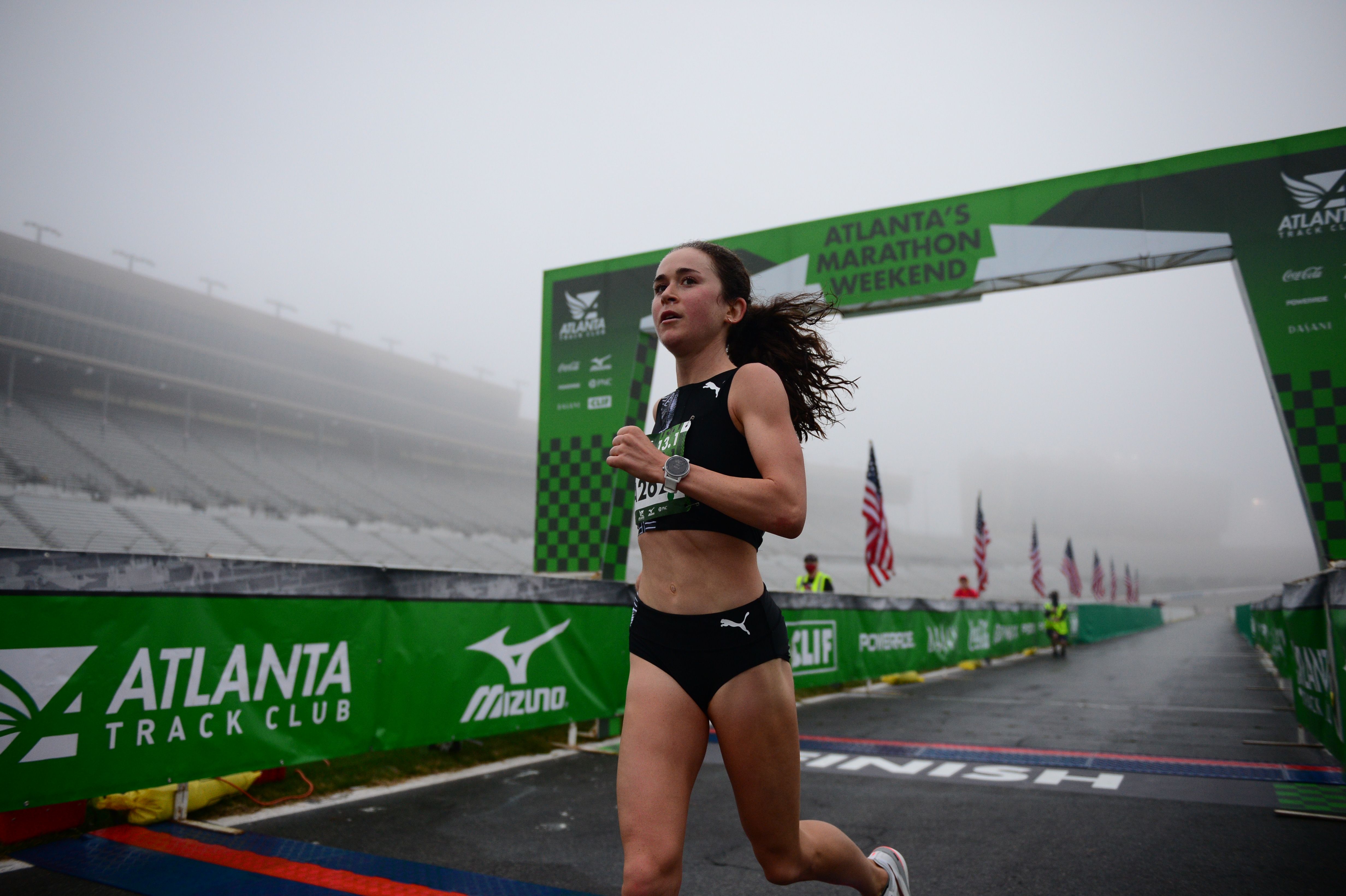 ATLANTA - February 28, 2021 -- Atlanta has been kind to Molly Seidel. Almost one year to the day after making her first Olympic team here, she shattered her personal best and recorded the fastest half marathon ever run in the state of Georgia by winning the Atlanta Half Marathon at Atlanta Motor Speedway on Sunday. Despite nearly100% humidity on a balmy February morning, Seidel crossed the line in 1:08:29 which places her eighth on the U.S. all-time list

Seidel, who came to Atlanta from a training stint in Flagstaff, ran most of the race with her pacer, Wilkerson Given of Atlanta Track Club after dropping eventual second-place finisher Natosha Rogers early in the race. She set a blistering-fast pace through the first 10K averaging 5:12 per mile, before slowing down after the 15K mark.
"It was a good day. The humidity was very different from what we have been having in Flagstaff," said Seidel, who said she was battling stomach issues throughout the race. But, coming from a family of race car drivers, she was excited to burn the rubber of her racing flats on a NASCAR track. "It was awesome, when you come in through the tunnel and come back out its pretty wild. It was a good chance to go out and run hard."
One year and a different lifetime ago, Seidel was a surprise runner-up at the U.S. Olympic Team Trials - Marathon here in Atlanta. This is the first major race held in the city since that event. Seidel will be back in action and vying for her first U.S. Championship at the U.S. 15km Championships in Florida on March 20.

Rogers time of 1:10:49 was just four seconds of her personal best and her first half marathon since winning the U.S. Championship at this distance in 2017. Samantha Palmer placed third in 1:11:16.
The men's half marathon was a much more competitive affair with three men in the mix when the race turned onto the one-and-half-mile Atlanta Motor Speedway. The final mile was a battle between Hansons-Brooks Distance Project teammates Abdisamed Abdi and Zach Panning. With a final kick down to the finish line on pit road of the speedway, Abdi clocked 1:03:59 to Panning's 1:04:00. For Panning, it's a 37 second personal best.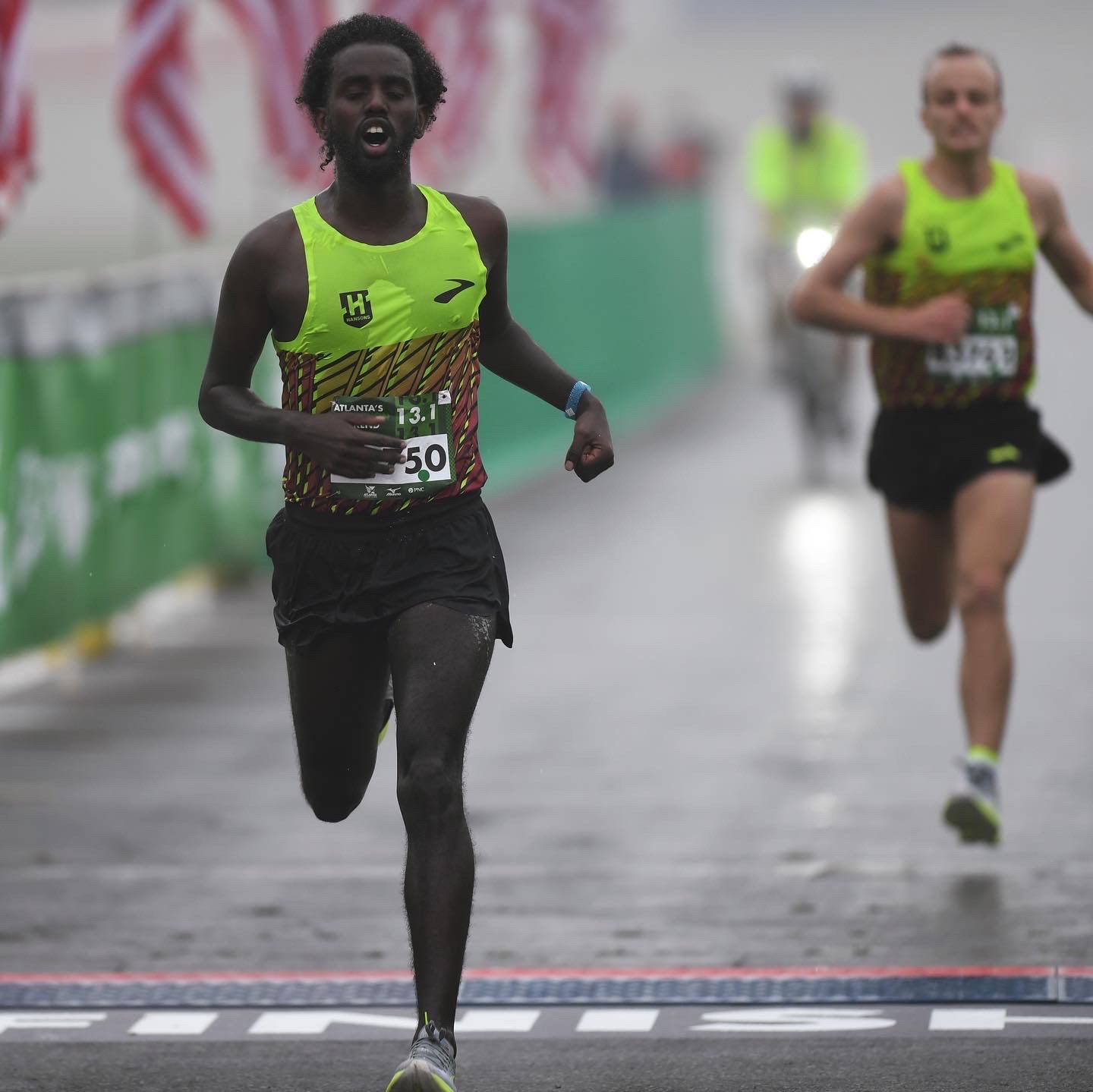 "We train together all the time, so this is basically something we do in the workouts," said Abdi. We just stayed together and talked about containing control for the 10K then going on to race, and that's what we did."
Matt Llano, running his first race since recovering from COVID-19 placed third. Full results for both races can be found here. A video recap can be seen here. There was also a sub-elite men's and women's marathon.
Atlanta's Marathon Weekend was moved to Atlanta Motor Speedway this year where event organizer Atlanta Track Club was able to enforce strict COVID-19 safety measures. Participants in the elite race had to present two negative PCR-tests before arriving and undergo a health screening at the facility. Social distancing was enforced and face coverings were mandatory for all attendees when not racing. An all-comers 5K was held at the Speedway Saturday evening with nearly 800 finishers. Nearly 4,000 were expected to finish the marathon and half marathon.
Photos by Paul Ward