Cross Country Youth Team
About Atlanta Track Club Youth Team Atlanta Track Club Youth Team is open to all Atlanta area middle school-age runners who have an interest in being part of a competitive cross country and/or track & field team, regardless of ability or experience level. The team is designed to develop and teach athletes life-long lessons on the following topics:
Physical development
Social and emotional development
Goal setting
Teamwork
Work ethic
Sportsmanship
Enthusiasm for athletics
Health and wellness knowledge
We are excited to announce that Atlanta Track Club Cross Country Youth Team will offer two training locations, personalized virtual training and a free downloadable training plan throughout the 2020 cross country season. Tuesday and Thursday practices will remain at Piedmont Park from 4:30 p.m. to 6:00 p.m. The new Monday and Wednesday practice sessions will take place at a location near the northern perimeter of Atlanta. More information on the this training location will be available soon. Team members will have the option of practicing at one or both training locations. More in-person and virtual training information is detailed below.
Please send inquiries to youthteam@atlantatrackclub.org
DATE & TIME
Monday - Thursday
DISTANCE
3000 meters
2 miles
4000 meters
COST
IN-PERSON TRAINING & COMPETITIONS
Regular Season: August 17th - October 17th
Postseason: October 17th - December 5th
North Atlanta Practice Information: More details about the location and time of this training location will be available soon
Piedmont Park Practice Information: Tuesdays & Thursdays from 4:30 p.m. - 6:00 p.m.
Cost: $150 per season, need based scholarships available

The regular season competitions include exhibition meets throughout metro Atlanta. Postseason competitions include championships meets outside Atlanta, including USA Track & Field Youth Championships. The Georgia Middle School State Championship is part of both the regular and postseason schedule. In-person team members will receive a team singlet and shorts.
Regular Season Competition Schedule (Subject to Change)
Starrs Mill Panther XC Meet
September 5 @ Heritage Christian Church XC Course, Fayetteville, GA
Alpha Crush Cross Country Meet
September 12 @ Milton High School, Alpharetta, GA
Big Peach Mustang Stampede
September 26 @ Allatoona Creek Park, Acworth, Ga
Nash Farms Cross Country Festival
October 3 @ Nash Farms Battlefield, Hampton, GA

Wingfoot XC Classic
September 20 @ Sam Smith Park, Cartersville, GA

Georgia Middle School State Championships
October 17 @ Bleckley County Elemetary School, Cochran, Ga
VIRTUAL TRAINING

Team members who register for Personalized Virtual Coaching will receive custom training plans and 1-on-1 virtual coaching. This option will be available during the regular and postseason for $150 per season with need based scholarships available. A free downloadable 10-week training plan is also available through registration.
Coach & Staff Bios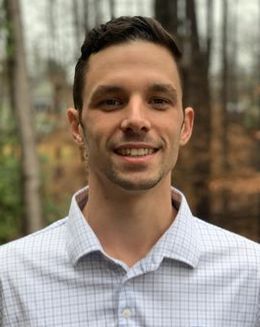 Nick Del Guercio, Head Cross Country Coach
Nick Del Guercio joins the Atlanta Track Club Youth Team after serving as a Head Cross Country and Track and Field Coach at Episcopal Day School. He received his Bachelor of Science in Kinesiology from Augusta University, where he also competed at the championship level as a member of their cross country and track and field teams. Nick's passion for running dates back to his youth and has earned him several accolades including making the Gwinnett All-County Cross Country team, being named the 2015 PBC runner of the year and a spot on Atlanta Track Club's Powerade All-Metro Cross Country Team back in 2012.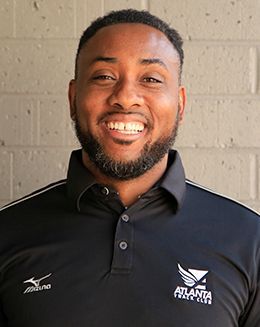 O'Neil Wright, Youth Team Sprints & Jumps Coach
After graduating from the University of Alabama in 2004, O'Neil Wright worked as an assistant coach at his alma mater, helping propel four of his athletes to All-American status. He went on to coach at the high school level, where five of his athletes earned conference championship titles and eight claimed school records. At Augsbrug University and Winston State University, Wright helped his teams win four conference titles, coached 11 individual conference champions and seven All-Americans. As a professional athlete, Wright represented Jamaica at the 2008 Olympic Games as well as the 2005 and 2007 World Championships. Wright joined the Atlanta Track Club Track & Field Youth Team staff in 2019.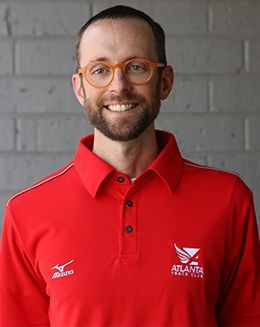 Eric Heintz, Director of High Performance
During his thirteen year tenure as Marist School's head track and field and cross country coach, Eric Heintz led his teams to win a total of 24 GHSA state championships. Marist athletes also secured 32 individual GHSA State Championships during this time. Also a history teacher at Marist, Heintz received the 2017 Goizueta Chair of Excellence recognizing innovative teaching, high standards of professional development, promotion of cross-curricular understanding and global interest and involvement in student extracurricular activities.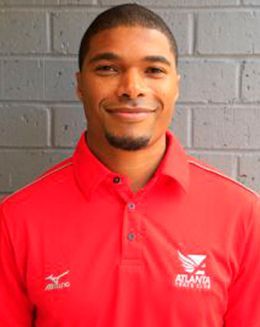 Justin Gaymon, Youth Programming Manager
While at the University of Georgia, Justin Gaymon captured three SEC 400m hurdle titles and was a three-time All-American. He went on to compete on the professional circuit, finishing fourth and fifth during the 2008 and 2012 Olympic Trials, respectively. Justin has been a youth team program manager since 2018.