ATLANTA -- January 11, 2023 -- For the first time, participants in the Atlanta Journal-Constitution Peachtree Road Race will know to which start wave they will be assigned before they even register for the race.
As part of a new registration process unveiled by the Club in September, the time standards for all start waves are now posted. Atlanta Track Club members are guaranteed to be placed in Wave M or higher. Registration for members opens on March 8. Registration for non-members opens on March 15.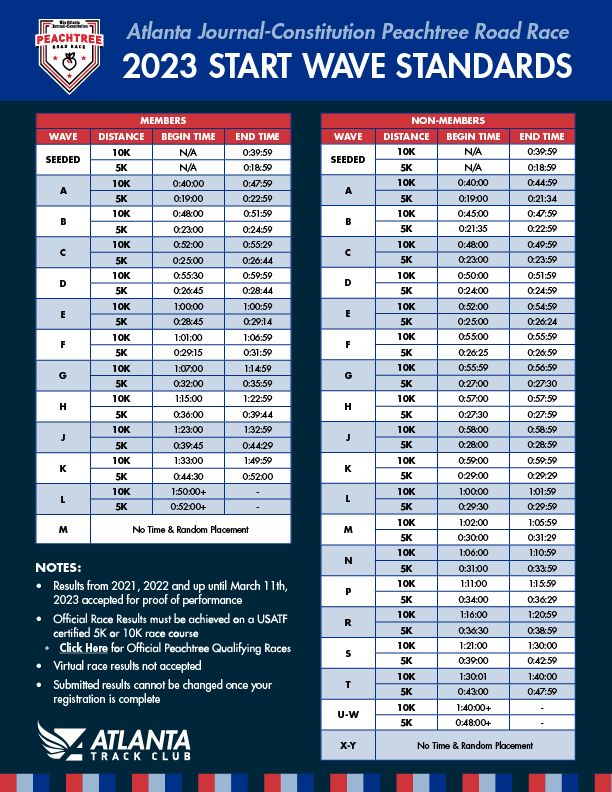 Members are guaranteed entry into the 54th Running of the Atlanta Journal-Constitution Peachtree Road Race with a set price of $42. The price for non-members is $50 and registration will remain open until the race reaches capacity. To become a member, click here.

The wave standards were announced during the Club's annual January Town Hall and Business Meeting. The meeting also served as an introduction to new members of the Club's Board of Directors. Michael Davis, Katherine Stanfill, Josh Weinrobe and David Wilkes were elected to three year terms. Kara Finley, Phillip Finley, Da'Rel Patterson, Stuart Wilkinson and Aisha Wright-Burke were re-elected. Kara Finley will continue as board chair. Bios for the Board of Directors can be found here. Former chair Kerry Parker was recognized for his three terms of service and rolled off the board due to term limits in 2023.

The board approved a slight adjustment to its bylaws. Instead of requiring that a board member be a member of the Club in good standing for a calendar year before their term begins, the board member must be a member of the Club in good standing by April 1 the year prior to the beginning of their term.
Atlanta Track Club also discussed the following topics at the Town Hall:

The 2022 Youth Impact Report

A review of the 2023 events and program calendar

An introduction to the new Atlanta Track Club mobile merchandise vehicle. The shared venture between Atlanta Track Club and adidas will allow for a more premium display of merchandise at events. It will also allow the Club and adidas to attend other events to drive awareness and merchandise sales.

The Club announced that Wingfoot Magazine will transition to a web-based magazine in 2023. The Club will post long form reporting, health, wellness and training advice, member profiles and Club news. The website will launch on Friday, January 14 with new feature pieces being added weekly.
The meeting was streamed live on Facebook and YouTube and a recording can be found here.