ATLANTA -- March 29, 2021 - Atlanta Track Club kicks off a unique three-meet track series this weekend, hosting opportunities for athletes including rising youth stars, local competitors, Olympic hopefuls, Paralympic medalists and nationally-ranked masters runners to clock qualifying times for national and global championships.
The first meet of the series is scheduled for the evening of Saturday, April 3 at Alpharetta High School. It will feature middle distance events for Olympic and Paralympic development athletes who meet specific time standards. The footraces feature members of Atlanta Track Club Elite including 2020 USATF Indoor bronze medalist Abe Alvarado racing the men's 800m and 2019 World finalist Yolanda Ngarambe in the women's 800. Wheelchair 800m world record holder and three-time AJC Peachtree Road Race champion Daniel Romanchuk will open his outdoor track season in the 800m and 1500m as he attempts to qualify for his second consecutive Paralympic Games this summer.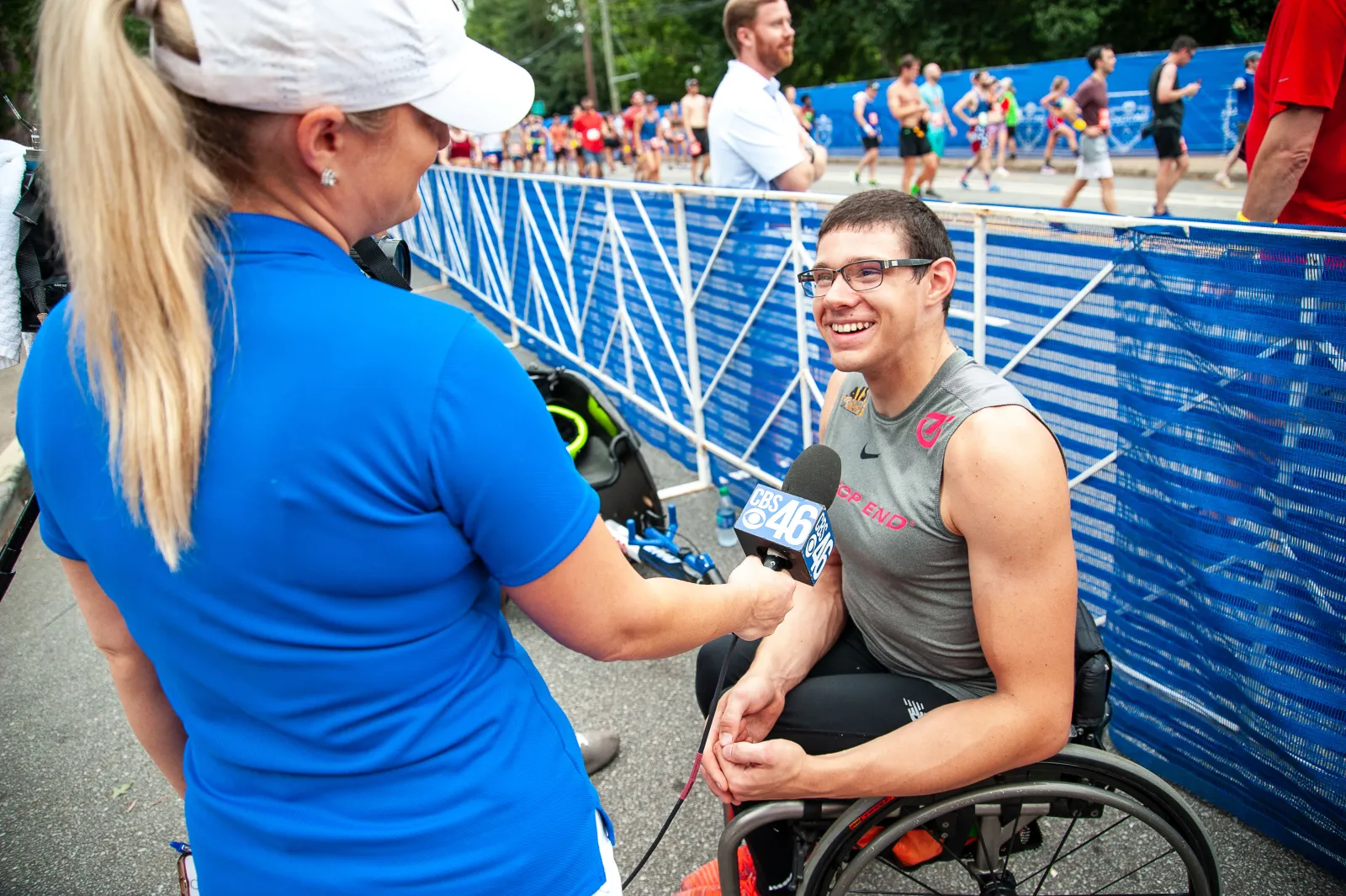 "I'm so excited for this meet after almost a year and a half without an elite level competition," said Romanchuck. "With Tokyo fast approaching, it's critical to get back to experiencing the feeling of being on the start line again."
Masters and youth sprint and distance races will also be contested. A full list of events for all three meets is listed below.
The April 24 meet at Alpharetta High School features Olympic and Paralympic development and masters races. A pair of Paralympians headline the meet. Two-time Paralympic sprinter Jarryd Wallace of Atlanta Track Club Elite will race the 100m. Five-time Paralympian and seven-time AJC Peachtree Road Race Champion Tatyana McFadden plans to compete in the wheelchair 800m, 1500m and 5000m.
"I'm excited to chase some fast times in Atlanta and grateful for this opportunity from Atlanta Track Club," said McFadden. "There haven't been many opportunities to get onto the track in the last year and with a busy competition schedule in Tokyo this spring, I'm looking forward to practicing my speed and recovery with three races in the same night."
The April 24 meet also includes a 5000m open to the public. Registration opened today. Runners will be seeded by time with the fastest heats going last.
The series culminates on May 8 at Campbell High School in Smyrna with a masters-only elite competition that includes 4x100m relays. The meet will also host an open 800m race as part of Atlanta Track Club's Grand Prix Series. Registration is free to members of the Club and will open on April 8.
"These meets will showcase the diverse range of talent in Running City USA," said Rich Kenah, Atlanta Track Club's executive director. "As we continue to navigate the challenges COVID-19 creates for the sport, we look forward to providing safe opportunities for athletes throughout the runner life cycle to compete."
The meets will be held with strict COVID-19 safety measures in place. As USATF sanctioned events, elite competitors will be required to present two negative PCR tests the week of the meet. All attendees will be required to wear face coverings when not racing and undergo a health screening before entering the facility. The meets will not be open to spectators.
Full elite start lists and detailed schedules will be announced on Atlanta Track Club social media accounts the week of each meet. Athletes interested in competing in the elite Olympic Development, masters or youth races should contact Eric Heintz, Atlanta Track Club's Director of High Performance.
Date

Location

Events

4/3

Alpharetta High School




100m Youth Girls

100m Youth Boys

1600m Youth Girls

1600m Youth Boys

800m Wheelchair

800m Pro Women

800m Pro Men

5000m Masters Men

100m Masters Women

100m Masters Men

1500m Wheelchair

1500m Pro Women

1500m Pro Men

4/24

Alpharetta High School

Open 5000m




800m Pro Women

800m Pro Men

200m Masters Women

200m Masters Men

800m Masters Women

800m Masters Men

1500m Pro Women

1500m Pro Men




800m Wheelchair




1500m Wheelchair

5000m Wheelchair







5/8

Campbell High School




Grand Prix 800m




4x100m Masters Men

4x100m Masters Women

1500m Masters Men

1500m Masters Women

100m Masters Women

100m Masters Men