CARTERSVILLE, GA -- September 23, 2022 -- Brentwood High School is heading back home to Tennessee and they are taking the Wingfoot Cup with them. The suburban-Nashville school became the first non-Georgia school in the eight-year history of the Wingfoot XC Classic presented by Publix to win the illustrious team trophy for the best combined performance from a boys and girls varsity championship team. The Bruin boys, led by senior Brody Chapman's fifth place finish won the team title while the girls were second to Auburn. Marist, last year's Wingfoot Cup winner, took third in the girls race. In the boys race, St. Anthony's of New York was second while Vestavia Hills was third. Lambert was the top ranked Georgia school in fourth.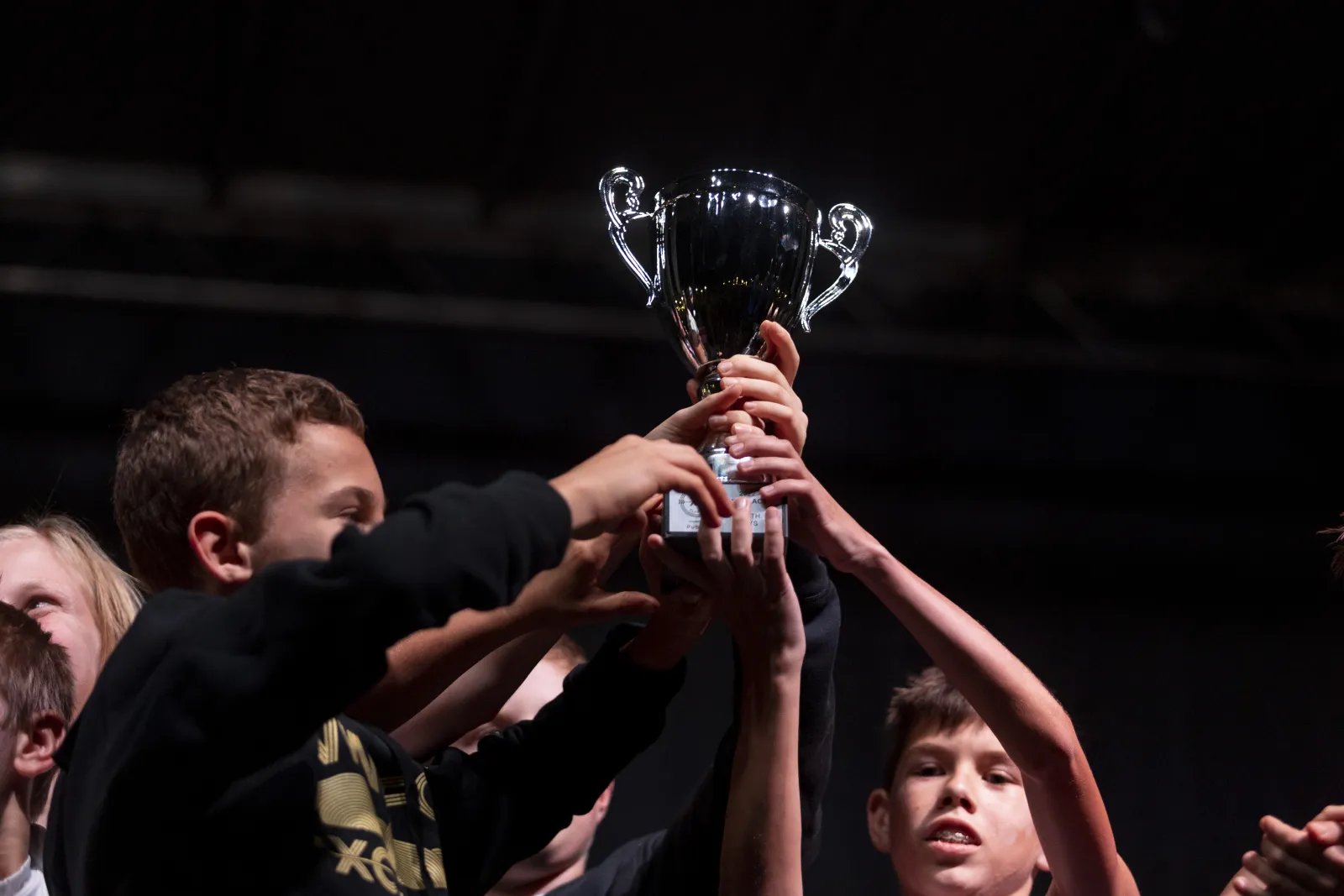 The Boys Championship was a thrilling four-man fight to the finish with the top-seeded runners delivering on pre-race hype. Auburn's Max Hardin jumped out front from the gun with Marist's Tommy Latham, Whitefield's Taylor Wade and defending champion Joe Sapone of Holy Innocents' Episcopal School all right on his shoulder. The pack went through the mile in 4:52 with no clear leader despite Hardin doing the pacing work. Behind Hardin, Latham and Sapone made attempts to take the lead as they swapped second and third, gradually opening a gap on Wade and hitting the two mile mark in 9:46.
Over the final mile, Hardin and Sapone broke away leaving spectators to wonder if or when Sapone would do what he did in 2021: Turn on his 1:52 800m speed and take the lead just before breaking the tape. The answer, unfortunately for Hardin, was just as the pair crested the final hill, 150 meters from the finish. Sapone sling-shot past Hardin, opened up a one-second lead and broke the tape in 15:06 to become the first runner to win back-to-back Wingfoot titles.

"After winning last year, I knew I was going to run it again. I have had my sights set on this for 12 months," said Sapone, whose winning time is the fastest in Georgia this season and the third fastest in meet history. "I didn't really have a plan other than just go for it."

Hardin's 15:07 is the fourth fastest time ever run at the Wingfoot XC Classic. Tommy Latham's third place time of 15:14 also puts him on the meet's all-time list as the eighth fastest time on record.

The Girls Championship also looked a lot like 2021 at the very beginning and the very end. Ruby Little of Marist and Harrison's Samantha Garrity, the pre-race favorites, took the race out going through the mile in 5:38 and 5:39. But Garrity would soon drop back leaving Little alone up front. As Little widened her lead over Garrity, South Forsyth senior Carmel Yonas was gaining ground and speed. Little hit the two mile in 11:26 with Yonas now in second seven seconds back. Over the final mile, Yonas closed the gap at one point, getting within a second of the defending champion. As the pair crested the final hill, Little made one more decisive move to hold on and win in 18:08.5, identical to her 2021 winning time.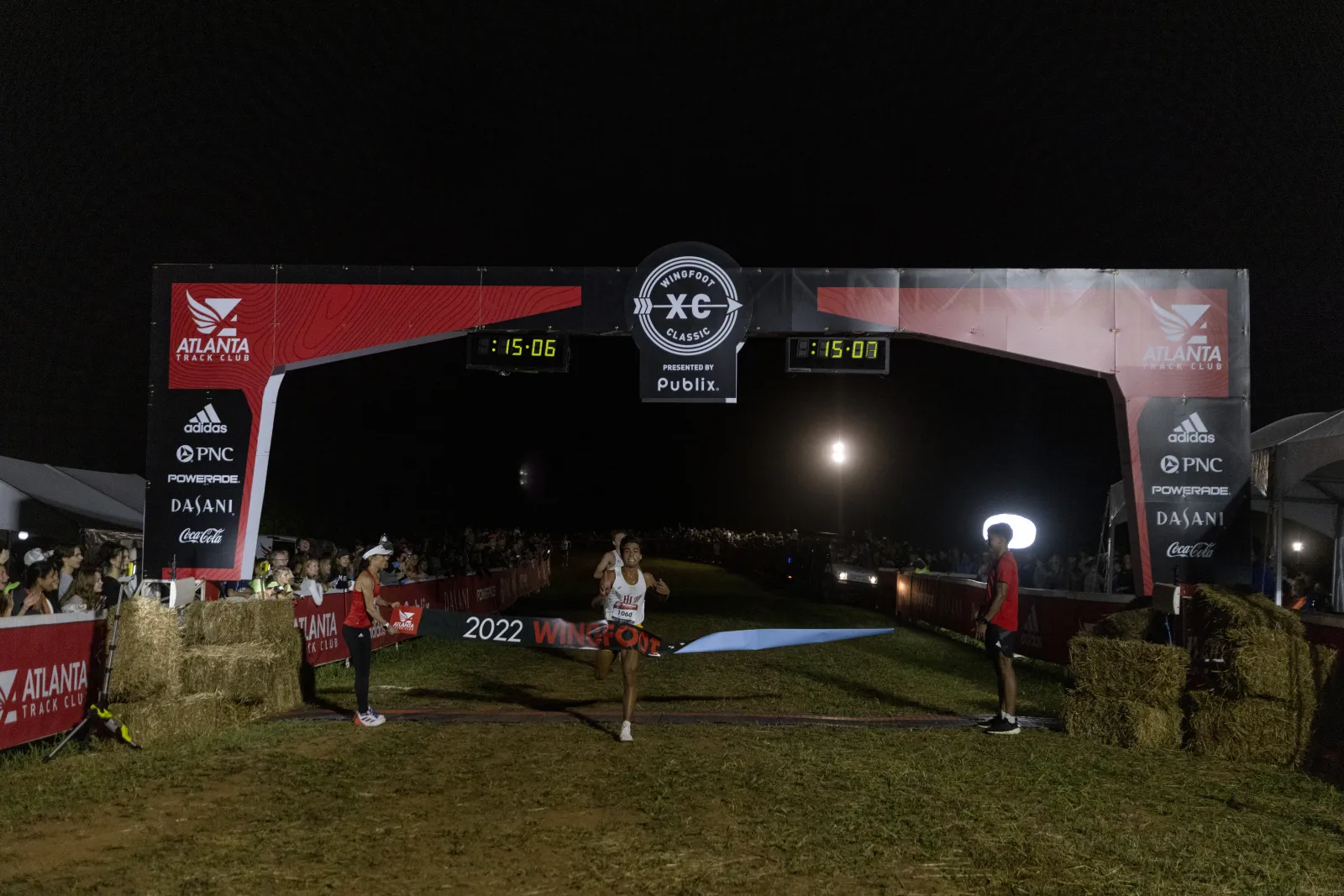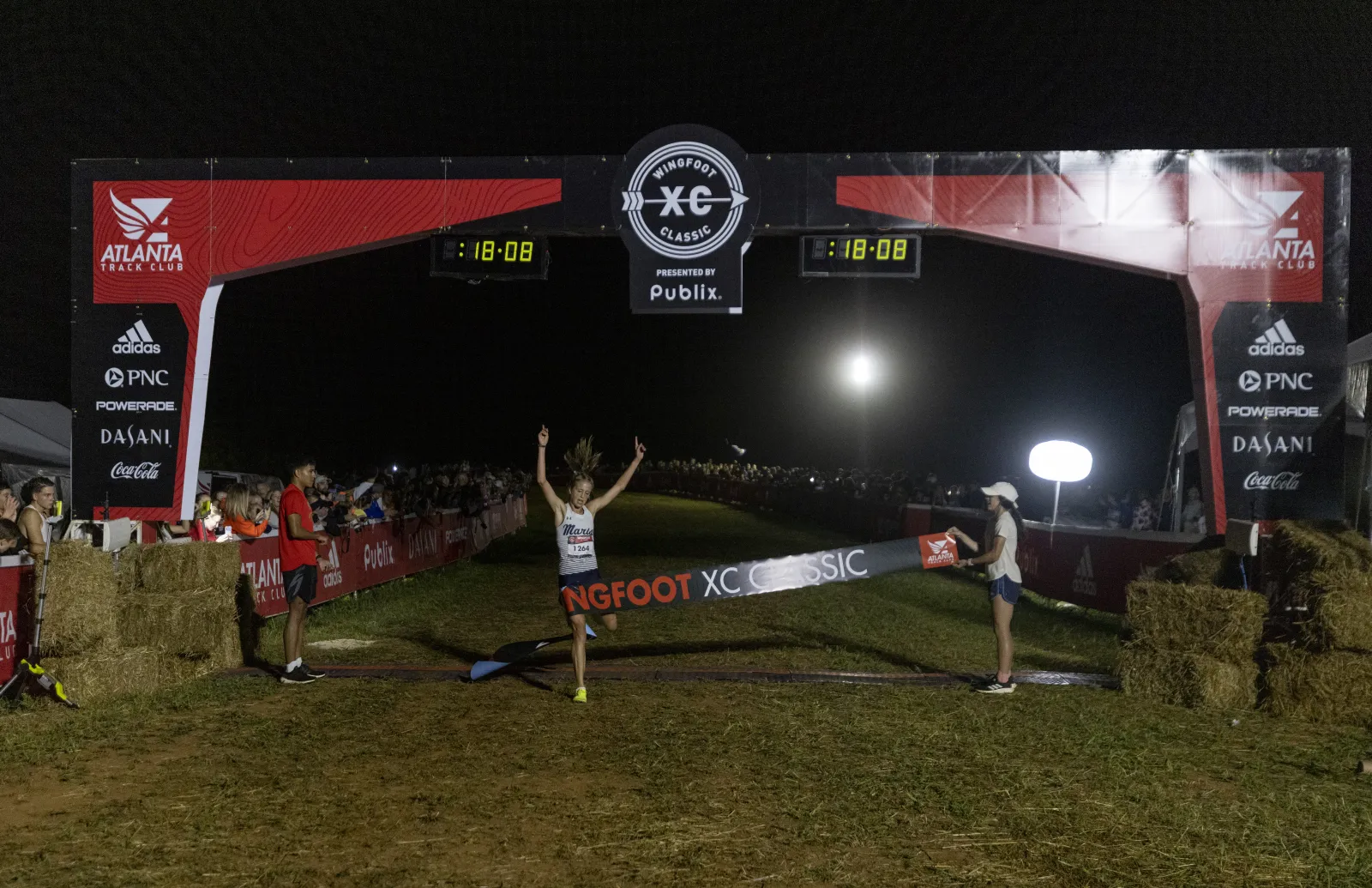 "I was definitely not expecting it to come down to a sprint finish," said Little who is undefeated in 2022 and holds two of the top three fastest times in the state. "There were times I wanted to give up and I didn't because I was like 'I don't give up. I can push through this.'"
Yonas was second in 18:13. Lambert's Bella Cammarota took third in 18:34.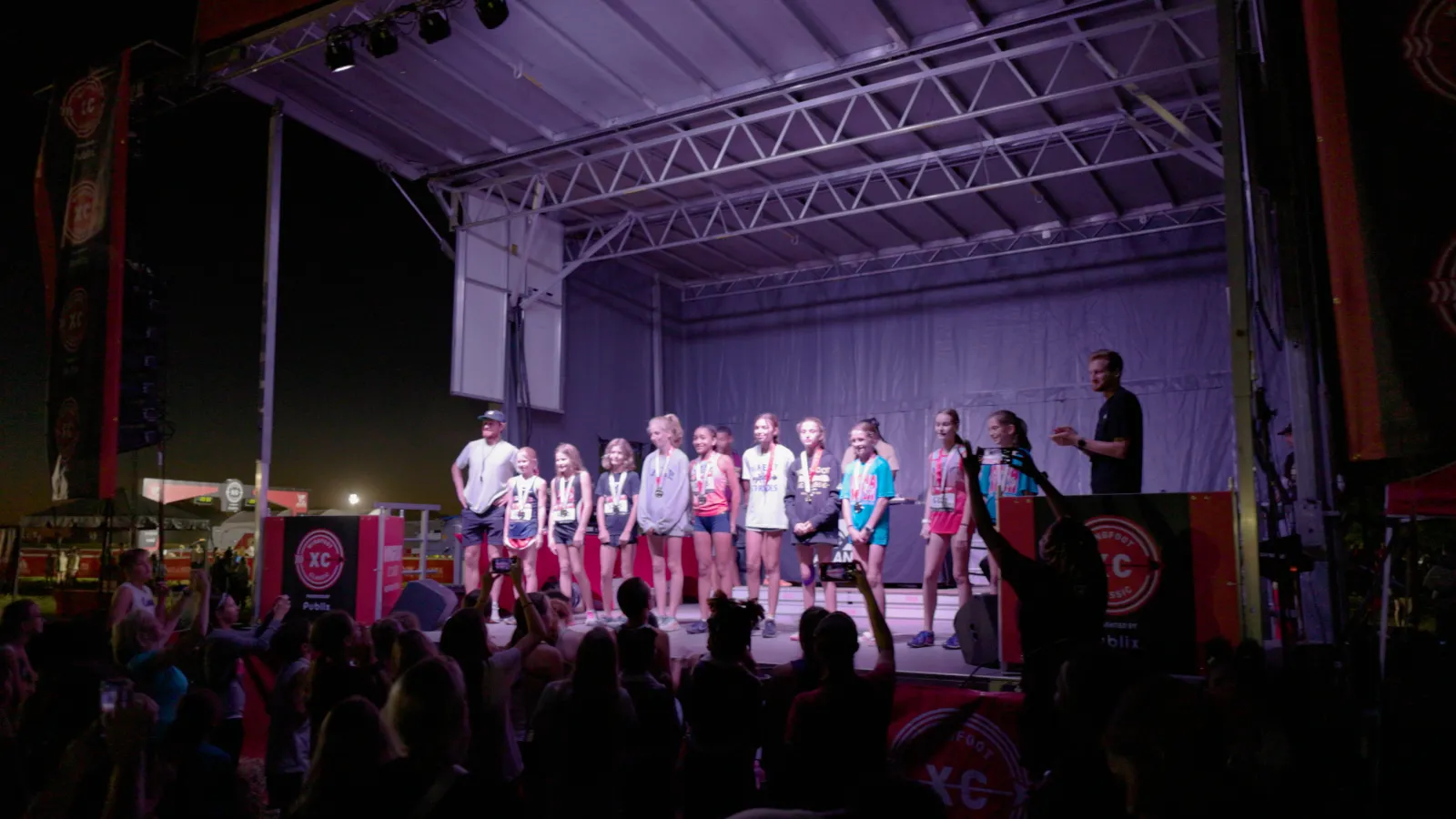 While the championship races were the evening's grand finale, the first night of the Wingfoot XC Classic presented by Publix kicked off with a record-setting race. Riley Comstock, an eighth grader running for Edge Running Club dominated the Youth Boys 3K, running 9:48 to win by 17 seconds and shave 20 seconds off the course record. Sam Comsudes of Junior Hoyas was second in 10:05. Great Strides, led by Vincent Pifer's third place finish, won the team competition.
Comstock's younger sister Paige turned in an equally dominant performance in the girls 3K. Comstock lead wire-to-wire to win in 11:14, 10 seconds ahead of Ella Alberici of Alpha Crush. Alpha Crush won its second consecutive team title.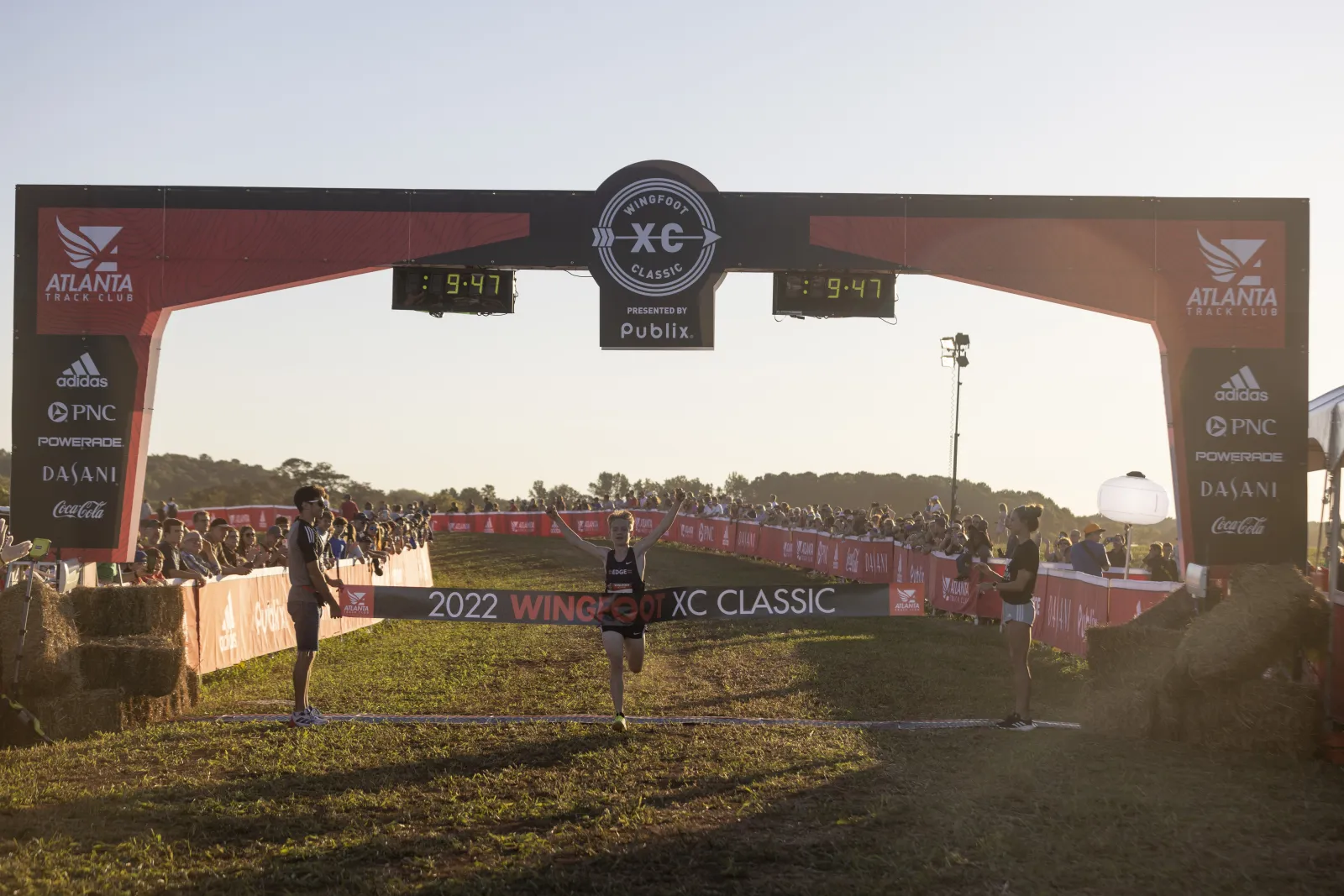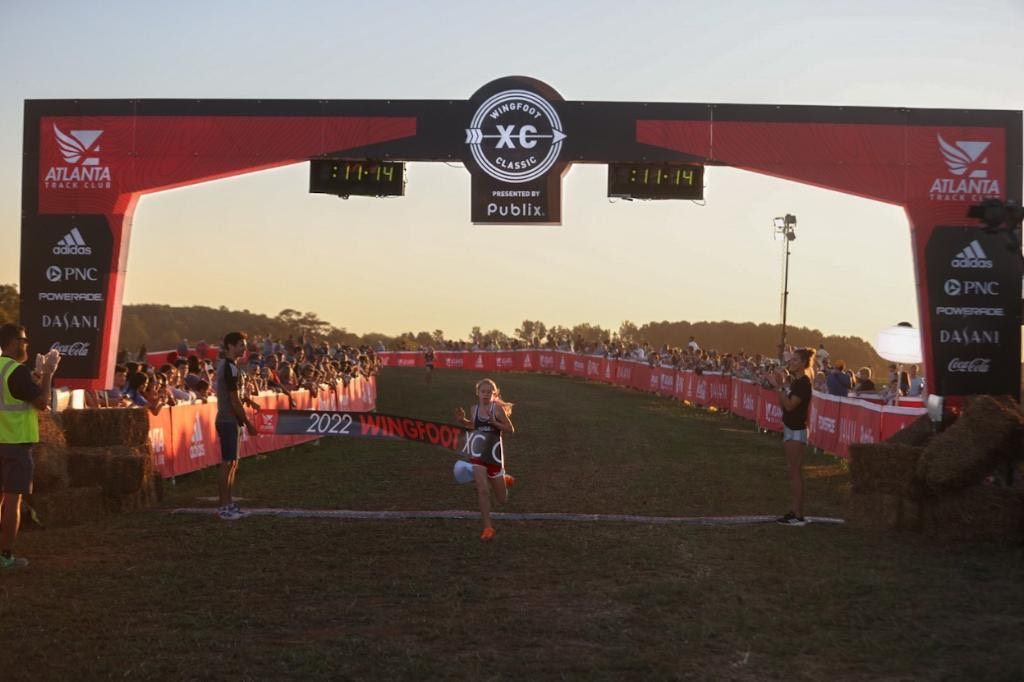 Dominance continued with the Boys Freshman Championship in which John Hayes of Vestavia Hills ran 16:55 to win by 37 seconds. Bryce Emerson of Daniel was second in 17:32. Rohan Gazula of Westminster Schools was third in 17:46.
The Girls Freshman Championship was a more thrilling affair with Fleming Island's Brooke Reynolds outkicking Marist's Ella Mullally to win 20:55 to 20:56. Annabelle Stoker of Starr's Mill was third in 21:00.

Maddie Will of McIntosh broke the tape in the Girls JV Championship in 20:07, 44 seconds ahead of Wesleyan's Heidi Heppner. Claire VanDyke of Brentwood was third in 20:55. VanDyke's strong finish helped Brentwood win the team competition. Westminster took second place. Marist was third.

And the Boys JV Championship was won by Clint Huggins of Harrison in 17:02, six seconds over Phillip Hyams of Brentwood. Connor Mumford of Lambert rounded out the top three in 17:12. Brentwood won the team competition with Harrison second and Vestavia Hills third.