ATLANTA - June 21, 2022 - Four men with personal bests within 13 seconds of the Atlanta Journal-Constitution Road Race course record will battle to break that mark this year, while the Shepherd Center Wheelchair Division features a showdown between two of the best racers in history. All will be aiming to earn up to $53,000 in bonus prize money in honor of the 53rd Running of the Fourth of July 10K..
The Wheelchair division features the return of event record-holder and defending champion Daniel Romanchuk, who won the 2019 Peachtree in 18:11. Romanchuk, who won the gold medal at 400 meters and bronze in the marathon at the Tokyo Paralympics, is seeking his sixth Peachtree victory, going back to his 2016 win in the Junior Peachtree.
"I would do everything that I could to not miss this race," said Romanchuk, who won the Boston Marathon in April. "I think there is a good chance the men's record could be broken this year."
Romanchuk will face a familiar opponent in Marcel Hug of Switzerland. The six-time Paralympic gold medalist was runner-up to Romanchuk in 2019. Hug is the current world record-holder in the 5000m and the marathon.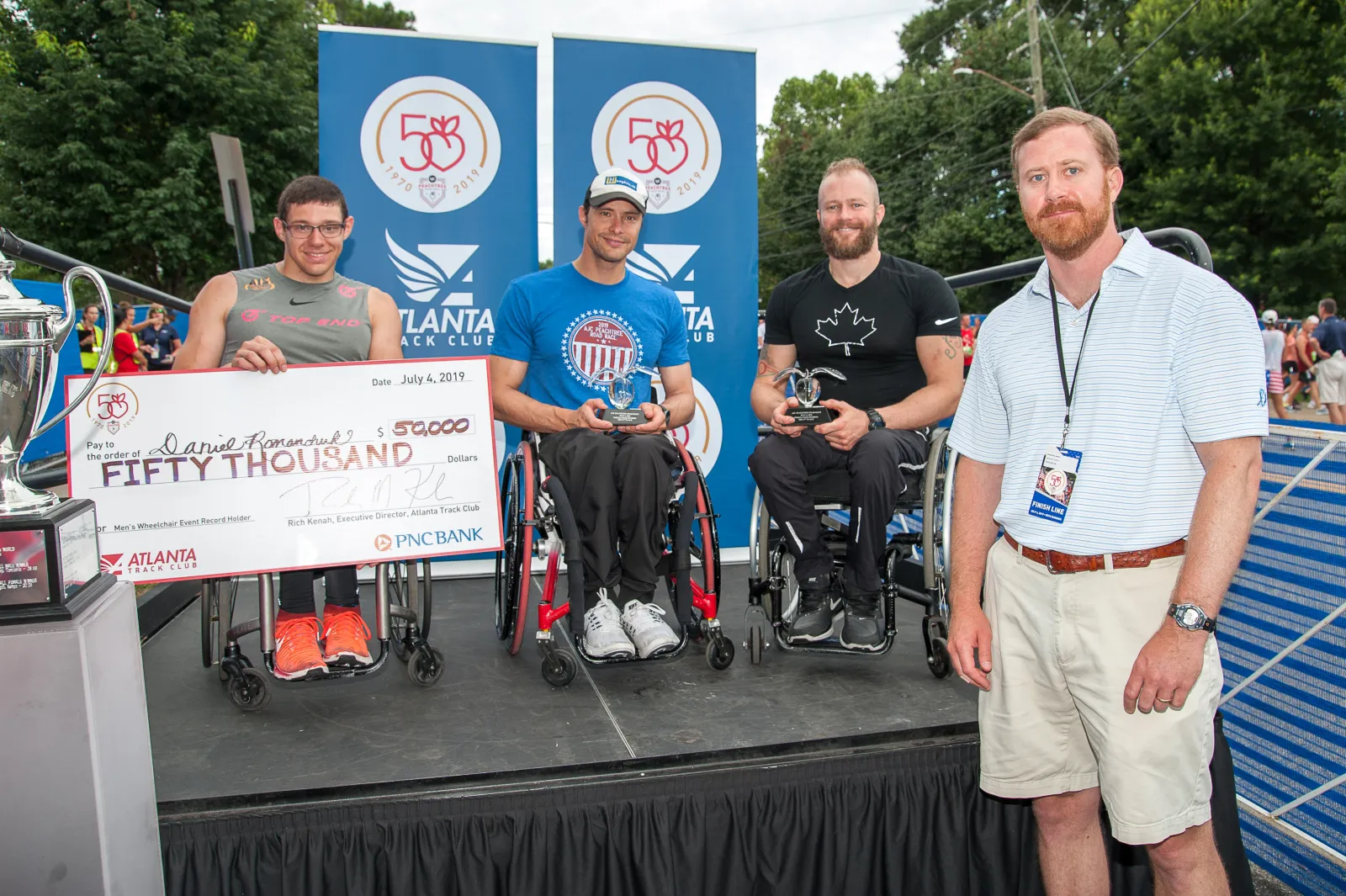 Other top contenders in the race include Josh Cassidy of Canada, winner of the 2010 and 2013 Peachtree, and five-time Paralympian Aaron Pike.
The men's footrace record of 27:01 set in 2019 by Rhonex Kipruto is not just the Peachtree record, but the fastest 10K road race ever run under any conditions in the United States. Goeffrey Koech of Kenya, who has run 27:02, and Kirpruto's younger brother, Bravin Kiptoo, who ran 27:12 to take second in 2019, are among this year's top contenders.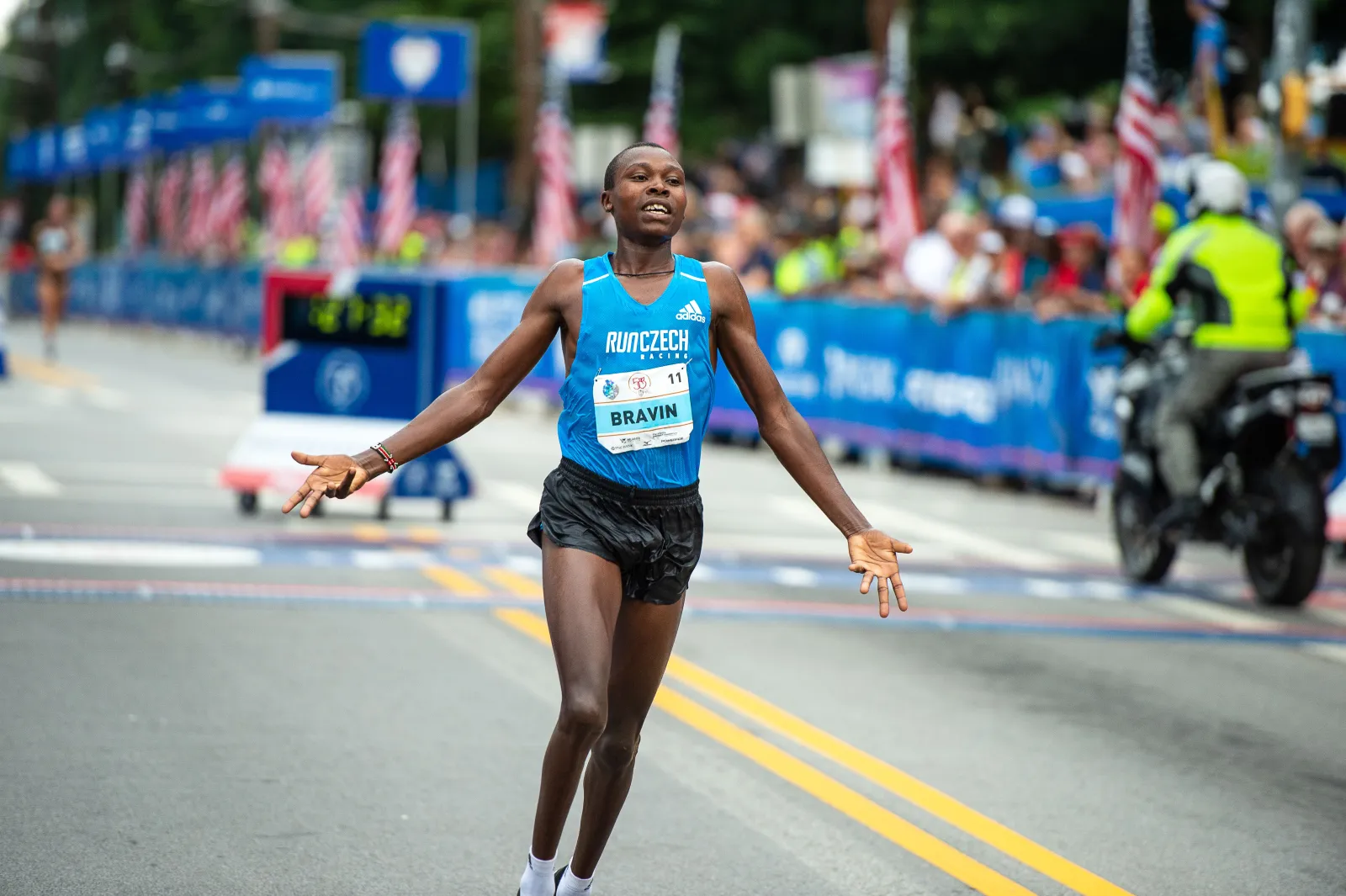 Fellow Kenyan Mathew Kimeli, who has run 27:07, and Tsegay Kidanu of Ethiopia, who has run 27:14, are also within reach of the record. Other international athletes in the field include Jemal Yimer of Ethiopia, whose 10,000 meter track personal best is 26:54, and Nicholas Kosimbei of Kenya, who shattered the Georgia all-comers record earlier this year when he won the Publix Atlanta Half Marathon in 1:00:37 despite heavy winds and driving rain. Patrick Tiernan, the 2016 NCAA Cross Country Champion, will make his road 10K debut. Tiernan has represented Australia at the last two Olympic games.

The Americans are led by defending Peachtree champion Sam Chelanga. For the Army first Lieutenant, who says he's soon to be promoted to captain, victory is icing - albeit really good icing - on the cake of being in Running City USA on Independence Day. "Atlanta is just one of those places I want to come to," said Chelanga, who has family in Atlanta and Buford. "For the race, for the great people and for the Fourth of July."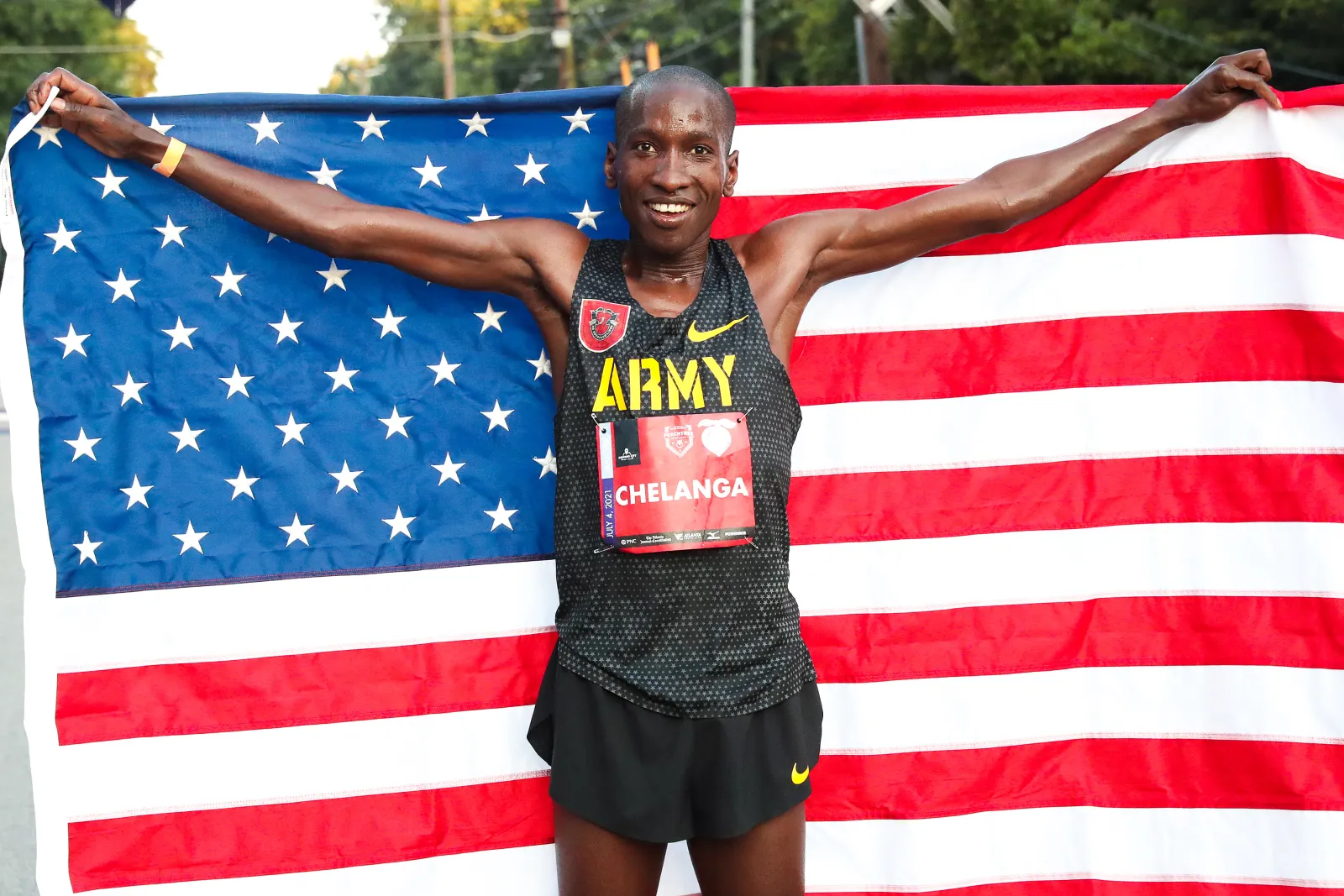 Fan favorite Abdi Abdirahman will return to Atlanta to compete in his ninth Peachtree. The five-time Olympian made his Peachtree debut in 2007 and holds the third-fastest time ever run by an American (28:11) at the race.

Other Americans include 2021 USA Half Marathon Champion Conner Mantz, who will make his 10K road debut; Olympian and reigning USA Cross Country Champion Shadrack Kipchirchir; and 2017 Peachtree Champion Leonard Korir, who won the Bolder Boulder 10K in May.


The $53,000 (for the 53rd Running) event record bonus is offered to winners of the men's and women's open divisions and men's and women's Shepherd Center Wheelchair divisions. If only one athlete sets a record, he or she will take home the full amount; if more than one does so, the bonus will be divided equally.

The Atlanta Journal-Constitution Peachtree Road Race will be held on Monday, July 4, 2022. The race begins at Atlanta's Lenox Square and ends at Piedmont Park. It will be broadcast locally on WXIA-11Alive and streamed nationally at 11alive.com.

Elite Footrace Field
| | | | |
| --- | --- | --- | --- |
| First Name | Last Name | Road `10K Personal Best | Country/U.S. Residence |
| Geoffrey | Koech | 27:02 | KEN |
| Mathew | Kimeli | 27:07 | KEN |
| Bravin | Kipkogei Kiptoo | 27:12 | KEN |
| Tsegay | Kidanu | 27:14 | ETH |
| Geoffrey | Kipchumba | 27:41 | Colorado Springs, CO |
| Leonard | Barsoton | 27:42 | KEN |
| Benard | Ngeno | 27:44 | KEN |
| Nicholas | Kosimbei | 27:52 | KEN |
| Jemal | Yimer | 27:54 | ETH |
| Hamid | Ben Daoud | 28:07 | ESP |
| David | Bett | 28:08 | KEN |
| Dominic | Korir | 28:08 | KEN |
| Leonard | Korir | 28:09 | Colorado Springs, CO |
| Sam | Chelenga | 28:11 | Colorado Springs, CO |
| Abdi | Abdirahman | 28:11 | Tucson, AZ |
| Shadrack | Kipchirchir | 28:12 | Colorado Springs, CO |
| Joseph | Panga | 28:14 | TAN |
| Biya | Simbassa | 28:39 | Flagstaff, AZ |
| Mark | Lomuket | 28:46 | KEN |
| Kirubel | Erassa | 28:54 | Colorado Springs, CO |
| Shadrack | Kimining | 29:16 | KEN |
| Jason | Weitzel | 29:22 | Greenville, SC |
| Robert | Stone | 29:36 | Short Hills, NJ |
| Matt | McDonald | 29:38 | Boston, MA |
| Matt | Baxter | 30:22 | NZL |
| Ian | Butler | 30:33 | Lakewood, CO |
| Patrick | Tiernan | DEBUT | AUS |
| Fabiano | Sulle | DEBUT | TAN |
| Conner | Mantz | DEBUT | Provo, UT |
| Stanley | Kebenei | DEBUT | Colorado Springs, CO |
| Chris | May | DEBUT | Atlanta, GA |
| Robert | Desisto | DEBUT | Atlanta, GA |
Shepherd Center Wheelchair Division
| | | | |
| --- | --- | --- | --- |
| First Name | Last Name | Road `10K Personal Best | Country/U.S. Residence |
| Daniel | Romanchuck | 18:11 | Champaign, IL |
| Marcel | Hug | 18:32 | SUI |
| Josh | Cassidy | 18:53 | CAN |
| Aaron | Pike | 19:00 | Champaign, IL |
| Alexandre | Dupont | 20:04 | CAN |
| Raphael | Botello Jiminez | 20:10 | ESP |
| James | Senbeta | 21:01 | Chicago, IL |
| Alphonso | Zagarosa | 21:04 | MEX |
| Luis | Sanclemente | 21:10 | COL |
| Hermin | Garic | 21:39 | Utica, NY |
| Valera "Jacob" | Allen | 22:00 | Kingwood, TX |
| Colby | Higgins | 22:05 | Atlanta, GA |
| Chad | Johnson | 22:45 | Corydon, IN |
| Dustin | Stallberg | 22:49 | Tucson, AZ |
| Jason | Robinson | 23:08 | Rome, NY |
| Brian | Seimann | 23:00 | Savoy, IL |
| Peyton | Gunnarson | 23:45 | Tucson, AZ |
| Adam | Smeenk | 24:00 | CAN |
| Isiah | Christophe | 24:00 | CAN |
| Evan | Correll | 24:00 | Waukee, IA |
| Phillip | Croft | 24:00 | Champaign, IL |
| Jose | Pulido | 24:22 | Clarksville, GA |
| Matthew | Potterfield | 24:59 | Knoxville, TN |
| Wes | Bergin | 25:00 | Palm Harbor, FL |
| Juan | Pablo | 25:01 | MEX |
| Brad | Smith | 27:05 | Atlanta, GA |