SEPTEMBER 24, 2021 - CARTERSVILLE, GA -- It was a perfect night for Marist on a nearly perfect night for cross country racing as the War Eagles took home the Wingfoot Cup from the Wingfoot XC Classic at Sam Smith Park in Cartersville.
Marist won the coveted prize with impressive finishes from their top five in both the Boys and Girls Varsity Championships including a win from sophomore Ruby Little.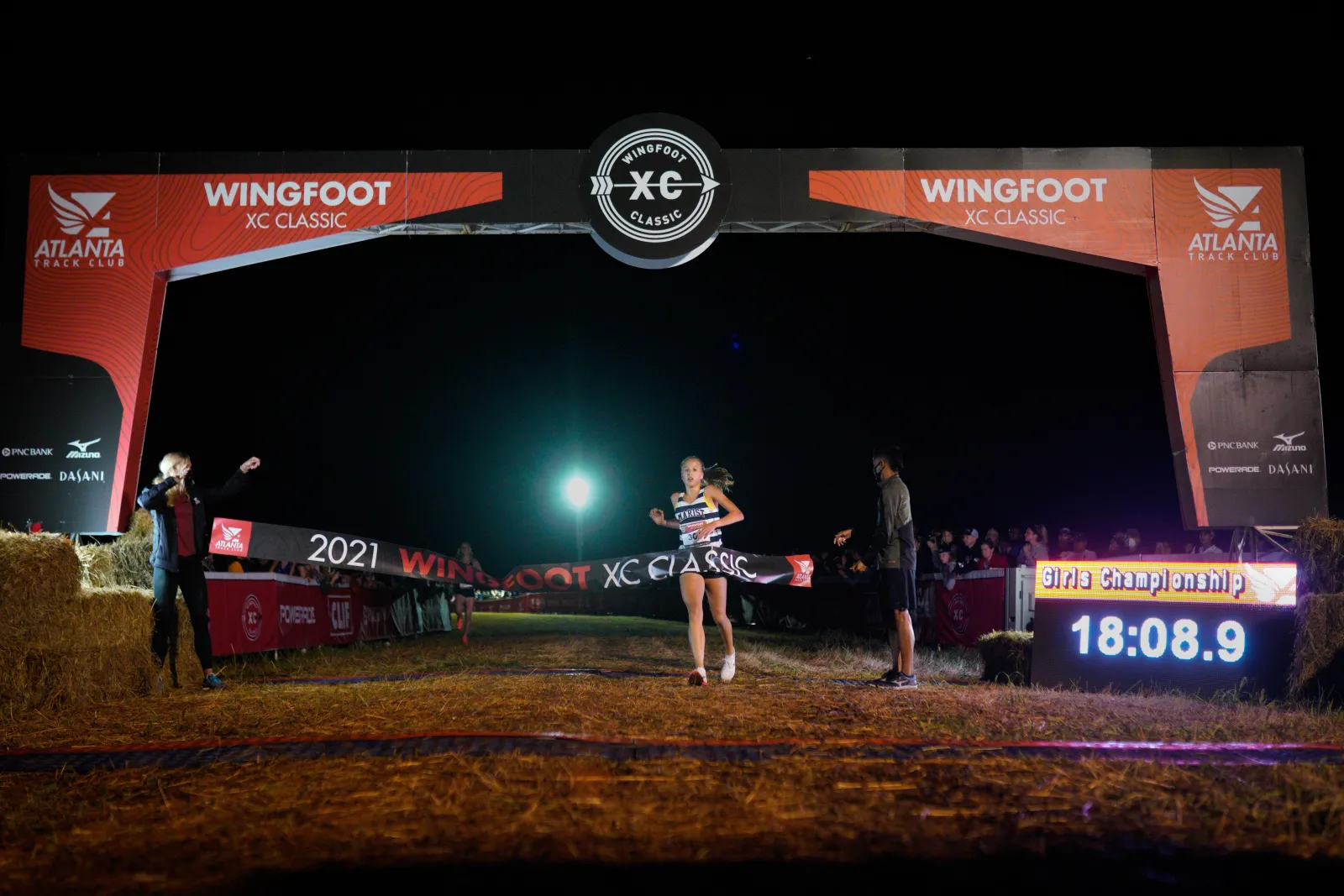 Little took the final race of the evening out hard with fellow sophomore Caroline Hood of Pace Academy right on her shoulder. The two swapped the lead in the early minutes, pulling away from the pack with Hood in first at the one mile mark. Hood continued to have a slight advantage until a mile and a half into the race when Little made a decisive move. By two miles she had put five meters on Hood and she continued to widen the gap over the last thousand meters. When the top two rounded the final turn, Little had sealed the victory, her first of the season, crossing the line in 18:08. Hood was handed her first defeat of 2021 finishing in 18:12 and Little was rewarded for her bold mid-race move.
"Just mentally being able to tell myself 'you can do this. The pain is temporary.' Nothing could hold me back," said Little. "I just did it for my coaches and everyone that surrounds me because they poured so much into my training and I just wanted to say 'thank you.'"
Harrison High School's Samantha McGarity made it a sophomore sweep for the top three positions. McGarity moved up through the chase pack throughout the race, shrinking a 19 second gap down to nine seconds in the final 1000 meters to finish in 18:22. Grace Von Biberstein, a junior at St. Pius X (18:33) was fourth and eighth grader Jazzlyn Garmer of Webb School was fifth in 18:35.
Marist won the team competition with 99 points thanks to strong runs from seniors Johna Grisik (13th) and Nicole Pizzo (16th). duPont Manual of Louisville, KY was second with 124 points and Pace Academy took third with 133 points.
The Boys Varsity Championship saw a lot more lead changes. Pace senior Edward Blaha made a move away from the tight pack just after the mile taking only Nathan Solomon of Shiloh with him. The two continued to swap leads through 3600 meters with Holy Innocents' Episcopal School's Joe Sapone and Blessed Trinity's Ben Rothering in hot pursuit.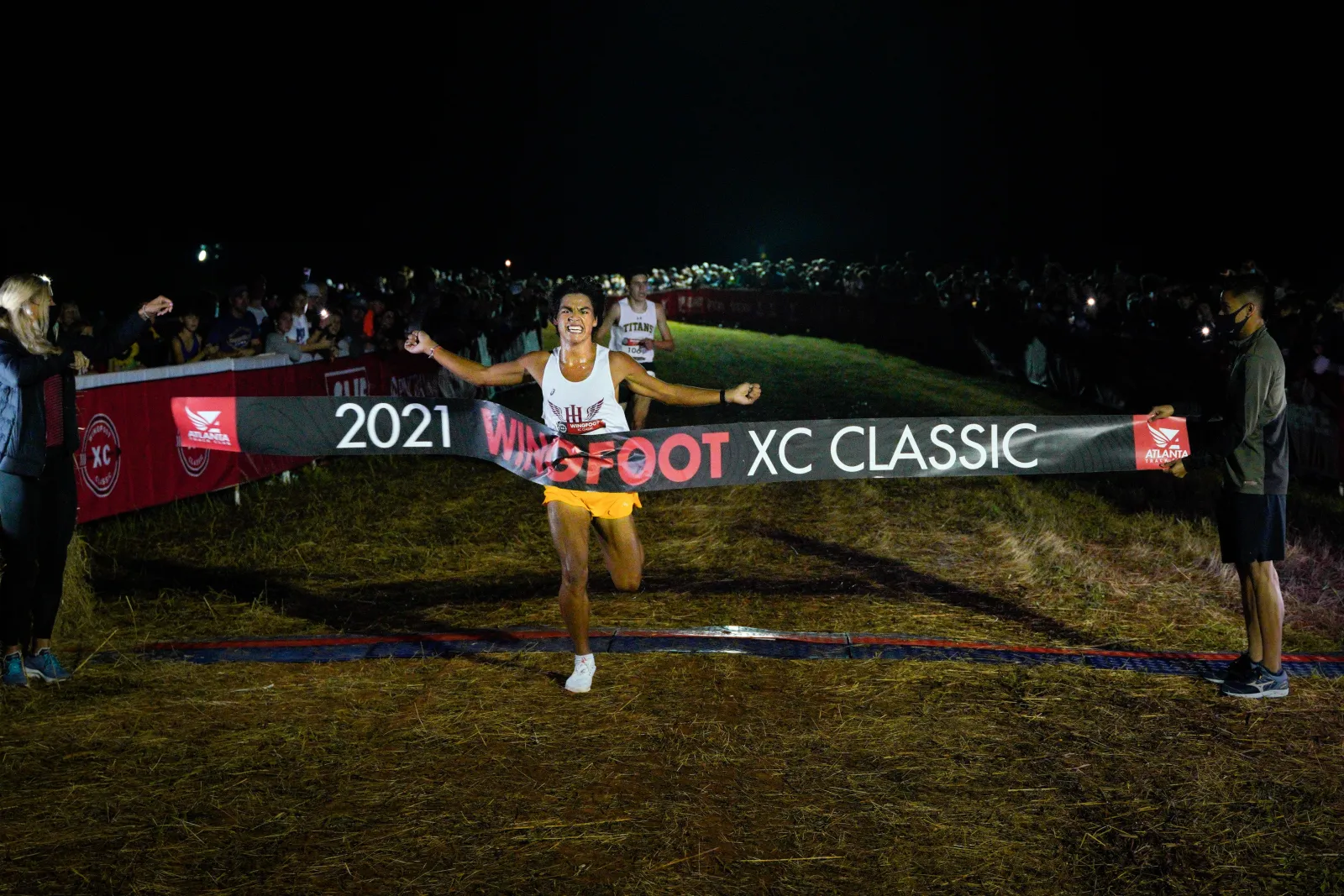 Solomon and Blaha's move turned out to have been made too early as Rothering took over with a mile to go and Sapone moved into second. With 600m to go, Rothering looked like he was on his way to victory with more than a 30m lead on Sapone, but Sapone chipped away at the lead until the two were neck and neck as they entered the chute. With 40m to go, it was Sapone that had the kick, breaking the tape in 15:29, just a second ahead of Rothering.
"I saw him off in this distance and I kept on hearing people telling him how far back I was," said Sapone. "I had to take advantage of that so, I just put my feet to the ground and tried as hard as I could to catch up."
Matthew Fernando (15:37) of the Westminster School was third, Blaha (15:40) hung on for fourth and Bryson Gates (15:41) of Creekview rounded out the top five.
Lead by Ethan Nordman's sixth place finish, Mill Creek took the team title with 92 points. Huntsville (AL) took second with 111 points and Westminster was third was 118 points. With 155 points, Marist was fourth. The War Eagles combined first and fourth place finishes in the championship races propelled them to the night's top honors and the Wingfoot Cup will head to their trophy case.
Huntsville took the team title in the JV Girls Championship race with freshman Amelia Scales (20:47) leading the team with her second place finish. Zoe Garcia, a senior from St. Pius, was the race winner in 20:27.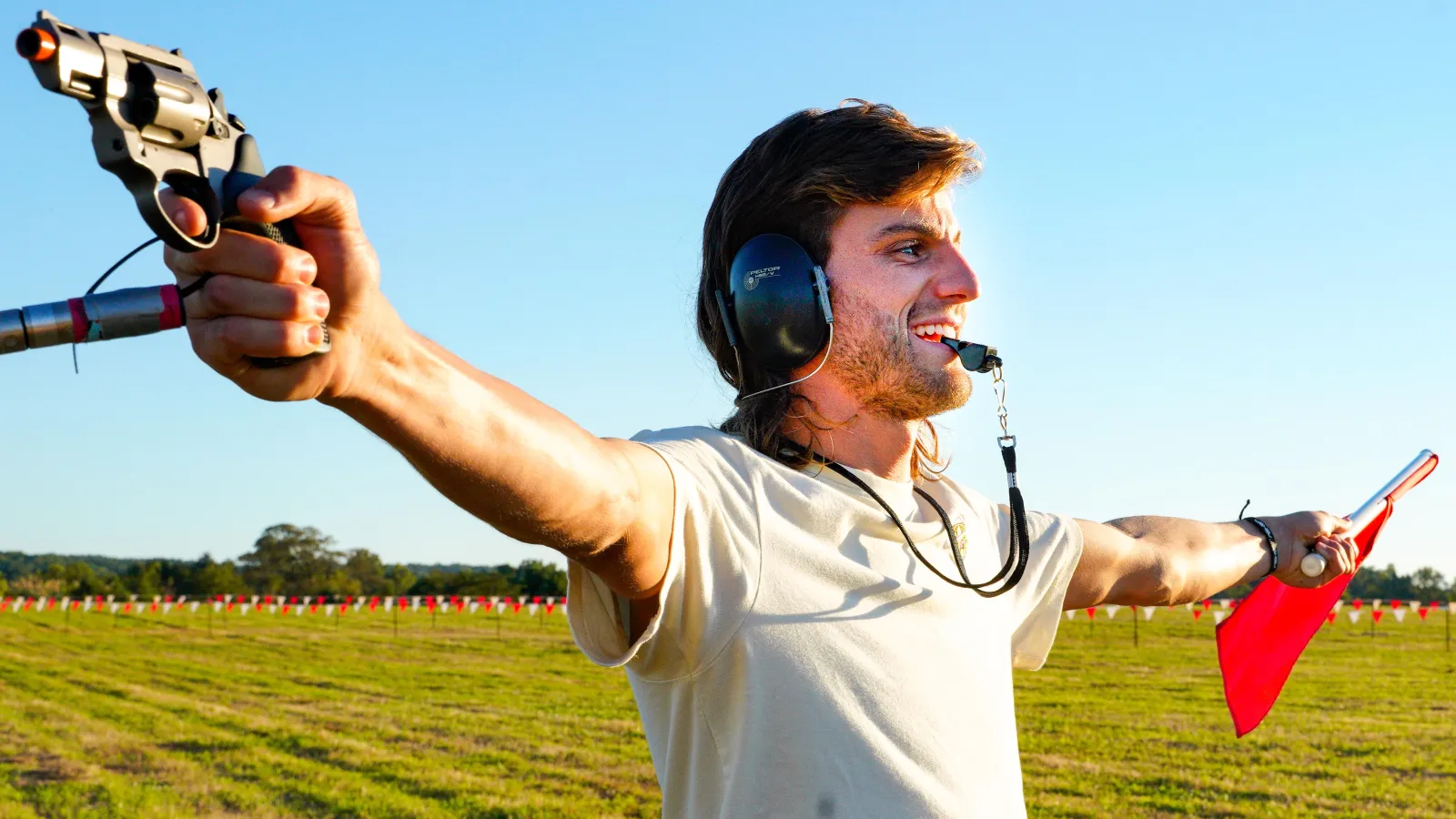 Huntsville was also the team winner in the JV Boys Championship led by junior Luke Kennedy's (17:10) third place finish. The race was won by Blessed Trinity sophomore Ryan Sewczwicz in 17:00
Landmark Christian's Shari Brown (19:40) dominated the Frosh Girls 5K, winning by 34 seconds over Ashby Williams (20:14) of Daniel. Brady Jenkins (17:50) of duPont Manual took the Boys Frosh title over Davis Peterson (17:54) of Blessed Trinity.
The evening kicked off with the Youth Boys and Girls 3K, a preview of the future of the Wingfoot XC Classic. Lillian Glass, an eighth grader from Atlanta International School won the Girls race in 11:43 while Alpha Crush took the team title with 44 points. The Boys race was won by Jameson Pifer, an eighth grader from Great Strides who covered the course in 10:20. With 73 points, Junior Hoyas won the team competition.
Varsity and JV Open races will be held Saturday morning. Complete results can be found here.
Photos by Ben Hendren