ATLANTA - NOVEMBER 17, 2021 - Having never placed lower than 2nd in any race this season and winning the GHSA Class 4A State Championship, Marist School sophomore Ruby Little was awarded the Runner of the Year award at Wednesday's Powerade All-Metro High School Cross Country Banquet. Little ran a season's best of 17:49 at the adidas XC Challenge in North Carolina this fall. It was the second fastest time of the season by a Georgia High School runner. At the State Championship, Little led the Marist War Eagles to the team title where they placed five runners in the top seven.

"I am just so grateful for every opportunity and all the hard work my team put into each practice," said Little. "I'm thankful for my family and everything they have poured into me."

Other athletes named to the Powerade All-Metro Girls First Team include Caroline Hood (Sophomore, Pace Academy), Samantha McGarity (Sophomore, Harrison High School), Grace Von Biberstein (Junior, St. Pius X), Carmel Yonas (Junior, South Forsyth High School), Clara Heppner (Junior, North Atlanta High School) and Cara Joyce (Senior, Atlanta International School). Of the 42 athletes honored at the banquet, Joyce was the only one named to all the All-Metro Team all four years of her high school career. She will run for Yale next fall.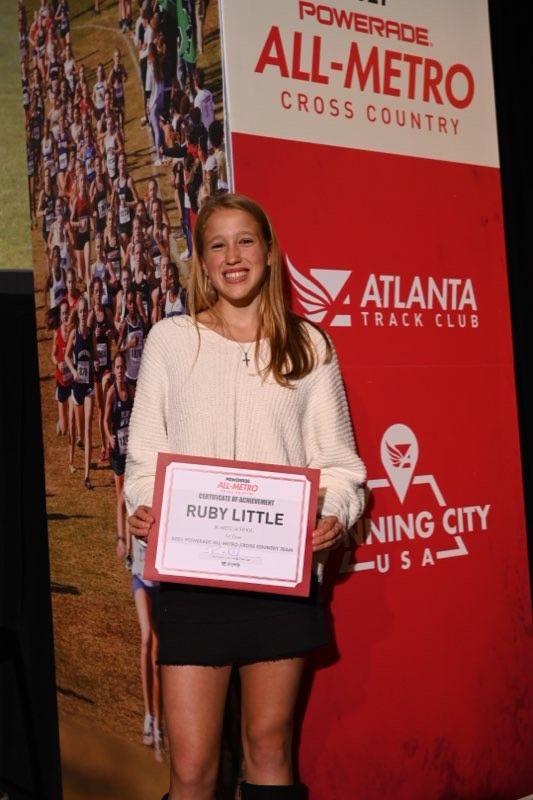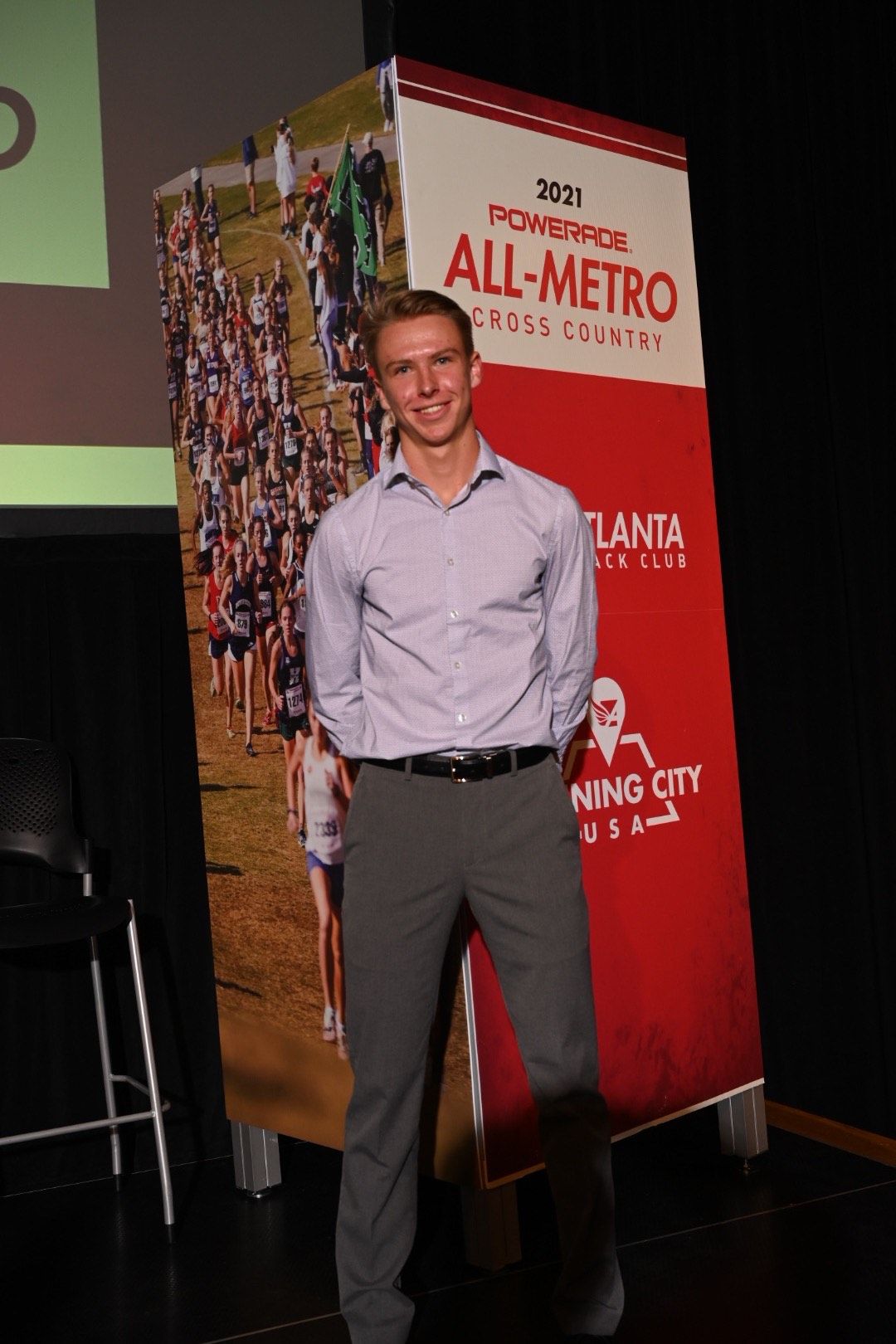 Ethan Ashley, a senior at Denmark High School was the Runner of the Year on the Boys Team. His season's best time of 15:01 at the Coach Wood Invitational was the fastest time in the state this year. He was undefeated in 2021. Ashley's wins included the GHSA 7A Championship in which Denmark took third in the team competition.

"I was super blessed to be able to put in a lot of good work with the guys," said Ashley. "This was a really great way to end my senior year."

Also on the Powerade All-Metro Boys First Team is Nathan Solomon (Senior, Shiloh High School), Christian Gonzalez (Senior, Decatur High School), Bryson Gates (Senior, Creekview High School), Edward Blaha (Senior, Pace Academy), James May (Senior, Marietta High School), Matthew Fernando (Senior, Westminster School).

The Powerade All-Metro Cross Country Team was announced earlier this month and included athletes from 25 schools representing six area counties. Selections are based on season-wide performances, head-to-head competition and time at the State Meet. Team placements are determined by a vote by local coaches and the general public.

At the banquet held in midtown Atlanta, State Championship-winning coaches were honored. Coach Stephen Jayaraj of Holy Innocents' Episcopal School and Scott Neal of the Tallulah Falls School were awarded the Coach's Dedication Award, an honor bestowed for coaches with outstanding career achievements and contributions to the sport of cross country.

The Powerade All-Metro Cross Country Banquet is Atlanta Track Club's oldest tradition, held annually since 1965.

Boys First Team
| | |
| --- | --- |
| Athlete Name | School |
| ETHAN ASHLEY | Denmark High School |
| NATHAN SOLOMON | Shiloh High School |
| CHRISTIAN GONZALEZ | Decatur High School |
| BRYSON GATES | Creekview High School |
| EDWARD BLAHA | Pace Academy |
| JAMES MAY | Marietta High School |
| MATTHEW FERNANDO | Westminster School |
Girls First Team
| | |
| --- | --- |
| Athlete Name | School |
| RUBY LITTLE | Marist School |
| CAROLINE HOOD | Pace Academy |
| SAMANTHA MCGARITY | Harrison High School |
| GRACE VON BIBERSTEIN | St. Pius X |
| CARMEL YONAS | South Forsyth High School |
| CLARA HEPPNER | North Atlanta High School |
| CARA JOYCE | Atlanta International School |
Boys Second Team
| | |
| --- | --- |
| ALEX ARRAMBIDE | East Forsyth High School |
| WILLIAM CARLTON | Decatur High School |
| CADEN HALL | Parkview High School |
| ETHAN NORDMAN | Mill Creek High School |
| BENJAMIN ROTHERING | Blessed Trinity Catholic School |
| JOEY SANDEL | Johnson Ferry Christian Academy |
| JOE SAPONE | Holy Innocents' Episcopal School |
Girls Second Team
| | |
| --- | --- |
| ADDISON ADAIR | Pope High School |
| ELLIE BREWER | Hebron Christian Academy |
| KATELYNN DOLLAR | Lyndon Academy |
| EMMA GEANEY | Parkview High School |
| KATIE HAMFELDT | Blessed Trinity High School |
| JAMIE MARLOWE | Midtown High School |
| CATHERINE TOWNSEND | North Atlanta High School |
Boys Third Team
| | |
| --- | --- |
| TRENT BELL | West Forsyth High School |
| ZACK BURKE | Blessed Trinity Catholic School |
| PEYTON GOLDEN | Whitefield Academy |
| TOMMY LATHAM | Marist School |
| RYAN MCKEE | Kennesaw Mountain High School |
| NATE VERSKA | South Forsyth High School |
| SAGE WALKER | Druid Hills High School |
Girls Third Team
| | |
| --- | --- |
| LAURA ARENTH | Pace Academy |
| LOREL GOLDEN | Pope High School |
| JOHNA GRISIK | Marist School |
| NICOLE PIZZO | Marist School |
| KELLY ANNE SUTTERFIELD | Blessed Trinity Catholic School |
| PALMER WALSTAD | Westminster School |
| ISABEL YONAS | South Forsyth High School |
Photos by Paul Ward