ATLANTA - NOVEMBER 17, 2022 - A junior from Harrison High School and a Marist School sophomore were named Runners of the Year at the Powerade All-Metro Cross Country awards Thursday evening. Samantha McGarity of Harrison, the GHSA 7A state champion and Tommy Latham, the GHSA 6A state champion received the year's top honors among the 42 high school runners named to the first, second and third teams at the annual banquet.
McGarity turned in a dominant performance at the state meet in Carrollton earlier this month where she won by 40 seconds and posted the fastest time of any girls' runner across the state's nine classifications. McGarity, whose award was announced via video by 2021 NCAA Cross Country Champion Whittni Morgan, also won her regional title as well as the Cobb County Championship this season.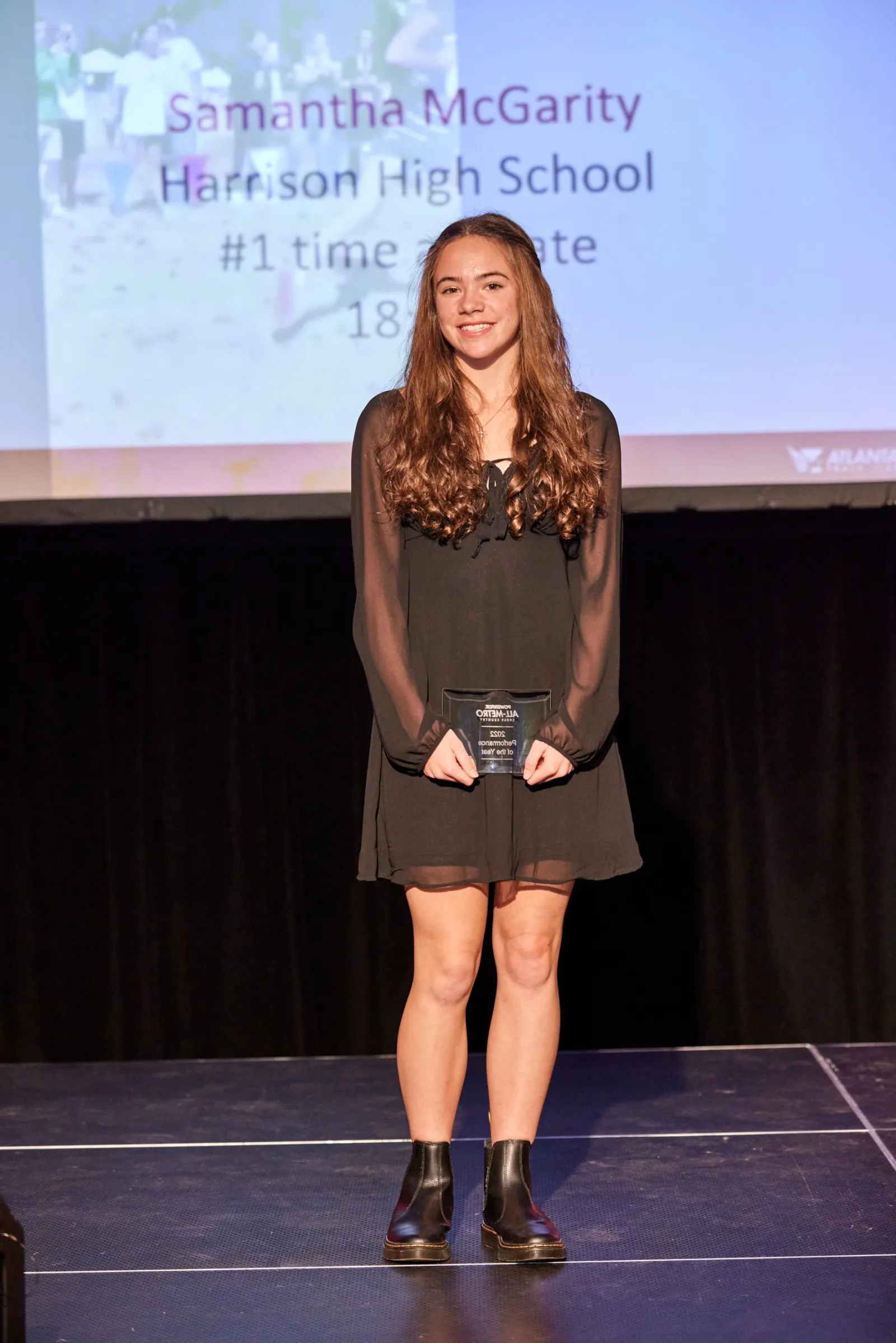 "My coach prepares us really well. We train a lot for hills," said McGarity of her back to back titles at the Carrollton state meet course. "I'm really lucky to be in an area of Georgia that has hills that are available to us."
McGarity's state meet race was also named the 2022 Performance of the Year. It was one of five performances posted on 11Alive.com and open to a public vote.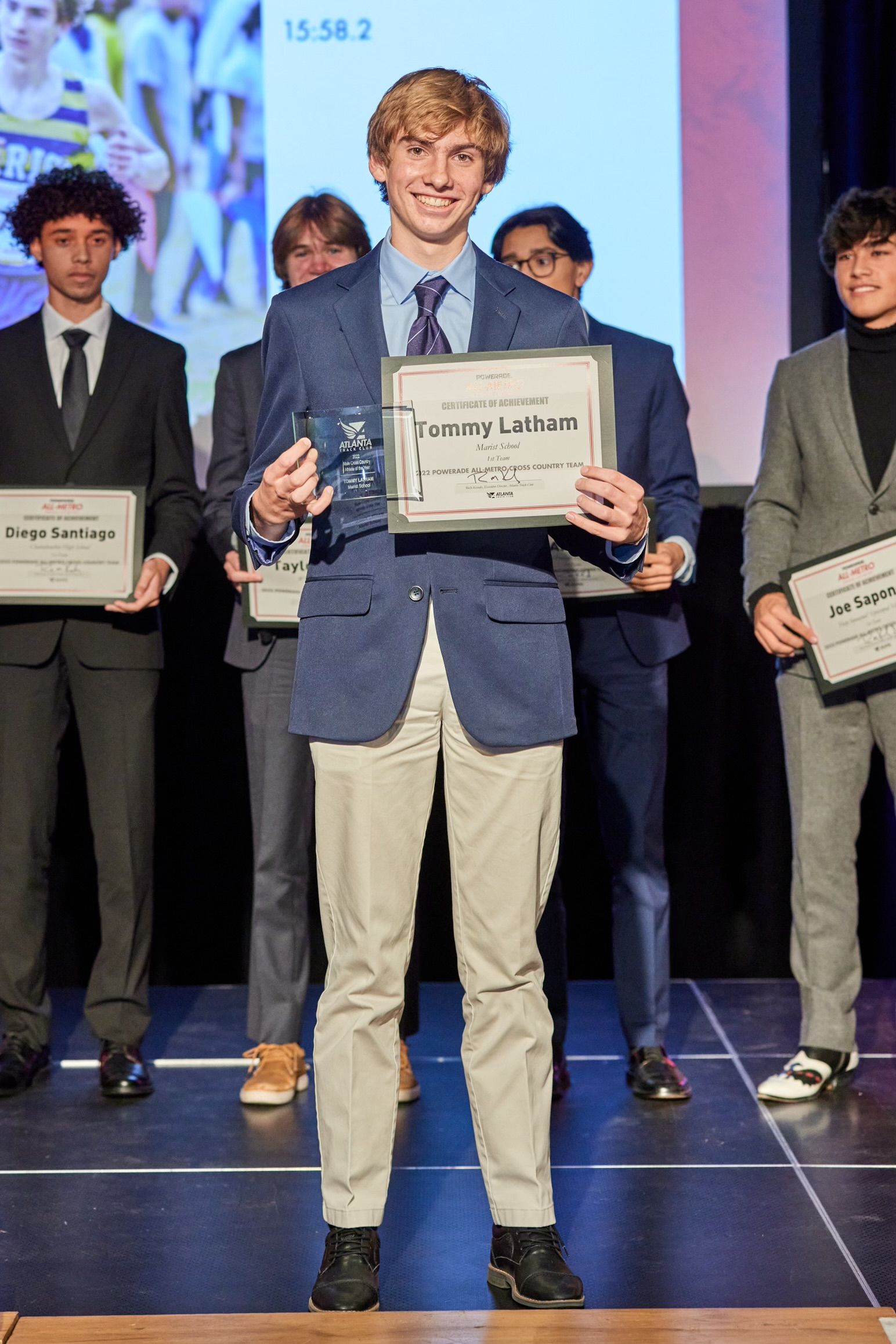 Also named to the girls' first team were Palmer Walstad (Westminster), Hannah Schemmel (St. Pius X), Ruby Little (Marist), Maddie Jones (Marietta), Carmel Yonas (South Forsyth) and Claire Shelton (Dunwoody).
Latham, the boys runner of the year, also capped off his year with a thrilling performance at the state meet where he was the only underclassman in the top 5, winning by 24 seconds. Latham also won the regional title this year and his second place finishing time of 14:56.81 at the Coach Wood Invitational last month was the second fastest time by any Georgia runner in 2022. His award was announced via video by 2021 NCAA Cross Country Champion Conner Mantz on Thursday night.
"The most important thing about Marist team culture is there is a group of 30 of us. It's not just seven or five, whatever it takes to get a team on the results," said Latham. "We all know what it means to have success and if any one of us has success it's a celebration."
The six other boys named to the first team were Joe Sapone (Holy Innocents' Episcopal School), Alex Arrambide (East Forsyth), Taylor Wade (Whitefield), Diego Santiago (Chattahoochee Hills), Jared Fortenberry (Marietta) and Dru Moore (Etowah).
Full first, second and third team lists are below. First teams are ranked as a traditional cross country team by performance while the second and third teams are ranked alphabetically.
Held annually since 1964, the Powerade All-Metro Cross Country and Track & Field banquets are Atlanta Track Club's longest standing tradition. Athletes are selected by their performance at the state meet, season overview and performances in major meets against other All-Metro contenders. This year's group of 21 boys and 21 girls includes runners from 26 different schools and eight counties. It also boasts eight runners who won state titles at the GHSA State Championship Meet.
Girls 1st Team
| | | |
| --- | --- | --- |
| Samantha McGarity | Harrison High School | 11 |
| Palmer Walstad | Westminster School | 12 |
| Hannah Schemmel | St. Pius X | 12 |
| Ruby Little | Marist School | 11 |
| Maddie Jones | Marietta High School | 10 |
| Carmel Yonas | South Forsyth High School | 12 |
| Claire Shelton | Dunwoody High School | 12 |
Boys 1st Team
| | | |
| --- | --- | --- |
| Tommy Latham | Marist School | 10 |
| Joe Sapone | Holy Innocents' Episcopal School | 12 |
| Alex Arrambide | East Forsyth High School | 12 |
| Taylor Wade | Whitefield Academy | 12 |
| Diego Santiago | Chattahoochee High School | 12 |
| Jared Fortenberry | Marietta High School | 12 |
| Dru Moore | Etowah High School | 12 |
Girls 2nd Team
| | | |
| --- | --- | --- |
| Shari Brown | Landmark Christian School | 10 |
| Bella Cammarota | Lambert High School | 12 |
| Katelynn Dollar | Creekview High School | 11 |
| Caroline Hood | Pace Academy | 11 |
| Gabriella Malerba | Decatur High School | 12 |
| Mary Nesmith | Marietta High School | 9 |
| London Ray | Blessed Trinity High School | 10 |
Boys 2nd Team
| | | |
| --- | --- | --- |
| Andrew Balogh | Etowah High School | 12 |
| Gabriel Best | Whitewater High School | 12 |
| Cory Chambers | Milton High School | 12 |
| Esfan Daya | Westminster School | 11 |
| Joseph Jacquot | Westminster School | 11 |
| Will Jennings | Carrollton High School | 12 |
| Sumner Kirsch | North Atlanta High School | 12 |
| Jake Westing | Decatur High School | 12 |
Girls 3rd Team
| | | |
| --- | --- | --- |
| Zahara Bernal | Pace Academy | 10 |
| Lottie Chappell | North Springs High School | 12 |
| Grace Danser | Maynard H. Jackson High School | 9 |
| Isabelle Gaharan | Lambert High School | 12 |
| Nora Hart | Marietta High School | 11 |
| Clara Heppner | Johnson Ferry Christian Academy | 12 |
| Kristal McQueen | Marietta High School | 12 |
Boys 3rd Team
| | | |
| --- | --- | --- |
| William Carlton | Decatur High School | 12 |
| Gabriel Best | Whitewater High School | 12 |
| Diego Fernandes | West Forsyth High School | 11 |
| Jackson Hogsed | Lambert High School | 10 |
| Luke Kalarickal | Mill Creek High School | 12 |
| Marc Petrucci | Collins Hill High School | 12 |
| Truman Thompson | North Atlanta High School | 12 |