ATLANTA -- OCTOBER 6, 2022 -- North Atlanta dominated the boy's race and the Midtown girls claimed their seventh consecutive city title at the APS City Championships on October 6.
North Atlanta, who has been one of the top teams in the state of Georgia this year, came to the Grant Park meet after sitting out other inter-APS meets this season and skipping last year's championship. Their top three boys pulled away early in the race and ran as a breakaway lead pack through the first two miles of the hilly course. In the third mile, Sumner Kirsch and Teddy Meredith separated from Truman Thompson and went on finish in 17:38, 17:40 and 17:47 respectively.
"I was so happy to be out there with my team," said Sumner. "This race was about staying strong together in order to take this win, and that's really what this whole sport's about - just, teamwork and working as one to accomplish our goals."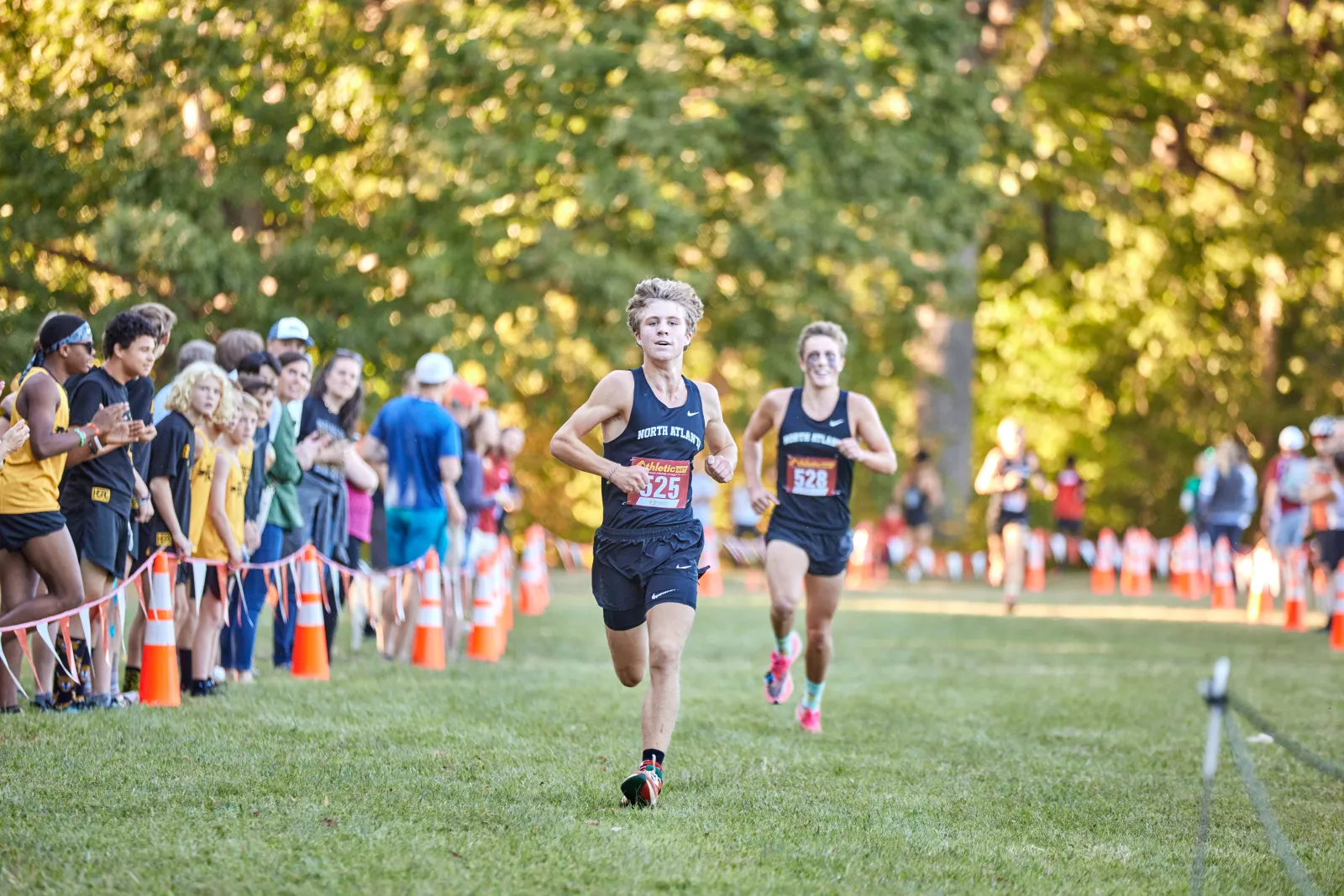 Kirsch has had a breakout season, running under 16:00 three times. This, however, was his first win. North Atlanta's Holt Harris took fourth and the Warrior's fifth runner, William Wickstram finished in eighth. That left the team with 17 points and gave them a dominant victory over defending champions Maynard Jackson.

"This shows that we worked hard over the summer and we worked hard overall," said North Atlanta's Thompson. "We worked together, so that's the win right there."

The girls race was a much tighter competition. A pack of seven runners from North Atlanta, Midtown and Maynard Jackson going out in under 22-minute pace. At the halfway point, a lead back Cate Barton and Sierra Pape of Midtown had moved into the lead with Maynard Jackson's Grace Danser a step behind. As the trio hit 100 meters to go, Danser, the only freshman in the group, broke into a sprint to break the tape, beating Barton by four seconds, 21:22 to 21:26. Pape finished in 21:33.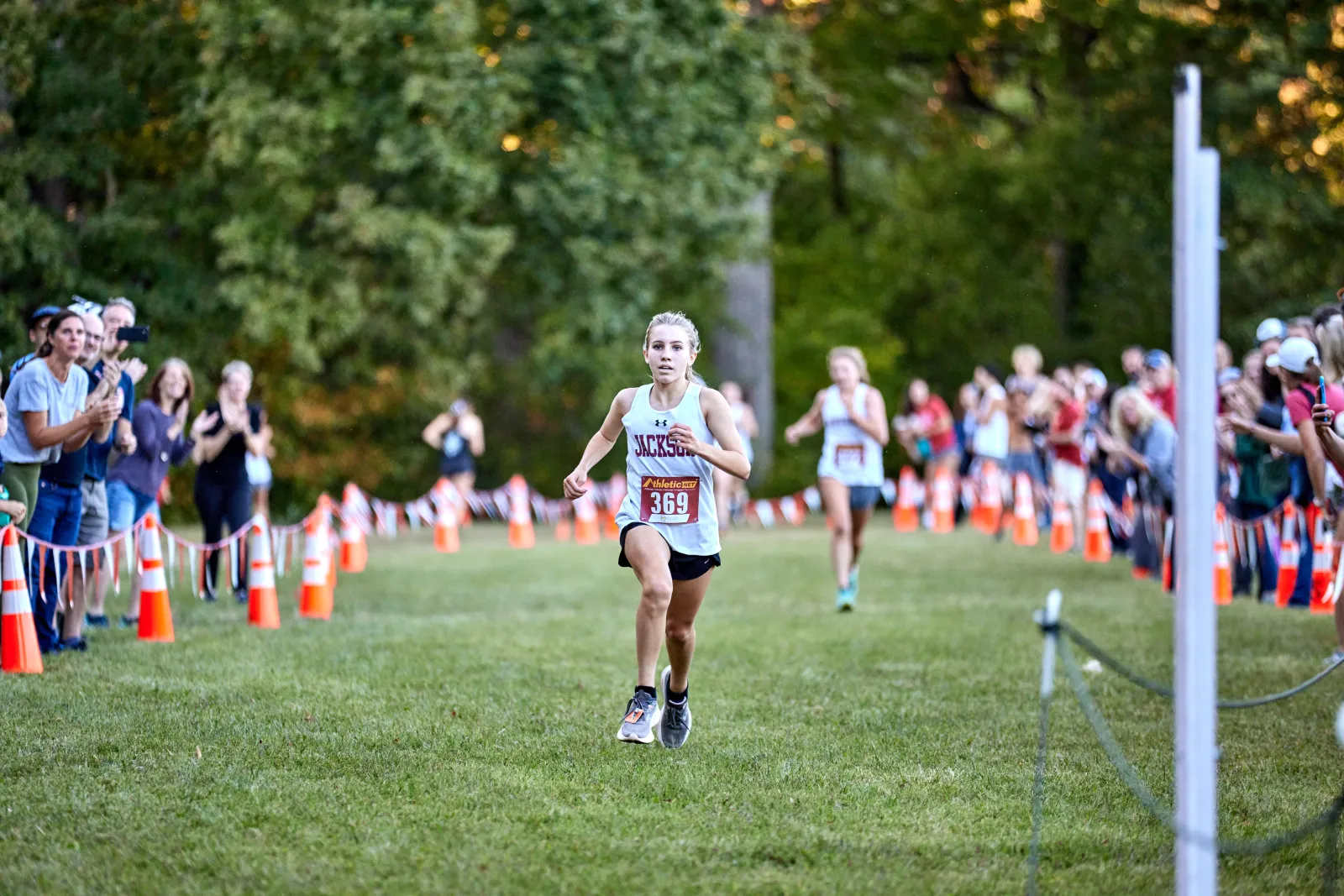 "I was focusing on keeping up my speed throughout the race and just wanting to get through the finish line," said Danser who's seventh place finish in the Varsity A race was the top performance by APS student at September's Wingfoot XC Classic.

Despite Danser's win, Midtown was able to squeak out the team victory with 34 points to Jackson's 43. North Atlanta was a very close third with 39 points.

"Overall, I think we just tried to stay as a pack and make sure we had enough people come out on top," said Midtown's Sally Thompson. "This race is a team sport, so that's how we did it."

In what was an exciting glimpse into the future of APS cross country, more than 200 runners competed in the mixed middle school two mile race. In just his second race of the season, Zachary Griffin, a seventh grader from Atlanta Neighborhood Charter School ran a 36 second personal best to finish in 11:50, defeating Fletcher Howard from Martin Luther King Jr. Middle School by 11 seconds.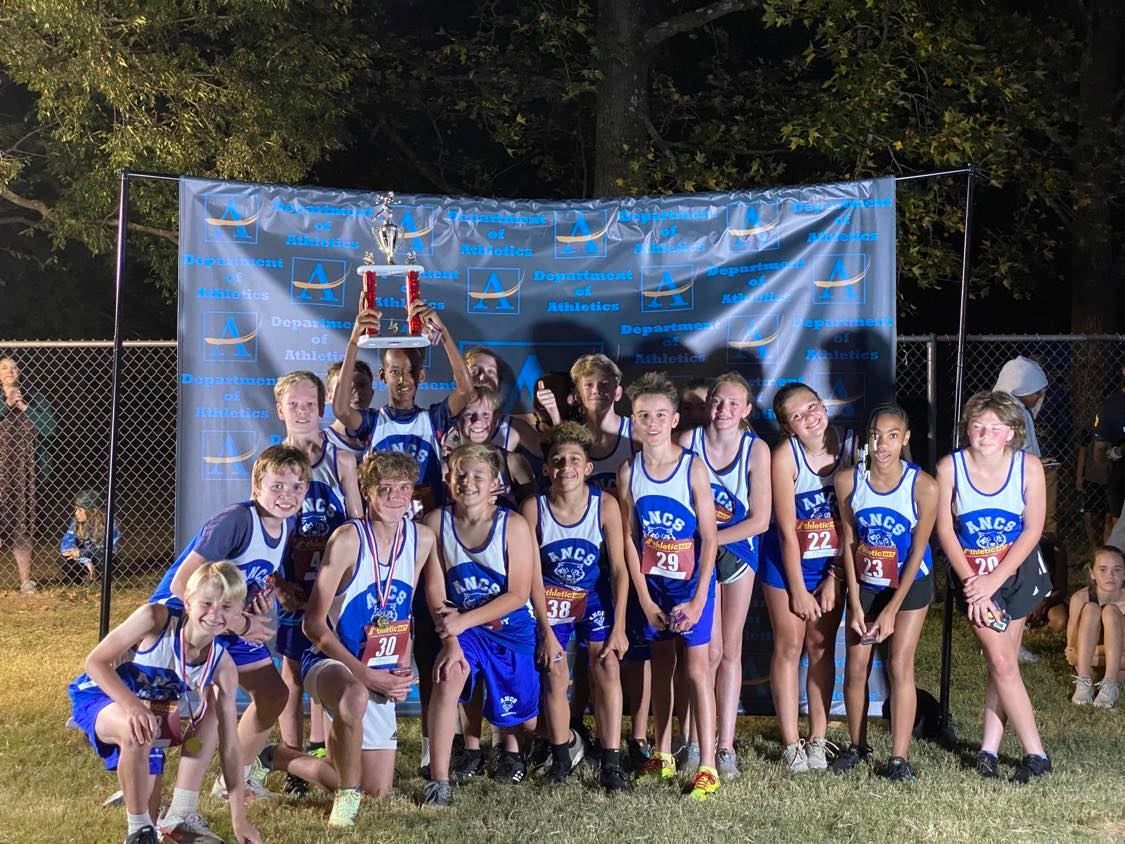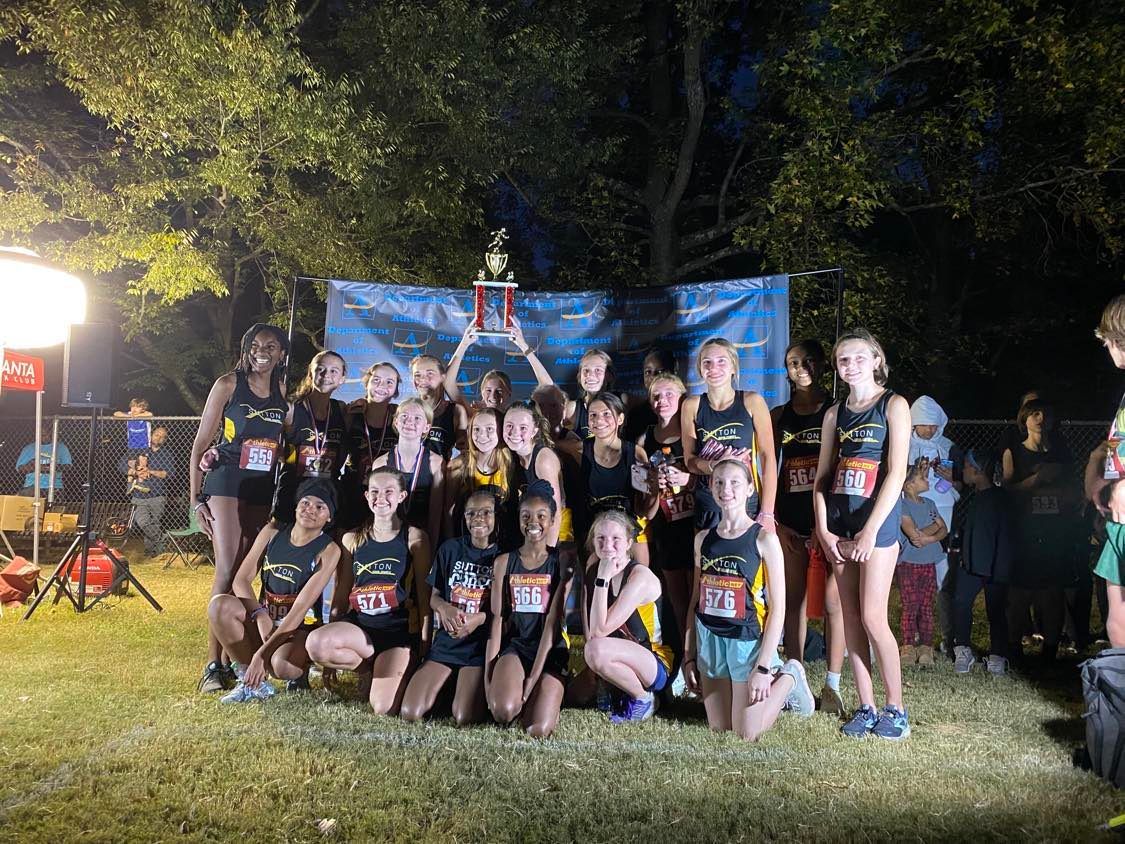 "I thought it felt pretty good and I beat my course record from last year, which it's always fun to beat your own record," said Griffin's who previous record was 12:43. "So, it was fun overall and I thought I did pretty well."

Atlanta Neighborhood Charter School and Drew Charter School both had 56 points, but ANCS's sixth runner broke the tie.

The girls winner was Addie Patton of Sutton Middle School who also set a massive personal best of 35 seconds to finish in 12:08 and win by 24 seconds over Lena Larkworthy of MLK.

"I was so nervous, I was so scared," said Patton. "But I just went and my brain was just saying 'let's go!'"


Patton lead Sutton to a dominant victory of David T. Howard 32 points to 62 points.

The APS City Championships marked the third year of Atlanta Track Club's partnerships with Atlanta Public Schools. As part of the partnership, the Club provides meet direction and timing as well as coaching resources in hopes of growing participation in cross country and track and field in Atlanta's public schools.

2022 APS City Championship Top-10 High School Boys
| | | | |
| --- | --- | --- | --- |
| 1 | | | 17:38.77 |
| 2 | | | 17:40.21 |
| 3 | | | 17:47.00 |
| 4 | | | 17:56.31 |
| 5 | | | 17:57.72 |
| 6 | | Mays High School | 18:01.59 |
| 7 | | | 18:08.32 |
| 8 | | | 18:32.08 |
| 9 | | | 18:34.19 |
2022 APS City Championship High School Boys Team Standings
| | | |
| --- | --- | --- |
| 1 | North Atlanta | 17 |
| 2 | Maynard H. Jackson High School | 45 |
| 3 | Midtown | 70 |
| 4 | KIPP Atlanta Collegiate | 139 |
| 5 | Frederick Douglass | 168 |
| 6 | Therrell | 176 |
| 7 | Drew Charter Senior Academy | 177 |
| 8 | Booker T. Washington | 230 |
2022 Top-10 High School Girls Finishers
| | | | |
| --- | --- | --- | --- |
| 1 | | | 21:22.90 |
| 2 | | | 21:26.26 |
| 3 | | | 21:33.92 |
| 4 | | | 21:55.92 |
| 5 | | | 21:59.93 |
| 6 | | | 22:00.67 |
| 7 | | | 22:17.77 |
| 8 | | | 22:35.95 |
| 9 | | | 22:55.47 |
| 10 | | | 23:38.07 |
2022 APS City Championships High School Girls Team Standings
| | | |
| --- | --- | --- |
| 2 | Maynard H. Jackson High School | 43 |
| 3 | North Atlanta | 49 |
| 4 | Drew Charter Senior Academy | 151 |
| 5 | Booker T. Washington | 160 |
| 6 | Therrell | 169 |
| 7 | KIPP Atlanta Collegiate | 190 |
| 8 | Frederick Douglass | 196 |
2022 APS City Championships Middle School Boys Top-10 Individuals
| | | | | |
| --- | --- | --- | --- | --- |
| 1 | | 7 | | 11:50.98 |
| 2 | | 8 | | 12:01.28 |
| 3 | | 8 | | 12:18.64 |
| 4 | | 8 | | 12:25.45 |
| 5 | | 8 | | 12:40.63 |
| 6 | | 8 | | 12:47.04 |
| 7 | | 8 | | 12:47.45 |
| 8 | | 6 | | 13:00.06 |
| 9 | | 7 | | 13:01.16 |
| 10 | | 8 | | 13:03.83 |
APS City Championships Middle School Boys Team Standings
| | | |
| --- | --- | --- |
| 1 | Atlanta Neighborhood Charter School | 56 |
| 2 | Drew Charter Junior Academy | 56 |
| 3 | Sutton MS | 69 |
| 4 | David T. Howard Middle School | 73 |
| 5 | Martin Luther King Jr. Middle School | 88 |
| 6 | KIPP METRO | 180 |
2022 APS City Championships Middle School Girls Top-10 Individuals
| | | | | |
| --- | --- | --- | --- | --- |
| 1 | | 7 | | 14:08.24 |
| 2 | | 7 | | 14:32.70 |
| 3 | | 7 | | 14:35.96 |
| 4 | | 8 | | 14:36.86 |
| 5 | | 6 | | 15:17.05 |
| 6 | | 7 | | 15:39.67 |
| 7 | | 6 | | 15:43.74 |
| 8 | | 8 | | 15:50.43 |
| 9 | | 7 | | 16:02.24 |
| 10 | | 8 | | 16:22.60 |
2022 APS City Championships Middle School Girls Team Standings
| | | |
| --- | --- | --- |
| 2 | David T. Howard Middle School | 62 |
| 3 | Martin Luther King Jr. Middle School | 76 |
| 4 | Drew Charter Junior Academy | 89 |
| 5 | Kipp Metro West | 105 |
| 6 | Atlanta Neighborhood Charter School | |