ATLANTA -- June 9, 2021 -- Four outstanding high school track and field athletes were named best in the Atlanta metro area at Wednesday night's POWERADE All-Metro Track and Field Banquet held by Atlanta Track Club. The athletes - two girls and two boys - were singled out among the 25 athletes and six relay teams honored at the banquet for their 2021 season performance. The top honors were chosen by votes from area coaches and the general public.
The award for Outstanding Female Field Athlete went to Dunwoody High School senior Janae Profit. Profit ended the season ranked number one in Georgia in both the discus (159-8) and shot put (47-11). She was the GHSA Class 7A champion in both events. Profit graduates as number two on the Georgia all-time list in the discus and fourth all-time in the shot put.
"I try to cherish every moment, especially since I lost a season," said Profit, who will attend the University of Virginia in the fall. "Since sports are not forever I think something that I look back on and can't believe I did was breaking the shot put record. I didn't plan on doing that and sometimes the people around me have to remind me I did it!"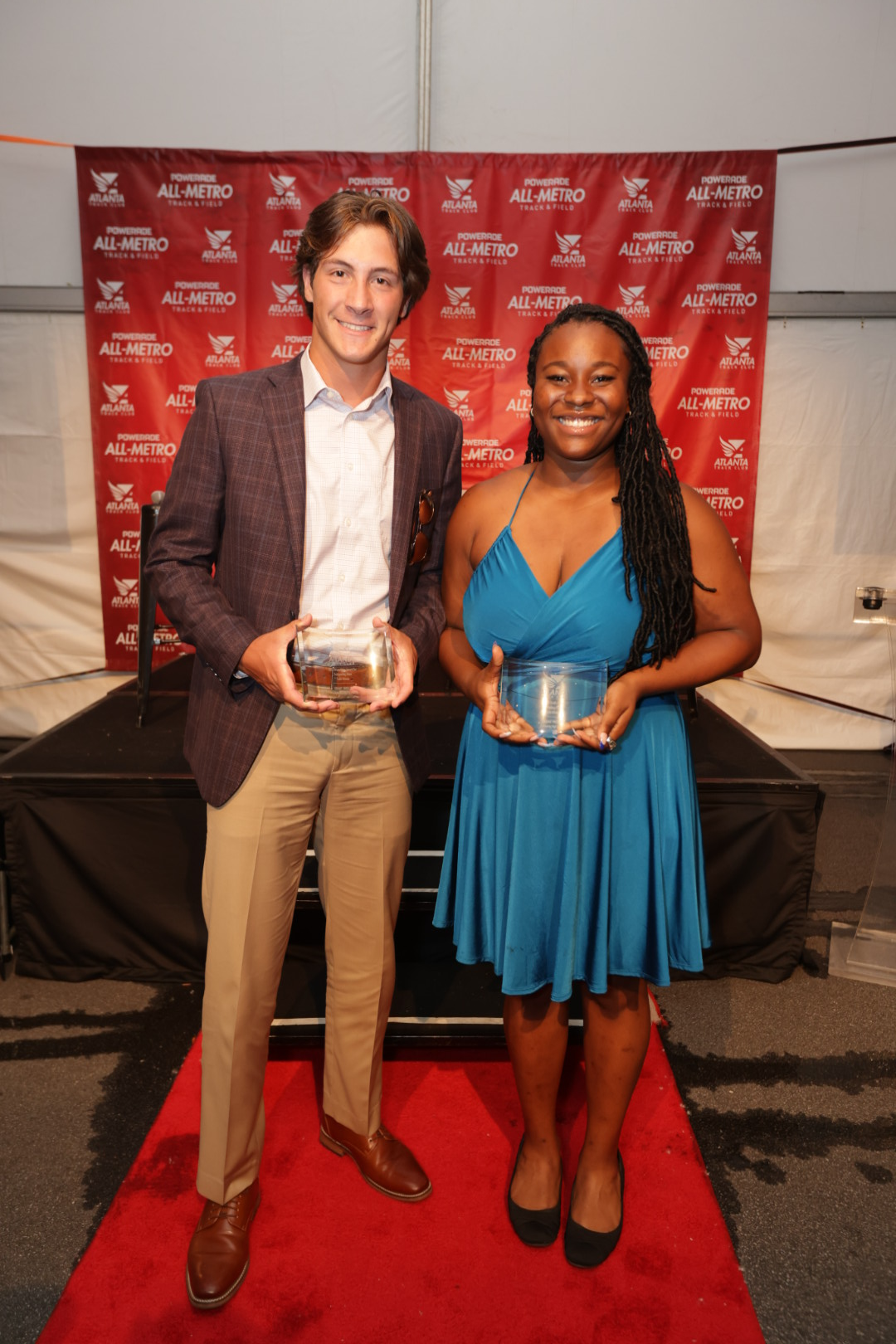 Grant Briscoe, a pole vaulter from Carrollton High school was named Outstanding Male Field Athlete. The University of Georgia-bound senior's vault of 16-8.75 at the Wingfoot Night of Champions last month placed him fourth on the Georgia all-time list and was the eighth best vault in the United States in 2021.
"It wasn't a tough season physically. I had to train my brain," said Briscoe, the GHSA 6A state champion. "I learned more about the vault and more about what I needed to do. And now, my head is in the right spot, which is going to help me a lot in my future career."
A freshman sprinter took home the Outstanding Female Track Athlete award. Adaejah Hodge of Alexander High School was the top ranked 200 meter runner in Georgia this season with a time of 23.64. She was the 6A state champion. She was also the 6A runner-up in the 100 meter with a time that ranked fourth in the state this year (11.67). She won both events at the all-class Wingfoot Night of Champions.
"I cherish my coaches, my teammates for sure, and everybody who supported me and believed that I can do great things as a freshman," said Hodge who was also the 6A champion in the long jump.
Georgia's top-ranked 110 meter (37.23) and 300 meter (13.78) hurdler won the Outstanding Male Track Athlete Award. Westlake High School Junior Malik Mixon was the 6A state champion in both distances. He was undefeated in the 110 meter hurdles in 2021.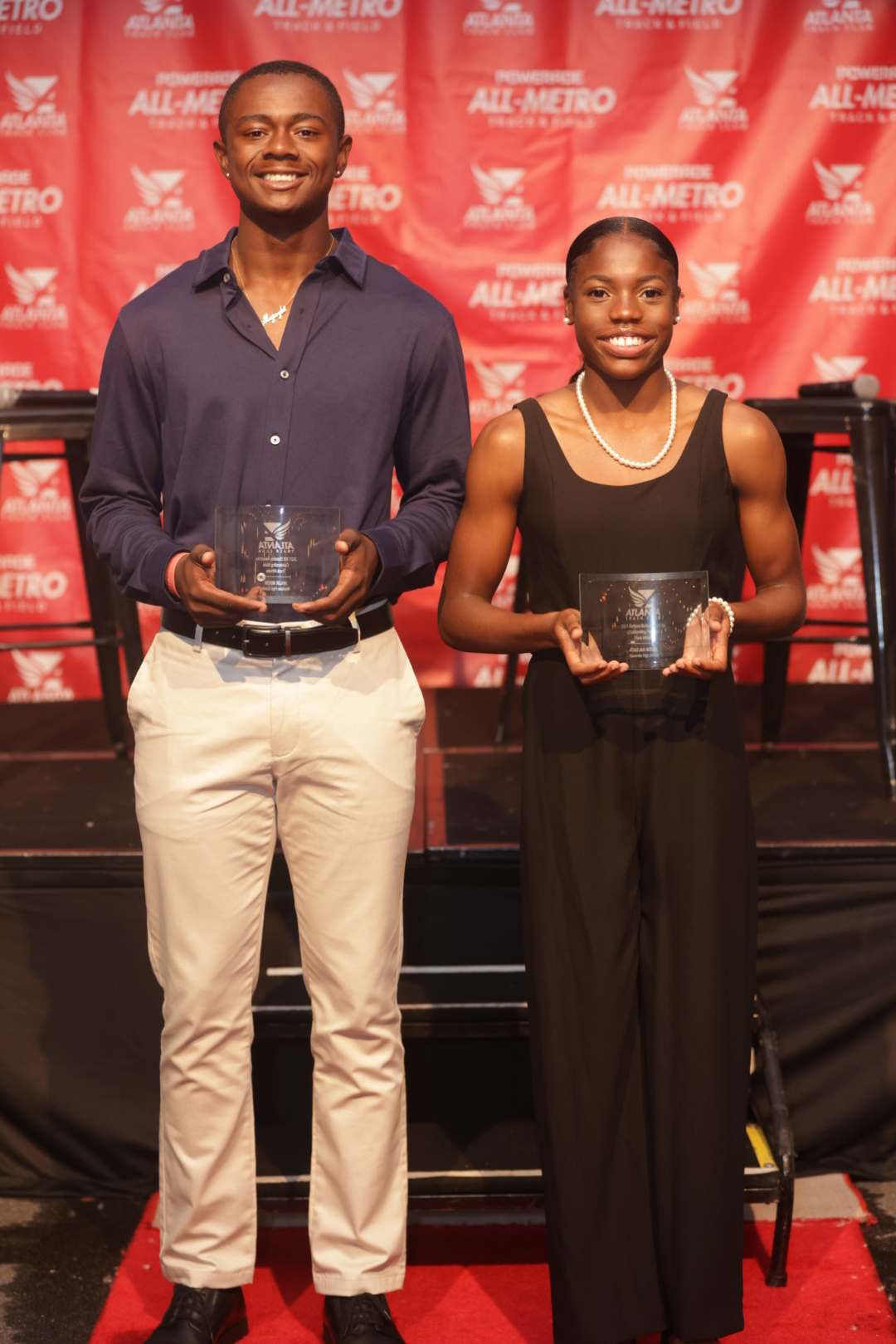 "I cherish my mom, my dad, my sister, the other runners and all those coaches that came back here to help me because when I was running this season I got a hamstring injury," said Mixon whose only 300m hurdle defeat in 2021 came in a preliminary round at the state meet. "If it wasn't for them motivating me to get back, I don't think I would be here right now."
The athletes selected for the POWERADE All-Metro Track & Field team represent eight counties and 18 high schools. Athletes are selected based on performance at the state meet, season consistency and head-to-head competition. Every athlete and relay team honored this year was a state champion in 2021. A complete list of athletes can be found at the end of this release.
"Not only was track and field back in 2021. It was back with historic performances from the Atlanta area's high school athletes," said Rich Kenah, Atlanta Track Club's executive director. "I know all of us will be watching to see those graduating go on to do great things in the NCAA and eagerly awaiting the return of those athletes who will be continuing their high school excellence in the fall."
Two local coaches were also honored at the banquet. Jason Cage, the Westlake High School coach, won the Outstanding Girls's Coach Dedication award. Nick Houstoulakis of Marietta High school won the Outstanding Boy's Coach Dedication Award. Both have coached at their respective schools for 15 years.
The Powerade All-Metro Track & Field and Cross Country Banquets are Atlanta Track Club's longest running traditions, dating back to the Club's founding in 1964. Canceled last year due to the COVID-19 pandemic, the Track & Field Banquet was held in person this year, outdoors at Atlanta Track Club. Three-time Olympic Gold Medalist and Buford resident Gail Devers was one of the evening's hosts.
POWERADE All-Metro Girls Team
| | | | |
| --- | --- | --- | --- |
| Event | Name | School | Classification |
| 100m | Tamiia Fuller | Peachtree Ridge High School | 7A |
| 200m | Adaejah Hodge | Alexander High School | 6A |
| 400m | Sydney Harris | Buford High School | 6A |
| 800m | Riley Perlakowski | Harrison High School | 7A |
| 1600m | Hannah Minniutti | Blessed Trinity Catholic School | 5A |
| 3200m | Hannah Schemmel | St. Pius X | 5A |
| 100mh | Jessicka Woods | Jackson, Atlanta | 5A |
| 300mh | Madyson Wilson | Westlake High School | 6A |
| 300mh | Jasmine Gryne | Woodland High School | 5A |
| 4x100m | | Greater Atlanta Christian | 3A |
| 4x400m | | Buford High School | 6A |
| 4x800m | | Harrison High School | 7A |
| Long Jump | Adaejah Hodge | Alexander High School | 6A |
| Triple Jump | Kayla Pinkard | Carrollton High School | 6A |
| High Jump | Tomisin Adenupe | Walton High School | 7A |
| Pole Vault | Payton Phillips | Carrollton High School | 6A |
| Shot Put | Janae Profit | Dunwoody High School | 7A |
| Discus | Janae Profit | Dunwoody High School | 7A |
POWERADE All-Metro Boys Track & Field Team
Event

Name

School

Classification

100m

Isaiah Bond

Buford High School

6A

200m

Isaiah Bond

Buford High School

6A

400m

Bradley Favors

Stephenson High School

4A

800m

Parker Buchheit

Harrison High School

7A

1600m

Zack Truitt

Landmark Christian School

1A Private

3200m

Sully Shelton

Harrison High School

7A

110mh

Malik Mixon

Westlake High School

6A

300mh

Malik Mixon

Westlake High School

6A

4x100m

Buford High School

6A

4x400m

Alpharetta High School

7A

4x800m

Denmark High School

7A

Long Jump

Amare Hall

Carrollton High School

6A

Triple Jump

Joshua Smith

Landmark Christian School

1A Private

High Jump

Isaac Osifo

West Forsyth High School

7A

Pole Vault

Grant Briscoe

Carrollton High School

6A

Shot Put

Adam Watkins

Dacula High School

6A

Discus

Max Herman

Marietta High School

7A