CARTERSVILLE - September 22, 2023 - The outcome may have been exactly as predicted in the Championship Varsity races at the Wingfoot XC Classic presented by Publix, but the races to get there produced one of the most exciting evenings in the event's eight-year history. And for the second consecutive year, the Wingfoot Cup leaves Georgia. This time, it heads to Alabama.
The girls race went out fast with the pre-race favorites, Claire Stegall (Nolensville), Caroline Hood (Pace Academy), Claire Shelton (Dunwoody), Ella Gibbs (Bleckley County) and Katelyn Dollar (Creekview) all coming through the mile in 5:40. Notably absent was two-time defending champion Ruby Little of Marist who did not start due to illness.

In the next 400 meters, Stegall and Hood, the two fastest runners in the field, began to inch away, turning it into a two-person race. Hood, who finished second at Wingfoot in 2021, was stride for stride with Stegall through 3,000 meters when Stegall, a junior running her first race of the season, made her move. Over the next two kilometers, Stegall never backed off the pace, using the speed that propelled her to a 4:39 mile in outdoor track in the spring. She broke the tape in 17:21, the second fastest time in event history.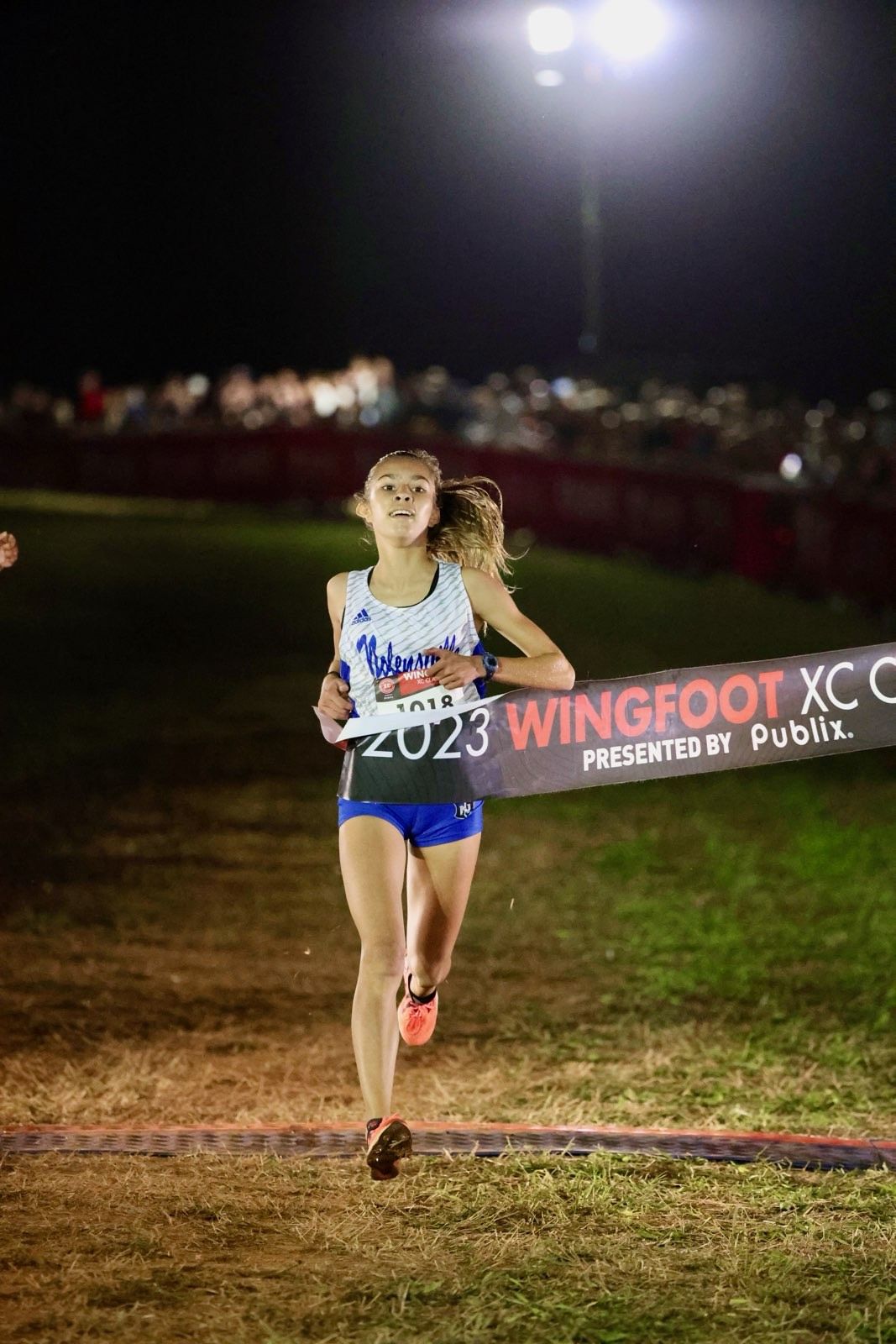 "My coaches told me to just feel out the race and let the race come to me," said Stegall, the 2022 Tennessee State XC Champion, "So I decided to stay with the leaders for the first bit and make my move if I felt like i had energy and then just go for it from there."

Hood, a senior who will attend Duke University next year, held on to finish second in 17:49. Shelton, who won the Varsity A race at Wingfoot in 2021, took third in a new personal best of 17:53.

Led by Hood, Pace won the team competition with 170 points topping Marist, who finished second with 180 points despite competing without their top runner. Signal Mountain High School of Alabama was third with 200 points.

The boys race saw a pack of 40 runners go through the 800 meter mark in 2:20, and most of them were still there at the mile when they went through in 4:49. Like the girls race, the pre-race favorites were up front: Tommy Latham (Marist), Luke Thompson (Brentwood), Cole Robinson (James Clemens), Esfan Daya (Westminster). Just after the mile, Raghav Gopalakrishnan (Ardery Kell) moved into the lead pack and he, Latham, Thompson, Alverson and Robinson began to open a gap.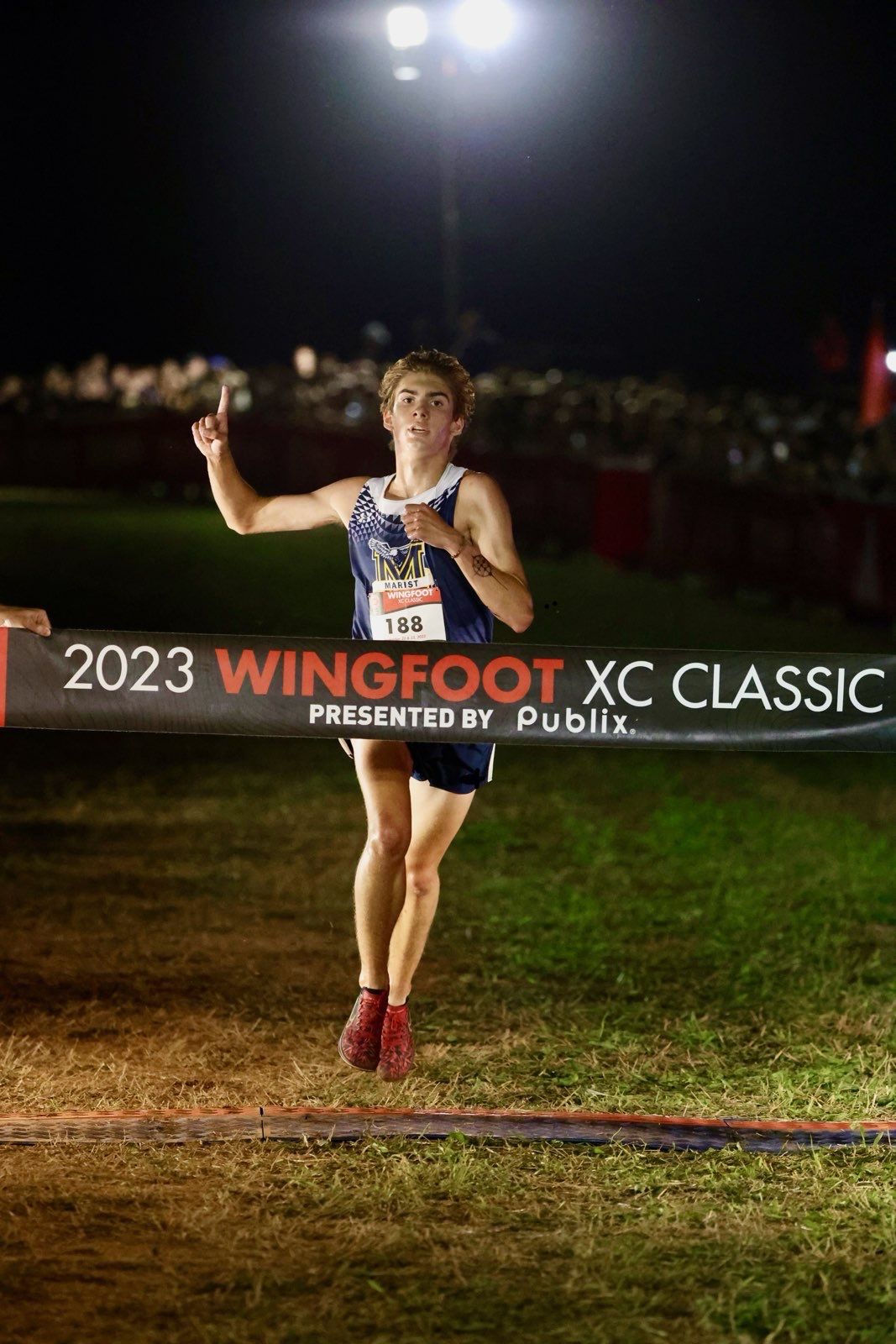 Latham waited patiently to make his move, but when he did, it was massive. At 3,500 meters he had a 5 meter lead. At 4,000 meters, he was 40 meters in front of Gopalakrishnan and Alverson. Latham, Georgia's fastest runner in 2023, never looked back. The junior won in 15:02, the third fastest time in race history.
"I knew it was going to be a super competitive race," said Latham who was third in this race last year. "Coming in, I didn't want to make a move too early and get passed at the end. I waited until around the last mile and I knew I could push it. I made a move and went and nobody came with me, so I had no option but to keep going."

Alverson, also a junior, crossed the line second in 15:15 to tie his personal best, set last weekend at the Southern Showcase in Huntsville. Gopalakrishnan was the lone senior in the top three. The University of Pennsylvania commit took 11 seconds off his personal best to finish third in 15:18.

James Clemens High School scored the team title with 161 points in a tight battle with Brentwood Academy who had 184 points. Westminster was third. Marist, which was expected to compete for the top spot, finished ninth after their second runner, Liam Hanemann was a late scratch due to an injury.

Coupled with their fifth place finish in the girls Championship race, the Wingfoot Cup was awarded to James Clemens High School.

The build-up to the marquee events of the evening was no less exciting, starting with stunning performances in the Youth 3K Races. Dash Brackin of Carrollton Middle School missed setting a course record by one second, running 9:49 to win the race by 19 seconds over his teammate Camp Jennings. Carrollton scored 51 points. Great Strides was second with 78 points.

Paige Comstock had a similarly dominant victory in the girls race, defending her 2022 title. The Edge Running eighth grader finished in 10:46, the second fastest time in race history. For the second year in a row, Alpha Crush's Ella Alberici was second. She finished in 11:11. Alpha Crush crushed the team competition scoring just 18 points. Marist was second with 63 points.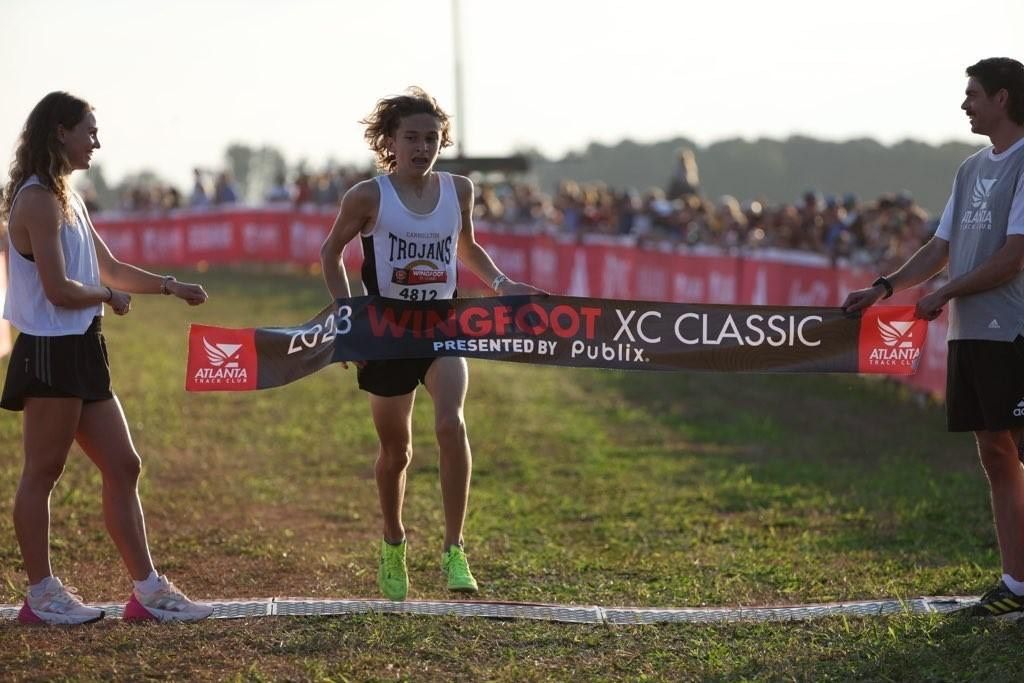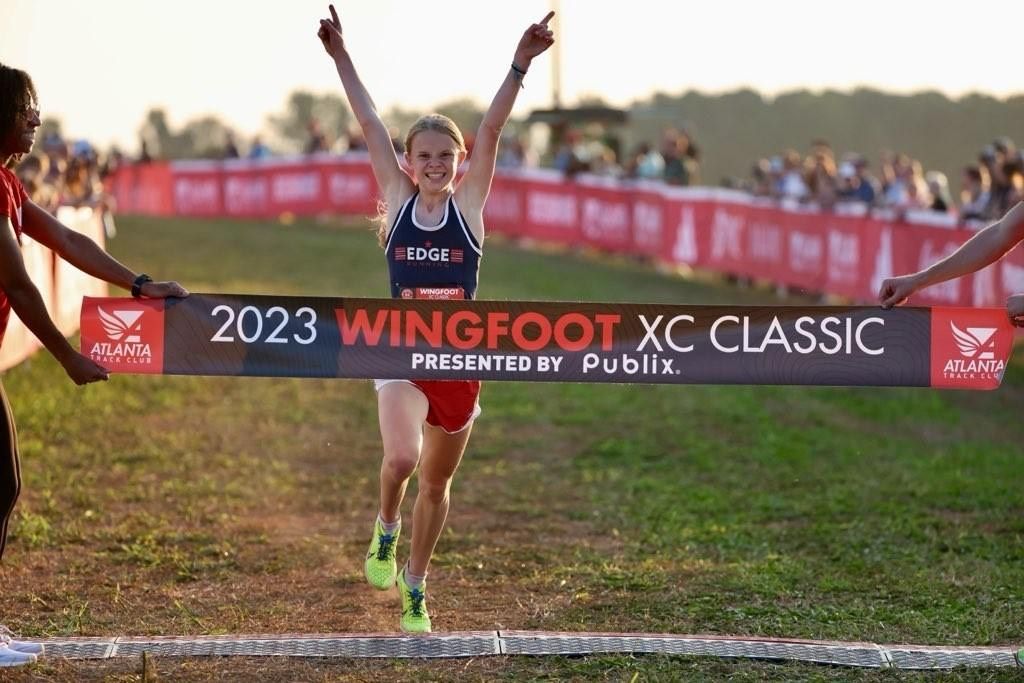 Two freshman from Daniel High School in South Carolina swept the Freshman Championship races. Daniel's top varsity runner, Sam Proffitt set an aggressive early pace and never saw competition. He had nearly a 30 second lead at the two mile mark. Proffitt finished in 16:53, a new personal best, 40 seconds ahead of Hewitt-Trussville High School's John Paul Amari.

His teammate on the girls team, Lizah Williams, stuck with the lead pack in the race's opening mile, and then slowly began to pull away. At two miles, she made her move leaving Weezie Moore (Wesleyan) and Carly Maday (McIntosh) behind. Williams set a 21-second personal best to win in 19:27. Moore outkicked Maday to finish second in 19:47.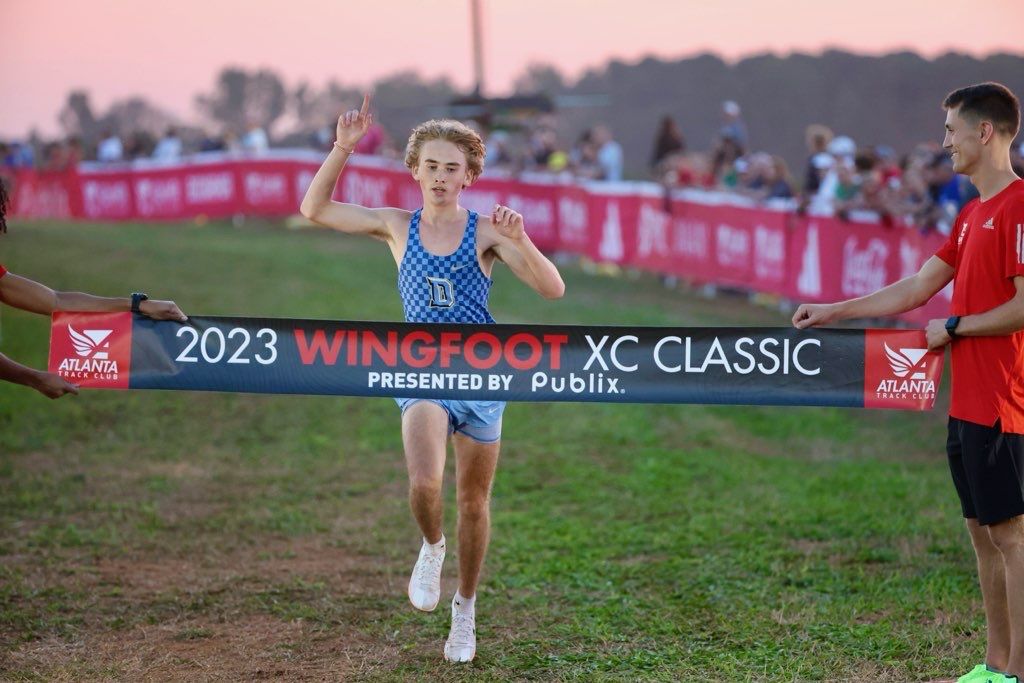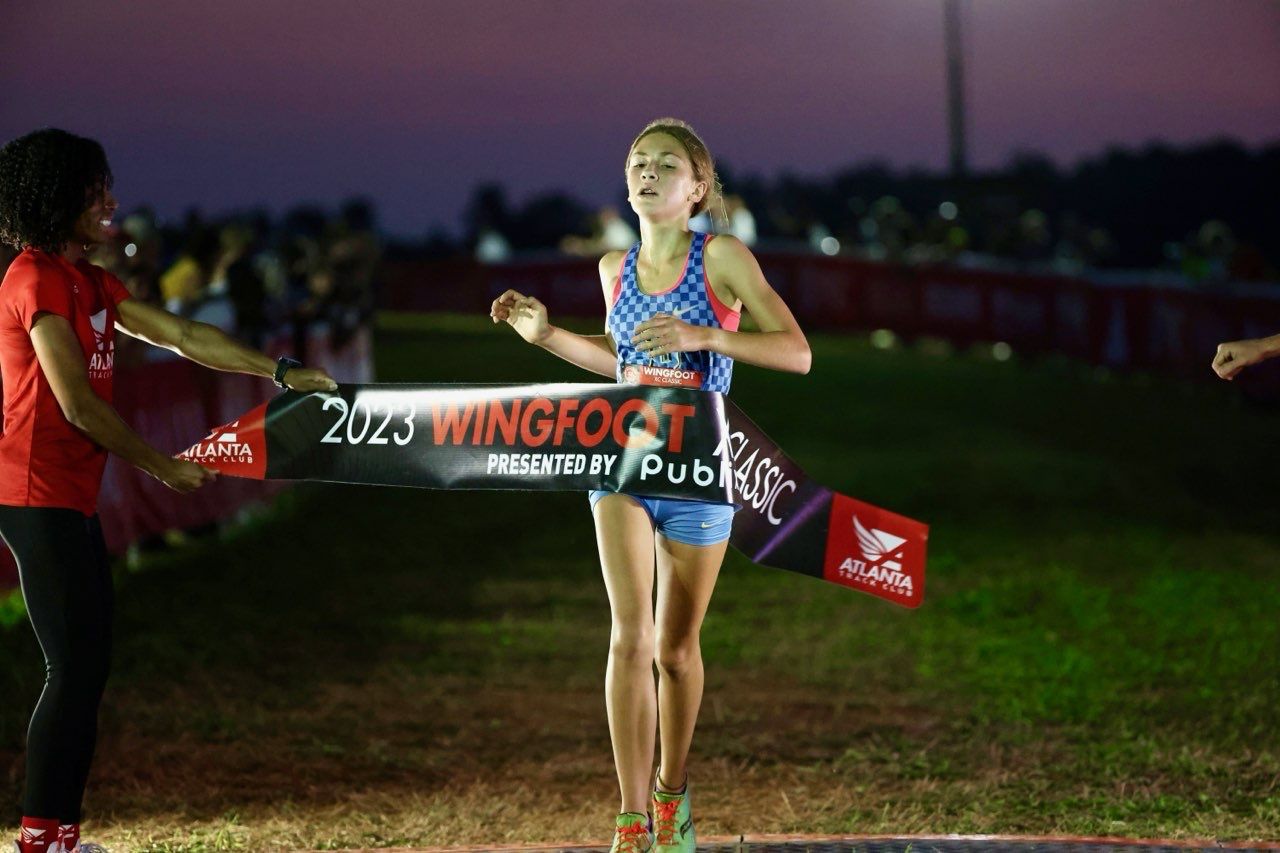 The JV Championship races were the closest of the night. Westminster middle-distance standout Willem Mandel lead the pack through the first 2,000 meters, but by the two mile mark, Nolensville's Jack Glisson-Schlitt was starting to push the pace and opening up a lead. The junior tried to make a move at 3500, but Fleming Island senior Luke Melon wouldn't let him get too far away. Glisson-Schlitt was able to hold off Melon in the end, winning 17:17 to 17:23. Blessed Trinity Catholic High School which had runners finish seventh, eighth and ninth won the team competition with 53 points. Fleming Island was second with 111.

The girls race saw a thrilling come-from-behind finish after what appeared to be a dominant run from Walton's Danielle Franks. Franks lead the entire race with Marist teammates Maggie Seaver and Lucy Mehre battling it out for second behind her. While that was happening, Wesleyan sophomore Caroline Trice was slowly working her way through the field. She was 15th at the mile, 11th at 2,000 meters, 9th at two miles and 6th and 3,500 meters. In the final 1,500 meters Trice had another gear. As they entered the final turn, she overtook Franks to break the tape and win in 21:14. Marist won the team title with 48 points. James Clemens was second with 68 points.

You can find full results here.