CARTERSVILLE, GA - SEPTEMBER 24, 2022 - As an eighth grader in 2018, Alexa Hoppenfeld tripped over a hay bale at the Wingfoot XC Classic and finished 15th in the Youth 3K. Saturday, the Riverwood International Charter School senior cleared the hay bales with a smile on the way to a dominant victory in the Varsity A race, her first win in her sixth and final appearance at Wingfoot.
Hoppenfeld, a pre race favorite, took an early lead over Landmark Christian Academy's Shari Brown and never looked back. As the race went on, the gap only grew. At the mile, Hoppenfeld's lead was one second. It was eight seconds at two miles and her margin of victory was 17 seconds.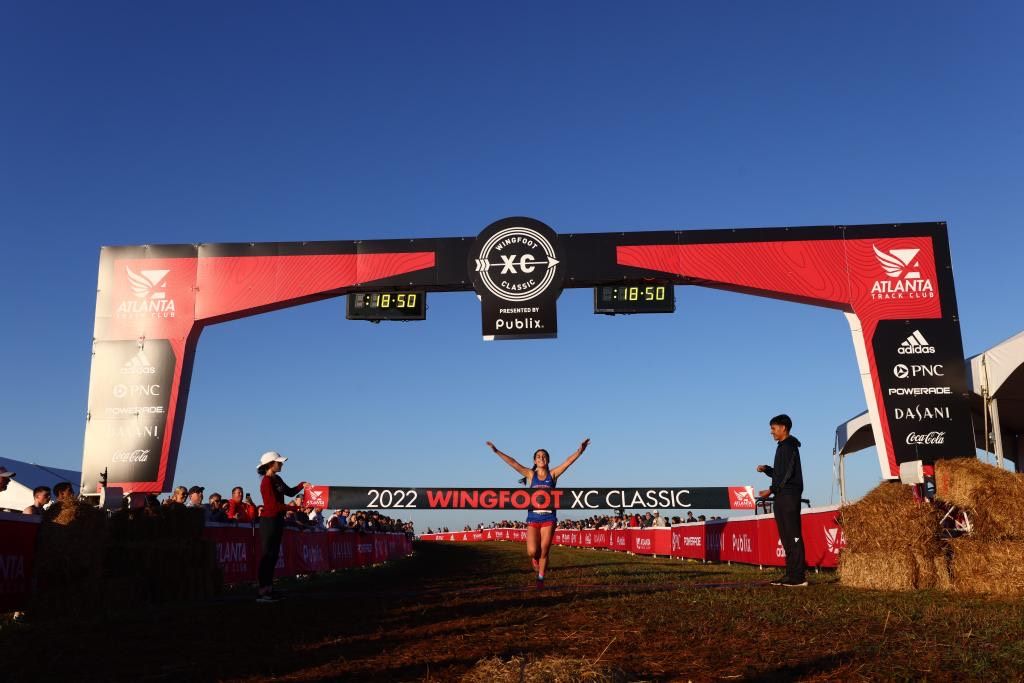 Brown held onto second despite a late challenge from Decatur's Gabrielle Malerba. Malerba, running just her first race of the season tried to reel Brown in in the final mile, but Brown's 2:14 800m speed was too much to contend with in the end.

For Hoppenfeld, who missed Friday night's Championship race due to senior night at her school, it was the perfect finale to her annual Wingfoot tradition.

"This is my favorite race," said Hoppenfeld. "Just the atmosphere and I love Atlanta Track Club. It got me into running. Even though we weren't in the championship, there were some amazing girls out here."

The team race was a nailbiter. Richmond Hill led by the fourth and fifth place finishes of Julia Wilson and Iris Turner won the competition with 90 points, beating Decatur by five points and Riverwood by eight points.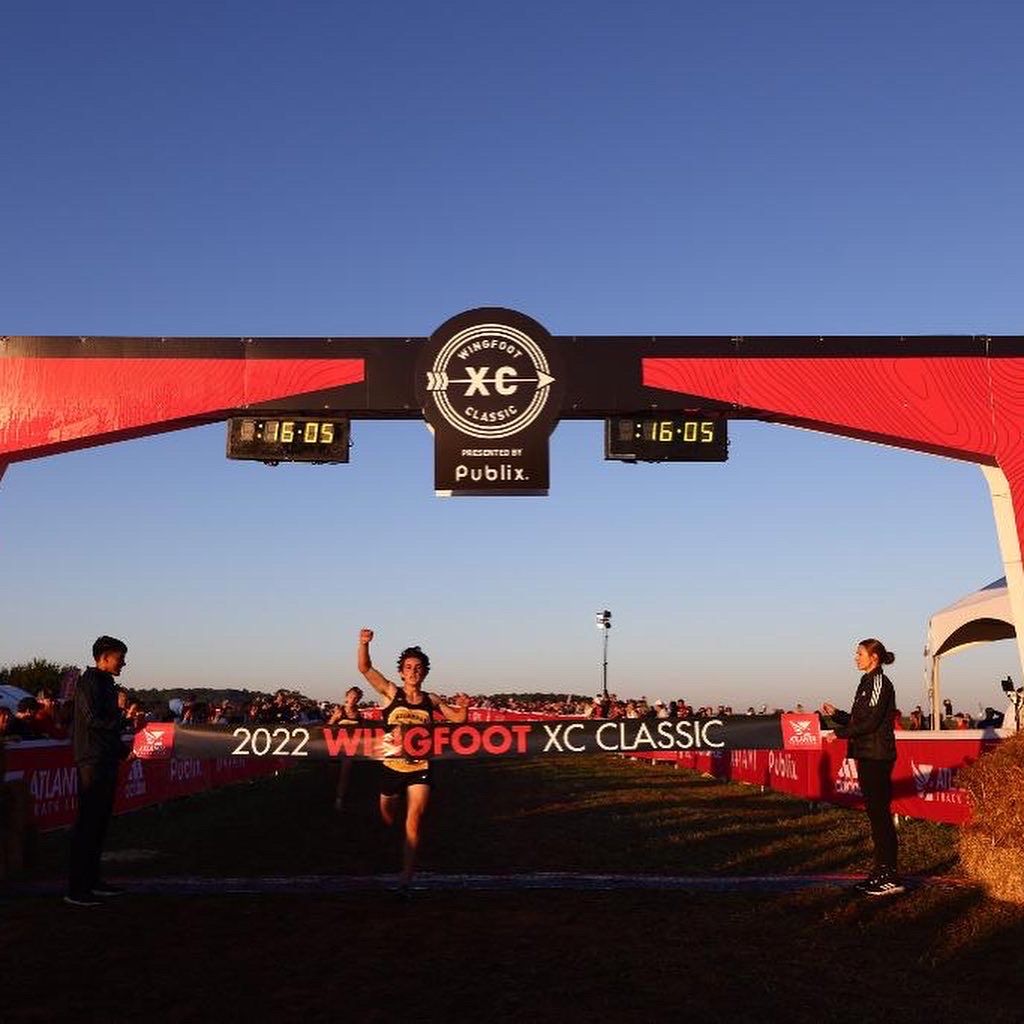 Richmond Hill came back in the boys race with their top runners, junior Memphis Rich and senior Noah Sybert sitting on East Coweta's Houston Hamby for more than two miles before making a move to duke it out as a duo over the final 800 meters. Rich and Sybert who were third and fourth here in 2021 were neck and neck cresting the final hill, but in the last 50 meters, the advantage went to Rich who won in 16:06.
"The main thing coming out here was to get a 'W' under my belt," said Rich who scored his first victory of the season and second of his career. "Last year I knew I could have probably won if I had pushed, so I left nothing out there for this race."

Sybert's 16:07 was a five second personal best. Hamby hung on for third to finish in 16:13.

Dalton's top runner finished 16th, but the team only had a 40 second spread between its top five, propelling them to the team victory with 159 points. McIntosh was second with 178, barely beating Cambridge who scored 180.

The Girls Varsity B race delivered a 33 second personal best for Campbell High School senior Lilla Kate Tucker. Tucker ran 19:41 to defeat Peachtree Ridge's Alitza Dennard who finished in 19:56. Atlanta International School freshman and last year's Youth 3K champion Lillian Glass was third in 20:01.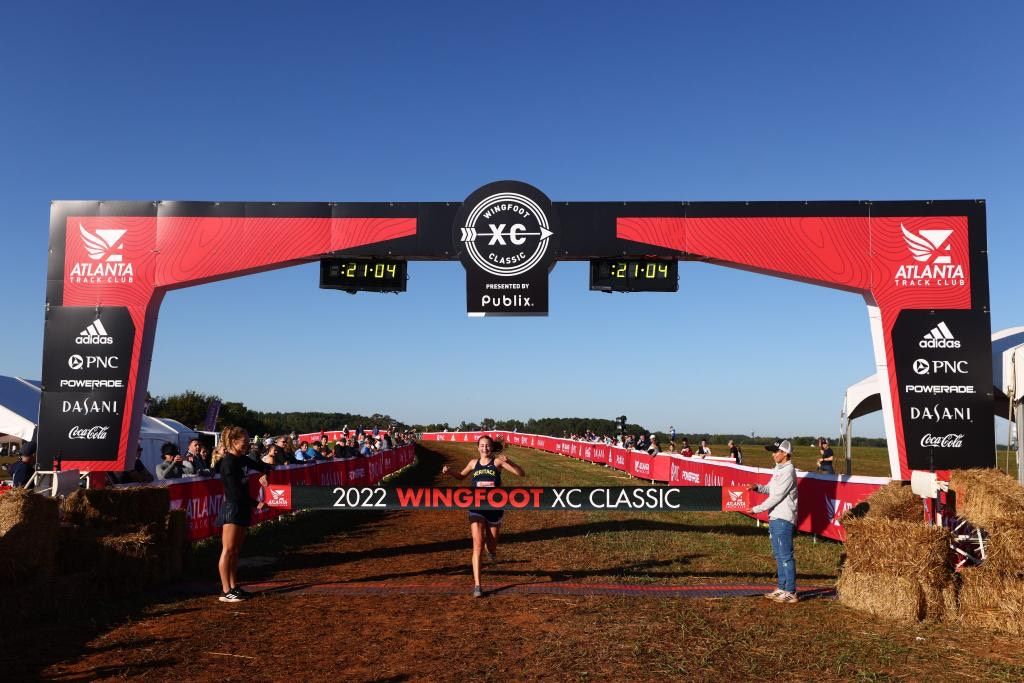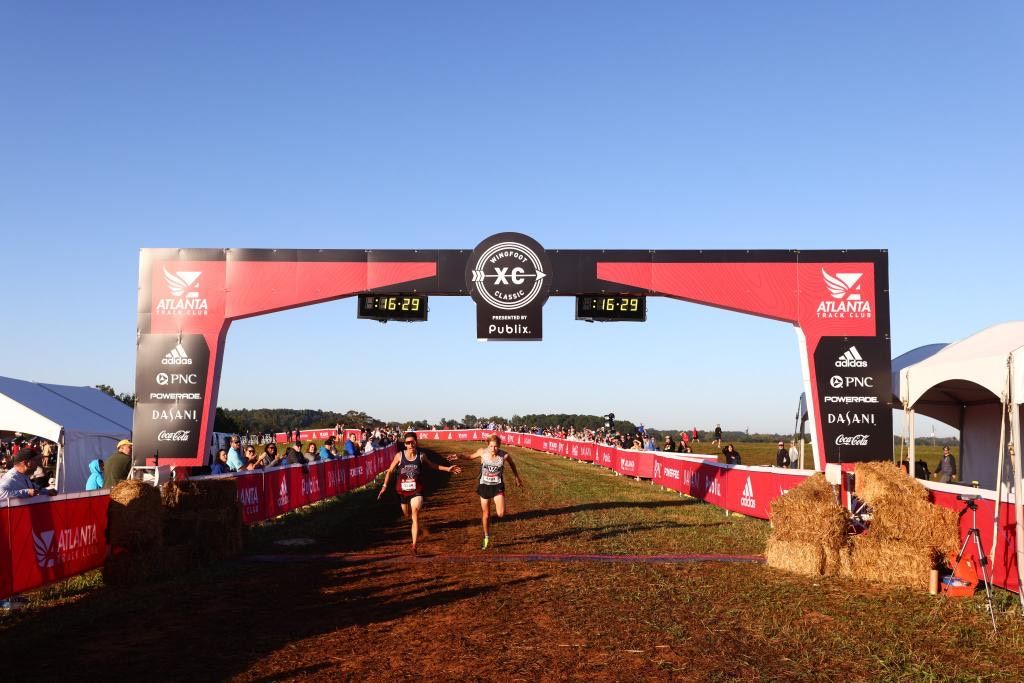 Northview put three runners in the top ten to win the team race. Glynn Academy was second. Peachtree Ridge was third.

The Boys Varsity B race ended with a photo finish as Fideles Christian sophomore Jacob Tarkington edged Westminster Schools of Augusta junior Adam Lippe 16:30.00 to 16:30.20. It was a 13 second personal best for Tarkington and tied Lippe's best time.

Jack Roberts placed third in 16:58 and led Glynn Academy to the team victory. Lowndes was second and Westminster Schools of Augusta took third.

Audrey-Kate Johnson of Heritage Prep was the JV Girls Champion in 21:05. Roswell dominated the team race putting four runners in the top 10 and scoring 28 points to Cambridge's 85.

The Boys JV A race was also dominated by Roswell. They took the top three spots with Will Tribick getting the win in 18:00. Roswell scored 18 with Cambridge again placing second with 93 points.

The final race of the day was the JV Boys B race. It was also the biggest personal best by any race winner in the entire meet. St. John Bosco junior Colin Meersman ran 18:40, a full minute and seven seconds faster than he's ever run for the 5000m cross country distance. The team put three runners in the top 5 to defeat Peachtree Ridge 37 to 71.

Complete results for the 2022 Wingfoot XC Classic presented by Publix can be found here.