SEPTEMBER 25, 2021 - CARTERSVILLE,GA - Heavy fog, cool temperatures and fast times capped the second and final day of the Wingfoot XC Classic at Sam Smith Park in Cartersville where the varsity and junior varsity teams took to the course on Saturday.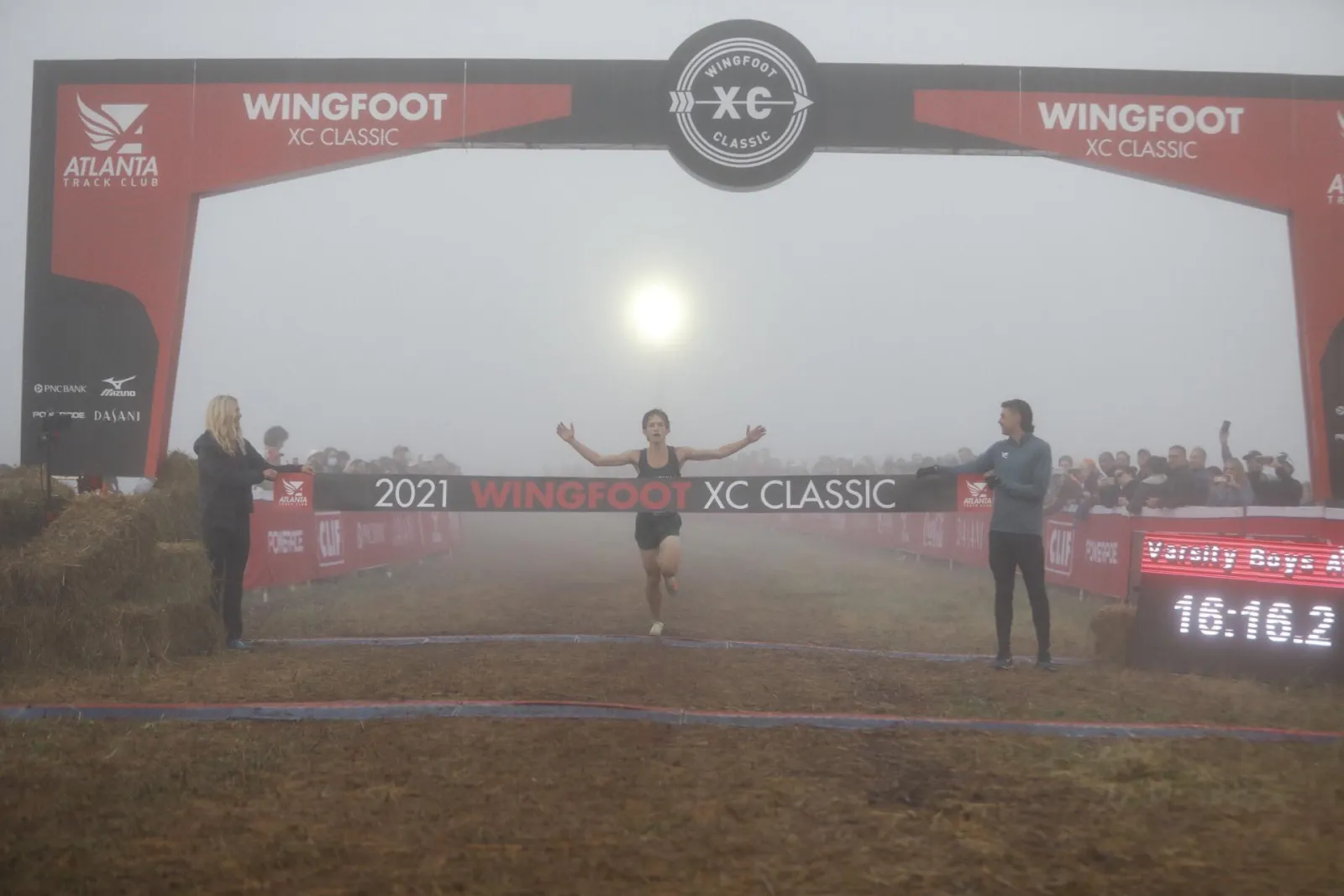 Ryan McKee of Kennesaw Mountain took the Varsity Boys A race out in 5:05 with Hunt Shurling of Lovett right on his heels. But, by 2000m, McKee had started to pull away. At the two mile mark, he had opened up a nine second lead and he never looked back, breaking the tape in 16:16, 19 seconds ahead of Diego Santiago of Chattahoochee High School.
"It was hard being alone. Here in the fog you can't see anything and it's just tough to get going, but I felt good," said McKee, a senior. "I make it a policy to not look behind me. If you want to catch me, you gotta get it…I was going as hard as I could."
Memphis Rich (16:36) and Noah Sybert (16:41) of Richmond Hill lead their team to the team title with third and fourth place finishes. Richmond Hill scored 72 points, handily defeating Lovett (167) and Greater Atlanta Christian (179). Adam Grisch of Lakeside High School, DeKalb rounded out the top five in 16:43.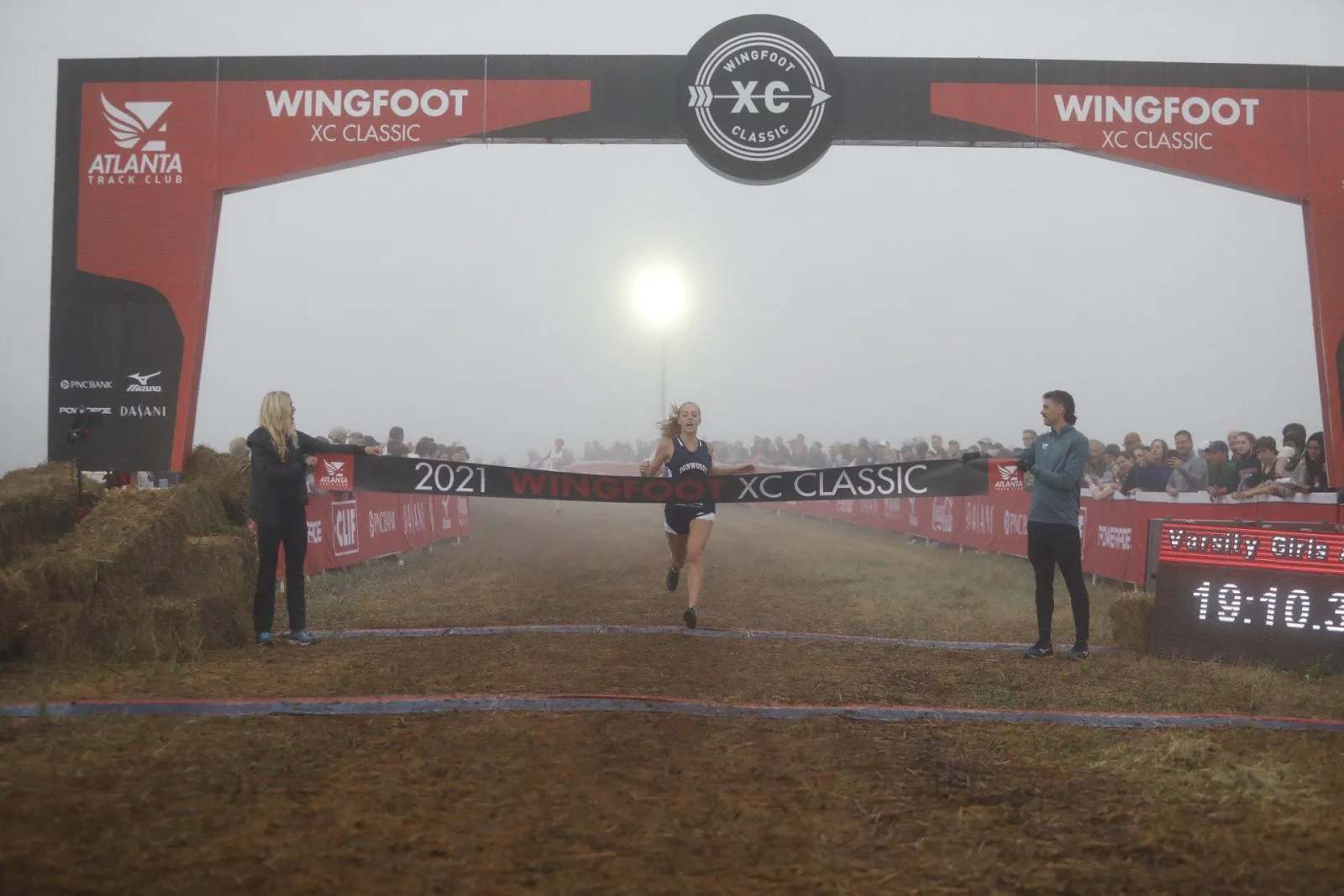 The Varsity Girls A race was a closer battle. Dunwoody's Claire Shelton and Riverwood International Charter School's Alexa Hoppenfeld were shoulder to shoulder for most of the race, putting an eight second gap on the chase pack by the one mile mark. With 400 meters to go, Shelton made her move, beating Hoppenfeld to the line 19:10 to 19:15.
"I really just pushed it to the end," said Shelton, a sophomore. "I'm feeling good and definitely looking forward to more meets in October and November, but it's been good so far."
Dunwoody also took the team title with 68 points, beating Midtown High School (104) and Fleming Island High School (114). Midtown's Jamie Marlow (19:18) was the third individual. Emma Rice (19:40) of Veteran's High School was fourth and Luna McCauley (19:41) of Paideia rounded out the top five.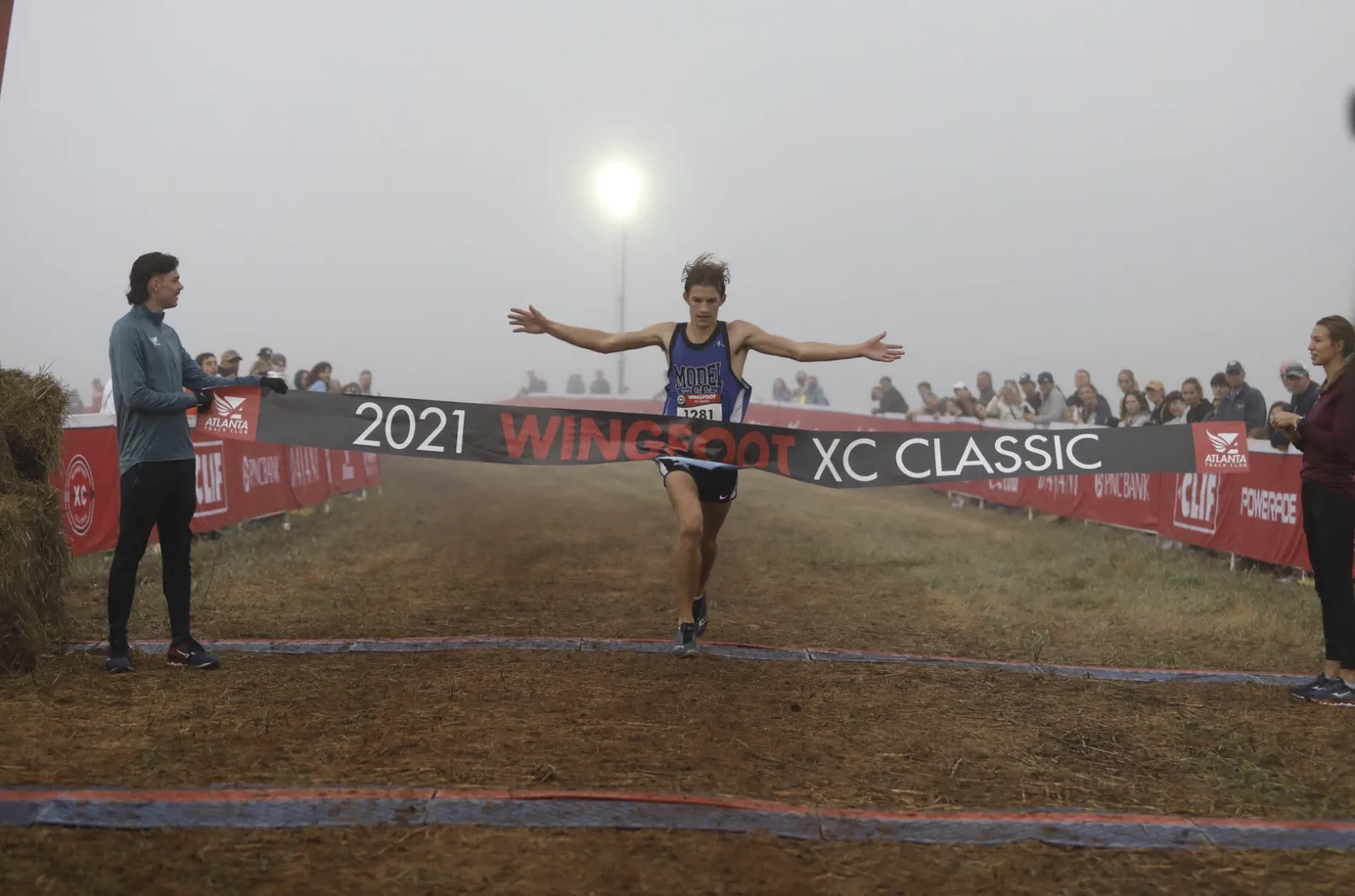 The performance of the day came in the Varsity Boys B race where Model High School junior Simon Schabort went out hard with a 4:55 mile, then showed everyone that he could back it up. Schabort, who said he had hoped to be in the championship field, won the race in 15:57, nearly a minute in a half ahea of second place. Northview High School won the team competition.
Northview also won the Varsity Girls B race with three runners in the top 10. The race was won by Marissa Kemple of Armuchee in 19:49.
Full results can be found here.
Photos by Jenn Finch