Katelyn Tuohy will be a guest speaker at the 2022 Wingfoot Running Camp this July. Tuohy is one of the most successful high school cross country and track athletes in U.S. history and she has transitioned into one of the country's top collegiate runners. Now a sophomore at North Carolina State University, Tuohy has helped the Wolfpack to an NCAA Cross Country team title. She is preparing for NCAA Outdoor Track & Field National Championships in Eugene, OR next week. We talked to her this week about her preparation for the meet and her words of wisdom for high school runners.
Let's start out talking about this season. The last few weeks have been awesome for you. You ran the NCAA leading time in the 1500m at the ACC meet and then qualified for NCAAs in the 5000m. What made you focus on the 5000m at regionals over the 1500m?

Katelyn: At the start of the season, we kinda focused on the 5K, because it went well indoors. [With the 1500m], I ran like 4:12 the first meet and we were like, "that's okay, but I don't think that's good enough to win nationals." And then I ended up running 4:06, so it kind of made the decision a little bit hard towards the end of the season, because like wow, I ran pretty fast in the 1500m, but at the end of the day, my coach and I discussed the purpose of running a fast 1500m was to get ready for the 5k. And I think also tactics-wise I have more opportunities in the 5k versus the 1500m where there's probably only one way for me to run it and do well. So I think the 5k was a better choice.

What does the buildup to nationals look like?

Katelyn: Yesterday we had our last really hard workout before NCAA's and then we'll workout again Saturday. And then the days in between it's just easy mileage. So we haven't really tapered back miles yet. We'll do that next week towards the end of the week. And then we'll leave for Eugene on Monday to get adjusted and then I'll be in Eugene for three weeks, because I'll be running U.S. Nationals after NCAA's
….and obviously the goal is to make Worlds so you can be out there even longer.

Katelyn: Yeah that would be pretty crazy. Right now my mentality going into nationals is just like there's no expectations, so just use that opportunity to learn a lot from it and just run with the best girls in the country and see what you can do, so I'm really excited for that.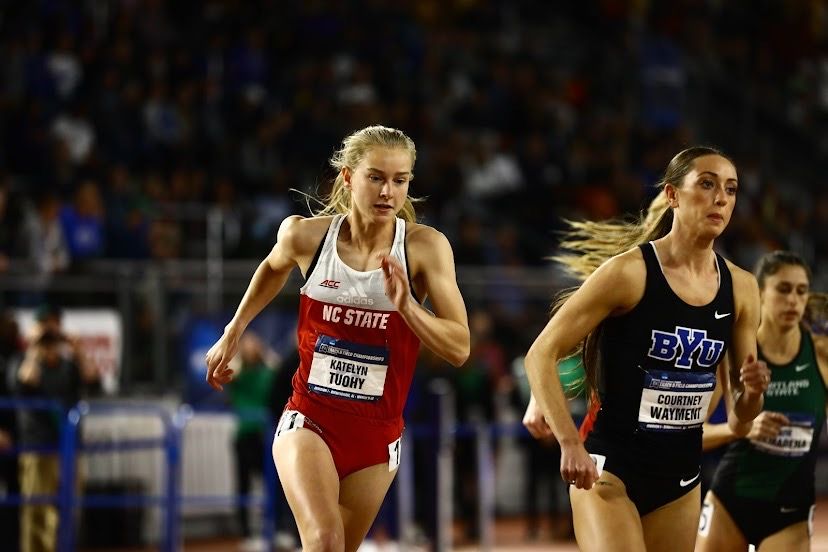 You have run 15:14 this year. How fast can you run in a pack with the best in the country?

Katelyn: I really have no idea, because I ran 15:14 at UVA a couple weeks ago and that was a solo effort for the majority of the race. So yeah I think in a race where I'm really trying to fight- especially if Ely [Henes] in it, she's my old teammate - so I think it'd be really cool. I hope I could run faster than 15:14, hopefully get the world standard under 15:10, that would be pretty cool.
The transition from a high school athlete to a collegiate athlete is never an easy one, but you've been very successful. Can you talk a little bit about how that success has come?

Katelyn: Honestly I wouldn't necessarily say my transition was too smooth freshman year. I came into college injured, I got surgery the summer going into college, so I really wasn't running the first semester. So it was really hard, and then with COVID on top of that, it was definitely a tough first semester. But I think, what I kinda would like to preach, I would say to look up to your upperclassmen for advice and learn from them, and also just try to do what's gonna make you the happiest. I feel like when you're in a happy state, all aspects in your life will come around. And I think that was what happened to me. I'm not gonna lie I was going through it kind of first semester, being injured. I would say it's so easy when you're in that good headspace.
Looking at your instagram account before we talked and you talk about your teammates all the time. What is the culture like there on the team?

Katelyn: We have a really good team culture and I think that's what contributes to our success a lot. We have a supportive and uplifting aspect at practice where if someone is falling off, instead of trying to drop them, we're trying to get them back to the pack and we're pushing each other and cheering each other on just being a good teammate rather than competing with each other. I mean at the end of the day, we are competitive just because it's in our nature being athletes, but we're definitely very supportive. I think that it started even before I got here how supportive everyone was with each other, and that's something that we're kind of passing on from generation to generation at NC State and I think having a very healthy team culture is super important for having team and individual success when it comes to track.
One of the big things we talk about in our cross country camp is that we encourage that camaraderie. Did you go to cross country camp when you were in high school, and if so, what are some of your memories of doing that?

Katelyn: I did one year, I think it was between 8th and 9th grade so going into freshman year, and I had a lot of fun there with my team. We were kind of just messing around, getting into a little bit of trouble not gonna lie, but it was super fun. I think going to camp with your cross country team can really help. We definitely left that camp much closer than before we went just because we're living with each other and just spending so much time with each other and helping each other up was a really cool experience.
Once that national and international competition is over, what does your summer training look like?

Katelyn: So after my last race, I'll take a little bit of time off to recover, as this would be the longest that I would go racing into the summer. Then after that, slowly start the build for cross country, increasing mileage. Our summer workouts aren't too intense. Like the first month or so is usually more just effort-based stuff rather than trying to hit a time for a certain length or a rep, kind of like fartleks and hill strides and kind of just getting in the rhythm, building the base for the cross season.
What is the hardest cross country workout that will pop up on your cross country cycle? Or the one that makes you go, "Oooof." You see it coming from a couple days out and you get that nervous feeling about it. What is that workout for you?
Katelyn: I don't know, I genuinely just love workout days, like even more than race days. I just love crushing workouts with my team. We would joke around, like I'm the "Workout Warrior," or something just because like, I love killing workouts. But I think I get super nervous, but also excited for the- we call it the Brazier, other teams call it the Michigan where you're doing like some like Vo2 rep and then short jog to our grass field where we do a tempo rep and then back. That one I definitely get a little bit nervous for just because it could go bad pretty early, because that first rep's pretty hard. And then the other one I would say is hills just because it can be pretty grueling. Especially in the summer in Raleigh where it's so hot and humid.
What's the best piece of coaching advice you've ever received?

Katelyn: I think when I was injured I had my one on one meeting with coach Henes, it was in between first and second semester, so I just started to run again, and she really emphasized taking control of what you can take control of. That kind of just really sunk in with me, because I was like "I can't just focus on running, I have to take control of my sleep. I have to take control of what I'm eating." I just really focused in for a couple weeks there, when I was building back, and I was taking control of literally every aspect that I could just to get back as fast as I could and that really helped me build fitness pretty quickly just because I was focusing on those little things and trying to perfect as much as I could in such a short amount of time just because I only had a few weeks until the next semester started. And then I think another piece of advice that we really really preach here is being grateful for the opportunity to line up and race for your teammates and looking at every race with a lot of gratitude just to be there because a lot of people don't have this opportunity to make the most of it.
Cross country or track?

Katelyn: I'll probably pick cross country, just because of the team aspect. It's definitely what I love about the sport. Track is really fun, just ripping some fast times, because you can compare like this person ran the mile in this time, but in cross country, there's no comparison and you're just like who is gonna be the top on this day and I love it.