ATLANTA -- September 21, 2022 -- The 5000m course at Sam Smith Park in Cartersville is built for racing. Never considered a speed course, it's been the site of some of the most exciting finishes in the southeast since the Wingfoot XC Classic presented by Publix debuted in 2015. Take last year's finish in the Varsity Boys Championship race where Joe Sapone didn't take the lead until it counted, about 20 meters away from the finish line.

Sapone is back in 2022. But just like he did in 2021, the Holy Innocents' Episcopal School senior will have to work for the win. Sapone's one result this season comes from the Kennesaw State Cross Country Invitational on September 2 where he ran 15:48 on a slow course to take the victory by nearly two minutes. Despite the lack of racing, his coach says Sapone has been putting in some of the best workouts of his career this fall even while running some of his highest mileage ever. You can read all about the last three weeks of his training on this blog at MileSplit. Nicknamed the "Flying Hawaiian," Sapone's 1:52 and 4:09 mile speed make him tough to beat when the race comes down to a kick and as we have seen year after year, it often does.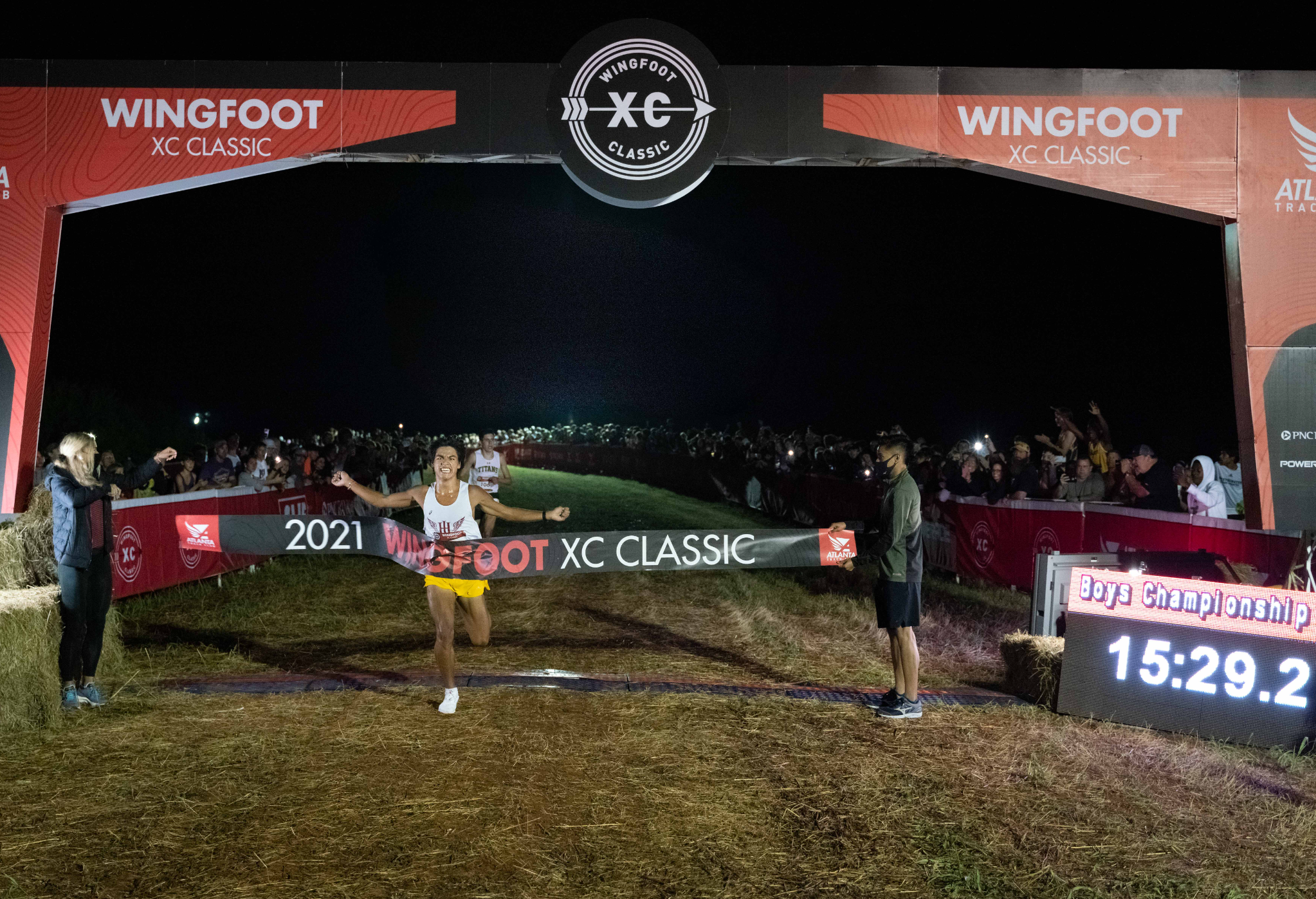 That's why if the two top-seeded runners want to win, they will have to take the race out hard. Marist sophomore Tommy Latham skyrocketed to the top of the Georgia rankings last weekend by running 15:10 at the super-fast Southern Showcase in Huntsville, AL. Latham was the top freshman at last year's Wingfoot XC Classic finishing 15th. The reigning 4A 3200m state champion has clearly made massive improvements since then to become Marist's top runner. In his only other race this season, he ran 15:31 to take second at the AT&T Starr's Mill Panther XC Meet.

At the Southern Showcase, Brody Chapman of Brentwood High School in Tennessee was just two seconds behind Latham. They'll get a rematch on Friday night. Also a long distance specialist, Chapman showed his summer fitness gains when he opened his season with a 9:24 two-mile cross country race last month. In his three 5K races since, he hasn't run slower than 15:32.

When Latham took the runner-up spot at Starr's Mill it was to Max Hardin of Auburn, Alabama who ran 15:22. It was one of two results for Hardin this season and by far the more competitive race. The senior has gotten progressively faster throughout his high school career. He's likely to be shoulder to shoulder with fellow-Alabama runner Tristan Teer of Hewitt-Trussville. Teer has run 15:21 this season, but will be looking to rebound from a disastrous Southern Showcase where he ran 16:30 to finish 123rd.

Other runners who could make a run for the podium include Taylor Wade of Whitefield Academy who won the Cobb County Championship last weekend; Will Douglas of Camden Central (Tennessee) who ran 15:24 at the Southern Showcase; Joseph Jaquot of Westminster Schools who was in the mix with Hardin and Latham at Starr's Mill and Luke Churchwell of Bleckley County. Churchwell won the Carrollton Orthopaedic Invitational, beating Jaquot and Wade and while he hasn't posted a fast time like his competitors, he's shown his strength on some challenging courses.

Like the individual race, three of the favorites in the team race are all crossing state lines to come to Cartersville. That includes Chapman's Brentwood High School. Brentwood was fourth at Southern Showcase with their second runner, Callahan Fielder running 15:30. Their strong one-two put them in contention, but a victory will rely on their four-five having a season's best performance.

Brentwood will need the depth to defeat St. Anthony's of Long Island, New York. Despite lacking a low stick, St. Anthony's has perfected pack running. There is just a ten second split between their first and fifth runners. The team has not run any particularly fast courses this year, but a race like Wingfoot XC should be a great opportunity to showcase how good they really are.
Hardin's Auburn squad will be a factor as well. At last weekend's Oak Mountain Invitational in Alabama, they scored just 18 points and averaged nearly a minute faster than the second place team. However, Auburn was beaten by Westminster at Starr's Mill earlier this year and the Wildcats, led by Jaquot, will be working hard to keep the team trophy in Georgia. The key for Westminster will be their fifth runner which, in a field this deep will be a major factor.

The same is true for North Atlanta who will be vying to be the first Atlanta Public School to take the team title. The Warriors were the top Georgia team at the Southern Showcase with a strong, tightly packed one through four led by seniors Sumner Kirsch and Truman Thompson. But they rely on a freshman to fill the fifth spot. Fortunately for them, that freshman is Cabell Townsend who was the runner up in the middle school race at Wingfoot last year.

The Boys Championship race will be streamed live on Milesplit Friday night starting at 9:05 p.m.