ATLANTA -- September 21, 2022 -- The top three finishers in last year's Girls Championship Race at the Wingfoot XC Classic presented by Publix ran three of the top five fastest times in meet history. Ruby Little, Caroline Hood and Samantha McGarity took the podium spots in that order last year and going into the meet have the first, second and fourth fastest times in the state this year also in that order.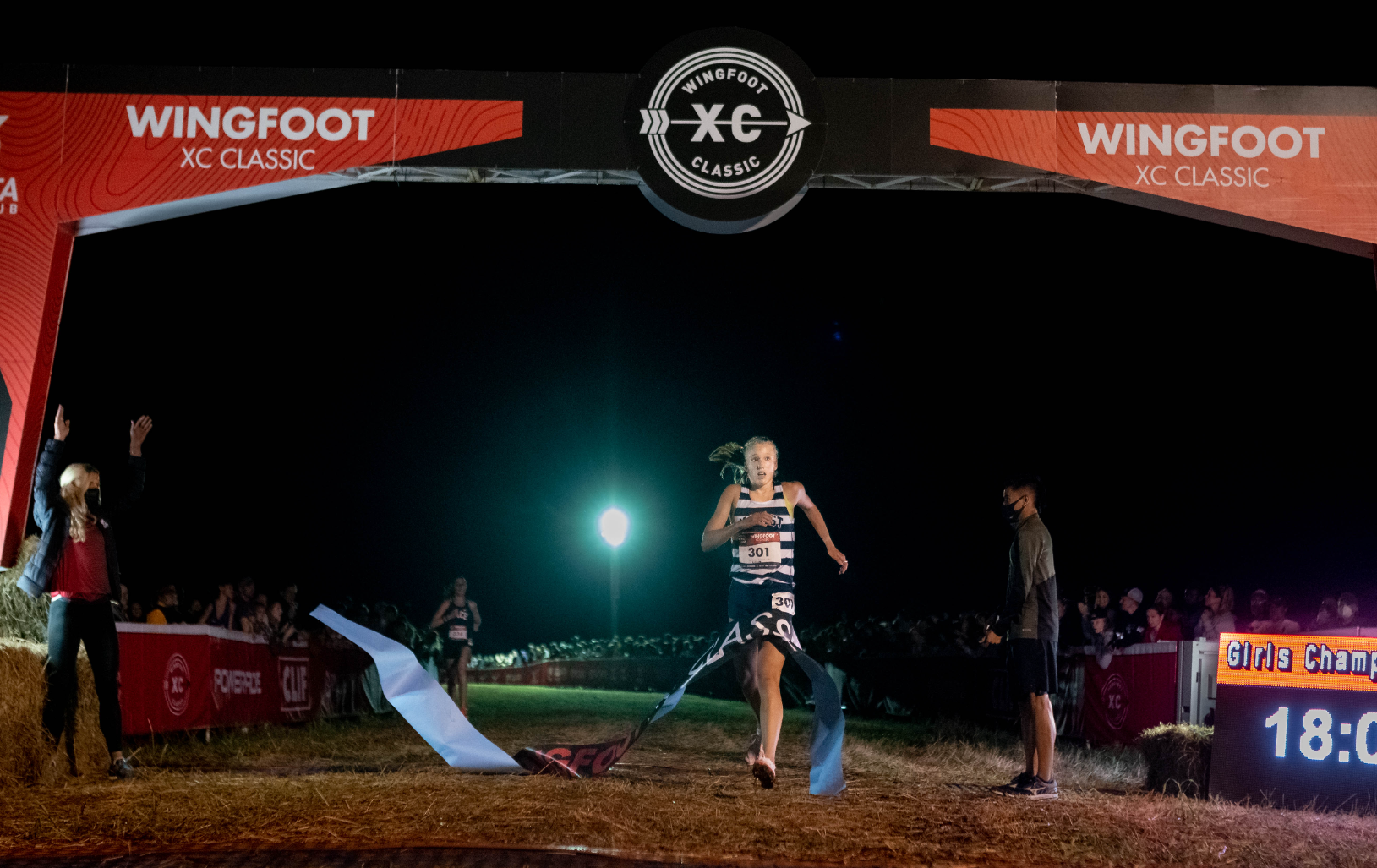 It wouldn't be surprising to see the trio up front again in any order if all three are healthy. Little, the Marist Junior and defending champion comes into the race as the top seed. Last weekend, she dominated the Warpath Invitational, winning in a personal best time of 17:39, nearly one minute and 20 seconds ahead of second place. Little's only other race this year was also a victory. At the AT&T Starr's Mill Panther Invite, she defeated McGarity by 23 seconds.

In head-to-head competition, McGarity has never beaten Little on the track or on the XC course, but surely would like to do so before she graduates in the spring. She comes into the Wingfoot XC Classic fresh off a win in the Cobb County Championships.
Hood on the other hand, has battled back and forth with Little for the last two seasons and their resumes are nearly identical. Wingfoot XC marks the first time they'll race in 2022, but Hood's fitness is a question mark. She hasn't raced since August 27 when she won the North Georgia Championship in 17:52 and her coach says Hood has been battling an ankle injury that's left her status up in the air.
Of course, there are some runners in the field who'd like nothing more than to prevent a repeat of 2021. Topping the list is Brentwood High School (Tennessee) sophomore Lydia Cromwell. Cromwell ran a personal best of 18:21 at the Southern Showcase in Huntsville, Alabama last weekend and has gotten faster with every race this season. Cromwell was 11 seconds in front of South Forsyth Senior Carmel Yonas. Yonas's race was a return to form from the second half of last season where she was consistently in the mid-18 minute range. She hasn't raced at Wingfoot XC since 2019 and will be a top five contender on Friday night.
Other athletes you could see up front include Cromwell's Brentwood teammate Rachel Haws who was just three sports behind Cromwell and two spots ahead of Yonas with an 18:29 in Huntsville last weekend; Bella Cammarota of Lambert who won the Berry Clara Bowl and was second at the Carrollton Orthopedic Invitational; Addison Boyer of South Fork High School in Florida who ran 18:26 for second at the Spanish River XC Invitational in Boca Raton last weekend and Claire Petersen of Blessed Trinity. The junior was runner up at the Milton XC Invitational on September 10, on a course often regarded as one of the hardest in the state.
In the team race, Brentwood, with Cromwell and Haws up front, will be hard to beat if their top five runs like they have all season. At the Voyles Classic in Tennessee earlier this season, just 20 seconds separated their third, fourth and fifth runners. Even more remarkably, Brentwood won the Southern Showcase with everyone in their top seven running under 20 minutes.
Harrison is the best bet to keep the title in Georgia. With McGarity up front, the second through fifth runners will need to step up. While there is only 30 seconds separating them, their season's bests start about 50 seconds behind McGarity. So, it will take a big race from their number two, Lidia Longo, to be in the competition.
Auburn (Alabama) came to Georgia once this year and took runner up to Harrison at the Starr's Mill Invitational. The team doesn't have a low stick, but their first through fourth runners are separated by just 15 seconds. A big race for their fifth place runner could put them in position to win.
Other teams that could be in the hunt include Marist, the defending champion which saw several of its top runners graduate last year and Blessed Trinity which won the Bob Blastow and Milton Invitationals this season.
The Girls Championship race will be streamed live on Milesplit Friday night starting at 9:25 p.m.