ATLANTA -- SEPTEMBER 19, 2022 -- The Wingfoot XC Classic presented by Publix kicks off with a glimpse into the future of the event's spotlight race. First on the line this Friday night, the Youth Boys who will compete in a 3K race on the course in Cartersville, Georgia.
On the boys side, last year's champion, Jameson Pifer, is now a freshman at Collins Hill while the runner he beat by just one second, Cabell Townsend, has matriculated to North Atlanta High School. Does that make last year's third place finisher, Sam Comsudes the heir apparent? Not necessarily.

Edge Running Club eighth grader Riley Comstock is undefeated in four races this season and sitting alone atop the state 3000m and 3200m cross country rankings right now. He ran 10:00 for 3200m to open his season last month and has run 9:24 for 3000m. Comstock is second on the two mile list and only by one second to Demetrius Clavino of Calhoun who is not competing at Wingfoot.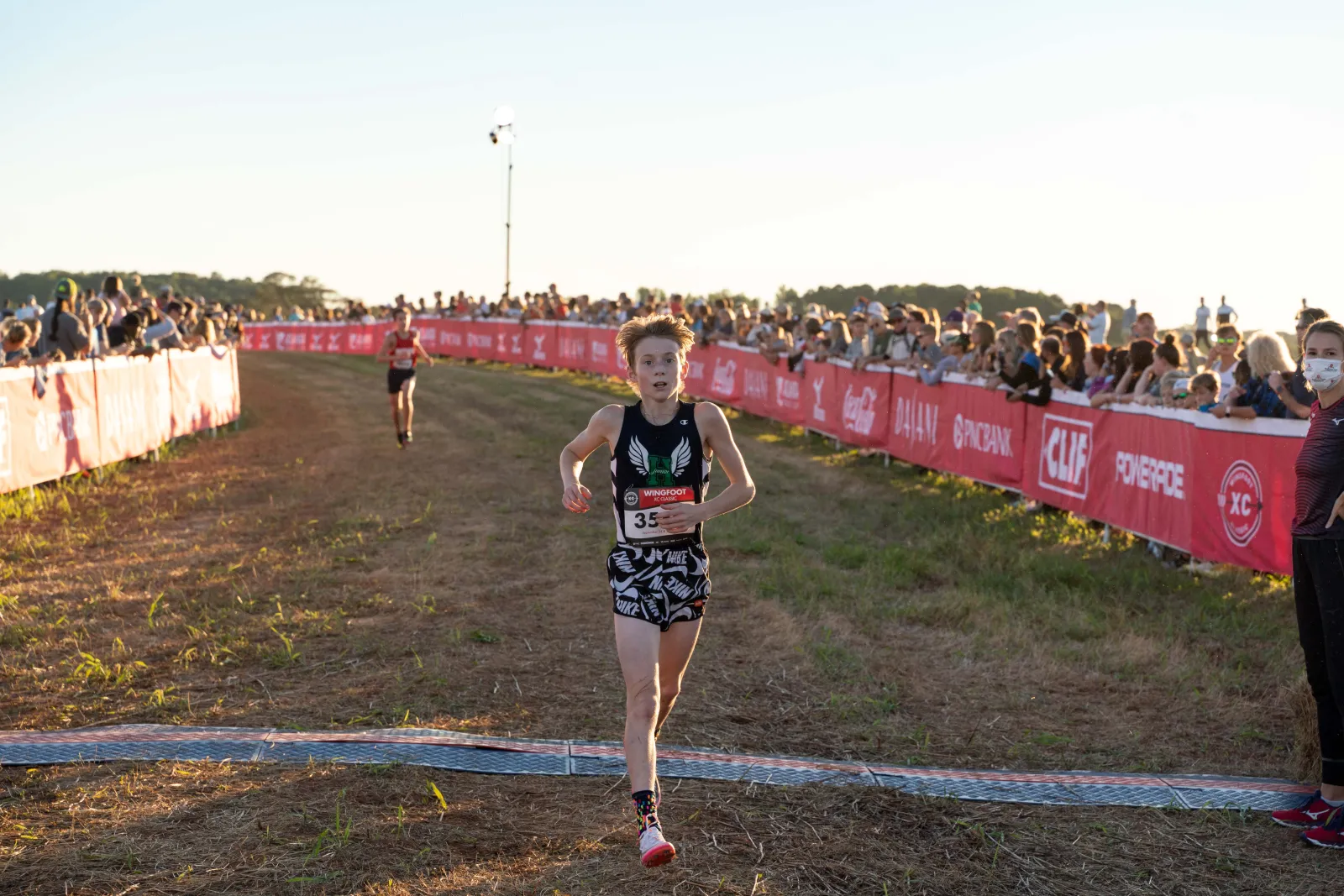 Comsudes has only raced twice this season, taking second at the Ridge Ferry Invitational on August 27 in a two-mile time of 10:40 that ranks him third in the state this year and one of only three boys who have broken 11:00 so far. He's also ranked second in the 3000m behind Comstock after the pair went one and two at the AT&T Starr's Mill Panther Invite on September 3.

But a runner named Pifer could break the tape again. Jameson's younger brother Vincent won the two-mile race at the Warpath Invitational last weekend in 10:45, beating his closest competitor by 25 seconds. He was well behind Comstock and Comsudes at Starr's Mill, but could be getting fit at just the right time.

In the team race, the Junior Hoyas will look to defend their title even with the loss of two of their top runners from last year. The Hoyas were undefeated going into the Cobb County Middle School Championships last weekend where they were beat by the Junior Hawks. The Hawks don't have a low stick, but they will be at Wingfoot and their strength is their depth. On Saturday, just 30 seconds separated the first and fifth runners.

Great Strides also fields a deep team and they have Pifer leading the way at Wingfoot. Without Pifer at the Etowah Rumble earlier this month, they put three runners in the top 10 including their next top two eighth graders Elijah Brown and Collin Hardy. At the Warpath Invitational last weekend all three were in the top 10 and Great Strides won by 35 points.

And you can't count out Atlanta Track Club Youth XC. The Club's team is led by seventh grader Declan Schuette and eighth grader Thomas Koziol, who have both shown they can run in the mid to low 11:00 range for two miles.
In the girls race, like her brother Riley, Paige Comstock looks strong this season. Both won their age groups and posted the overall fastest times in the mile at this summer's Microsoft Peachtree Junior this summer. Can both take the crown in their next Atlanta Track Club sanctioned event?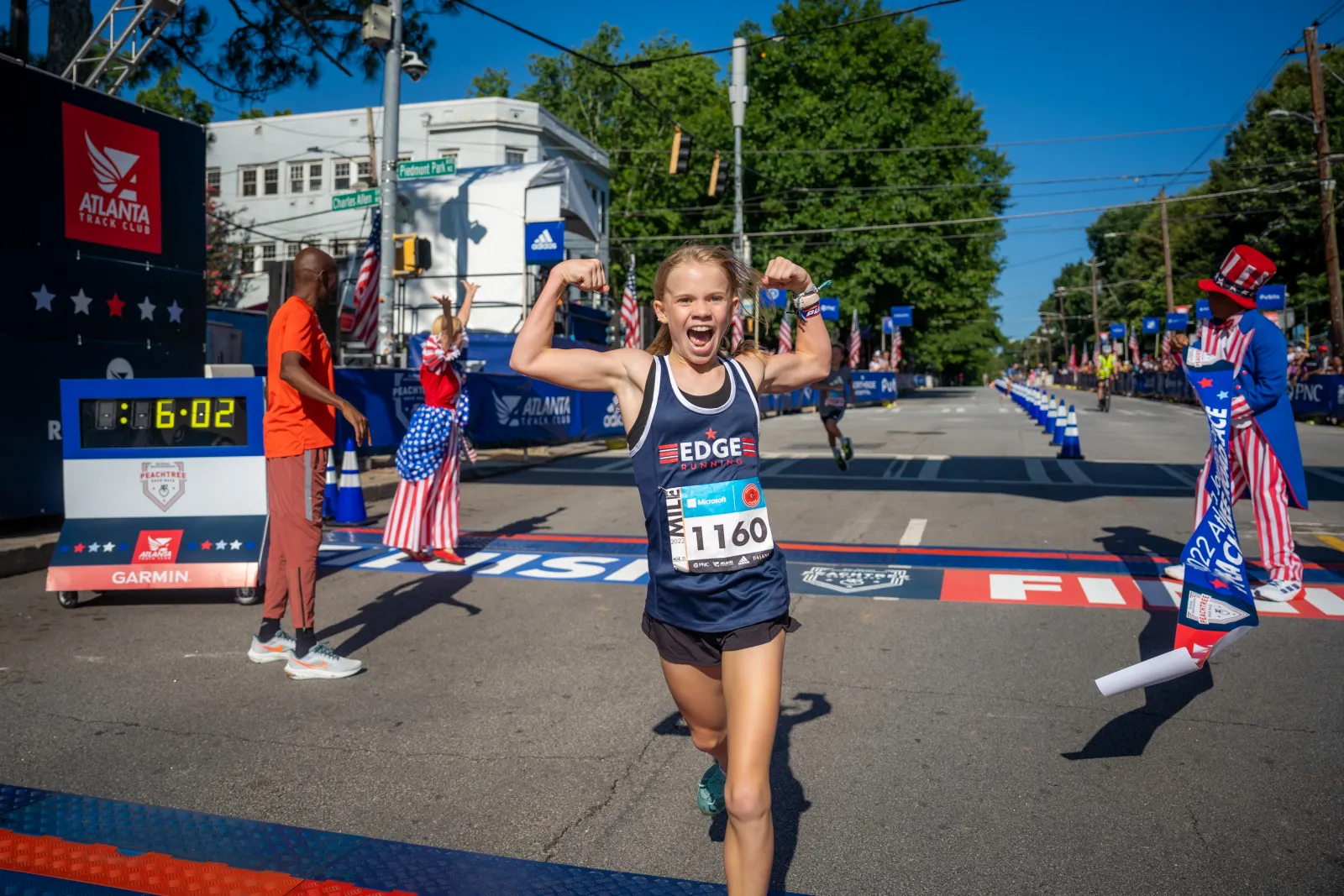 Comstock, an eighth grader for Edge Running Club, has the fastest 3200m (12:07) and two mile time (11:44) in Georgia this year by a wide margin. She was third at Wingfoot last year behind Lillian Glass who is now a freshman at Atlanta International School and Rosemary Daumeyer, a now seventh grader competing for Fellowship Christian Academy..
Daumeyer made her season debut at the Warpath Invitational running 12:24 to take second to fellow seventh grader and former Alpha Crush teammate Ella Aberici's 12:12. The two helped Alpha Crush deliver the team title at Wingfoot last year as sixth graders, but now wear different colors heading into this year's race.

Also contending for a podium position will be Violet Loughman of Great Strides who took second to Comtock in Etowah and was third to Aberici and Daumeyer at Warpath.

Alpha Crush and Great Strides were neck and neck in the team competition at Warpath with Alpha Crush taking the title 56 to 59. Wingfoot looks to be a rematch with Edge Running Club hoping to play spoiler. Great Strides defeated Edge at the Etowah Rumble, but a breakthrough run from Edge's fourth or fifth runners could put them in position to win. The unknown is last year's runner-up, Walton Youth Running Club. The team hasn't raced this year, but with their strong history, they can't be counted out when they stand on the line at Wingfoot.