Ultimate Peach 2022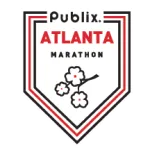 The Ultimate Peach is a celebration of runners and walkers who have completed four of Atlanta's best races. Anyone who has completed the Atlanta Journal-Constitution Peachtree Road Race, PNC Atlanta 10 Miler, Invesco QQQ Thanksgiving Day Half Marathon and Publix Atlanta Marathon under their own name is eligible for a unique gift and celebration experience upon finishing the Publix Atlanta Marathon. Participants must complete all races within the posted course time limits. Ultimate Peach participants will have access to a VIP pre and post-race area including gear check, porta-johns, breakfast and massage at the Publix Atlanta Marathon. They will also receive a commemorative medal to celebrate their accomplishments.

All eligible participants will be contacted via email to confirm their status but no further actions need to be taken.
*You must register for the full marathon to be eligible.

DATE & TIME
LOCATION
Centennial Olympic Park - 265 Park Ave W NW, Atlanta, GA 30313
DISTANCE
Marathon (ages 18 & older)
COST
Marathon:
- $90 through 8/20/21
- $100 through 1/15/22
- $120 through 2/10/22
- $140 through 2/25/22
- $150 onsite
EVENT SWAG
long sleeve
marathon medal
ultimate peach medal
REGISTRATION CUT-OFF DATE
February 25 at 11:59 p.m.
Already registered for Publix Atlanta Marathon Weekend? But not sure for which distance or want to upgrade from the Half Marathon?
In order to qualify for Ultimate Peach, confirm that you are registered for the full marathon in your participant account on the YOUR REGISTRATIONS tab by taking the steps below.
Steps to view your race registration:

Log into your participant account here (or the button below): https://manage.hakuapp.com/login/atl-track-club
Click YOUR REGISTRATIONS tab, click to view/edit your Publix Atlanta Marathon Weekend Registration

In the bottom right, click Registration Options, then Switch Categories to make new selection
Complete questions and pay to upgrade to the full marathon