2019 PNC ATLANTA 10 MILER & 5K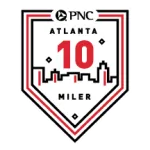 2019 PNC Atlanta 10 Miler & 5K
The PNC Atlanta 10 Miler & 5K is one of Atlanta's most popular running and walking events. Starting and ending at Atlantic Station, runners and walkers wind through Atlanta's Buckhead neighborhood and are encouraged by cheer zones at every mile. Celebrate your finish with family and friends at one of Atlantic Station's many restaurants. See list of participating businesses below.
Atlanta Track Club events are held rain or shine. However, the threat of lightning or other severe weather in the vicinity of the event may result in a delay or cancellation. For full details on our event policies, including weather, refunds and cancellations, click here.

EXCLUSIVE CIRQUE DU SOLEIL VOLTA TICKET OFFER
All participants receive access to 15% off tickets and an exclusive family price to select showings. Details will be sent out via email to all participants.
WIN A PAIR OF CIRQUE DE SOLEIL VOLTA TICKETS
Register for the 10 Miler, 5K or to volunteer for the race between October 11 and October 17 at 11:59 p.m. EST and you'll be entered in to win. Six winners will receive a pair of tickets. Three individuals who register for the race will be awarded and three individuals who registered to volunteer will be awarded.
Each will be given the open to choose from two different showing dates: October 23 or 24. Winners will be announced on October 18 and notified via email. Once your volunteer shift has been completed and verified, your tickets will be ready for pickup!
Contest rules available here.
DATE & TIME
Oct 20, 7:15 a.m.
LOCATION
Atlantic Station, Atlanta
DISTANCE
10 Miles (ages 14 & older)
5K (ages 8 & older)
EVENT SWAG
10 Miler: Runner's backpack and luggage tag Medal
5K: Runner's backpack Medal
COST
10 Miler:
$50 through 4/30/19
$55 through 5/31/19
$60 through 7/31/19
$65 through 8/31/19
$70 through 9/30/19
$75 through 10/10/19
$80 through 10/16/19
$85 at number pickup
5K:
$20 through 4/30/19
$25 through 5/31/19
$30 through 07/31/19
$35 through 09/30/19
$40 through 10/10/19
$45 through 10/16/19
$50 at number pickup
EVENT DAY SCHEDULE
5:00 a.m.
Parking garage opens
5:30 a.m.
Will Call opens
7:00 a.m.
Will Call closes
7:10 a.m.
Wheelchair division start
7:30 a.m.
10 Miler start line closes
7:40 a.m.
5K start line closes
10:10 a.m.
Finish line closes
RACE DAY REGISTRATION
No race day registration is available, but individuals can register online until October 19 (6:00 p.m. ) or at the PNC Atlanta 10 Miler & 5K Race Number Pickup on Friday and Saturday, October 18 - 19 at a location in Atlantic Station.
TIMING & RESULTS

Unofficial results are available online the afternoon of October 20th. Results are made official approximately two weeks after the event, after all inquires have been processed.
Your timing device for this event is the Chronotrack single use B-tag. In order to receive an accurate time, please confirm your bib is...
Clearly visible on the front of the torso
Unaltered and unmodified (Do not fold or wrinkle)
Pinned in all four corners
Not covered (jackets, fuel belts, etc.)
Atlanta Track Club is a member organization of both the Road Runners Club of America (RRCA) & USA Track & Field (USATF) and adheres to the guidelines and rules of competition in the events Atlanta Track Club conducts & provides.
COURSE

for Course Maps
Course time limit:
10 Miler: 2 hours and 40 minutes (16 minute per mile pace)
5K: 1 hour and 15 minutes (25 minute per mile pace)
For the safety and enjoyment of all participants, no pets, or wheeled conveyances of any kind, including baby joggers/strollers, roller/inline skates, and bicycles, are permitted on the course. Headphones are strongly discouraged.
ADOPT A MILE

Atlanta Track Club's Adopt a Mile program generates course support for the event while giving back to Atlanta's nonprofit organizations who are working on race day and throughout the year to promote health and fitness in the community. These efforts are near and dear to the heart of our organization as the mission of Atlanta Track Club is to inspire and engage the community to achieve health and fitness through running.
| | | |
| --- | --- | --- |
| 2019 Adopt a Mile Groups | Mile | Theme |
| Impact Racing Ministries | Mile 1&10 | Alpha & Omega |
| Campbell Spartans Booster Club | Mile 1&9 | Campbell Ready |
| BlazeSports America | Mile 2 | Peace, Love, & Run |
| Children's Healthcare of Atlanta | Mile 3 | Hope & Will |
| International Community School | Mile 4 | Twilight Zone |
| Throw1deep Club | Mile 5 | World of Sports |
| Northview High School XC Team | Mile 6 | Bananas in Pajamas |
| Piedmont Park Conservancy | Mile 7 | 30th Anniversary |
| Peak Performance South | Mile 8 | Minions |
| Back on My Feet - Atlanta | Mile 9 | Donuts |
BECOME A MEMBER

Did you know as a member of Atlanta Track Club you receive a discount on all Atlanta Track Club events? Join today to begin receiving discounts and be a part of Running City USA.