2022 MICROSOFT PEACHTREE JUNIOR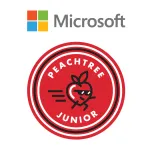 Microsoft Peachtree Junior is an event for kids of all ages to experience the pageantry, prestige and excitement of the Atlanta Journal-Constitution Peachtree Road Race. Held in Piedmont Park, the race will feature a Mile (timed) and Dash, with the Mile crossing the same 10th Street finish line as the Atlanta Journal-Constitution Peachtree Road Race. The Mile is open to kids ages 6-14, and the Dash is open to kids ages 14 & under.
We have lots of family fun in store for you at Microsoft Peachtree Junior:
Microsoft is onsite hosting two exciting STEM activities! More information is below.
Our Track & Field Zone will have mini hurdles, standing broad jump, agility ladders, and more!
Photo op wall, where you can "pose with the peaches," stand on the Microsoft Peachtree Junior podium, and commemorate your morning with a fun family photo.
"Dash" it up! Mile participants can make their way to the Meadow after their race to test their speed at 50 meters. See timeline below.
Mile Awards Ceremony on the main stage for top 3 in each age group (6, 7, 8, 9, 10, 11, 12, 13, 14).
Atlanta Track Club events are held rain or shine. For full details on our event policies, including weather, refunds and cancellations, click here.
For Atlanta Track Club's current policies concerning COVID-19, click here.
Location
Date & Time
Distance
Mile (ages 6-14)
Dash (6 & under)
Event Swag
Short-sleeve adidas T-shirt
Medal

Race day snack

Cost
$20.22 through May 31
$25 through July 2
$30 on event day

MICROSOFT STEM ACTIVITIES
Microsoft STEM Activities are onsite!
Stop by the Microsoft tent in the meadow to participate in STEM activities on race morning. Microsoft will have the following experiences available for children ages 6 through 14:
STEM Activity 1: Step Counter 3000
Even the best runners need to be able to track how far they go! For this activity, participants will develop and create their own step counter using the micro:bit, a pocket-sized computer, to track how many steps they run. This activity is tailored specifically to participants aged 6-10 and 11-14 years old. With the Step Counter 3000 activity, beginner participants will learn about, build/modify and test a step counter using a micro:bit and associated MakeCode program. Intermediate participants will write the micro:bit step counter code from scratch, test it, and customize it as they see fit.
STEM Activity 2: Peach Racer
Calling all future game developers! Participants in this activity will develop a running-themed arcade game featuring Atlanta Track Club's own Pete the Peach. Using MakeCode Arcade, participants will be able to create and then play a video game with no prior coding experience needed. Our beginner activity for ages 6-10 will give a high-level overview of coding as participants play and modify a pre-coded racing game with their friends. Our intermediate activity designed for kids aged 11-14 will involve coding a game from scratch using MakeCode Arcade and sharing their unique game designs with others!
Event Day Schedule
7:45 a.m.
Entry gates and number pickup open
8:00 a.m.
Microsoft STEM Activities/Track & Field Zone/Photo Op Station open
9:00 a.m.
Mile & Dash start waves begin (start times vary, based on age)
9:45 a.m.
Mile Awards Ceremony on Main Stage
10:30 a.m.
Event Concludes
Mile Start Times
| Mile Start Times | Age* |
| --- | --- |
| 9:00 a.m. | 6 & 7 year olds |
| 9:10 a.m. | 8 & 9 year olds |
| 9:20 a.m. | 10 & 11 year olds |
| 9:30 a.m. | 12, 13 & 14 year olds |
*Runners can "age up" in the waves and run with older siblings or friends, but older runners cannot run in a younger wave. For safety purposes, we strongly recommend running in the age-appropriate wave.
Dash Start Times
| Dash Start Times | Age |
| --- | --- |
| 9:00 a.m. | 2 & under |
| 9:10 a.m. | 3 & 4 year olds |
| 9:20 a.m. | 5 & 6 year olds |
| 9:30 a.m. | *All ages welcome |
*At this time, we welcome our mile participants (6 - 14) to experience the Dash, as well as any younger Dashers that would like to repeat the Dash.
COURSE MAP & SAFETY
Safety is our top priority at Microsoft Peachtree Junior. The following measures are taken for our mile participants:
Over 60 course monitor volunteers and police officers to make sure participants stay on track and move safely down the course
Lead (bicyclist or police motorcycle) and a sweep volunteer for each wave, ensuring that all participants finish safely
Secure Child Pickup Area after the finish line, where we will hold your child until you arrive.
For the safety and enjoyment of all participants, parents are not allowed on the Mile course.
TIMING & RESULTS
All Mile registrants will be timed and unofficial results will be posted Sunday evening.

The timing device for this event is the Chronotrack single use B-tag. In order to receive an accurate time, please confirm your child's bib is...

Clearly visible on the front of the torso
Unaltered and unmodified (Do not fold or wrinkle)
Pinned in all four corners
Not covered (jackets, fuel belts, etc.)
If you do not wish to have your child timed, you may peel off the timing device or simply bend it several times.
Atlanta Track Club is a member organization of both the Road Runners Club of America (RRCA) & USA Track & Field (USATF) and adheres to the guidelines and rules of competition in the events Atlanta Track Club conducts & provides..
RACE DAY REGISTRATION & AWARDS
The online registration deadline is July 2 at 11:59 p.m. Race day registration will be available.
An awards ceremony will be held and awards given to the top 3 in the Mile for each age: 6, 7, 8, 9, 10, 11, 12, 13 & 14. Awards will be based on chip time only. Your child's bib is color-coded and marked with their age. Please ensure that your child is wearing the correct age on their bib.
Become A Member
Did you know as a member of Atlanta Track Club you receive a discount on all Atlanta Track Club events? Join today to begin receiving discounts and be a part of Running City USA.