2022 PEACHTREE JUNIOR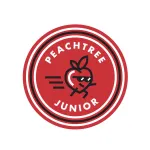 2022 Peachtree Junior
Peachtree Junior is an event for kids of all ages to experience the pageantry, prestige and excitement of the AJC Peachtree Road Race. Held in Piedmont Park, the race will feature a Mile (timed) and Dash, with the Mile crossing the same 10th Street finish line as the AJC Peachtree Road Race. Participants are also welcome to join us in the Virtual Peachtree Junior option. The Mile is open to kids ages 6-14, while the Dash is open to kids ages 6 & under.
This year's Peachtree Junior will feature a race-by-appointment approach, thereby providing participants with the ability to choose the race time that works for them. Atlanta Track Club will provide detailed instructions on how to navigate Peachtree Junior closer to event day. Choose your time slots in registration then stay tuned!

We have lots of family fun in store for you at Peachtree Junior. Stop by the Track & Field Obstacle Course (link map) in the Meadow and try out mini hurdles, standing broad jump, agility ladders, and more! We will also feature a photo op wall, where you can "pose with the peaches," stand on the Peachtree Junior podium, and commemorate your morning with a fun family photo.
Atlanta Track Club events are held rain or shine. However, the threat of lightning or other severe weather in the vicinity of the event may result in a delay or cancellation. For full details on our event policies, including weather, refunds and cancellations, click here.
For Atlanta Track Club's current policies concerning COVID-19, click here.

REGISTRATION LINK COMING SOON!
Date & Time
Distance
Mile (ages 6-14)
Dash (6 & under)
Event Swag
Short-sleeve adidas T-shirt
Medal

Race day snack

Cost
Mile: $15 through May 31
$20 through July 2

Dash: $10 through May 31

$15 through July 2

Registration Cut-Off Date
Event Day Schedule
7:45 a.m.
Entry gates open
8:00 a.m.
Number pickup and Track & Field Obstacle Course opens
9:00 a.m.
Mile & Dash start waves begin
9:05 a.m.
Start waves continue every 5 minutes
10:00 a.m.
Mile & Dash start lines close
10:30 a.m.
Track & Field Obstacle Course closes
TIMING & RESULTS
All Mile registrants will be timed and unofficial results will be posted Sunday evening.

The timing device for this event is the Chronotrack single use B-tag. In order to receive an accurate time, please confirm your child's bib is...

Clearly visible on the front of the torso
Unaltered and unmodified (Do not fold or wrinkle)
Pinned in all four corners
Not covered (jackets, fuel belts, etc.)
If you do not wish to have your child timed, you may peel off the timing device or simply bend it several times.
Atlanta Track Club is a member organization of both the Road Runners Club of America (RRCA) & USA Track & Field (USATF) and adheres to the guidelines and rules of competition in the events Atlanta Track Club conducts & provides..
RACE DAY REGISTRATION
There will be no race day registration. The online registration deadline is July 2 at 11:59 p.m.
COURSE MAP
For the safety and enjoyment of all participants, parents are not allowed on the Mile course. In addition, no headphones, pets, or wheeled conveyances of any kind, including baby joggers/strollers, roller/inline skates, and bicycles, are permitted on the course.
Become A Member
Did you know as a member of Atlanta Track Club you receive a discount on all Atlanta Track Club events? Join today to begin receiving discounts and be a part of Running City USA.