ATLANTA -- March 12, 2021 -- Nine non-profit organizations that serve Atlantans have been selected as the first-ever AJC Peachtree Road Race Charity Partners. The non-profits will receive a combined total of 205 guaranteed entries into the 52nd Running of the Peachtree, which will take place on July 3 and 4 in Atlanta. Participants will be required to raise a minimum of $1,000 for the non-profit in exchange for their registration.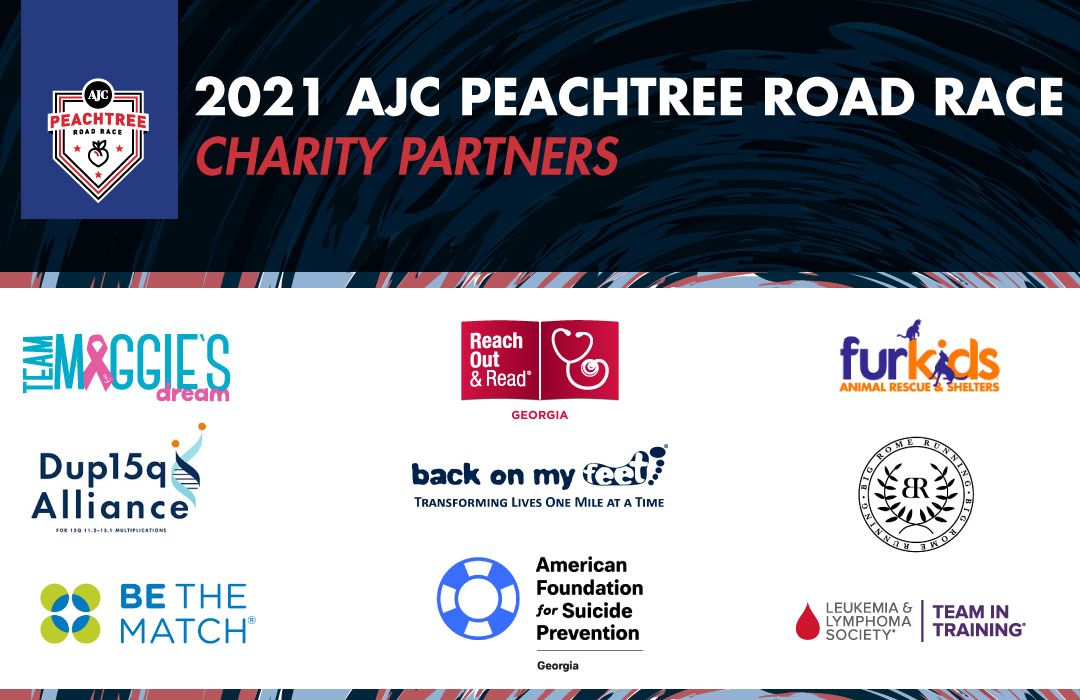 "As Atlanta Track Club moves forward, engaging the community is the cornerstone of our strategic plan.," said Rich Kenah, the Peachtree's race director. "That begins with laying the foundation for other non-profits to raise money and awareness at Club events, and leads to other exciting initiatives like expanded youth programming and eventually laying the literal foundation for an indoor track and field facility right here in Atlanta for all to gather and share their message through the power of running and walking."
The capacity for this year's Peachtree has not been set, but race organizer Atlanta Track Club expects to accept significantly fewer than the traditional 60,000 spots. However, those participating for Charity Partners are guaranteed entry into the race, as are Atlanta Track Club members. Everyone else will enter a lottery for the limited remaining in-person spots.
To be an AJC Peachtree Road Race Charity Partner, non-profits are required to be a registered 501(c)(3) with a local chapter in Georgia that supports work in the area of animal welfare, environment, healthcare/medicine/research, health/fitness/wellness, homelessness or social justice/equity/access. The 2021 partners are:
The American Foundation for Suicide Prevention
Back on My Feet
Be The Match, By The Mile Program
Big Rome Running
Dup15q Alliance
Furkids
The Leukemia & Lymphoma Society, Team In Training
Reach Out and Read Georgia
Team Maggie For a Cure, Inc.

Applications for the entries will be accepted beginning Monday, with the opening of Atlanta Track Club member registration and registration for the Peachtree lottery.
The in-person AJC Peachtree Road Race will take place with strict COVID-19 safety measures implemented. Besides the expansion to a two-day event designed to reduce crowd size, participants can expect health screenings, face covering requirements and limited-contact aid stations as well as limited pre- and post-race gatherings. A Virtual Peachtree option is also available.
More details on registration and safety measures can be found here.
To learn more about each of the official charity partners click here.