Participants from Near and Far Celebrate the City's Thanksgiving Tradition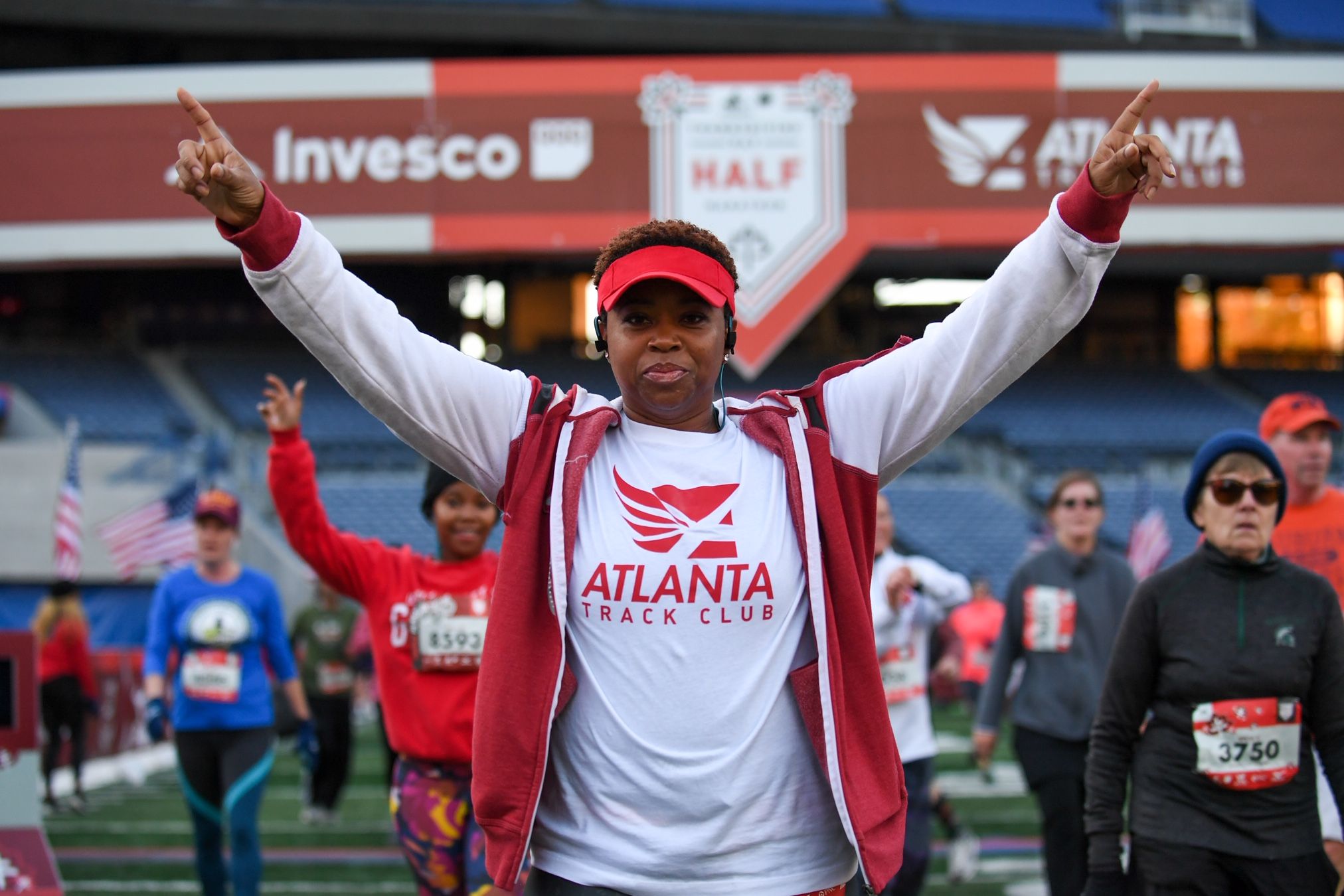 ATLANTA - November 28, 2019 - On a brisk holiday morning, nearly 12,000 runners, walkers and volunteers kicked off their Thanksgiving with the Invesco QQQ Thanksgiving Day Half Marathon, 5K, Mile & Dash. The celebration culminated with an exciting finish on the football field inside Georgia State Stadium with family and friends cheering on loved ones from the stands.
The Invesco QQQ Thanksgiving Day Half Marathon is the largest half marathon held on Thanksgiving in the United States and a tradition for thousands of people throughout metro Atlanta. Atlanta locals Carson Keeney and Sydney Mayson convinced friend, Courtney Fidell from Auburn, AL, to join them on the start line this morning. The three friends met at Auburn University and are home visiting for the holiday. "It's always been a tradition for us," said Keeney referencing herself and Mayson. "Now, we've convinced Courtney to make this her tradition. That's how much fun we had!"
The race attracts first timers from all over the country like Katie Voll and Jacob Kavkewitz. Both visiting family from Tucson, AZ, the couple enjoyed sightseeing as they completed the 13.1 half marathon route. "The course showcased beautiful parts of the city and really showed off all that Atlanta has to offer," said Voll. "There's something to say about being able to experience it on foot - it's nothing like driving in a car." The couple will join Kavkewitz' family for Thanksgiving dinner later tonight in Marietta.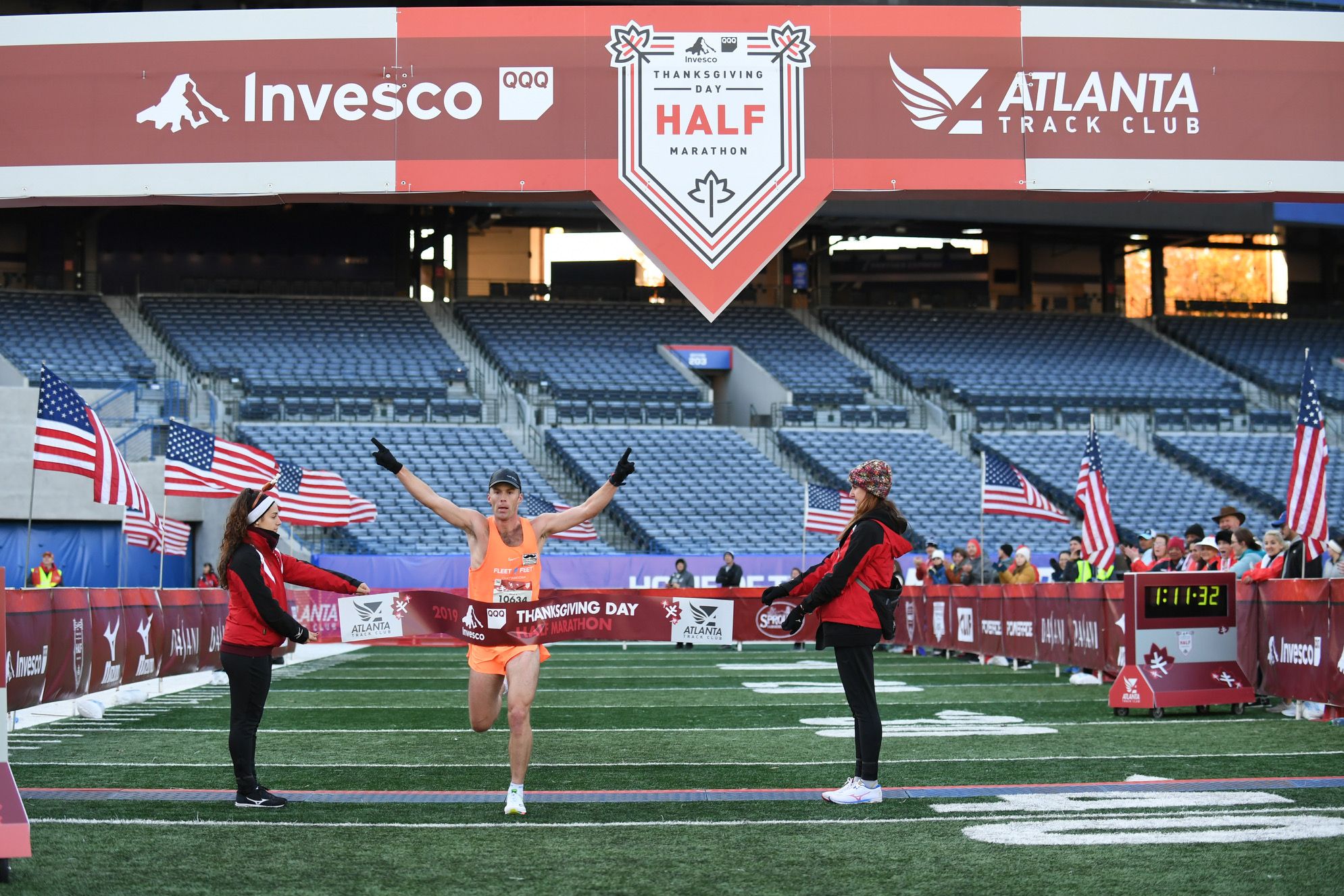 Today's event saw star performances from 2020 Olympic Team Trials - Marathon qualifiers Christian Thompson and Gracie Griffith. Thompson of Chattanooga, Tennessee broke the finisher tape in 1:08:33, nearly four minutes faster than last year's male winner. In town for a recent training run on the trials course, he will be back to race on the streets of Atlanta on February 29, 2020. Griffith, a local to Atlanta, came in at 1:18:09, also four minutes faster than last year's female winner. A Grady High School graduate, Griffith was also the winner of the 2019 Publix Atlanta Marathon.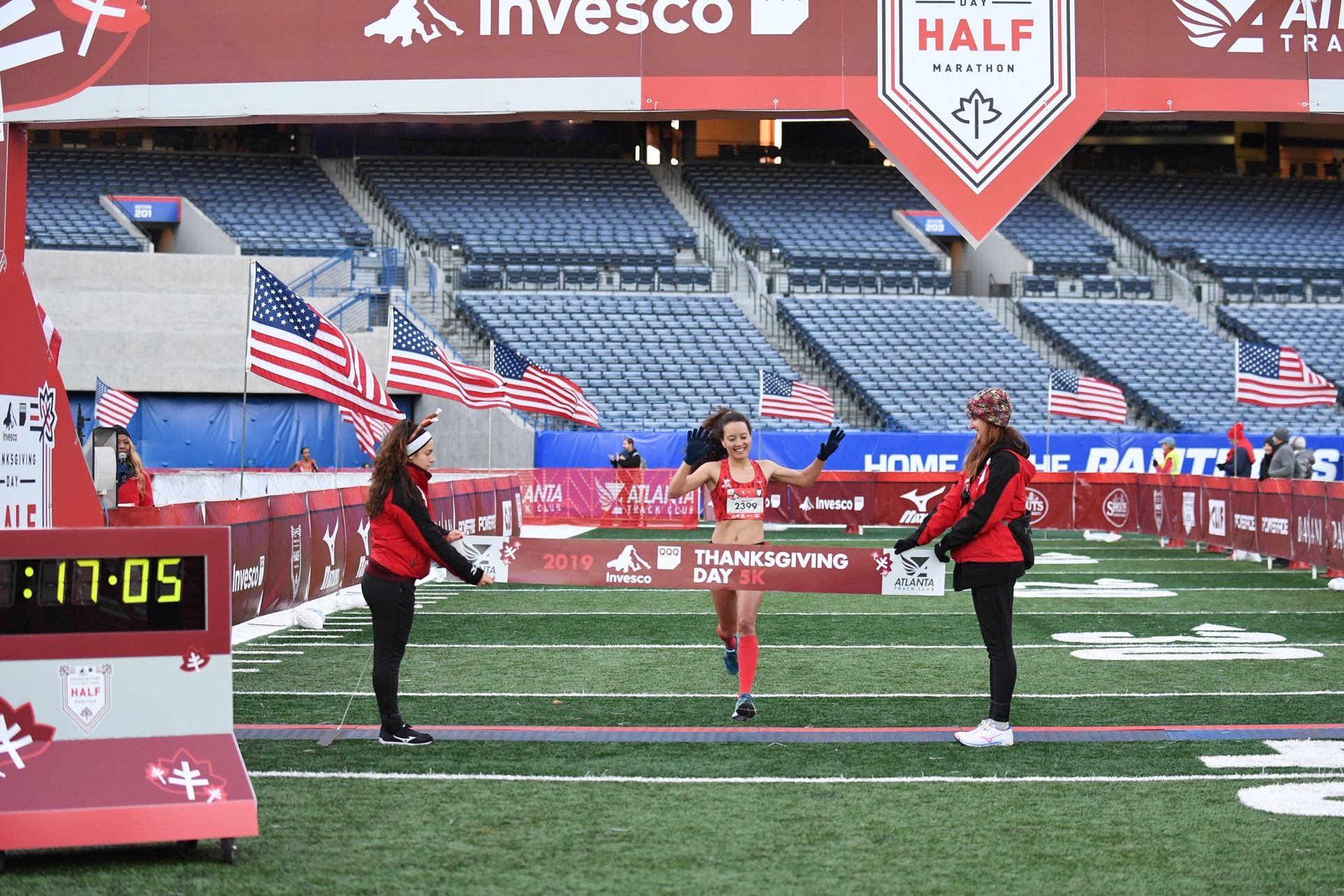 In the 5K, Atlanta Track Club Elite swept the field. Abraham Alvarado finished in 15:05 for the men and on the women's side, Yolanda Ngarambe took home her third consecutive event win with a time of 17:07, one second faster than her time last year. Originally from Sweden, Ngarambe was particularly excited to win the race yet again on what she calls her "favorite American holiday."
It was an early morning start for participants, but also spectators as thousands filled the stands of Georgia State Stadium just to watch family and friends cross the finish line. In the crowd today was Beth Elam from Snellville, supporting her daughter Kristin. "There is so much excitement in the stadium right now. It truly is something special," said Elam. "Everyone is positive, the runners are appreciative and the spectators - whoa -- they get so in to it! It's just an all-around great experience."
Kristin was one 3,000 participants finishing the Triple Peach Race Series presented by Mizuno. The series awards participants for completing the AJC Peachtree Road Race, PNC Atlanta 10 Miler and Invesco QQQ Thanksgiving Day Half Marathon.
Like Kristin, Paul Panusky also finished the series today. His second Triple Peach, he wore is medal proud. "I started running because of a horrible unhealthy lifestyle," Panusky said. "I signed up for the Triple Peach, started running, lost a bunch of weight and now I'm just going to continue to do it every year."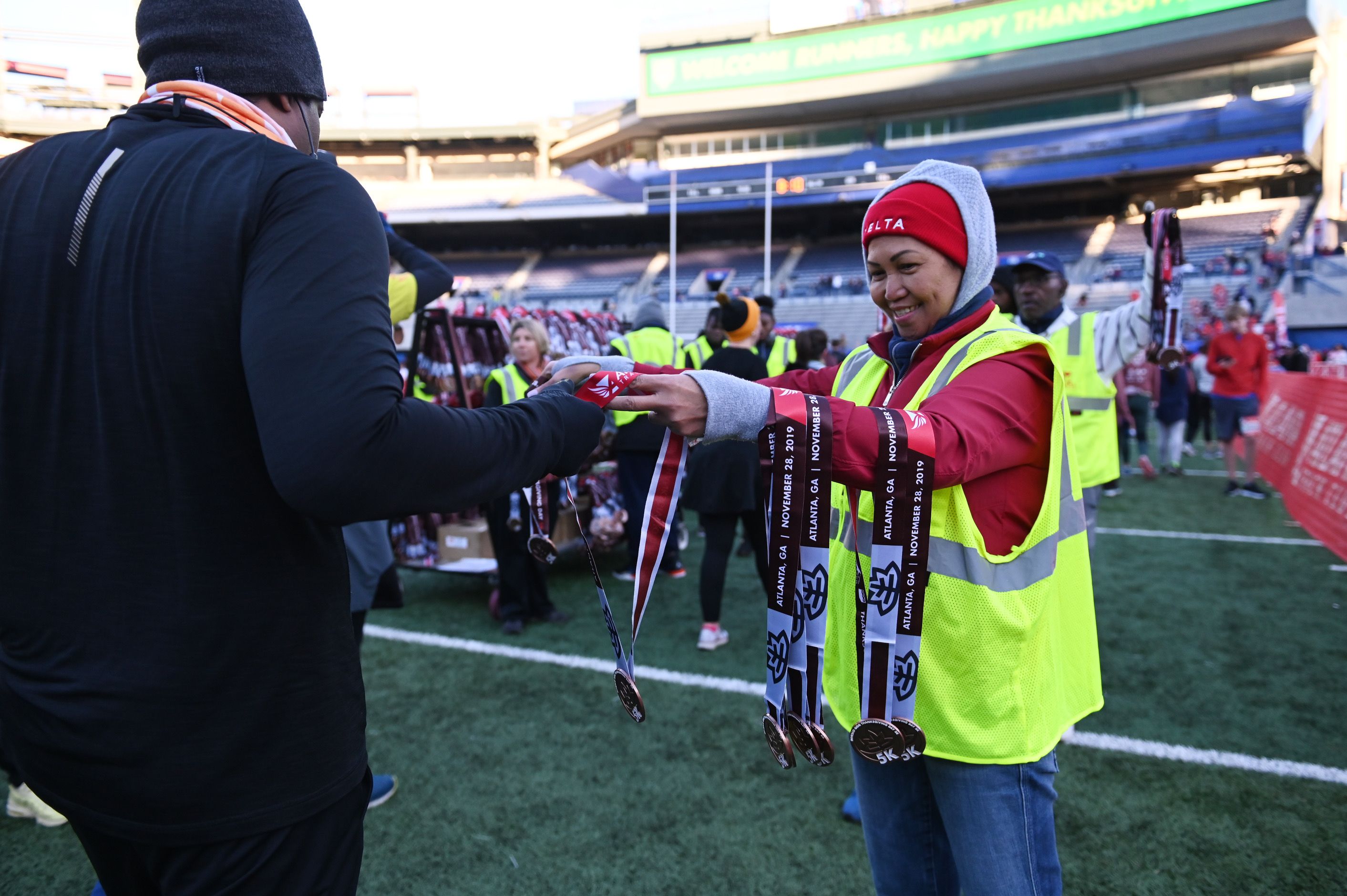 None of today's events would have been possible without the help of our 1,400 volunteers. Brenda McDow has been volunteering with Atlanta Track Club for three years, but this was her first time volunteering on Thanksgiving. "The experience was unlike any other. Everyone was just so happy," she said. "I did all of my cooking for my family yesterday just so I could be here."
The Invesco QQQ Thanksgiving Day Half Marathon Events also provided a way for participants to give back to the homeless. Atlanta Track Club encouraged participants to bring used clothing and shoes to the start line or race number pick-up with a goal of collecting one ton of clothing. Additionally, Atlanta Track Club donated 50 percent of Will Call Number Pickup Proceeds totaling more than $5,000 to Atlanta Mission.
Complete results for the 2019 Invesco QQQ Thanksgiving Day Half Marathon & 5K are posted at atlantatrackclub.org.