By Natalie Cabanas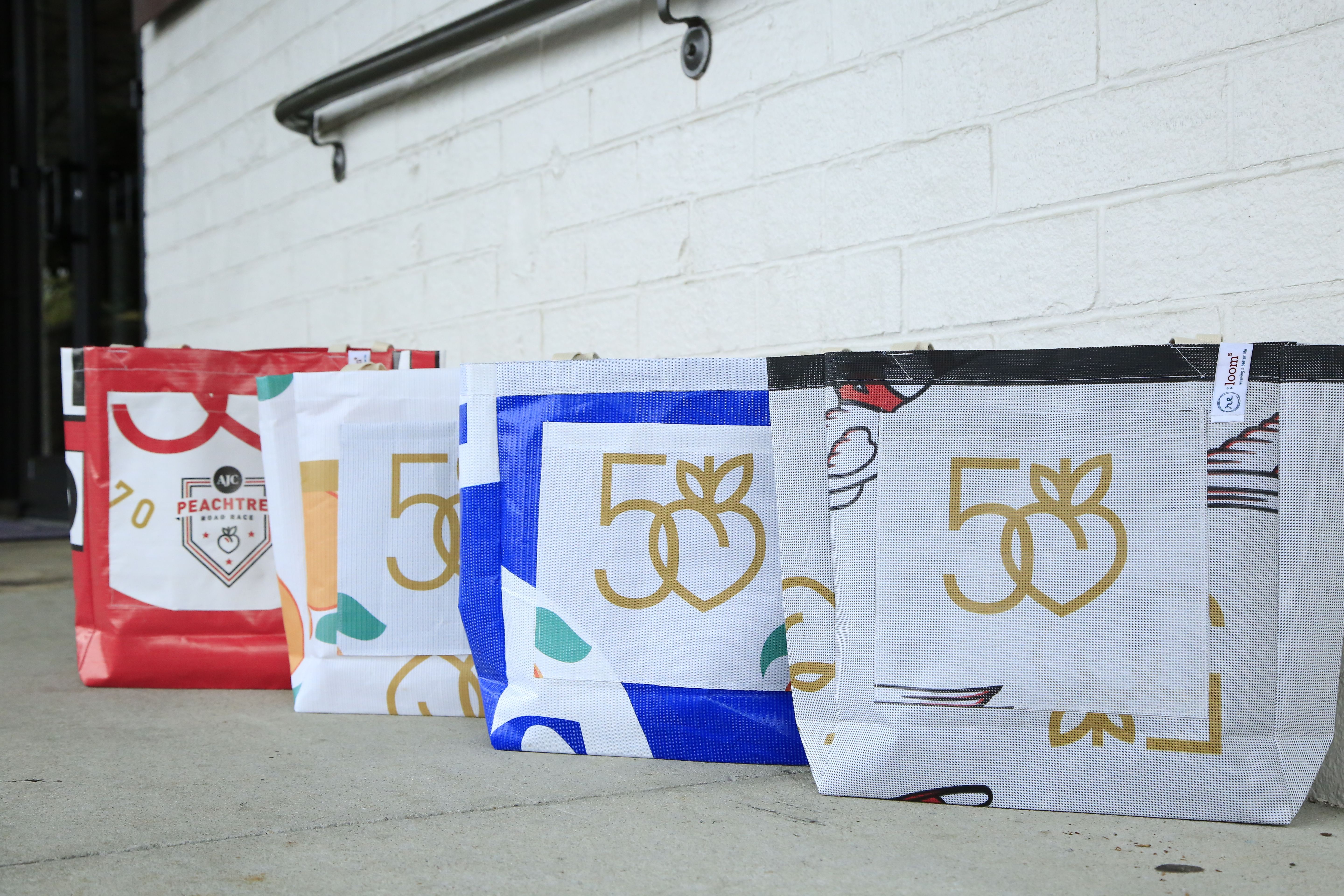 The 50th Running of the AJC Peachtree Road Race was a once-in-a-lifetime event, a milestone so significant that a special-edition logo was designed in commemoration.

But what about all those banners it adorned? With that indelible "50," they can hardly be used again for the 51st.
So the Sustainability Committee, tasked with finding a solution, turned to Peggy Whitlow Ratcliffe, executive director of the Center for Hard to Recycle Materials (CHaRM). Ever since the Club launched its Green Initiative at an Earth Day celebration at the Singleton 4 Miler in April, CHaRM has been a vital resource that has helped it succeed.
Ratcliffe immediately suggested the Club reach out to re:loom, an Atlanta-based nonprofit that employs and empowers homeless and low-income individuals through weaving products out of upcycled materials.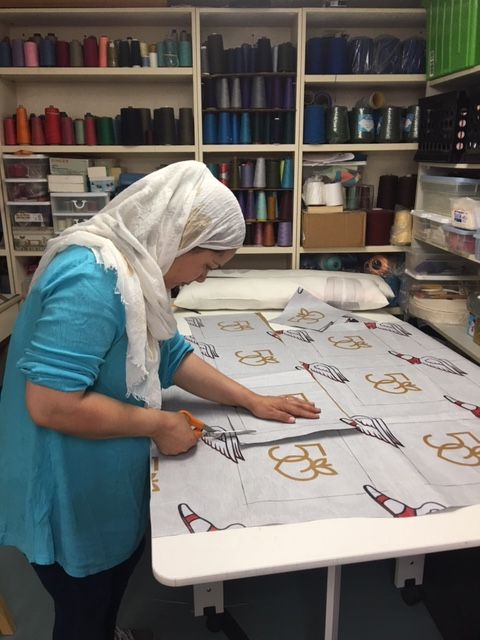 Soon, over 150 pounds of vinyl, scrim and windscreen banners had been cut and sewn by hand to make 316 reusable bags.
Starting this month, anyone making a $100 donation to Atlanta Track Club will receive a bag while supplies last.
And if a bag isn't what you're looking for, how about a bench?
Since the Green Initiative launched this spring, the Club has continued to develop recycling plans for each of its events, but nothing compares with the massive scale of the Peachtree. With 60,000 participants crossing the finish line, the Club knew they were up for a challenge. So a list of goals was formed specifically surrounding sustainability for the 50th Running - one of which was to upcycle all the plastic water bottles into something meaningful for the community.
In the heat of a July 4 in Atlanta, everyone knows the importance of staying hydrated; a total of 1.01 tons of plastic water bottles were collected from the finish line at Peachtree this year, with a dedicated group of Green Team volunteers deployed to help participants place their bottles into the appropriate recycling container.
Not everyone, however, knows what happened to them. Sit down: The plastic collected was upcycled into 64 park benches in two different styles, 32 of which will be donated to sponsors, community partners, parks and tracks throughout metro Atlanta to serve as a legacy of the race and a gift to the running and walking community.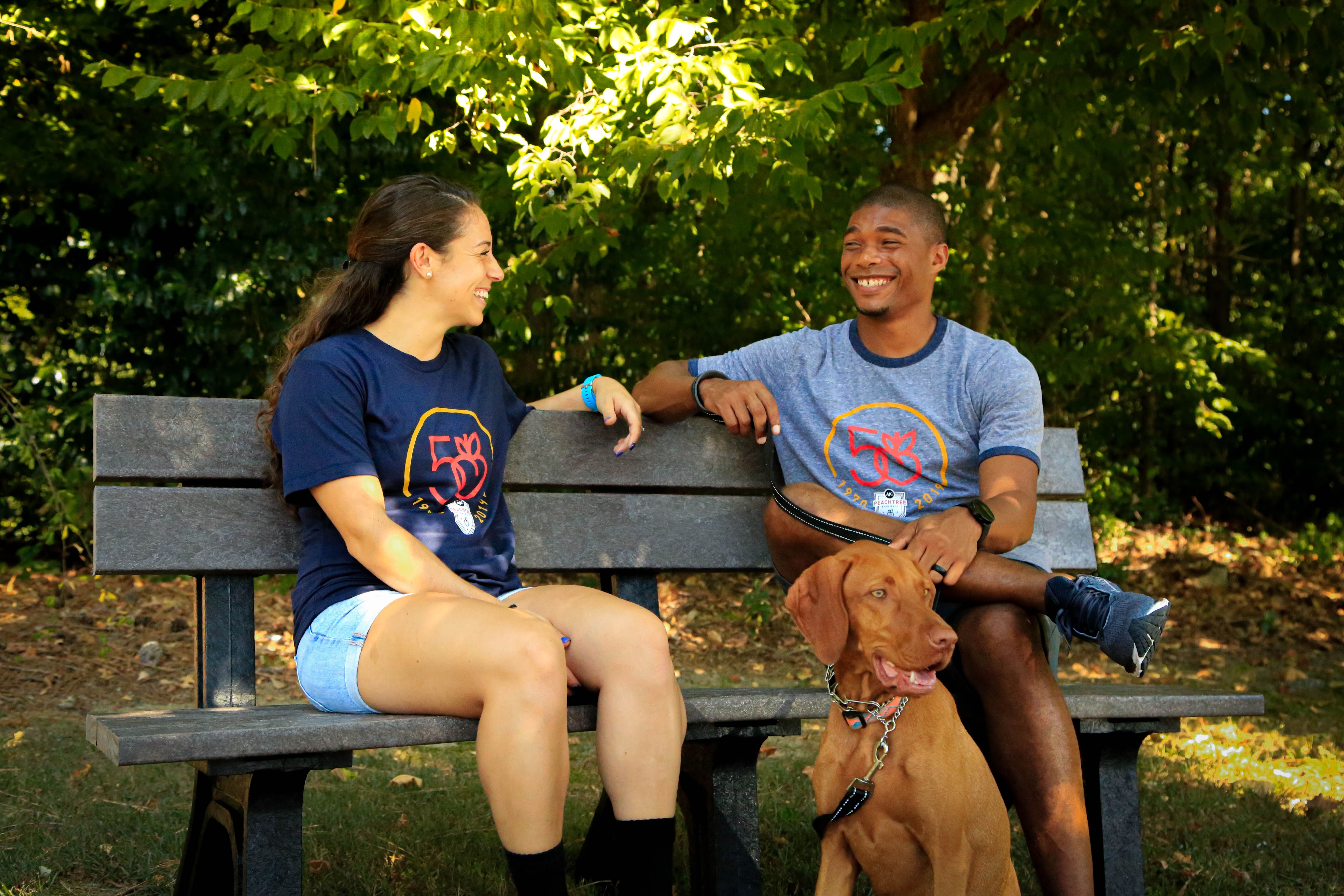 The remaining 32 benches will be offered as a gift to the first 32 people who make a $1,500 donation to the Club.
The Club's sustainability efforts have not gone unrecognized. Last month, Atlanta Track Club was awarded the 2019 Environmental Award from the Fulton County Citizens Commission on the Environment, a committee tasked by the Fulton County Board of commissioners with identifying groups that advocate and exemplify environmental sound practices.
Whether bag or bench, it's your chance to support the Club's mission, endorse its Green Initiative and own a piece of the 50th Running. Visit atlantatrackclub.org/give-back.
Learn more about the Club's sustainability efforts here. Read more about their green initiative surrounding the Peachtree here.